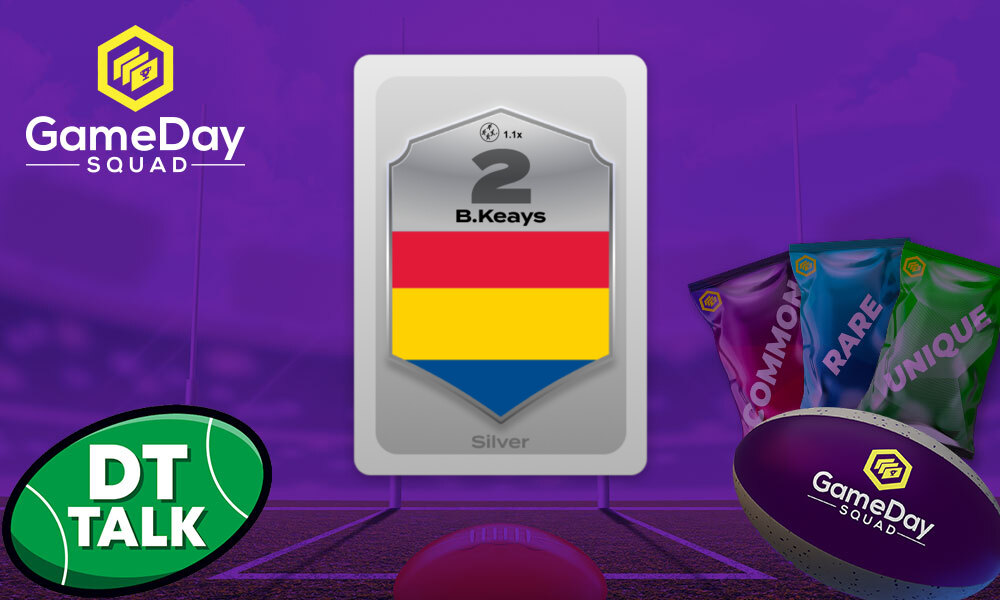 | | |
| --- | --- |
| Player | Ben Keays |
| Club | Adelaide |
| Position | MID |
| Price | $862,000 |
| Bye | 14 (3rd) |
| 2022 avg | 97.4 |
| 2022 gms | 22 |
| Proj. avg | 108 |
| Draft range | 20-25 MID |
Click here for 2023 Fantasy Classic prices.
Why should I pick him?
Keays is a Fantasy machine MIDFIELDER. When Keays is in full-flight he is up there with some of the best in the game.
I'll take you back to 2021, not that long ago…. Keays averaged 108. He did that with 79% of the CBAs, only second to the great Rory Laird (80%). Keays was flying and bought that form into 2022.
Last year, he started like a mad man scoring 132, 131, 96, 134, 114, 102 and 100. All great scores at an average of 116 across those first seven games. He didn't stop there though and prior to his bye he was basically averaging exactly the same as he did the year before, from 80% CBAs.
"Ok… fine" we all thought, Keays is now a top-end premium who has now averaged 108 for the last 30 games or so , spanning across one and half seasons. Then things changed.
The point here is… Keays is a 108-110 MIDFIELDER. He has proven this but like all MIDFIELDERS, they need to be in the middle.
Why shouldn't I pick him?
Just when things were looking fantastic for Keays last year… some wise-knob at the Crows had an idea and I was lucky enough to phone tap their call.
Wise-Knob – "Let's move Keays out of the middle… make him tag as a forward"
Sensible Bloke – "You're a fucking idiot mate, see what he's doing in there? He's averaging 30+ touches, a ton of tackles…"
Wise-Knob – "Nah I'm made up my mine, this will be fun, Fantasy coaches will love it, wait and see…"
Sensible Bloke – Walks off in anger (I believe this happened, I could see through the phone but did hear heavy stomping). 
So it happened…. In round 20, he was sent to tag Saad. We say this time and time again, if you have a shit role, do a shit job and you wont get it again. He did it well…. kicked 3 goals but Saad still had 26 touches. So now he's a goal kicking forward – good one!
After the bye Keays averaged 87, spent just 54% time at CBAs and in the last four rounds it got even worse where he averaged 64 from just 25% CBAs.
The role for this guy is EVERYTHING! He is a proven scorer if he is played in the right spot. If not, he might even pick up forward status….
If you are after more information about Keays there is some other important info you need to know…. such as
His recent off season surgery and how it has affected his pre-season – LINK
What he did in the Holidays – LINK
Deck of DT Rating.
QUEEN
Oh boy… who knows. If Keays is a midfielder he will average 105+ this year, he could even be 10+ points under-priced. He finds the ball, he tackles, he does all the things we love about Fantasy premium players. But if he is a forward, then I've wasted my time writing this. The key to this article is… monitor his pre-season, if he is a midfielder then we seriously need to consider him as an under-priced premium.
In draft though it's interesting and there are many ways this could go…. he could start forward, get FWD status, then gets moved back into the middle. Starts MID, moves forward or even stays MID. Who knows, hopefully pre-season gives us a very clear picture of what is to come.
FOLLOW US  ON TWITTER: @DTTALK for all things AFL Fantasy (and more). Got something to say about the Deck or AFL Fantasy in general? Join the conversation and use the hashtag… #AFLFantasy.