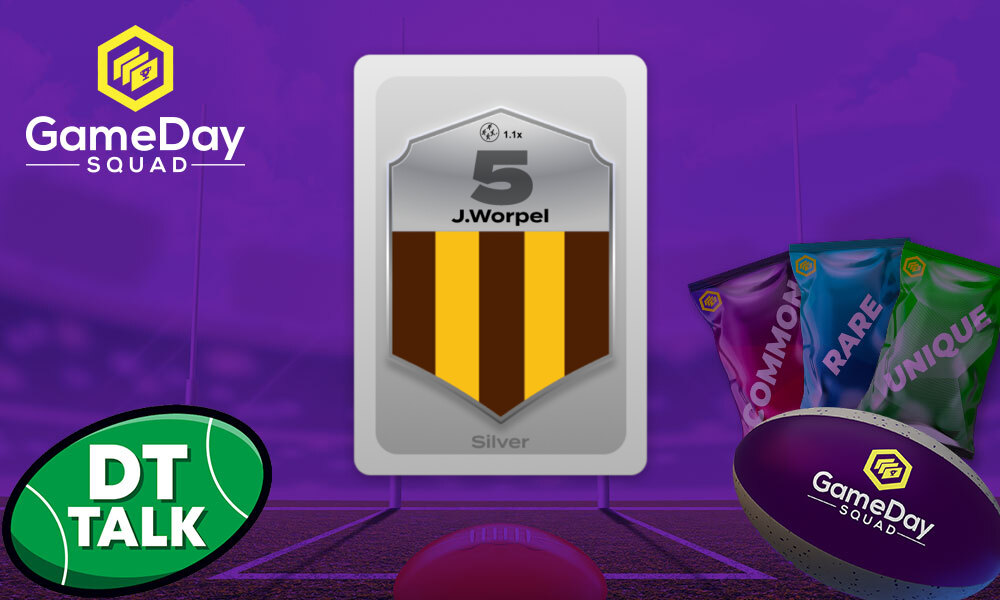 | | |
| --- | --- |
| Player | James Worpel |
| Club | Hawthorn |
| Position | Midfield |
| Price | $463,000 |
| Bye | 14 |
| 2022 avg | 52.3 |
| 2022 gms | 11 |
| Proj. avg | 85 |
| Draft range | Bench |
Click here for 2023 Fantasy Classic prices.
Why should I pick him?
Lets cast our minds back to 2019. Just 4 short years ago.
Bad Guy by Billie Eilish was getting played everywhere, Avengers: End Game was dominating the box office and the reigning Brownlow Medalist and certified fantasy pig Tom Mitchell had broken his leg, ruling him out for the entire 2019 season.
As AFL fantasy coaches scrambled to fill the pig sized void in their midfields, Hawthorn did the same.
Enter 20 year old James Worpel.
Taking Mitchell's vacated inside mid role, Worpel slot in and dined at the pigs trough finishing the year as the 5th ranked overall clearance player in the AFL with a massive second year breakout average of 96.7. Included in that year were 10 scores over 100 (6 of which occurred in a row!) and a massive 134.
It's also worth noting when researching Worpel that while his 2020 average reads as 77, this was during the year of shortened quarters and adjusted averages. On reflection, that 77 is seen as more of a 94 which is enough to say his 2019 wasn't just a flash in the pan.
What this tells us about Worpel is he has the potential, ability and ceiling. He also, courtesy of Sam Mitchell hitting the reset button at Hawthorn, has opportunity.
With Tom Mitchell, O'Meara and Shiels all moved on during the offseason, Worpel finds himself one of the few senior midfielders left standing alongside Jai Newcombe. With a host of young midfielders coming through the ranks such as Josh Ward, Connor Macdonald and new draftee Cameron MacKenzie, the Hawks will need these 2 to stand up as bigger bodied, more seasoned players to teach and protect the younger players as they develop.
Why shouldn't I pick him?
2019/20 Worpel is tempting but the reality is that he hasn't been able to hit those heights since.
While some of this could be attributed to opportunity, form definitely plays a part and his worst season to date was last year under his new coach Sam Mitchell. Prior to his season ending shoulder injury, Worpel struggled to make an impact in the senior side which had already started transitioning Tom Mitchell, Shiels and O'Meara out. This included a game against St Kilda in round 4 in which Worpel scored 10 points. He wasn't even subbed, in fact Will Day was subbed out for Finn Maginness in this game and they both still outscored Worpel. Worpel's stats for this game read 5 disposals, 3 clangers and 3 frees against. He started the next game in the vest.
He was dropped back to the VFL after round 9 and eventually got back into the side in round 15 which was one of his better games for the season. Unfortunately it was early in the next game where he suffered his injury so wasn't able to build on his form.
So while the stars have seemed to have aligned again in the Hawthorn midfield for Worpel, it looks like he'll need to earn his place over the preseason.
Deck of DT Rating.
JACK
At $463,000, with a history of being able to average 90's, Worpel can't be ignored. Place him at the top of your watchlist and monitor him through the preseason. If he comes out of the preseason competition looking anything like the 'Worpedo' of 2019 then lock him in!
Catch Anthony every Sunday morning during the season on "Behind the Goals" for 91.3 SportFM.
FOLLOW US  ON TWITTER: @DTTALK for all things AFL Fantasy (and more). Got something to say about the Deck or AFL Fantasy in general? Join the conversation and use the hashtag… #AFLFantasy.