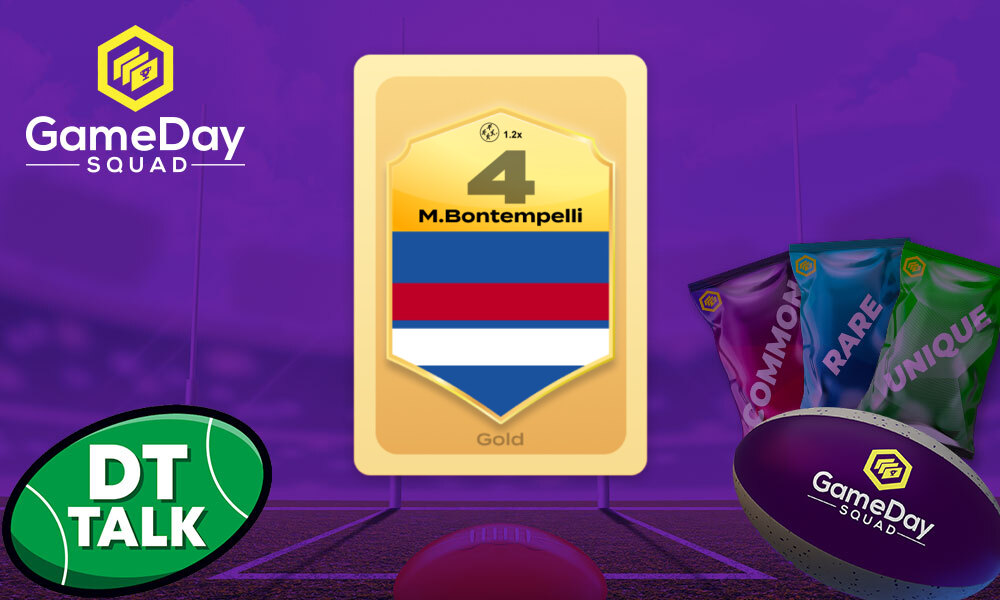 | | |
| --- | --- |
| Player | Marcus Bontempelli |
| Club | Western Bulldogs |
| Position | MID |
| Price | $891,000 |
| Bye | 15 |
| 2022 avg | 100.6 |
| 2022 gms | 21 |
| Proj. avg | 112 |
| Draft range | 2nd round |
Click here for 2023 Fantasy Classic prices.
Why should I pick him?
Consistency
The ever consistent Marcus Bontempelli (this is the last time we use his full name, enter: THE BONT) has previous seasons of 100.6, 107.9, 83.8 (104.75), 104.7, 92.4, and 100.23.
At only 27 years old it's easy to sit back and see why THE BONT will be another safe pick for 2023. However, 2022 was the season he proved his capability to consistently hit his ceiling, with scores of 145, 140, 125, and 119 across the year.
THE BONT had a slow start to 2022, playing a mixed role with niggles, stints forward and a missed game in Round 8. He still managed to put up 94.4 with 54% CBAs up to his injured week off. Upon return, his CBAs bumped slightly to 60.3 and his scoring jumped to 103.6 to finish the year.
Bye Bye Dunks, Hello Rory
With Dunkley's 50% CBAs leaving in 2023, it's easy to see the likes of THE BONT (58%), Smith (54%) and Treloar (37%) all receiving a bump in the CBA duties. In 2021, when Dunkley missed 11 games, THE BONT'S CBAs went from 67% to 76% (second only to Macrae). In those 11 games without Dunkley, THE BONT averaged a measly 118.55 as opposed to 97.18 with Dunkley. With the departure of a key mid and the addition of Rory Lobb, another competent forward for the Dogs, we could see a world where THE BONT explodes in 2023.
Why shouldn't I pick him?
Injury
Marcus struggled early in 2022 with multiple niggles, some that weren't spoken about outside of the Bulldogs for weeks. Whilst still being able to play out 7 games early in the season, he was clearly hampered and couldn't play to his full capabilities. As cliche as 'burning up the track' is, it's a phrase you would like to hear early in 2023 for someone who plays like Marcus. Any news of a niggle or slightly interrupted season and that's all we need to put a line through Bont, even though, given his track record, he'll likely play through.
Opportunity
Although Dunkley's departure could benefit, it could just as easily hurt Marcus' ceiling. Across the last two seasons Bevo has been more than happy to spread the CBA load evenly between 5-6 mids.
2022 CBA spread: Macrae 64%, Liberatore 59%, Marcus 58%, Smith 54%, Dunkley 50%, Treloar 50% (Before being moved back).
Do the current mids all receive a bump in CBAs after Dunkleys departure? Or will Bevo play with the mix and throw in another mid?
Deck of DT Rating.
KING
THE BONT is well and truly 'King of The West'. If the consistency isn't enough for you and you're looking for 5-10 points upside in a starting pick then THE BONT could be your man. If there's news out of the Kennel that Treloar will be a full-time halfback, or the Dogs will move forward with a smaller midfield group, then THE BONT's average without Dunkley is hard to look past.
Catch more from Sanch and the Hat Chat lads via their Facebook, Instagram and Twitter.
FOLLOW US  ON TWITTER: @DTTALK for all things AFL Fantasy (and more). Got something to say about the Deck or AFL Fantasy in general? Join the conversation and use the hashtag… #AFLFantasy.