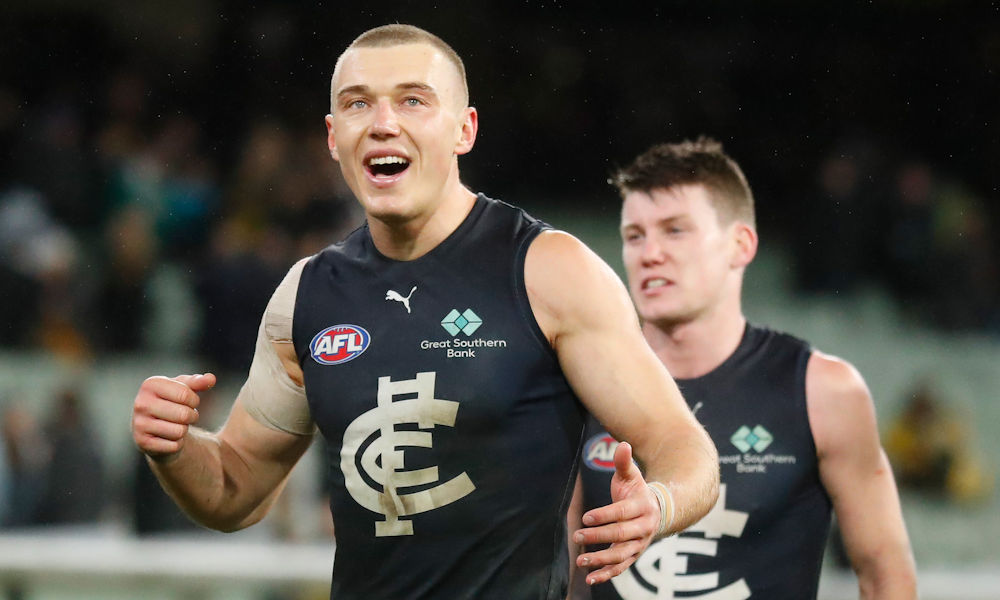 | | |
| --- | --- |
| Player | Patrick Cripps |
| Club | Carlton |
| Position | MID |
| Price | $903,000 |
| Bye | 15 |
| 2022 avg | 102 |
| 2022 gms | 21 |
| Proj. avg | 110-115 |
| Draft range | Rounds 1-2 |
Click here for 2023 Fantasy Classic prices.
Why should I pick him?
How often have we all asked this question of Patty over the last few seasons? He's killed a number of us over the journey as he struggled with his fitness and form. To be frank, he killed enough coaches prior to last year that he was a consideration for the Dicks of DT list. But in honour of his Brownlow win, his recent wedding and his solid year last year I left him off. You're welcome Patrick.
Why pick him is actually quite easy this year as I believe he's under-priced…again. Even after his rebound year last year he's only priced at 102 which is bang on his average for last year. Now for someone his age being priced at average is normally a bad sign as it would indicate lack of potential growth, but I think he goes up at least 7 points this season. This makes him a worthy pick and maybe even a "100% lock" or a "must have" or a "can't miss" – whichever phrasing you use.  Does a 100% lock even exist?  I'm a No for that.  Anyway, that's not important.
Patty started like a house on fire last year and had us all beaming with pride if we'd picked him. Then a hammy hit gave us a horrid score and fears of weeks out. But even then it was only a week and if you held (unlike me) you were rewarded with 3 scores over 120 on his return. Unheard of when coming back from a hammy. He was heading for full Premo status. Then a concerning run of form came and over his next 9 games he hit 100 only twice, topped scored at 106 for an average of 87. Pretty nasty stuff.
However, I am told by my Carlton loving mates (I have a few unfortunately) he had a role change in that period which included him helping cover the loss of Carlton's rucks. Not by taking centre square hitouts but by taking on a different role at stoppages and using his top shelf rig to block and bustle as much as seek the pill. So instead of scoring at the rate he was, he was sacrificing his scoring for the good of the team. Crazy Vossy had come back to bite us in the Fantasy realm. Thankfully for owners it didn't last.
Mr Worldwide and/or TDK were back on board or Vossy tweaked the game plan to finish the year and Crippa finished strong. His last 5 games gave us an average of 113. I'm forecasting a year of more of the high scoring Crippa and less of the low. Walsh out will hurt the team but I don't see it hurting Cripps. He's got some more help this year and another pre-season into Cerra will help cover the Walsh loss for a while. He'll get a decent bump even if he only avoids his hammy affected 36 this season.
Why shouldn't I pick him?
I've covered the reasons not to pick him in the above to some extent. A mid-season run of 9 games with an under 90 average is tough to ignore completely. Maybe my Blueboy mates were right on the money and it was a different role that led to those lower scores. Yet the possibility exists my info was wrong (they can't be that smart and support Carlton can they?) and there was no role change and the string of low scores was simply an ageing Bull showing the impacts of a long season. Perhaps Patty just can't go a full season anymore and Vossy will need to manage him the way we see other top shelf assets getting managed by other teams around the league. Even his strong finish included 2 games out of 5 under 100.
Whatever the reasons for it, Patty's overall recent consistency is troubling. Last year was an excellent rebound but the query remains whether that was now his best possible output or whether another bump up to 110 is likely, or even possible. It's a question each coach will ask themselves and there's evidence to suggest he's just too risky when priced over 100.
The last reason not to pull the trigger is the Walsh injury. Whilst the Carlton team is not a 2 man team in the guts, Walsh is 1 of only 2 A-Graders they have in the midfield and that leaves only Cripps for oppo coaches to really concern themselves with. If Cerra does take another step up this will help, but if he doesn't Cripps may get attention that hurts his scoring. Hewett is an excellent player but he's not prolific enough to plan for, Cripps is. Acres will help the team for sure but he's not going to ease the load on Cripps. If Walsh only misses a few weeks then it's less of an issue. In the nightmare scenario, then the risk remains Cripps will be carrying the load again for a long period and that hasn't gone that well in the past.
Deck of DT Rating.
KING
Risks abound with Patty but I see them as being much lower for him than in previous years. He had the tough patch last season but I believe that was role related and unlikely to re-occur. Outside that stretch he averaged 112 (119 if you remove the hammy game) so that's his most likely outcome this season in my opinion. His risks almost made him a Queen but his rewards, and the likelihood of them, squeak him in to King status for this Fantasy Coach.
Catch FlipperTC's "Dicks of DT" article from earlier in the pre-season.
FOLLOW US  ON TWITTER: @DTTALK for all things AFL Fantasy (and more). Got something to say about the Deck or AFL Fantasy in general? Join the conversation and use the hashtag… #AFLFantasy.