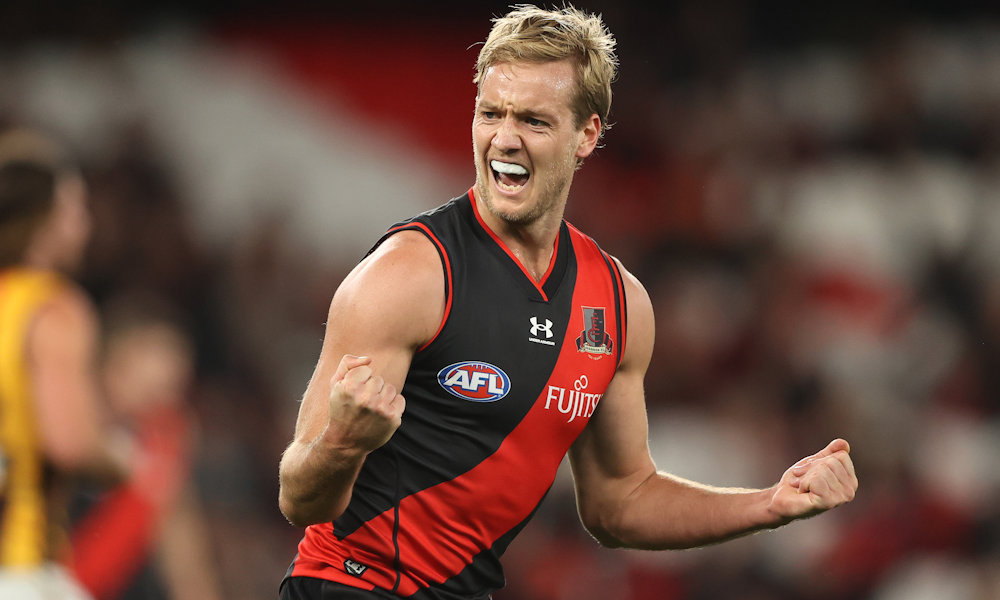 | | |
| --- | --- |
| Player | Darcy Parish |
| Club | Essendon Bombers |
| Position | MID |
| Price | $888,000 |
| Bye | Round 14 |
| 2022 avg | 100.2 |
| 2022 gms | 16 |
| Proj. avg | 100-110 |
| Draft range | Top 20 mid |
Click here for 2023 Fantasy Classic prices.
Why should I pick him?
Darcy Parish burst into relevance during the 2021 fantasy season. Off the back of a Dylan Shiel injury and a permanent move into the midfield, Parish went on an absolute tear and averaged 109.4 across the last 20 games of the season. This included scores of 160, 150, 144, 143 and 128… The guy just knows how to find the footy! His scores were heavily linked to high CBA usage, often going at above the 80% mark. Parish began 2022 the same way he finished 2021, averaging 108.4 across the first 12 games of the season, attending 80% CBAs before a calf injury sidelined him. The difference between the 2021 season and the 2022 season was the full midfield mix available for Essendon, with Parish demonstrating he can still score well alongside Merrett, Shiel and McGrath.
We now have a 30+ game sample size of a midfielder in his prime who has elite scoring that is up there with the best uber premiums in the competition. A 109 average as demonstrated across those 30 games places him as the 7th highest averaging midfielder last season. If he can get himself fit, healthy and ready for round one, we have ourselves a midfielder priced at the 100 mark, capable of putting up an average in the top 8 midfielders and someone who has a ceiling as high as anyone in the game.
Why shouldn't I pick him?
There are a number of reasons that Parish is a risky starting selection that I will highlight below:
Firstly, Essendon has a new coach who more than likely will implement a new system. Although we assume Parish in his prime is set for big midfield minutes, we will not know for sure exactly how the midfield will line up until we see it in the pre season. As funny as it sounds, Essendon are not short midfielders, with Merrett, Shiel, Caldwell, Hobbs, Perkins, Stringer and Tsatas all expected to move through there at some stage.
Secondly, Parish has spent a considerable amount of time in the rehab group this pre season and as of right now, currently has not re-entered the main training group. Word is that he is dealing with some soft tissue injury and when you combine that with the calf injury last season, it makes picking him with any confidence quite tricky.
Lastly, from that price point we need Parish to really put up scores as a top 8 midfielder. For that to occur, you are basically predicting that Merrett will have a down season and regress because outside of the absolute elite fantasy scoring teams in the comp, it is very unlikely that the same team will have two top 8 midfielders. This combined with the fact Shiel has been open about his full time midfield role in 2023, I believe it's more likely that Essendon share the load a bit more this season which could lead to fantasy scores that aren't quite as high under a new system.
Deck of DT Rating.
KING
Darcy Parish has all the makings to be an absolute fantasy star for us. What I didn't mention above was that 109 average from the 2021 season does not tell the full story that season. From rounds 3-18 whilst Shiel was out, he averaged 117.3. He has the ability to be one of the top scorers in the game and if not for the interrupted pre season, he was someone I had penciled in my side when I began planning back late last year. For me he is now someone I will monitor in the early rounds and hope he gets off to a slow start whilst I have a look at the new Essendon system and how the midfield mix looks. Parish is definitely still someone you should consider and in his prime, would not surprise me if he ends up being inside the top 8 mids this season!
Catch more from Kyle as part of the Point of Difference Podcast and through The Fantasy Community Discord Server.
FOLLOW US  ON TWITTER: @DTTALK for all things AFL Fantasy (and more). Got something to say about the Deck or AFL Fantasy in general? Join the conversation and use the hashtag… #AFLFantasy.