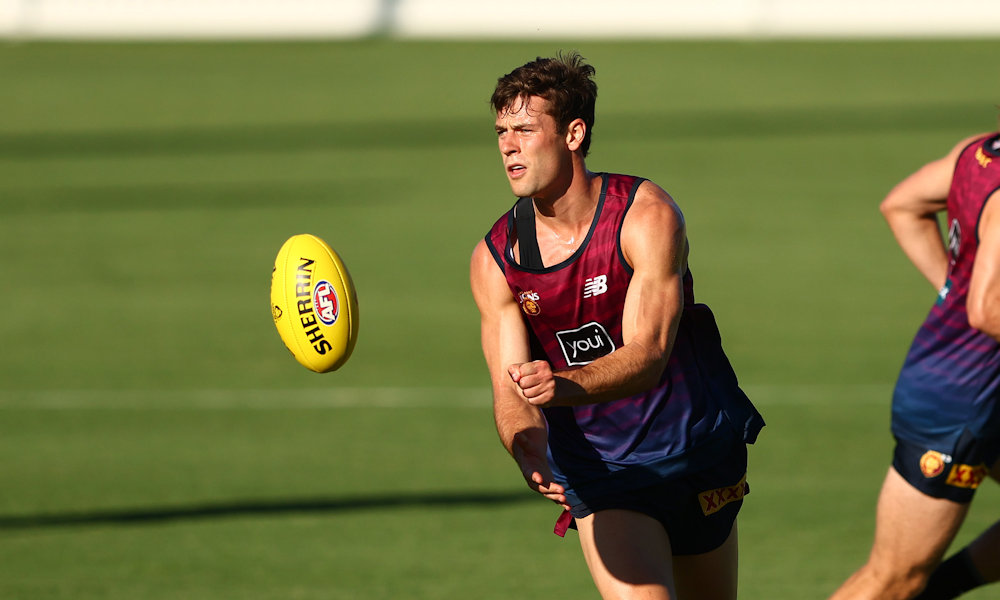 | | |
| --- | --- |
| Player | Josh Dunkley |
| Club | Brisbane |
| Position | MID/FWD |
| Price | $963,000 |
| Bye | 12 |
| 2022 avg | 108.8 |
| 2022 gms | 22 |
| Proj. avg | 115 |
| Draft range | Early first round (likely top 2 pick) |
Click here for 2023 Fantasy Classic prices.
Why should I pick him?
Josh Dunkley is a gun. Simple as that. He has been a staple of our forward lines for a few years now, and this was while he was at a Western Bulldogs team where the midfield was stacked with the likes of Marcus Bontempelli, Jack Macrae, Tom Liberatore, Bailey Smith, and Adam Treloar. He is now at a Brisbane Lions team that could use gun midfielder to help out Lachie Neale, with Jarryd Lyons out of the team in the back end of last season. Dunkley will be that guy.
In a stacked Western Bulldogs midfield, Dunks put up big numbers, especially last season. 14 of his first 16 games were 100+, with 8 of those over 110, and 5 of those over 129. His back half of the year wasn't as big, as he only went over 110 on 3 occasions post his bye, but was still pumping out 100's, which is fantastic as a forward. He only went under 100 on 4 occasions all season, showing just how consistent he was. Even in 2021, before his injury, he had an incredible 6 game stretch to open the season. He had scores of 107, 117, 110, 108, 151 and 100 before a shoulder dislocation during his round 6 game halted his season for 11 weeks, but then struggled when he returned. He is also had a massive finish to his 2019 season, where in his final 16 games of that season, he averaged 123.7, with 12 scores over 115, 9 of those over 120, and 4 of those over 140. Those were 145, 158, 150 and a career high score of 189 against Melbourne. This shows just how big his ceiling is, and he is available as a forward.
Another positive in picking Josh Dunkley is that there is a world where his average is 10+ points better than the next best forward, and could go 115+, which would be a very good pick in our midfields, but he is available as a forward! It's a gift from the fantasy gods that Bevo rotated all his midfielders and played Dunkley forward enough so we can pick him in our forward lines. Have I not mentioned he is available as a forward?
Why shouldn't I pick him?
I don't really see too much downside with picking Josh Dunkley in your starting side, but there are two points that you could consider. Firstly, he is at a new team. What exactly will his role be? Is he going to play forward and will it be a decent amount? Can he score the same as he did in a high scoring Bulldogs team? I personally only see his scoring increasing with added responsibility as a full time mid, with maybe a couple of stints forward.
The only other factor that would sway you away from starting Dunkley is his price. Priced at $963k, that quite a steep price to pay for a forward. With so much value in the forward line this year with the likes of Tim Taranto, Dylan Moore, Connor Rozee, Zak Butters and Darcy Cameron all over 100k cheaper, could you opt for these options and save money? This is a valid argument, but I still think making room for Josh Dunkley is the play, and you could even start Dunkley in your midfield to fit these value forwards in your team, and have the flexibility of having a MID/FWD in your midfield.
Deck of DT Rating.
ACE
I don't see picking Josh Dunkley in your side anything but an Ace pick. I think he is going to have a big year at Brisbane where he figures to be the no.2 midfielder behind Lachie Neale. He is the hot favourite to be the top scoring forward in the game, not to mention he would be right in the mix of being a top 4 midfielder. In terms of draft, I think he will go as the number one pick in a lot of drafts. Only Rory Laird you could make an argument for taking ahead of Dunkley, but the fact you can have Dunkley as a forward, where the forwards drop off real quick after the first 6-8 guys, adds to the appeal of taking him at number one.
FOLLOW US  ON TWITTER: @DTTALK for all things AFL Fantasy (and more). Got something to say about the Deck or AFL Fantasy in general? Join the conversation and use the hashtag… #AFLFantasy.