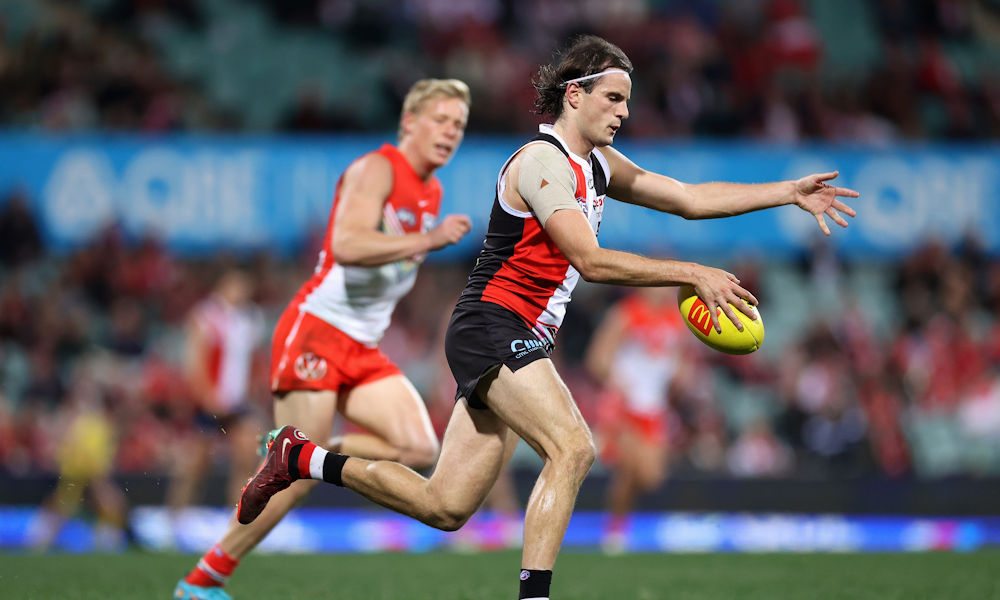 In case you missed part 1, the first player I mention is a stash, the second is to help this season and the third is a sell high candidate. Enjoy.
Wingard– having the worst fantasy season his career by nearly 20 points (disregarding his rookie year). Still only 28. Pretty good chance he gets traded, then can wait and see what the role is. 😉
Impey– has been over 70 in 7/10 games. He has also had some scores that have been so low that I had to check his tog was normal. Has some fantasy friendly matchups for defenders in the run home (saints, bulldogs, Eagles, North melbourne) and could go 80 or so. 🤷♂️
Sicily– his average WO CJ is 102.8 and with CJ in the team is down at 92.9. I just think Sicily right now is at his max value. He should be a consistent 90s guy through his career, but his value is highly unlikely to ever be much higher than it is at the moment. Defs dont need to cash in on his value but worth shopping around to see what's there. 😎
Bedford– the perennial super sub has shown some flashed in games he's played this year. Averaging 75 in the VFL (although id question his TOG keeping thsi down), one who could be interesting in the right place. 😬 a couple weeks ago this was Luke Jackson but ya can't have it all 😮💨
Langdon– due to injury, and also teams realising his effectiveness and tagging langdon's average in his last 5 is 55.8. In the games before that, ignoring his 38 against the hawks (Mitchell said post game that maginness had been picked in the side to tag langdon), he was averaging 97. Now obviously langdon is susceptible to a tag and is likely to receive a couple in the run home (freo, Collingwood who tagged last time), but if you are willing to look at upside he could return to averaging 95 from here on out. 🤷♂️
Viney– He is currently 28 so should still be good for a few years, but before this year has only had one season averaging over 91. He has only played 20 games in a season twice. In his last 5 he is averaging a monstrous 116. If you are trying to win a flag I would hold him as he shouldn't slow down this year, but just based on his career so far, I think it's unlikely to see him playing 20 or more games next season and getting near his average of 98. He could be ageing like fine wine, but he could be very attractive to other teams right now. 😎
Tarryn Thomas– bloke has been genuinely rancid for fantasy coaches this season. Has looked underdone fitness wise and just out of touch. We have seen however what he can do in the past and I'd be willing to gamble on seeing another preseason from him and what he can do. 😍😍
Stephenson– He seemed to be pretty high up the ground on the weekend and was finding ways to get involved. I think North's season is going to continue to get worse, but if they started to get the ball more as a team, I think we'd see Stevo's numbers increase and become a fieldable forward.🤢
Hall– again only if you are out of contention. Will turn 32 in the offseason. Has a long history of soft tissue injury and is very unlikely to get through all of next season uninjured. North also may have some kids come through that usurp his role as a rebounding half back flanker over the preseason. You might be able to convince a contender who wants 100s from him for the next month to hand you over a young stud like a Luke Jackson (ambitious but have a go!) 😎😎😎😎😎😎
Duursma– value should be pretty low. Has shown he can be a 70s guy. Would love to see him with a full preseason. 🤷♂️
Orazioooo– ports last 4 games (fantasy finals time) are against Collingwood, Richmond, Essendon and the Crows. Amongst that there could be a couple of bags for the little man. He's probably on your waivers unless someone has felt so passionately about him he's sat on their bench all season, but he is absolutely worth a flyer on. Should return to AFL level this week so be quick!!😍
Boak– he's about to turn 35. This may be his last year of fantasy relevance, and with the keys of the Port midfield starting to be handed over to Butters and Rozee, id be jumping off before his value is 0. Only if you can nab a keeper for him. 🤟
Dow– worth a flyer on if dusty went to Sydney and guys like Lambert and Edwards were to retire (this is pure conjecture). 🤷♂️
Bolton– could have some huge day outs in the run home against West coast, north, the hawks and the bombers. 🤟
There's not too many tigers whose value is very high. Short could be listed here, but honestly he'd be a fair chance at obtaining fwd status and you'd be pretty happy with a 95 averaging forward. Maybe he's a buy low…
Clark– has struggled in his first 2 games this season but id love to at least have a look at him over an offseason if he can be healthy 🤞
Jones– I'm befuddled why he has been scoring so terribly. Has still had a decent volume of CBAs. If he turns his form around you could pick up a mid whose capable of going 100 for very very cheap. 😍
Ross– has been a whipping boy in the past. Was a consistent high 90s, low 100s guy before having a really lean two years, but despite having some great games this year is still only going at 88. I'd say he's going to have a great run home, but he can be a bit outpaced at times and if guys like Hunter Clark, Owens and Windhager have good offseasons and Karl Amon comes to the club he could find himself on the outer very quickly. 😬
Ladhams– I don't think it should be ignored that in the preseason he dealt with patella tendinitis, covid and a concussion. Shown what he can do in games as a solo ruck this year (112,107,97,81). He has also had some poor games despite being solo. During his time at Port he went about 91 as a solo ruck. I'd be keen to stash (and field him) until hickey retires so we can see what he can really do as a number 1 ruck. 😍
Buddy– jump on the bud train! Plays Essendon, Adelaide, GWS, North Collingwood and the saints in the run home. Surely there's a bag or two in there somewhere!👍
Lloyd– sell high on his 141. Role was the same and we've seen enough of him and the way the swans are playing that he's now a low 90s guy at best. 👋
Sheed– sounds like he might be ruled out for the year. He's pretty capable of being a 100s guy and you might be able to get him very cheap. Let's hope the ankle gets right over the offseason 🤞
Shuey– has a huge ceiling and if you have a deep midfield could be one whose score you try and loophole to see if he hits that ceiling. 😄
Witherden– see if you can suck someone into trading. Unless there's injuries there's every chance he won't play again this year. 😍
Darcy– I really struggled to find an actual stash candidate from the dogs, all the value of players is pretty high. Darcy most certainly will be on your waivers at the moment. I think he will force his way into the side soon, his VFL numbers have been insane, and if played as a key defender knows how to rack up intercept marks and could very quickly start scoring 70s. 😬😬
Mclean– poor bloke has been robbed of so much footy the last 3 seasons. Has had two seasons over 85 before, should come into the side into the next couple of weeks. Another one who could be on waivers, and honestly anyone who plays for the bulldogs has the potential to score well 🤞
No sell highs from the Bulldogs. The only players you could consider are players very likely to retain forward status, so definitely don't want to trade them.
Thanks heaps for reading hope you have enjoyed :)