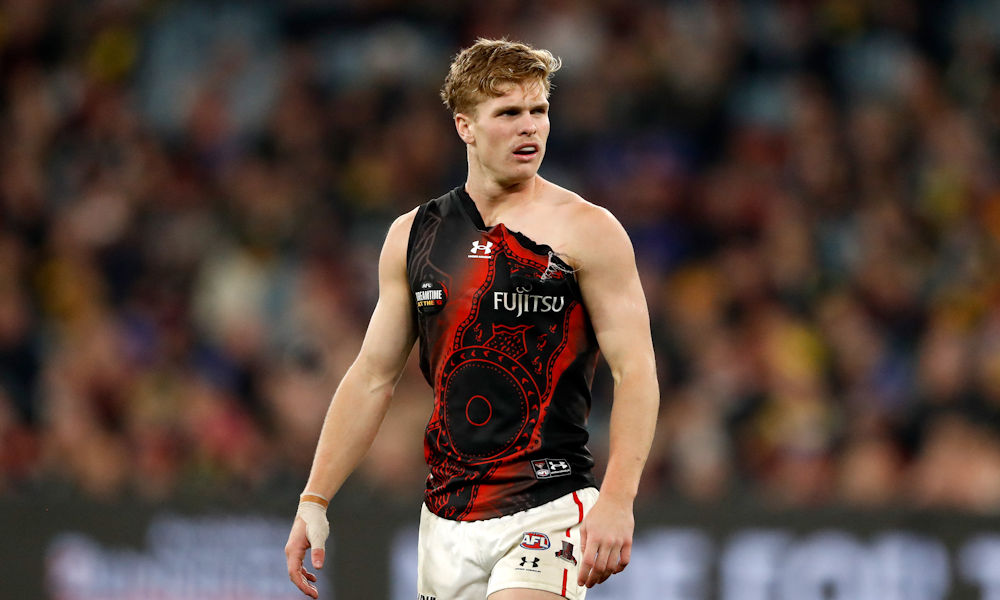 Just like stocks, buying low and selling high is key to building a successful AFL Fantasy Keeper/Dynasty league squad. This is the time of season were different teams have leverage based on their ladder position. For example if you are competing for a flag, you may be willing to offload some young talent for immediate help, and vice versa if you are out of the running, you may be willing to sell veteran's for younger players. If your league also allows future draft pick trading it opens up a world of possibility. My league for example allows this and leading up to our trade deadline last week, we had a total of 9 trades across 2 weeks.
First buy low is a stash for deep keepers, and second buy low is someone who can help this year. Emoji represents my confidence.
Rachele – has struggled immensely of late. Did however flash his potential with a couple of tons early. Has had a small number of CBAs in 6 games this year, indicating in the future he may be used in a role where he spends 20-30% of game time as a mid. 🤷‍♂️
Schoenberg – averaging 85 in the SANFL. Been in and out of the side, but CBAs were up at 69% on the weekend. With crouch seemingly on the outer and Sloane done for the year, he could keep the role and score well enough to be fieldable.😎
Tex – scoring will likely be a lot tougher with the likes of Melbourne, Sydney, Carlton, Port Adelaide and a potentially rejuvenated Eagles. 100 AVG in last 3 will surely come down.🤔
Mathieson – fair chance he's on the waivers but otherwise could grab in a trade. I think it's likely he is elsewhere next season (Wshcroft coming in to further squeeze him out of the midfield), and he could have a brodie type impact. Worth having on the roster over the offseason to see if he should be kept. AVG 116 In VFL. If the lions got an injury this season could also come in and be huge.😎😎
Zorko – owners may be pissed off with him, but reality is he's still a guy capable of a monster score to win you a final.😮💨
Coleman – invaluable this year averaging 75 as a fwd/defender, but reality is, next season will you keep a defender averaging 75? Probably not. If you aren't contending try sending him to a contender for someone you might keep.🤟
Dow – clutching at straws here but if he was traded to a club and given opportunity as a high volume cba mid over the offseason he may warrant being a keeper🤢
Young – Once Weitering returns we could see him get to be used in an intercept role and freed up for more easy +6s opposed to the lockdown role he's been forced to play without him. 😬
TDK – number 1, his scoring is 19 points higher per game when Pittonet is not playing (and Pittonet is back in 2 weeks). Number 2, he's about to turn 23, for reference other elite rucks at the same age
De Koning 66 as a solo
Grundy averaged 106.2
Gawn averaged 90.1
ROB averaged 95
Goldy averaged 99.4
Dean Cox averaged 95
I' m thus not as high long term on TDK. 😎
Poulter – averaging 80 in the vfl and 106 at U18. Tonned up twice in the AFL in rookie season. offseason watch 🤷‍♂️
JDG – Fair bit of stink around him, and not too many stats to back this up, beyond wanting the big contract, and that he's started to look a lot better lately, but I think he will finish the year super well 😏
Darcy Cameron – only would trade if you are out of contention. But no idea what his role looks like when Grundy is back, if you can fetch a guaranteed keeper for him it's worth it 🥲
Hobbs – avg 95 as a junior and 94 in 2 vfl games. Averaging 4.3 marks per game and 2.3 tackles, whilst playing majority forward. This kid could explode in the next couple of years. 😍😍😍
Perkins – 67% cbas over his last 4 matches, for an avg of 74. Surely with the bombers so bad he keeps the role, and scoring stays similar.😍😎. Also like snelling here big time.
2 meter Peter – value may be slightly inflated due to holding ruck status. He won't have that next year and surely you're not keeping a 65 averaging fwd.
Darcy – ok loose definition of a stash here. But in those numbers I referenced earlier around ruckmen at the age of 23, last year Darcy averaged 99 at age 23 as a solo ruck. I am massive on him long term and he could be slightly undervalued this season 🤞
Fyfe – owners may be infuriated having waited all season for 2 shit scores. I'd expect mid clock to increase slightly, tog to increase and overall performance as he finds his feet. 📣
Brodie – only if you are out of contention this year and can get a superstar for the future. His value will be a lot lower once he loses forward status this season. 🤯
Bruhn – worth taking a flyer on. Has seen some quantity of CBAs, and has very solid tackle numbers. May not be a keeper in the end but worth seeing what his role is come March next year.😮💨
Ash – returned to cba mix on the weekend but before that had been back at half back. I think once hopper is back and Taranto's CBAs increase he will almost defs be at half back, where he can avg much more than his 66 on the season.😶🌫️
Himmelberg – another to only consider if you are out contention, but his value is sky high at the minute. May keep his role as a defender into the future and dominate, but if he returns to the fwd line his scoring will be terrible and value at 0. Try and trade for someone whose value will always be high. 👍
Holmes – Chris Scott doesn't often show a lot of faith in kids, but this bloke has been locked into the best 22 all year apart from when he was injured. Still yet to really show scoring prowess but with how highly he is rated internally and the cats list about to fall of a cliff I really like him 😎
Touhy – might dominate while Stewart is out 🤷‍♂️
Smith – will be 34 after this season. Showing no signs of slowing down, hasn't missed a game but you never know how the body is going. If he was to hang them up, his value would obviously be nothing, but you could send him to a contender and take a youngster who may be close to their prime 👍
Sharp – averaging a monstrous 116 in the VFL. Not sure what he's done to Stewie Dew, but if he winds up at another club or just back in the best 22 you can be confident of good scores 😎
Levi/Chol – could be worth a punt on one of them (might even be on the waivers), considering they have Essendon, WCE, Hawks and NM all still to come where they could kick bags.🤔
Honestly couldn't find a sell high from Gold Coast.