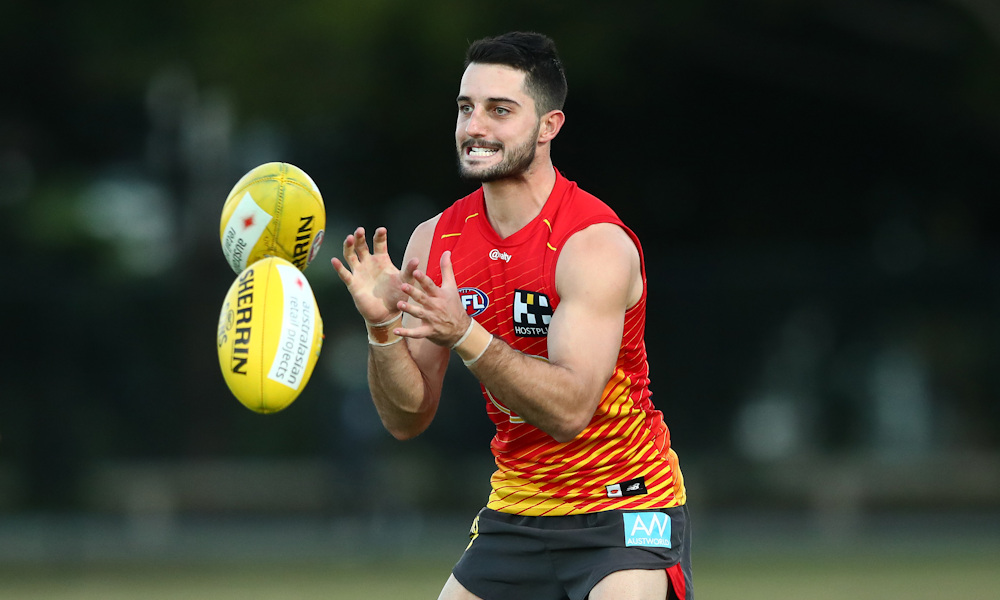 Name: Brayden Fiorini
Team: Gold Coast Suns
Position: MID
Price: $857,000
Bye round: 13
2021 average: 105.3
2021 games played: 9
Predicted average: 112
Draft range: sixth or seventh round bargain
Click here for 2022 Fantasy prices.
Why should I pick him?
This Deck of DT series has had Jacks, Queens, Kings, and Aces — and now, a GOAT.
Brayden Fiorini has known how to score from day one. Well, day two to be precise — scoring 166 AFL Fantasy points in just his second game of AFL back in 2016.
Following this immense display, Fiorini's rise culminated in a top-5 best and fairest finish and a near-100 point AFL Fantasy average in 2019 at just 22-years-old.
It seemed the Gold Coast GOAT was destined for a snouting.
Alas, an injury or two, the arrival of Matt Rowell and Noah Anderson, and a lack of Stewie Dew faith left the GOAT to toil away in the Magoos for the past two seasons.
Refusing to be held down, Fiorini dominated at VFL-level in 2021, averaging 32 disposals (19 kicks), seven marks, four tackles and 125 AFL Fantasy points across six games — with a top-score of 151 (from 44 disposals) in round 9.
After being disrespectfully named the medical sub in round 14 (coming on to score 70 in 66% time on ground (TOG)) and round 15 — Fiorini got a decent crack in round 16 before an injury to Hugh Greenwood the following week finally cemented his spot in Dew's 22.
Fiorini immediately thrust himself into Classic consideration — storming home to average 109.8 AFL Fantasy points from just 74% TOG in his final eight games of the season, along with an impressive 59% centre bounce attendance (CBA) rate.
Upon claiming a spot in the best 22, the now 24-year-old only dropped under 100 fantasy points once, scoring 110+ on four occasions. His season-high score of 142 came in the Q-Clash in round 19, where he coiled his tail and snorted his way to 41 disposals, eight marks, and four tackles in just 71% TOG.
According to DT Live, Fiorini was a top-six midfielder by points per minute (PPM) when Greenwood went down, averaging 1.2 PPM from rounds 17-23, behind only Callum Mills, Cam Guthrie, Jack Steele, Rory Laird, and Tom Mitchell.
With Greenwood at North Melbourne and Fiorini "hungrier than ever" to rightfully claim his place in the side — the GOAT's elite fantasy ceiling, TOG and CBA upside, and arguably underpriced starting salary — make him as tempting as any top-priced point of difference on the market.
Why shouldn't I pick him?
The only thing standing between Brayden Fiorini and snout status in the past few years has been his coach. The very same coach that sent Jarryd Lyons packing and believed Aaron Hall was done at AFL level.
Maybe Stewie isn't a fan of fantasy footy? Perhaps it's just the Suns version of 'The Process' by playing their studs in the twos and grabbing more draft picks? Or, maybe, just maybe, Dew isn't a fan of Fiorini's disposal efficiency.
It's the biggest knock on the GOAT's game. His one flaw. After all, it's hard to kick with hooves.
Rating below average for kicking efficiency in his breakthrough 2019 season, Fiorini did clean up his disposal in 2021 — his 66% mark rating him above average for a midfielder, according to Champion Data.
Regardless of Dew's reasoning, it's often a nervous wait for Fiorini owners on selection night, as we wonder whether, once again, we'll see Sean Lemmens getting the nod ahead of him.
The other barrier preventing an immediate snouting (aside from simply getting selected every week), is his TOG. While he does have great PPM numbers, GOATirini only passed the 73% barrier on three occasions in 2021.
As a proud owner last season, I can tell you first hand — you have to have a strong stomach if you're watching the game live. A different pain to watching Reilly O'Brien run, Fiorini comes off the bench most of the time. 
Unless Dew changes his rotations, be ready to endure a scoreless eight minutes to start the first quarter, before a flurry of points the moment he steps over the white lines.
Admittedly, it's not ideal for your 857k premium to be starting on the bench, but it's something we've seen Adam Treloar do to great effect in the past, and it can be done.
Deck of DT Rating.
GOAT (/ACE)
After being reborn as a genuine AFL Fantasy Classic stud late last season, Fiorini rightfully reclaims his place as heir to the Tom Mitchell throne.
A points per minute behemoth and top-end elite reader of the play, there should be an easier way for Dew to fit the natural ball-magnet into his side following the departure of Greenwood and the pre-season injury to #moremidfieldtime candidate, Jack Bowes.
The ultimate starting POD, Fiorini has top-eight midfielder upside.
Receiving a 3% discount based on games played, the GOAT comes in priced at 102 — three points under his season average, and well below the 111 AFL Fantasy points he averaged across his final seven Greenwoodless games.
Look, there's a stack of #FREEORINI bias in this article, and if you don't believe me — that's okay! But just know that me and my 0.7% ownership crew will be cruising around in our Hilux's and hats this time next year.
FOLLOW US  ON TWITTER: @DTTALK for all things AFL Fantasy (and more). Got something to say about the deck or AFL Fantasy in general? Join the conversation and use the hashtag… #AFLFantasy.