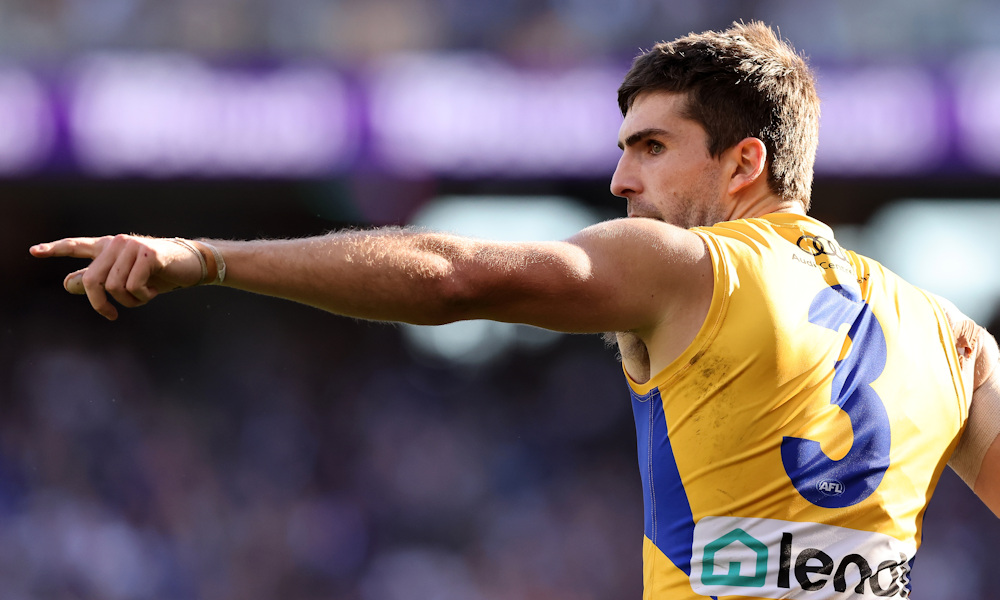 Name: Andrew Gaff
Team: West Coast Eagles
Position: MID
Price: $815,000
Bye round: 13
2021 average: 97.2
2021 games played: 21
Predicted average: 100
Draft range: Third Round
Click here for 2022 Fantasy prices.
Why should I pick him?
Gaff is one of the most consistent fantasy players out there. Until last season he averaged over 100 in all of his seasons except for the COVID effected 2020, with an average of 92 in 2014 and 2016. Thats 8 years of consistently averaging 92-110 points.
The Eagles were a very undermanned team last season particularly in the midfield, forcing Gaff to play roles that don't benefit his fantasy game. Gaff is best when he is able to be fed the ball on the wing by inside midfielders, and allowed to float back to receive the ball in defence. Due to injuries the Eagles were missing many inside midfielders with Yeo and Shuey missing big chunks of the season. This forced Gaff to play minutes in those roles during games, and his tackling (something inside midfielders need to be good at to score well) is something to be desired. This season the outlook is looking more promising that he can go back to his favoured role on the wide wings of Optus with Yeo set to return, Luke Shuey hopefully coming back despite a training scare, and the positive signs that Clark has made in training.
Something this will also lead to is greater time on ground, and greater point scoring opportunities. As he was playing inside for periods last year Gaff was often finding himself going through more rotations on the bench, and spending much less time on ground. This really impacted his scoring as quite often he was left stuck on the bench late on during games that previously he would usually be allowed to float around in, chipping up 20/30 easy points in the final 10 minutes.
Make no mistake a wing role is key to Gaff scoring well, and he has the ability to do that. In 2018 and 2019 he averaged a massive 110 points playing that role rarely spending less that 90% of the game on the field. Should he get back on the wing expect his TOG and points to go up easily.
Why shouldn't I pick him?
In previous seasons Gaff's consistency was one of the reasons he found himself in so many teams, very rarely going below 90 points. Last season he failed to score above 90 ten times. As mentioned above this was due to many factors. His fantasy game was just so unusual last year. When he was in a good role he score well, with 7 scores above 110. His scoring was very similar to that of Yo-Yo Yeo in years prior with great scores some weeks, awful scores other weeks, and unusually only 3 scores between 90 and 110.
Gaff also copped attention last season from other teams best shutdown players. Again this was due to the lack of other quality mids in the Eagles side. When he does cop attention his scoring can be very poor such as his 60 vs the Bulldogs in Round 2. However with Yeo and Shuey likely to be back I would expect to see them with Kelly cop attention over Gaff.
Deck of DT Rating.
QUEEN
Arguably Gaff is underpriced. He is someone that has fantasy pedigree, and he even showed last season during some games that his fantasy game on the wing is still there when allowed to play the way he likes. His 154 vs Port last season when he accumulated 13 marks and 25 kicks is testament to that. Despite this his uncharacteristic inconstancy last season, and the questions around his current role, particularly if players drop out of the Eagles team put some question marks on him.
His role is the big factor. If it's inside midfield in pre-season then avoid, but if he's playing on the wing he could be a must have.
If you are after someone who will be unique this season, and has the ability to score well then Gaff offers a great opportunity. He won't average below 95, and he could go back to his 110s.
FOLLOW US  ON TWITTER: @DTTALK for all things AFL Fantasy (and more). Got something to say about the deck or AFL Fantasy in general? Join the conversation and use the hashtag… #AFLFantasy.