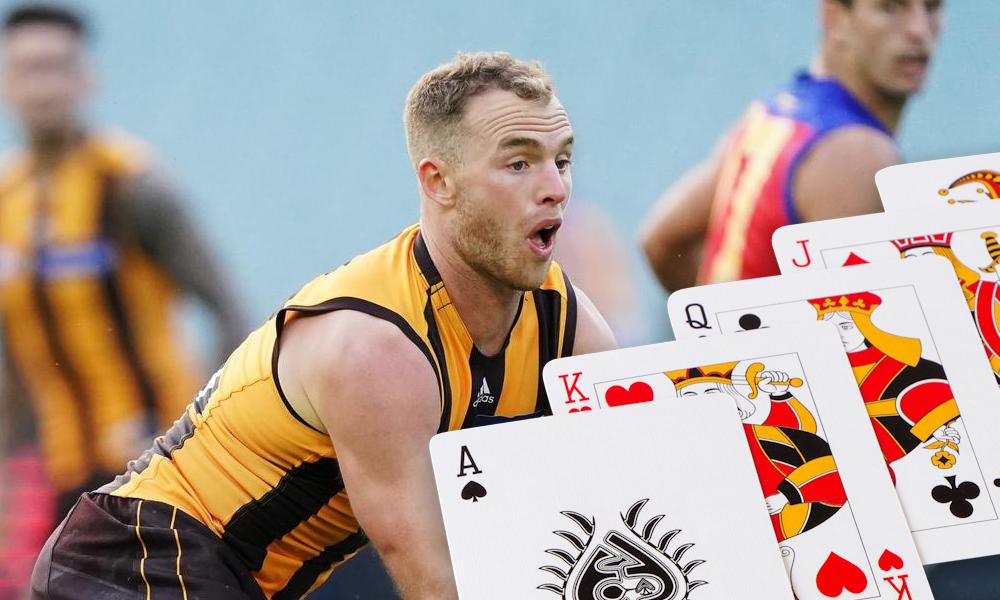 Name: Tom Mitchell
Team: Hawthorn
Position: MID
Price: $823,000
Bye round: 12
2020 average: 86.2
2020 adjusted average: 107.4
2020 games played: 17
Predicted average: 118.9
Draft range: Top 10 
Click here for 2021 Fantasy prices. 
Why should I pick him? 
I find myself with one of the easiest jobs that DT Talk has to offer again this year, convincing you to pick one of the best AFL Fantasy players in history at a price below what most would expect.  
Coming off a 2018 Brownlow, followed by a 2019 where he played no games due to a pre-season leg break, Titch was likely to take time to adjust and get himself back into form, with both assumptions proving to be correct. Mitchell averaged an adjusted 107.4 and, despite that being below his lofty standards, had a hugely successful return for the Hawks and our Fantasy teams alike.  
Mitchell's start to 2020 was, like many of us, a bit slow. After having a year off due to what can be a fairly traumatising injury, Titch opened his account with an adjusted 103, before following up with a pretty disappointing month or two by his standards, averaging an adjusted 100.3 before his Round 10 Bye. Don't get me wrong, from a bloke priced below $700k, a 100 average is solid, but it's not what we expect from one of the pigs. Titch managed to find something much closer to his old form post-Bye however, averaging an adjusted 116.1 despite also having his lowest score of 58 (73 adjusted) in this same stretch and increasing his price by $107k to start off the 2021 season, in comparison to the measly $45k gain in the rounds before his Bye. To put this in perspective, if Mitchell averaged 116.1 for the whole season, he'd be the fourth highest averaging player in the league and at full premium price. 
Adding to the many reasons why Tom Mitchell should have 100% ownership is his history. Before his broken leg, in 2017 Mitchell averaged 127.2 and in 2018 he went a couple better averaging 129.2. At one point in the 2018 season, Mitchell was pushing the $1mil price tag, topping at $963k, a cool $140k more than you're getting him for here. 
Why shouldn't I pick him? 
The two things that might concern people are injuries and the Hawks' midfield being more stacked than those two big seasons in 2017 and 2018. 
Full disclosure, when I wrote this article on Tuesday I had a whole paragraph here about how Tom Mitchell was one of the most durable players in the game. Despite missing the whole 2019 season with a broken leg, he played full seasons in 2016, 2017, 2018, and 2020 and only missed games before that due to Sydney not knowing a superstar when it gets gifted to them. However, less than 24 hours later, our mate Mitch Cleary over at AFL.com.au decided to let the world know about Mitchell's shoulder problems, so it needed a rewrite (whoops). Mitchell injured his shoulder early in the 2020 season and, despite playing out the year, needed surgery on it in the offseason. Despite the headline suggesting Mitchell will miss Round 1, the way that reports read suggest he'll most likely go into Round 1 with no pre-season matches under his belt, which shouldn't be a problem. Titch played out a whole season with a busted shoulder, surely there's no way he misses Round 1 because of it, right…? Either way, the injury definitely puts him on the watch list, but I still back him in to start the season, and if he does then you should be starting with him.
As for the improving midfield at Hawthorn, Titch showed last year that he could very comfortably still perform with JOM and Worpel in the same engine room. Ignoring the first half of the season where I genuinely believe Mitchell was finding his feet again after a year off, JOM and Titch played four games together, two of which Mitchell went 100+ for (unadjusted), and Worpel and Titch played six games together with both performing extremely well throughout that stretch. I actually think having three stars running through that midfield helps Mitchell, because he finds the ball just as well but should cop even less attention than usual. Finally, the Phillips trade shouldn't breathe any fear into the hearts of potential Titch owners, as the two play very different roles and won't get in each other's way.  
Deck of DT Rating. 
ACE 
Mitchell is underpriced and is genuinely one of the top 3 best scorers in the game, provided he's healthy, he has to be in your team. I wouldn't be even slightly surprised if he gets close to $1mil again this season, and if he does then non-owners better be prepared to pay up. A very strong contender for one of your first draft picks too, I currently have him behind Gawn, Grundy, Neale, Whitfield, and Lloyd.  
FOLLOW US ON TWITTER: @DTTALK for all thing AFL Fantasy (and more). Got something to say about the deck or AFL Fantasy in general? Join the conversation and use the hashtag… #AFLFantasy.