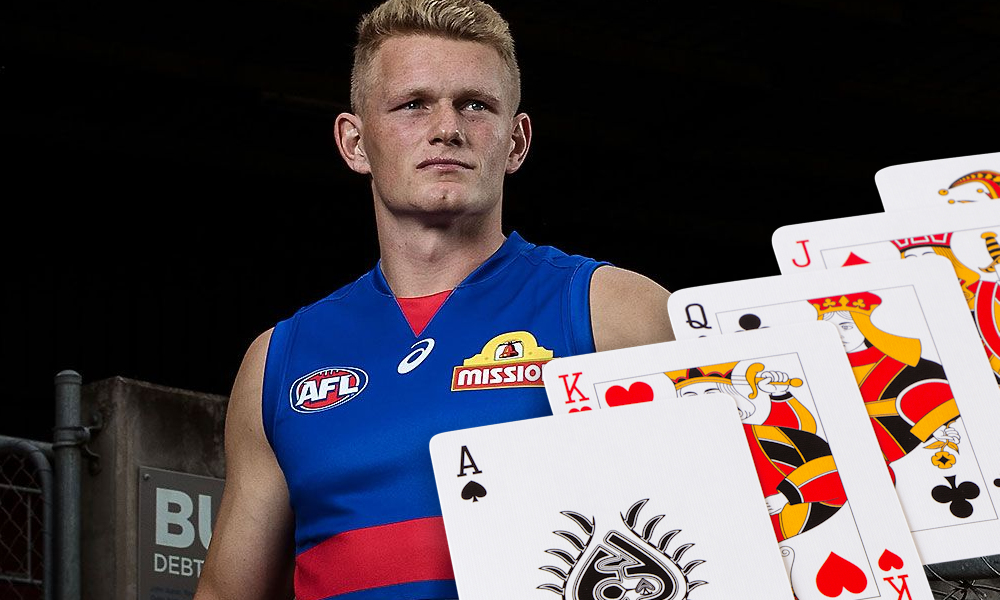 Name: Adam Treloar
Team: Western Bulldogs
Position: MID
Price: $812,000
Bye round: 13
2020 average: 89.7
2020 adjusted average: 109.4
2020 games played: 8
Predicted average: 110+
Draft range: 1st round
Click here for 2021 Fantasy prices.
Why should I pick him?
Adam Treloar was one of the biggest surprises from last year's AFL Post Season trades. Along with Stephenson and Bosenavulagi, he was one of the three magpies traded out of the Collingwood Football Club due to salary cap issues. Now a Bulldog, he is injury free and is poised to attack the 2021 season.  Treloar would have a point to prove to his former club. As faith would have it, the Bulldogs are scheduled to play against the Magpies on the AFL season's first round.  When stars align, and you faced against the team that traded you out because of salary cap issues, you bet he would have a point (on Fantasy ton) to prove but not just for the first game but for the rest of his career.
Adam Treloar is a gun midfielder. Since 2014, his AFL fantasy averages are 103,104,111, 108,105, 113, and 89 (2020 – Adjusted – 109).  He is a ball magnet, a proven AFL Fantasy accumulator, and in 2021, Treloar will be one of the gun fielders to watch. Treloar is currently priced at  105!  With the long game back in 2021, it would be hard to find a coach that can argue that he would not score 110+ this AFL Fantasy Season.
With Dunkley, Treloar, Bontempelli and Macrae, opposition teams will find it hard to target all of these players. In the past, opposition coaches tend to tag Bontempelli or specific Bulldog defenders.  I can see this trend continuing in 2021. As a result, Treloar will continue his magic at the guts to accumulate points, which will see Dunkley, Macrae and Smith rotating with him.
Treloar has a proven high ceiling and produces consistent scores as a fantasy player.  Last year his fantasy scores (unadjusted) were 105, 91, 119,68,84,76 85 and 74.  From 2016 to 2019 his fantasy highs and lows for each season were 129-75, 144-57, 147-66 and 152-74.  If you want some more numbers, these are the number of times Treloar scored a hundred points from 2016 to 2018, 14/22 (64%), 14/21 (67), and 8/13 (62%). In 2019, Treloar scored a total of 18 tons ranging from 102 to 152. These are elite mid fantasy numbers.  As most of us go back to the traditional guns and rookies strategy, it will be hard to ignore Treloar in 2021.
Why shouldn't I pick him?
While we predict that Treloar will be the number one midfielder in the Bulldog in 2021, it should have an asterisk or a disclaimer that states this is assuming that a typical coaching convention applies!  Many Fantasy coaches are all baffled by the inner thoughts of the Western Bulldogs coach.  A case study, Dunkley, a gun mid that can take on opposition players and dominate a game, "Nek Minnit, lets try him as a ruck!".  There is no doubt that we will see Treloar play as a forward during the AFL Fantasy season. Indeed Treloar is capable of playing as a forward. The question is, will Bevo work his magic and make it a challenge for the coaches that invest in him this year? Will Bevo make it a regular occurrence and transform a gun mid into a mid/forward combo?
There is no doubt that many coaches were burnt last year by Treloar, not because of his AFL Fantasy ability but his ability to stay on the field. Treloar played a total of 8 games out of a possible 20 last year (40%).  In 2018, he also had some injury concerns, playing 13 out of 23 games (54%).  There is a strong case of buyer beware for Treloar. Many coaches will argue that injuries can't be predicted.  However, on the other side of the boat, Treloar has a history of soft tissue injuries. We all have that visual of him flopping around doing his best, imitating a 'silly salmon'.  There will be a case of once bitten twice shy here.
Deck of DT Rating.
ACE
Adam Treloar will be the number one midfielder in the kennel in 2021.  He is a consistent fantasy player with a high ceiling.  I can see him challenging for the top 3 AFL Fantasy midfielders by season's end. The only concern is his body; will it stand up in 2021? Barring injury, he should reward coaches that select him. Currently priced at 105, he is undervalued at the start of the 2021 season. Pick him up at the beginning of the season.  He is ripe for the picking, he is unique (5%) and ready to go.
FOLLOW US  ON TWITTER: @DTTALK for all thing AFL Fantasy (and more). Got something to say about the deck or AFL Fantasy in general? Join the conversation and use the hashtag… #AFLFantasy.