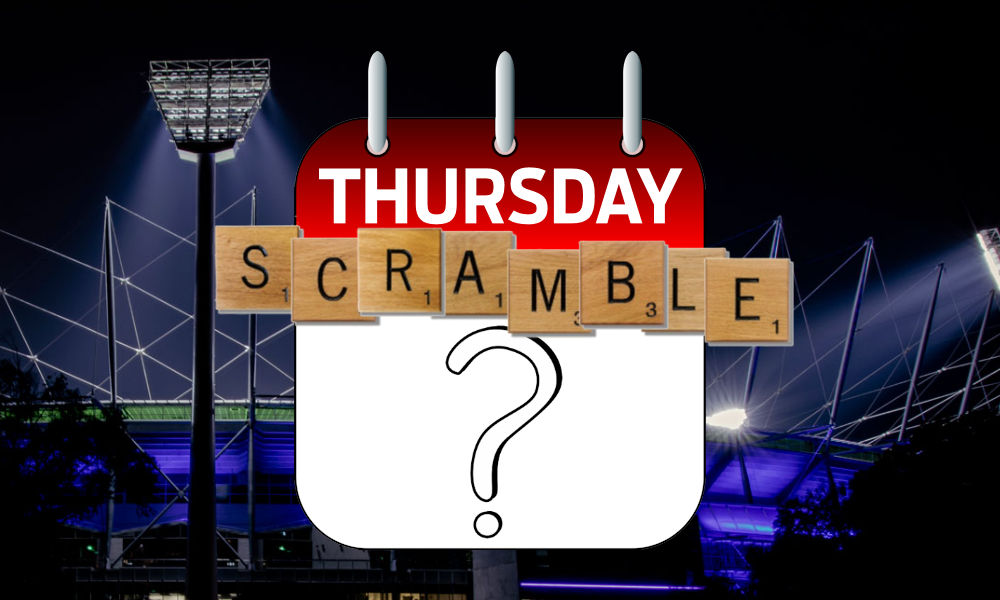 Is there anything else that the Fantasy Gods can throw at us this season? We have had injuries (and plenty of them), we have had suspensions (Danger has had both of these so far) and now we have had an injury in a bar fight. Seriously what else can we face this year! I am just waiting for the locust plague!
Anyway, on with this week. And let me apologise for this week being a little shorter, unfortunately I am a bit strapped for time.
Show us ya Bench!
This has been a talking point over recent weeks and the problem is only getting worse! Many teams are facing issues of having too many non-playing players on the bench. As we head towards the byes it is now important that we take note of who we have on the bench and their likelihood of providing us a heartbeat in a few weeks time.
Many people have been asking whether they should be continuing to downgrade and upgrade or whether they should focus on their bench players exclusively. The short answer is both.
Do I sound like I have lost the plot? Yup. Do I make sense, Yup.  Here is what I think.
What happens when we do an upgrade/downgrade? When we do that we are taking a risky rookie/mid pricer off field and when we do that we are downgrading a rookie to a new one. The theory here is that when you are doing this downgrade you are bringing in a quality rookie that is going to have some job security. You want to find someone that has come in that is going to have a bit of safety whether that be through another player's injury or suspension. Take Riley Collier-Dawkins for example. He comes in to a Tigers side that is without Trent Cotchin and is now without Shai Bolton. So he has himself some nice security for a few weeks. Similarly Peter Ladhams is a pretty safe option for the next four weeks with Lycett out of the Power side. These are the opportunities you need to take to improve your bench.
Can you do some double downgrades to achieve this? Yes of course you can. This is one very valid strategy. But just remember that each week you do that you are not going to be improving your side and it is one more week that everyone else has more opportunity to go further beyond your score. If you take this strategy then what you need to do is make sure you use that cash the following week to do a double upgrade. And if you are double upgrading some weaker bench players and putting the new players on field, you have once again managed to improve not only your field players but also your bench by potentially moving guys like James Jordon and Tom Powell to the bench.
What about the spuds that aren't getting a game (yes I am looking at you here Tom Highmore). Well it isn't their fault completely, some coaches just don't see the same talent that us Fantasy coaches do. These guys that haven't risen in value because they haven't played are also not likely to be losing any money either for that very same reason. It is because of that fact that I like to leave them where they are for as long as I can. I would much rather trade out the guys that have maxed out in value and are playing and are going to lose value the following week than one that is just going to hold station with their price. If I am then in desperate need of bringing a rookie in during the byes and have no one else to trade, then I might look at the non playing guys as a last resort.
Bye Bye Bye
Yes there are three of them. And yes they are a nightmare to navigate. But remember that we are only looking for a best 18 on field and as mentioned above this is where your depth is really tested. The first thing I suggest you do is have a read of Trent's Pre Bye Planning article which will be one of a couple he will write. He looks at the players that you should be focusing on bringing in and then next week he will look at those you may want to avoid.
My theory in regards to the byes is still the same. You won't get a full premium squad on the field each week and don't burn trades sideways trading someone that you consider a keeper just because they are on a bye. Remember the old Meatloaf's wise words that 2 out of 3 ain't bad. Aim for two really good weeks. You will find that all of the top coaches really make their move over the bye period and your aim should be to not only improve your team across the byes but also to improve your ranking.
Jump into the game and use the bye planner to see how many players you have available each week and start from there.
Things to Remember
Through adversity comes opportunity. When there are injuries it means that other rookies will get a game (hopefully)
Plan your trades a few weeks in advance now but don't be so locked in that you can't change them.
Be ready for Geelong late outs from round 10 onwards.
Hey everyone, have a great weekend and hopefully your team is doing much better than mine. My Supercoach team seems to be doing ok but my AFL Fantasy one isn't having a great season! I will be looking to answer some of your questions in next week's Scramble so have a think about them in readiness, I will tweet out midweek. And thanks again for those helping people out in the comments, often I can't get into the comments during the day as I am too busy with work so I appreciate that you all jump in and give each other a hand. Until next week have fun and enjoy the footy.