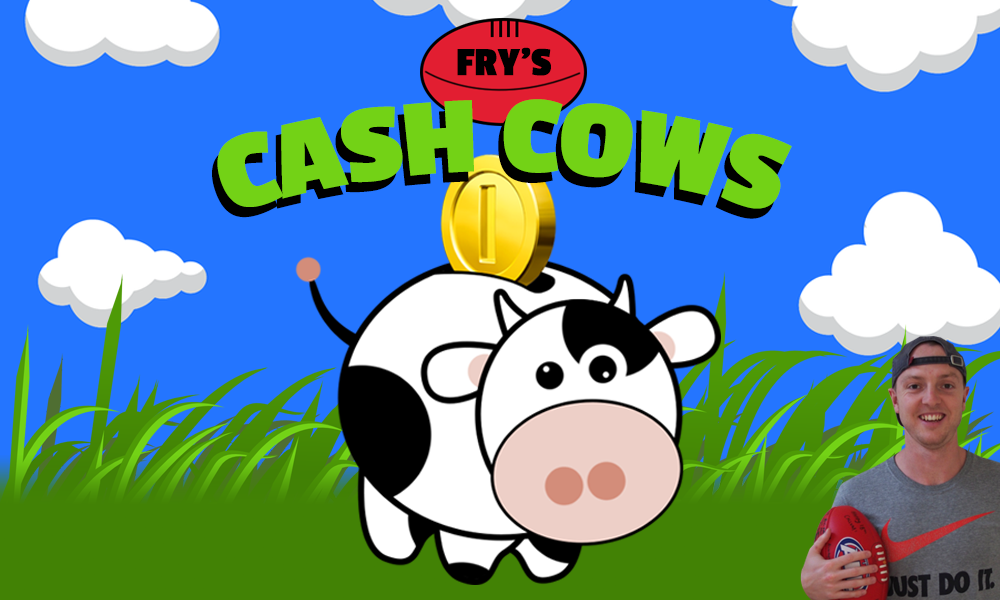 Eight down, 15 to go!
My fantasy season continues to spiral downwards and if the first two months weren't testing enough, the bye rounds are now just 6 trades away! Hopefully, your team is trending in the right direction and while pouncing on the right downgrade targets in the next few weeks to balance out your side will be crucial, the real test comes in which rooks you choose to trade out.
Personally, I think it's smart to hold onto the Chad Warner's and Tom Powell's of the world for as long as possible, resisting the urge to turn them into premium players and be stuck fielding James Rowe or Jacob Koschitzke in their place. Every team is going to be in a different scenario, but regardless of where you sit, it's time to start thinking about how you're going to generate cash throughout the bye rounds and beyond.
Rookie/cash cows are usually defined as players who are priced at $300,000 or lower
If you missed out on the 2021 Rookie Guide I wrote prior to Round 1 check it out here!
---
Mooooving On
Part of our weekly trade focus is to remove some of the rookie-priced players who are no longer making money. When a cash cow sees their average fall in line with their breakeven or they find themselves on the outside looking in for multiple weeks at a time, that's usually a good time to give them the axe.
Fattened cash cows
Errol Gulden, Swans ($460K, AVG 74, BE 88)
Nik Cox, Bombers ($413K, AVG 59, BE 68)
Deven Robertson, Lions ($345K, AVG 58, BE 52)
Sam Berry, Crows ($327K, AVG 50, BE 48)
James Rowe, Crows ($326K, AVG 50, BE 50)
The uninspiring scores continued from Errol Gulden in Round 8, leading to a price drop for the second straight week. A lot of coaches will prioritise trading Gulden away and fellow first-year pro Nik Cox is peaking in value as well – which could see some give him the flick. Adelaide duo Sam Berry and James Rowe have made their money and can be moved on while another poor score from Deven Robertson could see his ownership drop as he plateau's in value.
Popular R9 trades…

MOST TRADED IN

1️⃣ Aaron Hall
2️⃣ Riley Collier-Dawkins
3️⃣ Ryan Byrnes
4️⃣ Josh Kelly
5️⃣ James Harmes

MOST TRADED OUT

1️⃣ Jaidyn Stephenson
2️⃣ Errol Gulden
3️⃣ Taylor Walker
4️⃣ Matt Flynn
5️⃣ Braeden Campbell

PODCAST: https://t.co/cziugEuQFh#AFLFantasy pic.twitter.com/ye7JfvKVIb

— AFL Fantasy (@AFLFantasy) May 11, 2021
Injured/non-playing rookies
Matthew Flynn, Giants ($391K, AVG 79, BE 16)
Braeden Campbell, Swans ($379K, AVG 57, BE 61)
Tyler Brockman, Hawks ($284K, AVG 50, BE 22)
Lloyd Meek, Dockers ($245K, AVG 41, BE 20)
Tom Highmore, Saints ($240K, AVG 57, BE 2)
The same usual suspects appear in the non-playing group with all 5 of these players still residing in over 25% of teams! If you've managed to move Matt Flynn to R3 I can see the appeal in holding onto him, but the same can't be said for Braeden Campbell and Tyler Brockman who have been anchored in the 2's for weeks now. Even if they do return, they've made their money and can be moved on. Lloyd Meek and Tom Highmore may also still have growth, but unless something drastic changes they appear set to feature heavily at reserve level.
Cash Cow King – Round 8
The CCK nomination for Round 8 is an easy vote in my eyes with Rising Star nominee James Jordon (95) leading the way for fantasy rookies last weekend. His 23 touches and 8 tackles led to the best cash cow score of the round, although North's unique ruckman Tom Campbell (88) did his best to make things interesting. He and Jordon Sweet (65) stepped up for the few coaches that put their trust in them and Suns defender Jy Farrar (68) bounced back from a crappy outing to drop another 60+ score. Let's be honest though, Jordon is going to dominate this week's vote.
Loading ...
Round 9 Rookie Rankings
DEFENCE
There is still a lot of uncertainty in defence when it comes to fantasy cash cows, but versatile DEF/FWD Miles Bergman ($405K, 63, BE 29) continues to produce. Nearly half his total came via a 29-point second quarter, but during a weekend where reliable rookies were hard to come by, Bergman didn't let us down. Defender No. 2 also owns valuable DPP status, but his place in fantasy teams isn't as safe after scoring just 49 points against the Giants. Nik Cox (413K, 49, BE 68) actually went down in value last week for the first time this season and three scores under 55 in the last month may see some coaches axe him from their squad. He should be good for a 60+ against Freo this weekend, so I wouldn't cut the Bombers youngster just yet.
Connor Idun ($395K, 62, BE 37) has moved himself up the pecking order to No. 3, with his consistent scoring hard to ignore, while I finally caved and acknowledged Chris Burgess' ($327K, 54, BE 35) form by giving him a top-5 ranking. That leaves Power defender Martin Frederick ($265K, 28, BE 16) who is no certainty to be in the lineup for Round 9 after he was used as the medical sub in Showdown 49 vs. Adelaide. If he can squeeze his way back into the 22, then there's still merit in trading for Frederick, however, it'll be tough to justify such a move if he's named as their sub again.
Top-5
Miles Bergman (Power)

Nikolas Cox (Bombers)

Connor Idun (Giants)

Martin Frederick (Power)*

Chris Burgess (Suns)
* if named
After whining for the last few weeks, we're spoilt for choice when it comes to cheap defenders – although I have genuine concerns over their ability to score at a reasonable clip. Of the entire DEF group, Jaxon Prior ($297K, 62, BE 13) takes the cake as the most consistent scorer over recent rounds and Rhyan Mansell ($261K, 47, BE 22) just keeps stringing games together in Richmond's backline.
Blues duo Luke Parks ($246K, 45, BE 18) and Liam Stocker ($274K, 39, BE 27) seem set to score in the 40-50 range as long as they're included in Carlton's side while young Eagles Harry Edwards ($212K, 27, BE 12) and medical sub Luke Foley ($170K, 6, BE 55) are likely to be dropped ahead of next round. Bulldogs debutant Buku Khamis ($174K, 31, BE 21) could be a one-hit-wonder and even if he holds his place in their team I won't be expecting a huge fantasy score. Sticking with debutants for a minute, Trent Bianco ($170K, DNP, BE 25) had a day out in his first VFL game in Pies colours racking up 29 disposals, 7 marks, 7 tackles and a goal for a score of 129. Add the young DEF/MID to your watchlist in case he earns an AFL berth in the near future.
Best of the Rest
These players may or may not be in the selection mix this week, but be sure to keep them on your 2020 watchlist in case they burst onto the scene. In no particular order:
Matthew Ling (Swans, $219K)
Kieran Briggs (Giants, $170K)
Denver Grainger-Barrass (Hawks, $260K)
Will Gould (Swans, $170K)
Trent Bianco (Magpies, $170K)
Jacob Wehr (Giants, $170K)
Josh Worrell (Crows, $170K)
Joel Jeffery (Suns, $170K)
Bailey Laurie (Demons, $228K)
Isaac Chugg (Magpies, $170K)
MIDFIELD
Last weekend Tom Powell ($536K, 58, BE 62) dropped his lowest score since Round 2, but I'm still slotting him in as the best MID cash cow – for now. James Jordon ($471K, 95, BE 30) is doing his best to gain ground on Powell, with those two cementing themselves as the clear cut top-2 midfielders at the moment. I wouldn't look to trade either of them out just yet, especially if they keep scoring in the 70-80 point range. Errol Gulden ($460K, 44, BE 88) on the other hand has served his purpose as a cash cow and should be axed ASAP.
Gulden saw his price decrease for the second straight week after dropping a season-low 44 points against the Demons. Upgrading the Swans rookie to an elite fantasy type is obviously the ideal tactic, but if you can't go up, it's still worthwhile turning Gulden into a value pick like Aaron Hall or James Harmes. Rounding out the top-5 this week are Riley Collier-Dawkins ($232K, 64, BE -10) and Ryan Byrnes ($240K, 58, BE -10) who both served their purpose after being the most popular trade targets in Round 8. I still have RCD rated ahead of Byrnes and given the injury issues to the Tigers, there's a roadmap where Collier-Dawkins features in their side for longer than we expect.
Top-5
Tom Powell (Kangaroos)

James Jordon (Demons)

Errol Gulden (Swans)

Riley Collier-Dawkins (Tigers)

Ryan Byrnes (Saints)
I'm not giving up hope on Will Phillips ($279K, 6, BE 51) yet, despite the budding North midfielder spending another round as the medical sub and playing just 20% of the game. He and Caleb Poulter ($254K, 66, BE 4) seem like the best of the leftover MID's, with Poulter looming as a much smarter downgrade target following the first two games of his Collingwood career.
Dogs duo Anthony Scott ($309K, 57, BE 28) and Lachlan McNeil ($277K, 52, BE 24) continue to produce 50's and aren't pressing trade issues as long as they stay in the AFL side, while the return of Tanner Bruhn ($226K, 42, BE 33) and Sam Berry ($327K, 43, BE 48) in recent weeks hasn't changed their fantasy prospects. Both of them can be flicked if you get the chance with a pair of Richmond players performing strongly in the VFL which could see them earn their shot in the senior side. Will Martyn ($171K, DNP, BE 23) has already had his chance this year, but could be in line for a recall and Hugo Ralphsmith ($170K, DNP, BE 25) is another player in the mix to play the first AFL game of his career – perhaps as early as Round 9.
Best of the Rest
These players may or may not be in the selection mix this week, but be sure to keep them on your 2021 watchlist in case they burst onto the scene. In no particular order:
Jackson Mead (Power, $170K)
Jeremy Sharp (Suns, $221K)
Cooper Stephens (Cats, $170K)
Luke Pedlar (Crows, $250K)
Thompson Dow (Tigers, $192K)
Reef McInnis (Magpies, $226K)
Brody Kemp (Blues, $170K)
Zane Trew (Eagles, $170K)
Lachlan Bramble (Hawks, $170K)
Nathan O'Driscoll (Dockers, $218K)
Luke Valente (Dockers, $170K)
RUCK
An 88-point effort against Brodie Grundy and the Pies was a pleasant and somewhat unexpected boost for Tom Campbell's ($349K, 88, BE 8) owners. Sitting in just 4% of teams Campbell has solidified his place alongside Todd Goldstein in the Roos' lineup, although those who haven't traded him in yet have missed the boat. Another week presents another uncertain situation for Matt Flynn ($394K, DNP, BE 16) with a VFL bye last weekend meaning the young GWS ruck didn't get a chance to push his case for a recall.
Matthew Flynn (AF $394k SC $273k RUCK)
@GWSGIANTS coach Leon Cameron: "It's a week-to-week thing. We feel as though Mummy (Shane Mumford) can play this weekend, he's pulled up pretty well & trained on Wednesday."#AFLFantasy #SuperCoach #AFL

— Honeyball AFL 🍯 (@HoneyballAFL) May 7, 2021
If you can hold Flynn at R3 without your team self combusting that's still the ideal scenario, but if he's on your field and doesn't get named Flynn has got to go. Coaches who invested in Riley Thilthorpe ($341K, 39, BE 39) a few weeks back have enjoyed a nice price increase from the 2nd overall pick, however, there isn't a lot of growth left. I'd look to move Thilthorpe on to a cheaper alternative regardless of if he's in your RUC or FWD line.
Top-3
Tom Campbell (Kangaroos)

Matthew Flynn (Giants)*

Riley Thilthorpe (Crows)
* if named
It's a shame that Jordan Sweet ($244K, 65, BE -12) seems poised to make way for Tim English after the young Bulldog produced his second decent score of the season. Stefan Martin's Achilles issues could see Sweet stay in the Bulldogs side and if that's the case he's a fine downgrade target. Should Sweet miss the cut, then West Coast's Bailey Williams ($279K, 53, BE 30) is another RUC target for your benches, with his FWD status another handy string in his bow. However, while Sweet and Williams offer some great upside Sam Hayes ($170K, DNP, BE 25) is the pick of the bunch this week, with the Power young gun in line to make his AFL debut over the coming week's thanks to Scott Lycett's four-game suspension. Peter Ladhams could get a look in, but Hayes should still feature in Port's lineup after his 40-hitout, 75-point game in the SANFL last round.
Best of the Rest
These players may or may not be in the selection mix this week, but be sure to keep them on your 2021 watchlist in case they burst onto the scene. In no particular order:
Sam Hayes (Power, $170K)
Joel Amartey (Swans, $170K)
Max Lynch (Magpies, $172K)
FORWARD
We aren't used to seeing scores under 70 from Chad Warner ($516K, 64, BE 74) and as a result over 1,000 coaches are choosing to move the Sydney cash cow out of their squad. While the temptation of moving his $500K+ salary into a premium player is real, I'd rather shuffle the less reliable rookies and give Warner another chance against Collingwood this weekend. Speaking of second chances, Jy Farrar ($360K, 68, BE 29) returned to his 60+ best last week for the coaches who held onto him and Archie Perkins ($400K, 60, BE 35) did his bit against GWS to solidify his place as a top tier cash cow FWD.
Both Farrar and Perkins can be trusted (to a certain degree) in the lead up to the byes before being moved on, but the same can't be said for Deven Robertson ($345K, 36, BE 52). The rollercoaster that is Dev Rob continued in Round 8 and while he was alright against Fremantle there are no guarantees he'll hold his spot for long. With a growing breakeven, it's wise to think of an alternative option in case Robertson is sent back to the VFL. Lastly, Sam Flanders ($317K, 60, BE 16) doesn't find himself in too many fantasy sides as he continues to develop and find his feet at AFL level. Three's 60's in his last three games aren't going to set the world on fire, but if Flanders is as good as I think he is, there's an 80+ score just around the corner.
Top-5
Chad Warner (Swans)

Archie Perkins (Bombers)

Jy Farrar (Suns)

Sam Flanders (Lions)

Deven Robertson (Lions)
The somewhat surprising omission of Atu Bosenavulagi ($304K, DNP, BE 7) doesn't look like it'll last long with a string of injuries to the Kangaroos opening the door for a recall. He and Charlie Lazzaro ($267K, 46, BE 26) could be called upon in the next few weeks which would lead to an increase in price and production, but the future doesn't look as bright for Emerson Jeka ($174K, 31, BE 19). He could be sent back to the VFL to rejoin Tyler Brockman ($284K, DNP, BE 22) with Jacob Koschitzke ($355K, 39, BE 38) becoming a much more consistent performer for Hawthorn at AFL level.
After a career-best 76 points and 3 goals in Round 7, Harrison Jones ($292K, 53, BE 19) came back to Earth last weekend with fellow FWD's James Rowe ($326K, 48, BE 50), Beau McCreery ($314K, 31, BE 40) and Matthew Owies ($223K, 49, BE -1), following Jones' lead with average scores. Of that quartet, Owies is the only one who still offers some value if he keeps getting selected by Carlton while the other three can be sent packing if the right trade presents itself.
A concussion in the VFL for Jamarra Ugle-Hagan ($270K, DNP, BE 40) means his highly-anticipated debut will be delayed, but pressure forward Malcolm Rosas' ($170K, DNP, BE 25) has been rewarded for strong form at reserve level by being selected to take on Brisbane in QClash 20 this weekend. His fantasy track record gives me pause and my advice is to wait at least a week and see what Rosas Jr is capable of and if he can feature in multiple games.
Best of the Rest
These players may or may not be in the selection mix this week, but be sure to keep them on your 2021 watchlist in case they burst onto the scene. In no particular order:
Ely Smith (Lions, $170K)
Nakia Cockatoo (Lions, $243K)
Jamarra Ugle-Hagan (Bulldogs, $270K)
Maurice Rioli (Tigers, $170K)
Hugo Ralphsmith (Tigers, $170K)
Elijah Hollands (Suns, $258K)
Sam Philp (Blues, $203K)
Jake Bowey (Demons, $230K)
---
FOLLOW ME ON TWITTER: @SportsbyFry for all things AFL Fantasy (and more)! Feel free to hit me up with any questions you have throughout the season. Good Luck! ✌️