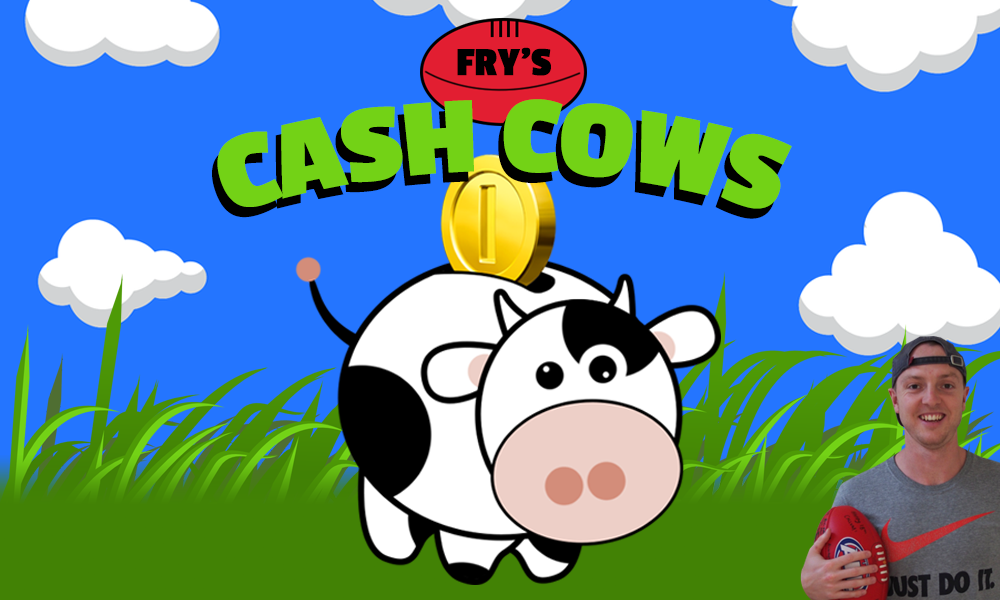 Nine down, 14 to go!
Most coaches struggled to top 2,000 points last round in what turned into a testing time for the fantasy community. Rookies who we have trusted from day dot are starting to falter, with value picks like James Harmes, Dustin Martin, Jordan Ridley and Caleb Daniel all emerging as potential trade targets. All cash cows need to be moved off our field eventually – even the likes of Tom Powell and Chad Warner. That doesn't mean they have to be traded away in the immediate future, but with the byes etching closer, it's important to establish an action plan to get these rookies off the field.
Rookie/cash cows are usually defined as players who are priced at $300,000 or lower
If you missed out on the 2021 Rookie Guide I wrote prior to Round 1 check it out here!
---
Mooooving On
Part of our weekly trade focus is to remove the rookie-priced players who are no longer making money. When a cash cow sees their average fall in line with their breakeven or they find themselves on the outside looking in for multiple weeks at a time, that's usually a good time to give them the axe.
Fattened cash cows
Nik Cox, Bombers ($413K, AVG 59, BE 68)
Jy Farrar, Suns ($368K, AVG 58, BE 52)
Miles Bergman, Power ($415K, AVG 64, BE 55)
Sam Berry, Crows ($327K, AVG 50, BE 48)
Jacob Koschitzke, Crows ($369K, AVG 54, BE 46)
The time has come for some of the more popular cash cows the leave our teams with talented DEF/FWD rooks Nik Cox and Miles Bergman reaching their peak. All rookies need to be moved on eventually and that duo plus Gold Coast's Jy Farrar are all in the gun this week for coaches. Those who need to generate a bit of extra dough for an upgrade may also look to move Sam Berry or Jacob Koschitzke off their benches, with their money-making days also seemingly over.
SEASON PRICE CHANGES

📈
1️⃣ James Jordon +$350k
2️⃣ Chad Warner +$313k
3️⃣ Matt Flynn +$281k
4️⃣ Tom Powell +$278k
5️⃣ Errol Gulden +$252k

📉
1️⃣ Lachie Hunter -$250k
2️⃣ Jason Johannisen -$239k
3️⃣ Reilly O'Brien -$209k
4️⃣ Michael Walters -$199k
5️⃣ Nick Haynes -$195k#AFLFantasy pic.twitter.com/j5U0NNGQqH

— AFL Fantasy (@AFLFantasy) May 18, 2021
Injured/non-playing rookies
Errol Gulden, Swans ($460K, AVG 74, BE 88)
Braeden Campbell, Swans ($379K, AVG 57, BE 61)
Tyler Brockman, Hawks ($284K, AVG 50, BE 22)
Lloyd Meek, Dockers ($245K, AVG 41, BE 20)
Finlay Macrae, Magpies ($254K, AVG 39, BE 34)
The injured Swans duo Errol Gulden and Braeden Campbell are the highest trade priorities for owners, with both Syndey juniors ruled out until after their bye in Round 14 thanks to stress fractures in their legs. The latter trio in this group all have a clean bill of health, but they can't squeeze their way back into their respective AFL sides. Finlay Macrae could be included over the coming rounds, but I don't have as much faith in Brockman and/or Meek earning a recall.
Cash Cow King – Round 9
An inspired performance against the Blues saw James Jordon's (110) stock continue to rise as an elite fantasy cash cow. The Demons midfielder has strung a few impressive performances together in a row, narrowly beating out Matt Flynn (109) for the highest rookie score last round. Flynn's 100+ outing was still impressive and coaches who've held onto the GWS big man are bound to benefit from his continued growth. Riley Collier-Dawkins (86) and James Rowe (76) get honourable mentions for their efforts, but Jordon/Flynn are set to dominate the votes this round.
Loading ...
Round 10 Rookie Rankings
DEFENCE
Ugghh. Here we go again with rookie fantasy defenders, with viable options failing to filter through and the mainstream names starting to let us down. Both Miles Bergman ($415K, 45, BE 55) and/or Nik Cox ($390K, 28, BE 80) have dominated the top of the DEF rankings in recent times, but coaches are getting an itchy trigger finger given their recent efforts. If you can upgrade either of these DEF/FWD's it's a hard move to pass up, with Cox used as the medical sub last round in the final quarter vs. Freo and Bergman scoring two-thirds of his points in a single quarter.
The number of rookies that coaches are fielding in their respective backlines may dictate how aggressively they can look for a trade involving Cox/Bergman. Should you have Connor Idun ($407K, 55, BE 48) locked away into your D5/D6 slot alongside them, then I would feel safe pulling the trigger, but if you're still playing someone like Liam Stocker ($295K, 61, BE 22) or Tom Highmore ($268K, 49, BE 10), I'd be less confident making such a move. Idun continues to score at a respectable rate and is far from a pressing issue for coaches, but Stocker and Highmore don't come with the same assurances.
Carlton's young defender continues to find his feet, but it's too late to consider trading for him given his near $300K price tag and we're all aware at how dicey Highmore's place in St Kilda's side is. Without any reliable cheaper replacements emerging in defence, moving any of these top-5 cash cows up to a value pick like James Harmes or a premium defender like Lloyd/Doc is the smart tactic and a move I'd make sooner rather than later.
Top-5
Miles Bergman (Power)

Connor Idun (Giants)

Nik Cox (Bombers)

Liam Stocker (Blues)

Tom Highmore (Saints)
Outside of the top DEF rookies Jaxon Prior ($317K, 45, BE 29) and Rhyan Mansell ($262K, 22, BE 41) continue to plod along with meagre scoring efforts and hopefully, they're residing on your bench rather than being trusted on the field. The likes of Luke Parks ($243K, 13, BE 41) and super-sub Martin Frederick ($262K, 9, BE 48) are probably also sitting on the pine for a portion of the fantasy community and if a decent downgrade target emerges I'd look to move them on with Chris Burgess ($324K, 28, BE 51) a trade-out priority as Zac Smith nears a return.
One potential downgrade target is versatile GWS tall Kieren Briggs ($184K, 45, BE 11) who featured as a back-up ruckman and defender against the Tigers. If he can hold his place in the side as a support act for Flynn/Mumford then Briggs is bound to become a more popular option. Coaches continue to monitor Trent Bianco ($170K, DNP, BE 25) at VFL level following his 18 touches and 86 points last weekend, however, there's no chance of Harry Sharp ($201K, DNP, BE 28) making a return in the near future due to a syndesmosis injury.
Best of the Rest
These players may or may not be in the selection mix this week, but be sure to keep them on your 2020 watchlist in case they burst onto the scene. In no particular order:
Matthew Ling (Swans, $219K)
Denver Grainger-Barrass (Hawks, $260K)
Will Gould (Swans, $170K)
Trent Bianco (Magpies, $170K)
Jacob Wehr (Giants, $170K)
Josh Worrell (Crows, $170K)
Joel Jeffery (Suns, $170K)
Bailey Laurie (Demons, $228K)
Isaac Chugg (Magpies, $170K)
MIDFIELD
All hail James Jordon ($520K, 110, BE 27)!! Only a few short weeks ago a 29-point performance had coaches scrambling to find a trade partner for Jordon, but the Dees rookie has produced above and beyond our expectations since that Round 4 effort. Fast forward to the present and a five-round average of 85+, including 91, 95 and 110 in his last three matches has seen Jordon emerge as a keeper throughout the byes and beyond!
Unfortunately for Tom Powell ($524K, 40, BE 95), the news isn't as positive, with his season-low of 40 points forcing a lot of coaches' hands. Currently, the most traded out player in fantasy, Powell's lofty breakeven and posting just 64% TOG last week are indications that the Roos rookie can be moved on. Ideally, you'd want to keep him on your field over some other MID/FWD cash cows, but I can't blame coaches for wanting to cash in on Powell's price before he starts to decline. I wouldn't do it personally, but then again, I'm not winning the race for the car either…
Outside of the top pair, Riley Collier Dawkins ($290K, 86, BE -18) is establishing himself as a playable MID rookie, attending 24 of the 29 CBA's against GWS for a season-high 86 points. As injuries pile up in Richmond's engine room, RCD is making the most of the opportunity in front of him, with coaches now viewing him as a cash cow that can remain on our field throughout the bye rounds. He edged out Ryan Byrnes ($276K, 48, BE 7) and Caleb Poulter ($288K, 59, BE 8) for 3rd – both of whom have performed well in their three AFL games to date. I view Byrnes as the better fantasy option over Poulter, although both have made a significant chunk of change and it's hard to justify bringing them in now.
Top-5
James Jordon (Demons)

Tom Powell (Kangaroos)

Riley Collier-Dawkins (Tigers)

Ryan Byrnes (Saints)

Caleb Poulter (Magpies)
As I already mentioned, injury issues will keep Errol Gulden ($460K, DNP, BE 89) in street clothes over the next 4-6 weeks, but another setback to a key Crow could open the door for players like Ronin O'Connor ($185K, 49, BE 9). He and fellow Adelaide midfielder Sam Berry ($329K, 51, BE 45) could be given more opportunity in the midfield, with Matt Crouch undergoing surgery for his troublesome groin that could rule him out for the rest of the year. Should O'Connor hold his spot in their 22 this week, expect him to be a highly sought after player.
The usual suspects outside the top-tier MID's continued to play their role in fantasy teams, but I wouldn't be putting too much faith in the likes of Charlie Lazzaro ($279K, 45, BE 28) or Tanner Bruhn ($223K, 27, BE 35) moving forward. Those two and popular pup pair Lachlan McNeil ($299K, 59, BE 22) and Anthony Scott ($319K, 43, BE 39) are likely still in your team to help ease the stress throughout the byes. If a decent trade presents itself though, don't hesitate when it comes to moving them on. Other potential MID trade targets like Finlay Macrae ($253K, DNP, BE 34), Connor Downie ($202K, DNP, BE 30) and Thomson Dow ($192K, DNP, BE 28) appear set to continue biding their time in the VFL before earning a recall.
Best of the Rest
These players may or may not be in the selection mix this week, but be sure to keep them on your 2021 watchlist in case they burst onto the scene. In no particular order:
Jackson Mead (Power, $170K)
Jeremy Sharp (Suns, $221K)
Cooper Stephens (Cats, $170K)
Luke Pedlar (Crows, $250K)
Thompson Dow (Tigers, $192K)
Reef McInnis (Magpies, $226K)
Brody Kemp (Blues, $170K)
Zane Trew (Eagles, $170K)
Lachlan Bramble (Hawks, $170K)
Nathan O'Driscoll (Dockers, $218K)
Luke Valente (Dockers, $170K)
RUCK
Just when we thought Matthew Flynn ($451K, 109, BE 19) couldn't get any more frustrating, the GWS rookie further rubbed salt into the wounds of fantasy coaches around the globe. 36% of teams still own Flynn, however, only 13% of them played the Giants ruckman on their field last weekend – with a large group of us watching his season-high score of 109 go to waste. It's not all doom and gloom for the coaches with Flynn at R3, but watching him outscore every popular ruck while sitting on the pine is a bitter pill to swallow.
If you've aborted Operation Flynn on your ruck bench, there's a chance Tom Campbell ($381K, 60, BE 27) or Riley Thilthorpe ($348K, 50, BE 47) is in his place. I wouldn't feel safe playing either of these two on my field and it's fair to assume that neither is going to keep rising significantly in price. Both of these RUC rooks can be flicked out if a cheaper option emerges, with Campbell in particular netting you over $200K should you send him packing for a basement priced player.
Top-3
Matthew Flynn (Giants)

Tom Campbell (Kangaroos)

Riley Thilthorpe (Crows)
Speaking of basement priced players, most of the fantasy community will have their eyes and ears glued to Port Adelaide's updates ahead of Round 10 with unproven ruckman Sam Hayes ($170K, DNP, BE 25) bound to be a popular target if he comes into their AFL side. Hayes didn't get a chance to press his case for senior selections thanks to the SANFL bye last round, but there's still a chance he'll be included to take on the Brodie Grundy and the Pies.
Jordan Sweet ($283K, 51, BE 4) will likely make way for Tim English in the Bulldogs' lineup unless Beveridge and Co decide to keep him in the 22 and play a supporting role. Either way, Sweet's days are numbered with most expecting Eagle Bailey Williams ($280K, 31, BE 39) to also depart West Coast's best 22. If you own either of those two and Sam Hayes does come into the Power side, that could be a worthwhile move to pocket roughly $100K.
Best of the Rest
These players may or may not be in the selection mix this week, but be sure to keep them on your 2021 watchlist in case they burst onto the scene. In no particular order:
Sam Hayes (Power, $170K)
Joel Amartey (Swans, $170K)
Max Lynch (Magpies, $172K)
FORWARD
Forward rookies didn't exactly come to the party with fruitful scores last round and as a result, coaches are ready to wield the axe. The safe No. 1 FWD of the past few weeks in Chad Warner ($509K, 61, BE 81) provides us with the easiest launching pad to land a premium, however, I'm not too keen on the idea of flicking Chad out just yet. As the owner of the Round 14 bye, Warner could be utilised through the earlier two rounds before he's chopped out – with the young Swan more than capable of producing a few scores of 70+ in the coming month.
The next two in the pecking order Archie Perkins ($401K, 35, BE 63) and Deven Robertson ($356K, 70, BE 41) don't give me the same confidence and their Round 13 bye may or may not suit your current team structure. Both talented rooks have had their issues scoring with consistency, but they have at least displayed the ability to nudge their scores over a mediocre 50 – which is more than we can say for some cash cows.
I'm high on the idea of holding them both given their scoring ceiling, but an upgrade will have to come over the byes when both Perkins and Robertson inevitably peak in value. Sam Flanders ($352K, 73, BE 16) continues to produce for the 872 coaches that invested in him, but another Sun in Jy Farrar ($368K, 41, BE 53) can be offloaded ASAP. Two good scores to start his career saw us bite heavily on the Suns backman, but a three-round average of 49 highlights how poor he's been scoring recently. With Geelong on the horizon, I'd look to cash in (and hopefully upgrade) Farrar before he starts bleeding cash.
Top-5
Chad Warner (Swans)

Archie Perkins (Bombers) 

Deven Robertson (Lions)

Sam Flanders (Suns)

Jy Farrar (Suns)
We were treated to a plethora of debutants last week although Hugo Ralphsmith ($176K, 34, BE 19), Tom Wilson ($175K, 33, BE 19) and Malcolm Rosas ($170K, 22, BE 29) failed to fire for the FWD's. Of that group, Wilson is the only one I still have some interest in, although none of the trio excite me from a fantasy standpoint.
The other leftovers such as Jacob Koschitzke ($369K, 59, BE 46) and Harrison Jones ($309K, 47, BE 25) keep ticking up in price with Matt Owies ($256K, 53, BE 5) in the same position after three straight weeks in Carlton's side. Some have inquired about talented small forward Cody Weightman ($253K, 73, BE 7) after his 70+ last week, but I don't expect too many similar scores from the Bulldogs goalsneak. He's still cheap enough that should he drop another stellar performance in Round 10, you can pull the trigger on him a week later, but again it's a no from me.
Best of the Rest
These players may or may not be in the selection mix this week, but be sure to keep them on your 2021 watchlist in case they burst onto the scene. In no particular order:
Ely Smith (Lions, $170K)
Nakia Cockatoo (Lions, $243K)
Jamarra Ugle-Hagan (Bulldogs, $270K)
Maurice Rioli (Tigers, $170K)
Hugo Ralphsmith (Tigers, $170K)
Elijah Hollands (Suns, $258K)
Sam Philp (Blues, $203K)
Jake Bowey (Demons, $230K)
---
FOLLOW ME ON TWITTER: @SportsbyFry for all things AFL Fantasy (and more)! Feel free to hit me up with any questions you have throughout the season. Good Luck! ✌️