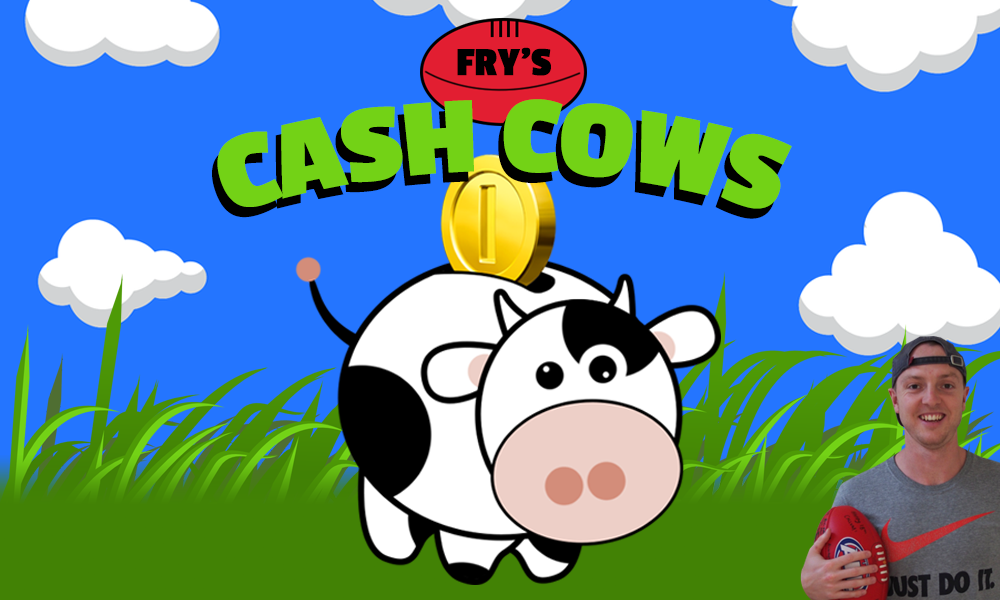 10 down, 13 to go!
The halfway point of the AFL Fantasy season is nearly upon us, which means the daunting bye rounds are just around the corner. Only our best 18 scores will go towards our weekly point total in Rounds 12, 13 & 14 and having as many green dots as possible over that time will put you in a good position. It's important to stick with the tactic of removing the rookies from your field as you go and investing in the correct cash cows over the next month can set you up for a run at a relevant rank to end the season!
Rookie/cash cows are usually defined as players who are priced at $300,000 or lower
If you missed out on the 2021 Rookie Guide I wrote prior to Round 1 check it out here!
---
Mooooving On
Part of our weekly trade focus is to remove the rookie-priced players who are no longer making money. When a cash cow sees their average fall in line with their breakeven or they find themselves on the outside looking in for multiple weeks at a time, that's usually a good time to give them the axe.
Fattened cash cows
Tom Powell, Roos ($495K, AVG 70, BE 107)
Nik Cox, Bombers ($393K, AVG 58, BE 55)
Chad Warner, Swans ($496K, AVG 74, BE 89)
Jacob Koschitzke, Crows ($373K, AVG 53, BE 56)
Anthony Scott, Bulldogs ($309K, AVG 44, BE 58)
The time has come to cut Tom Powell from our teams, with the North rookie bleeding cash faster than he made it for us! A lofty breakeven will make him one of the most traded out players again this round, with coaches moving on Chad Warner for similar reasons. Those two and the likes of Nik Cox have done their bit as cash cows and maybe downgrading a Koschitzke/Scott type could free up the cash you need to land another big-name player.
What trades are you making?

Popular R11 trades…

MOST TRADED IN

1️⃣ Caleb Poulter
2️⃣ Cody Weightman
3️⃣ Ryan Byrnes
4️⃣ James Madden
5️⃣ Clayton Oliver

MOST TRADED OUT

1️⃣ Tom Powell
2️⃣ Adam Treloar
3️⃣ Miles Begman
4️⃣ Chad Warner
5️⃣ Anthony Scott#AFLFantasy pic.twitter.com/376uQRlYYG

— AFL Fantasy (@AFLFantasy) May 25, 2021
Injured/non-playing rookies
Errol Gulden, Swans ($460K, AVG 74, BE 88)
Braeden Campbell, Swans ($379K, AVG 57, BE 61)
Miles Bergman, Power ($415K, AVG 64, BE 55)
Tyler Brockman, Hawks ($284K, AVG 50, BE 22)
Lloyd Meek, Dockers ($245K, AVG 41, BE 20)
Most relevant fantasy coaches have moved Errol Gulden and Braeden Campbell on, but that remains priority No. 1 if you're still housing one of the injured Swans. Spending a week as the medical sub saw Miles Bergman miss Rd 10 action and he can be chopped if he's left out of their 22 again this week. Brockman and Meek are just happy to get a mention this late in the season with neither rookie likely to appear in their respective AFL sides any time soon.
Cash Cow King – Round 10
Honourable mentions go out to Nik Cox (83) and Deven Robertson (72) for their Round 10 showing, but this is a two-horse race. Just one point separated the top-2 scoring rookies last weekend with Ryan Byrnes (107) producing the first triple-figure score of his career fuelled by 12 marks and 24 touches. On Sunday, Caleb Poulter (108) followed suit with his maiden fantasy tonne that included 12 marks of his own and his first goal at AFL level. Both are bound to draw the interest of coaches this week in trade talks and despite being a non-owner of Poulter and Byrnes, I'm giving my vote to St Kilda's newest engine room addition.
Loading ...
Round 11 Rookie Rankings
DEFENCE
The medical sub continues to derail the success of fantasy cash cows with Miles Bergman ($415K, DNP, BE 55) the lastest rookie to fall victim to the dreaded team tracksuit. Bergman remained on the sidelines and failed to take to the field against Collingwood, with no certainty he returns this round either. Those who opted to hold Bergman could be in for a treat if he rejoins Port's 22 and should he earn a recall, it's worth holding onto the Power youngster through the byes. It's hard to have the same faith in Nik Cox ($393K, 83, BE 55) though, even with Essendon's young gun scoring well last time out. Prior to the match against the Kangaroos, Cox had only posted one score over 60 in his last five games and with a Round 13 bye looming, his time is coming to an end for a lot of coaches.
Trading for him now may not be a smart investment, but Liam Stocker ($320K, 63, BE 22) continues to get better with every match he plays. After starting the year at VFL level, Stocker now has two straight scores over 60 and I wouldn't be shocked if he maintained that streak against Sydney this weekend. He lacks a bit of consistency with a few dud scores next to his name, but Stocker could channel his inner Connor Idun ($422K, 71, BE 51) and grow another $100K despite some concerns around his scoring consistency.
Speaking of the Giants defender, he keeps ticking along nicely for owners and there's no urgency in giving him the flick. Despite no game time last week, I have belief in Tom Highmore ($268K, DNP, BE 11) and his ability to score at a decent rate vs. North Melbourne – should Brett Ratten swing the axe as forecasted. Being named as the medical sub indicates he's close to breaking into their side and hopefully Highmore can grasp the opportunity in front of him and string regular games together over the next month of the season.
Top-5
Miles Bergman (Power)*

Connor Idun (Giants)

Liam Stocker (Blues)

Nik Cox (Bombers)

Tom Highmore (Saints)*
* if named
There's a handful of DEF rookies breathing down Highmore's neck for a place in the top-5, with Lachlan Jones' ($290K, 43, BE 31) return a welcome sign for fantasy coaches. The young Port defender should continue to see games as a member of their back-6, but those seeking a downgrade target will probably jump on a James Madden ($197K, 54, BE 4) type rather than pay up to secure Jones. I prefer Madden over the likes of Harry Edwards ($222K, 29, BE 22) and Nick Murray ($295K, 76, BE -3) as a downgrade target, but I can't picture the Brisbane backman scoring 60+ with regularity.
In the two's Keiren Briggs ($182K, DNP, BE 11) did everything in his power to earn a recall – scoring a MAMMOTH 160 points that featured 45 hitouts and 26 touches. It's hard to envision him stealing Matt Flynn or Shane Mumford's place in the side, but the news is more encouraging for Carlton defender Luke Parks ($243K, DNP, BE 41). He scored 79 points in the VFL last weekend and shapes as an immediate replacement for the suspended Lachie Plowman. Collingwood had a bye at reserve level last week meaning Trent Bianco ($170K, DNP, BE 25) missed a chance to press for selection, but we could still have a DEF debutant with St Kilda throwing Leo Connolly's ($170K, DNP, BE 25) name into the ring for selection this round.
Best of the Rest
These players may or may not be in the selection mix this week, but be sure to keep them on your 2020 watchlist in case they burst onto the scene. In no particular order:
Matthew Ling (Swans, $219K)
Denver Grainger-Barrass (Hawks, $260K)
Will Gould (Swans, $170K)
Trent Bianco (Magpies, $170K)
Jacob Wehr (Giants, $170K)
Josh Worrell (Crows, $170K)
Joel Jeffery (Suns, $170K)
Bailey Laurie (Demons, $228K)
Isaac Chugg (Magpies, $170K)
MIDFIELD
There was plenty of fluctuation in the MID rankings this week, but no one could knock James Jordon ($544K, 64, BE 59) from his perch. Jordon cooled off slightly in Round 10, but a five-round average nudging 85 means he can remain in our sides without too much hassle moving forward. Unfortunately for Tom Powell ($495K, 45, BE 107), his stay is coming to an end with some coaches already trading the promising Roo away. Back-to-back 40's from Powell have seen him lose some value already and a triple-figure breakeven means he's destined to dip in price again. By no means do you have to trade him instantly, but chasing an upgrade for Powell and making the most of his current price tag is a wise tactic.
Those who are offloading Powell may look at a trade that involves either Ryan Byrnes ($337K, 107, BE -8) or Caleb Poulter ($349K,108, BE -10) thanks to their negative breakeven and their epic Round 10 score. Personally, out of the two, I'm a bigger fan of Byrnes, but the ability to slot Poulter into F5 or F6 on your field makes him an equally desirable trade target. Paying for a player around the $350K mark isn't usually advised, but there is still room for growth from both Byrnes and Poulter and freeing up an extra $150K-$170K by pulling off such a move makes a lot of sense.
Clocking in a fraction cheaper than those two is Riley Collier-Dawkins ($337K, 59, BE 7), who I have a lot of faith in as a fantasy scorer, although his job security is hardly a slam dunk. Multiple Richmond players are in line to return from injury this week, which could lead to reduced playing time for RCD, or worse, a return to VFL. He's done enough to maintain his spot in the side, but it's far from a certainty that Collier-Dawkins will make it through to his bye in Round 13.
Top-5
James Jordon (Demons)

Ryan Byrnes (Saints)

Riley Collier-Dawkins (Tigers)

Caleb Poulter (Magpies)

Tom Powell (Kangaroos)
A number of popular MID rookies continue to plod along with scores in the 40-50 zone with Charlie Lazzaro ($294K, 51, BE 28), Lachlan McNeil ($314K, 46, BE 33) and Sam Berry ($328K, 43, BE 48) still kicking in some sides. Providing they can hang around through the bye period, there's no urgency to trade them away unless they find themselves under an injury cloud – much like Anthony Scott ($309K, 21, BE 58). Blurred vision could see the mature-age Bulldog rested in Round 11 with his money-making days virtually done and dusted.
Some of the popular names who find themselves plying their craft at reserve level could be in line for a recall with Will Phillips ($279K, DNP, BE 52) still well and truly on my radar. The No. 3 overall pick from last year posted a score of 86 from 28 touches for North's VFL side and Finlay Macrae ($253K, DNP, BE 34) is another draftee chasing a return to AFL level. Macrae could squeeze his way into Collingwood's lineup this weekend, which would be a huge plus for 15% of the competition.
Best of the Rest
These players may or may not be in the selection mix this week, but be sure to keep them on your 2021 watchlist in case they burst onto the scene. In no particular order:
Jackson Mead (Power, $170K)
Jeremy Sharp (Suns, $221K)
Cooper Stephens (Cats, $170K)
Luke Pedlar (Crows, $250K)
Thompson Dow (Tigers, $192K)
Reef McInnis (Magpies, $226K)
Brody Kemp (Blues, $170K)
Zane Trew (Eagles, $170K)
Lachlan Bramble (Hawks, $170K)
Nathan O'Driscoll (Dockers, $218K)
Luke Valente (Dockers, $170K)
RUCK
Coaches who opted to keep Matthew Flynn ($486K, 75, BE 39) on their bench continue to benefit from his growth after another solid score from the GWS ruckman. We're all aware that Flynn can't be trusted each week on our field, however, as he continues to string decent performances together we may see the Giants continue to get games into their ruck prospect throughout the bye period. Those who own the likes of Brodie Grundy, Max Gawn and/or Reilly O'Brien will be seeking help in the RUC department come Round 14 and Flynn may emerge as our saviour.
In a perfect world, if Flynn wasn't sitting at R3 then you'd be starring at one of Tom Campbell ($406K, 67, BE 37) or Jordon Sweet ($332K, 84, BE 4), both of whom have played their role to perfection as cash cows. Hardly any coaches invested in North's supporting RUC/FWD and right now, Campbell is playing so well that he's holding Tristan Xerri out of the side despite some unreal form at VFL level. Sweet's production has come while serving mainly as a solo ruckman thanks to injury woes for Tim English and Stef Martin, however, the Dogs may be forced to keep him in their side. English is poised to return this weekend, but Sweet's recent form could see him hold his spot and carve out a role as the Dogs' primary ruck support.
Top-3
Matthew Flynn (Giants)

Tom Campbell (Kangaroos)

Jordon Sweet (Bulldogs)
The likes of Riley Thilthorpe ($347K, 43, BE 59) and Chris Burgess ($329K, 58, BE 45) continue to stake their claim as somewhat relevant rucks, although either of the pair could be cut for a cheaper alternative. Debutant Ned Reeves ($195K, 66, BE -2) did his part for Hawthorn and if he holds his place he should be able to scrape his way to another score around the 50-60 mark. If one of Sam Hayes ($170K, DNP, BE 25) or Nick Bryan ($195K, DNP, BE -3) is included in the Round 11 teams, they both loom as great downgrade choices with Hayes producing 92 points in the SANFL last week and Bryan managed 116 points fuelled by 43 hitouts.
Best of the Rest
These players may or may not be in the selection mix this week, but be sure to keep them on your 2021 watchlist in case they burst onto the scene. In no particular order:
Sam Hayes (Power, $170K)
Joel Amartey (Swans, $170K)
Max Lynch (Magpies, $172K)
FORWARD
Similar to the other three positions around the ground, the No. 1 ranked player was able to maintain his stay atop the food chain, but Chad Warner's ($496K, 57, BE 89) place is hardly set in stone. A three-round average of 60.7 doesn't instil coaches with the same amount of confidence we had in Warner earlier this season and as a result, he'll be axed from a lot of fantasy sides before his bye arrives. On the other hand, Deven Robertson's ($376K, 72, BE 38) recent output has encouraged his owners who are still trusting the Brisbane on-baller with consecutive matches scoring 70+. If he can maintain his streak with another score over 70 this weekend against GWS, there's no reason why Dev Rob can't be a staple in our sides for the coming rounds.
Cody Weightman has made his mark in the Bulldogs forward line 🐶

The young Dog has been awarded the round 10 nomination for the @NAB Rising Star Award 🌟 pic.twitter.com/zEqgb3jvgI

— AFL (@AFL) May 24, 2021
The most recent Rising Star nomination in Cody Weightman ($295K, 75, BE -3) currently finds himself as the 3rd most traded in player with over 4,000 coaches making a move for the skilled Bulldogs forward. Last week I flagged concerns around Weightman's scoring prowess, but clearly, playing in the Dogs' high-octane offence should give him the opportunity to chalk up 6-8 marks each week. He still finds himself priced under $300K and there's every chance Weightman plays regularly and ends the season with an average somewhere in the 60's.
Rounding out the top-5 are usual suspects Archie Perkins ($397K, 54, BE 66) and Jy Farrar ($368K, DNP, BE 53) with the latter FWD missing last week due to a quad complaint. If he lines up for the Suns this weekend, it's a smart idea to hold Farrar in the hopes he adds DEF status when a new batch of DPP's drop at the conclusion of Round 11. Should he remain sidelined for this week's game against Hawthorn and miss out from a DPP perspective, then moving Farrar on is an optimal idea with his scores drying up in recent times. Perkins could also be moved along with the Bombers talent reaching his peak value around the $400K mark. Despite playing 8 games this year, the exciting Don hasn't displayed the greatest scoring potential which could lead to some coaches giving Perkins the flick.
Top-5
Chad Warner (Swans)

Deven Robertson (Lions)

Cody Weightman (Bulldogs)

Archie Perkins (Bombers) 

Jy Farrar (Suns)*
* if named
The uptick in fantasy production from James Rowe ($366K, 71, BE 28) in the last fortnight has been a huge plus for fantasy coaches with the Adelaide small forward hopefully cementing his place in the Crows' team throughout the bye period. Rowe is in a similar boat with Jacob Koschitzke ($373K, 51, BE 56) and Matthew Owies ($292K, 63, BE 11) as forwards we can hopefully trust to contribute in the best-of-18 rounds. Sam Flanders ($370K, 45, BE 40) lost his place in the top-5, but for the few coaches who took a punt on him, hopefully he can keep scoring at a decent rate.
The fantasy-friendly role that tempted coaches to pick Alec Waterman ($280K, 53, BE 21) didn't exactly come to fruition for the Bombers' forward. Waterman, along with the likes of Mal Rosas ($170K, DNP, BE 29), Tom Wilson ($193K, 48, BE 8) and Hugo Ralphsmith ($176K, 18, BE 26) aren't viable trade targets until we see more from them in a fantasy context. Josh Treacy ($215K, 46, BE 22) still has some upside compared to those aforementioned cash cows, but he's hard to trust as a key position player.
Best of the Rest
These players may or may not be in the selection mix this week, but be sure to keep them on your 2021 watchlist in case they burst onto the scene. In no particular order:
Ely Smith (Lions, $170K)
Nakia Cockatoo (Lions, $243K)
Jamarra Ugle-Hagan (Bulldogs, $270K)
Maurice Rioli (Tigers, $170K)
Elijah Hollands (Suns, $258K)
Sam Philp (Blues, $203K)
Jake Bowey (Demons, $230K)
---
FOLLOW ME ON TWITTER: @SportsbyFry for all things AFL Fantasy (and more)! Feel free to hit me up with any questions you have throughout the season. Good Luck! ✌️