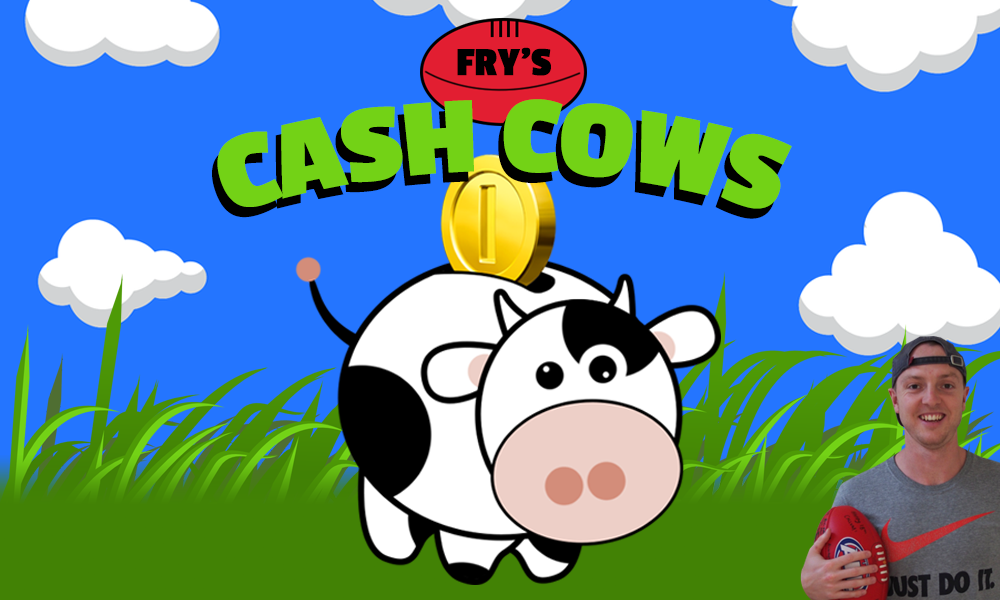 11 down, 12 to go!
Strap yourselves in AFL Fantasy coaches, things are about to get a whole lot trickier. From the Brodie Grundy injury to navigating the first of three unforgiving bye rounds, coaches currently have their work cut out for themselves – and that's before we even consider the COVID ramifications that are hanging over the league!
Keep in mind a lot of these things are out of our control, but what we can control is how we utilise the 9 valuable trades we've been gifted with throughout the byes. Obviously, the aim for every coach is to emerge with a better team once these bye rounds have concluded, so while it's wise to maximise the number of players you've got on the park each week, the focus should still be on improving your overall squad. Moving on red dots, cashed out cows and underperformers for value picks, decent downgrades and premium players is always a smart route to go down.
Rookie/cash cows are usually defined as players who are priced at $300,000 or lower
If you missed out on the 2021 Rookie Guide I wrote prior to Round 1 check it out here!
---
Mooooving On
Part of our weekly trade focus is to remove the rookie-priced players who are no longer making money. When a cash cow sees their average fall in line with their breakeven or they find themselves on the outside looking in for multiple weeks at a time, that's usually a good time to give them the axe.
Fattened cash cows
Chad Warner, Swans ($475K, AVG 72, BE 90)
Nik Cox, Bombers ($389K, AVG 57, BE 59)
Lachlan McNeil, Bulldogs ($315K, AVG 42, BE 46)
Harry Jones, Bombers ($325K, AVG 44, BE 47)
Finlay Macrae, Magpies ($240K, AVG 32, BE 50)
Focusing solely on players with a Round 13 or 14 bye, Chad Warner sits firmly at the top of the trade out candidates list. His recent struggles have seen him start to lose value along with fellow rookie Nik Cox. Coaches would have ideally held these cash cows through the byes to provide solid scores, but with their scoring drying up, their ownership is bound to take a hit.
Injured/non-playing rookies
Braeden Campbell, Swans ($379K, AVG 57, BE 61)
Errol Gulden, Swans ($460K, AVG 74, BE 88)
Tyler Brockman, Hawks ($284K, AVG 50, BE 22)
Lloyd Meek, Dockers ($245K, AVG 41, BE 20)
Paul Hunter, Saints ($245K, AVG 50, BE 6)
Braeden Campbell and Errol Gulden have probably been axed from your lineup already, but there are still plenty of coaches holding the faith with Tyler Brockman. The discarded Hawk hasn't played since Round 4 and I can't see him being a factor over the bye rounds either. Moving him and forgotten rucks Lloyd Meek/Paul Hunter on to a Ned Reeves type is a trade worth making.
Early R12 trades…

MOST TRADED IN

1️⃣ Trent Bianco
2️⃣ Isaac Heeney
3️⃣ James Madden
4️⃣ Ned Reeves
5️⃣ Max Gawn

MOST TRADED OUT

1️⃣ Jacob Koschitzke
2️⃣ Miles Bergman
3️⃣ Tom Phillips
4️⃣ Chad Warner
5️⃣ Tom Powell

FORM WATCH: https://t.co/Qy5NDqMKt9#AFLFantasy

— AFL Fantasy (@AFLFantasy) May 31, 2021
Cash Cow King – Round 11
James Jordon's dominance in the first half of the fantasy season means we've come to expect scores in the 70-80 range on a weekly basis, so unfortunately he missed the nomination cut this week with his 71. Another cash cow finished with 71 points and is poised to be VERY important down the stretch, with Collingwood debutant Trent Bianco showing glimpses of his fantasy potential. More established cash cows Lachie Jones (73) and Deven Robertson (79) snuck their way into the top-scoring rooks of the round, but all three of them were beaten out by Hawthorn tall Ned Reeves (81). This week I'm giving my tick of approval to Lions cub Dev Rob for his continued consistency, but this round's Cash Cow King vote is set to be a close one.
Loading ...
Round 12 Bye Rookies
With a third of the league taking the week off, it's time to take stock of the cash cows who have the bye this round and discuss their fantasy prospects. Some of the rookies who're resting up this round will still be relied upon to contribute once they return, but now is a good time to trade away any of the Round 12 cash cows letting you down.
DEFENCE
Lachie Jones ($316K, 73, BE 31) – A career-best 73-point outing from Lachie Jones has thrown him back into fantasy relevance after an ankle issue saw him miss 4 straight games. Honestly, even with his inflated price, Jones could be an option for coaches looking to shuffle rookies around and keep cash generation ticking over.
Connor Idun ($425K, 53, BE 51) – After a few scores in the 30-point range early this season, Connor Idun has gone on to become a safe, stable source of points in the backline. 12% of coaches are still running with Idun in their lineup and there's no rush to trade him away.
Chris Burgess ($335K, 53, BE 45) – Ugghh. Chris Burgess has had some moments as a fantasy cash cow this season, but the bye rounds present you with a perfect opportunity to cut dead weight. His DEF/RUC status could help you field a stronger team in the next few weeks, but let's be honest Burgess has got to go.
Miles Bergman ($392K, 15, BE 55) – There's no easy answer for Miles Bergman owners with the Port youngster stuck in the dreaded medical sub role. A combined 15 points in the last two weeks rocking the team tracksuit has led to coaches abandoning ship and trading Bergman away. If he continues to feature as the sub for the Power, trading Bergman out of your lineup makes sense.
SUPER SUB! First kick of the night = first goal for Miles Bergman ⚡

📚 BLOG: https://t.co/XbBEKyCLW2
📱 MATCH CENTRE: https://t.co/QAovDqOxgr
📺 WATCH #AFLPowerFreo on @kayosports: https://t.co/y2y3IbswM0 pic.twitter.com/8xoN09nAwu

— Fox Footy (@FOXFOOTY) May 30, 2021
Jy Farrar ($352K, 24, BE 53) – The scoring has dried up and adding DEF status won't save Jy Farrar from the wrath of fantasy coaches. An average of 42.7 in the last month is enough reason to flick Farrar out of your lineup, with over 2,000 teams moving the rebounding Sun on ahead of Round 12.
Keiren Briggs ($182K, DNP, BE 11) – While there were no VFL games last weekend, Kieren Briggs did his best the week before to re-enter the selection frame. If he pushes his way back into GWS' best-22 he could emerge as a solid downgrade target. Watch this space.
MIDFIELD
Tom Powell ($471K, 64, BE 107) – The time to ditch Tom Powell has come. If you haven't already traded the Roos rookie away, then chasing in on his remaining value is crucial over the next few weeks. Don't be surprised if he continues to score in the 70's for the rest of the year, but turning Powell into a non-rookie and making the most of his price tag is smart.
Will Phillips ($279K, DNP, BE 52) – For Will Phillips, season 2021 hasn't exactly gone according to plan so far. Whether it's playing multiple games as the sub, featuring in the reserves at VFL level or struggling to find his feet in the AFL, I'm still clinging on to hope that Phillips can be a worthwhile fantasy player in the back half of the year.
RUCK
Matt Flynn ($501K, 61, BE 39) – Those coaches who still own Matt Flynn won't want to cash him in just yet. With Brodie Grundy dealing with an injury issue, coaches will be clinging to hope that Flynn can hit the field in Round 13 & 14. After the bye rounds, he'll be primed to be traded away and give coaches a very handy influx of cash in the process.
Tom Campbell ($414K, 49, BE 37) – Most, if not all, of the coaches reading this probably aren't rocking Tom Campbell in their lineup, but that doesn't mean his season to date can be skimmed over. The North tall has been playing his role to perfection as a backup ruckman and in a week or two, he'll be ready to be axed from your lineup.
Ned Reeves ($245K, 81, BE -2) – Don't be surprised if we see a large group of the fantasy community bring Ned Reeves into their sides – providing he's named to play for the Hawks in Round 13. If Reeves can hold onto his spot, he could be a very helpful contributor during the middle rounds of the season.
FORWARD
Jacob Koschitzke ($358K, 29, BE 56) – To trade or not to trade, that's the biggest questions for Jacob Koschitzke owners this week. On one hand, he's done his role as a cash cow and trading him now while he has some value makes a lot of sense, however, once he comes off his bye, Kosi could help coaches in the two latter bye rounds. Personally, I'll be holding him for now, but if there's another decent trade target in your sights, don't hesitate to move the Hawthorn forward.
Tyler Brockman ($284K, DNP, BE 23) – This one speaks for itself; Tyler Brockman has got to go. Having been absent from the Hawks' side since Round 4, Brockman is the definition of a red dot and you should explore a trade for him ASAP.
Sam Flanders ($398K, 84, BE 40) – Sam Flanders doesn't find himself in many fantasy teams at the moment, despite his recent successes. Five of his last six scores have all been over 60 points, with a career-best 84 last time out fuelled by 19 touches, 5 tackles and 5 marks. His price makes him tricky to trade in, but considering the Suns' X-factor isn't a farfetched move at all.
Round 12 Rookie Rankings
With the bye rounds upon us, I've narrowed each of the four field positions down to a top-3 (or top-2 in the RUC's) rather than a top-5. If you're still fielding more than 3 rookies in any line on your field A) may God have mercy on your soul and B) make that a priority to fix!
DEFENCE
With his bye approaching in Round 13, I can understand why Nik Cox ($389K, 46, BE 59) owners are ready to move him on. Granted, the Bombers' young gun has clashed with some decent opponents in recent weeks, but that's still no excuse to score less than 50 points in three of his last four outings. There aren't too many cheaper alternatives in the back-6, but the newest Magpie in Trent Bianco ($198K, 71, BE -5) has put his hand up after a strong showing in his first AFL game. Bianco hardly qualifies as a backman, but 13,5000+ coaches have seen enough to snag the DEF/MID with one of their three trades.
The most traded in player so far this round started his career with a bang by gathering nine touches in the first quarter and I expect Bianco to keep scoring in decent bursts, providing Collingwood keeps giving him games. There are no guarantees that Tom Highmore ($293K, 51, BE 22) will get the same luxury at St Kilda after the defender has managed just four games thus far. His somewhat sketchy job security led me to rank Liam Stocker ($332K, 40, BE 40) ahead of him this week with the second-year Blue continuing to carve out a role in Carlton's backline. Stocker has his own scoring concerns from a fantasy standpoint, but with his place in the side safe for now, hopefully he can keep his price ticking upwards with another strong score.
Top-3
Nik Cox (Bombers)

Trent Bianco (Magpies)

Liam Stocker (Blues)
As I mentioned, there's not a lot to love this week about the remaining DEF rookies with James Madden ($229K, 57, BE -1) the next best potential cash cow down back. His teammate Jaxon Prior ($329K, 70, BE 38) has been much more consistent in recent times, but I have my doubts over trading in either Lion right now. Should Madden hold his place in Brisbane's side I'll change my tune slightly, but don't expect him to be the cash cow who turns your season around. Luke Parks ($243K, DNP, BE 42) missed selection last week and a small portion of coaches are hoping he can return to Carlton's lineup, while untried Crow Josh Worrell ($179K, DNP, BE 25) continues to stake his claim for a debut with strong games at SANFL level (84 points from 19 touches and 9 marks last week).
Best of the Rest
These players may or may not be in the selection mix this week, but be sure to keep them on your 2020 watchlist in case they burst onto the scene. In no particular order:
Matthew Ling (Swans, $219K)
Denver Grainger-Barrass (Hawks, $260K)
Will Gould (Swans, $170K)
Jacob Wehr (Giants, $170K)
Josh Worrell (Crows, $170K)
Joel Jeffery (Suns, $170K)
Bailey Laurie (Demons, $228K)
Isaac Chugg (Magpies, $170K)
MIDFIELD
The gap between James Jordon ($553K, 71, BE 78) and the rest of his midfield peers continues to narrow, but the Demons rookie deserves a ton of credit for what he's achieved in the first half of the fantasy season. So far, Jordon has more total points than the likes of Caleb Serong, Tom Phillips and Dustin Martin and at this rate, coaches won't need to move him off their field until it's 'completed team' time. Since entering the Saints side in the last few weeks, Ryan Byrnes ($384K, 69, BE 13) hasn't been too far behind Jordon, establishing himself as the second-best cash cow MID in the game at the moment.
You would think his 107 points against the Bulldogs and 69 points against the Kangaroos would've happened the other way around, but Byrnes should be capable of more 70+ performances against both the Swans and Crows before his bye. I don't have the same scoring confidence in Riley Collier-Dawkins ($372K, 63, BE 27), hence his 3rd place ranking, but by no means does that mean RCD should be an afterthought. There were concerns around his potential TOG with a bunch of big-name Tigers returning, however, Collier-Dawkins went on feature in 72% of the game while attending 16 out of 33 centre bounces against the Crows. The pending return of Shane Edwards and increased responsibility for the likes of Trent Cotchin and Shai Bolton could spell doom, but it's fine to keep RCD around – for now.
Top-3
James Jordon (Demons)

Ryan Byrnes (Saints)

Riley Collier-Dawkins (Tigers)
Caleb Poulter ($395K, 66, BE 14) was unlucky to miss out on being included in the top-3, but he's hardly fallen behind the pack after another solid score in Round 11. Poulter was one of the most popular trade in's over the past fortnight and there's no reason why you wouldn't continue to field him once the byes draw to a close. We can't have that same amount of confidence in his teammate Finlay Macrae ($240K, 12, BE 50) and some of the other MID rookies such as Lachie McNeil ($315K, 33, BE 46), Hugo Ralphsmith ($184K, 38, BE 19) and Anthony Scott ($309K, DNP, BE 58) are all potential trade outs should they drop a sub-40 score leading into their bye week.
There is no certainty Scott returns to the Dogs lineup, but he'll likely be one of their inclusions with Riley Garcia ($170K, 5, BE 57) set to be dumped after suffering a concussion on debut. Sam Berry ($319K, 31, BE 57) is dealing with a concussion issue of his own which could pave the way for a  Ronin O'Connor ($185K, DNP, BE 9) inclusion after the young Crow managed 95 points from 21 touches, 8 marks and 6 tackles for Adelaide's reserve squad.
Best of the Rest
These players may or may not be in the selection mix this week, but be sure to keep them on your 2021 watchlist in case they burst onto the scene. In no particular order:
Jackson Mead (Power, $170K)
Jeremy Sharp (Suns, $221K)
Cooper Stephens (Cats, $170K)
Luke Pedlar (Crows, $250K)
Thompson Dow (Tigers, $192K)
Reef McInnis (Magpies, $226K)
Brody Kemp (Blues, $170K)
Zane Trew (Eagles, $170K)
Lachlan Bramble (Hawks, $170K)
Nathan O'Driscoll (Dockers, $218K)
Luke Valente (Dockers, $170K)
RUCK
With Matt Flynn and Ned Reeves putting their feet up, the rookie ruck cupboard is relatively bare this round. Jordon Sweet ($349K, 31, BE 40) picked a bad time to drop his worst score of the season, with Tim English's presence definitely impacting his fantasy ceiling. With Stef Martin waiting in the wings, this week may be Sweet's last run around with a chance he makes way for Stef on Thursday night at team selection!
Riley Thilthorpe ($345K, 54, BE 51) was the only other name worth mentioning (no offence Bailey Williams) in this section, with Adelaide's touted prospect scoring very much in the realm we expected. Scores around the 50 mark are likely the best returns we'll get from Thilthorpe from here on out with his 8 career hitouts in 6 games highlighting the fact he's being utilised as more of a forward than a ruckman.
Top-2
Jordon Sweet (Bulldogs)

Riley Thilthorpe (Crows)
Best of the Rest
These players may or may not be in the selection mix this week, but be sure to keep them on your 2021 watchlist in case they burst onto the scene. In no particular order:
Sam Hayes (Power, $170K)
Joel Amartey (Swans, $170K)
Max Lynch (Magpies, $172K)
FORWARD
The fantasy community seems somewhat divided by what to do with Chad Warner ($475K, 52, BE 90) after his numbers have slowed up in recent rounds. For five straight weeks, Warner has seen his score decrease and if the trend continues, coaches won't be happy with a score under 52 against the Saints. His monthly average is now down at 58.5 points per game and aside from Brodie Grundy, Warner is the most popular player being traded away who isn't scheduled to have their bye this week. It hurts after his positive start to the season, but we may have to axe Sydney's last relevant cash cow before his Round 14 bye arrives.
Aside from Warner, there are still some notable fantasy forwards who are offering coaches stable sources of production. Deven Robertson ($402K, 79, BE 31) has found some consistency by scoring three straight 70's and the possible return of Lachie Neale may eat into his production, or worse, see Neale take his job completely. I think Robertson has shown enough recently to hold his spot in Brisbane's side, but only time will tell. Following Dev Rob is Cody Weightman ($325K, 46, BE 18) who shone a light on my concerns around his scoring with just 46 points last round. I wouldn't be too stressed as an owner, but this low score may scare some coaches off who were considering a move for the Bulldogs goalsneak.
Top-3
Chad Warner (Swans)

Deven Robertson (Lions)

Cody Weightman (Bulldogs)
Unlike some other lines, the FWD's provide us with a variety of choices and Archie Perkins ($398K, 66, BE 58) is the next one in line to push his way into the top-3 and I wouldn't be trading him away just yet. Like any rookie, Perk has had his highs and lows as a cash cow, but I still have high hopes he can be a fantasy factor over the remainder of the season. James Rowe ($382K, 52, BE 39) may not provide us with great scores for the rest of the campaign, but the Crows small forward has definitely seen an uptick in production approaching the byes.
Rowe will be a handy contributor for coaches who held him through his subpar scores as will Bombers pair Harry Jones ($325K, 47, BE 47) and Alec Waterman ($303K, 58, BE 25). While the two of them could provide us with solid scores in Round 12 & 14, I'd be tempted to offload them when their bye arrives should a downgrade target emerge. Carlton forward Matthew Owies ($316K, 50, BE 26) has earned the right to hang around for a few more rounds and Josh Treacy ($225K, 38, BE 25) could provide coaches with some Brodie Grundy cover as long as he's able to retain his place in Freo's team.
Best of the Rest
These players may or may not be in the selection mix this week, but be sure to keep them on your 2021 watchlist in case they burst onto the scene. In no particular order:
Ely Smith (Lions, $170K)
Nakia Cockatoo (Lions, $243K)
Jamarra Ugle-Hagan (Bulldogs, $270K)
Maurice Rioli (Tigers, $170K)
Elijah Hollands (Suns, $258K)
Sam Philp (Blues, $203K)
Jake Bowey (Demons, $230K)
---
FOLLOW ME ON TWITTER: @SportsbyFry for all things AFL Fantasy (and more)! Feel free to hit me up with any questions you have throughout the season. Good Luck! ✌️