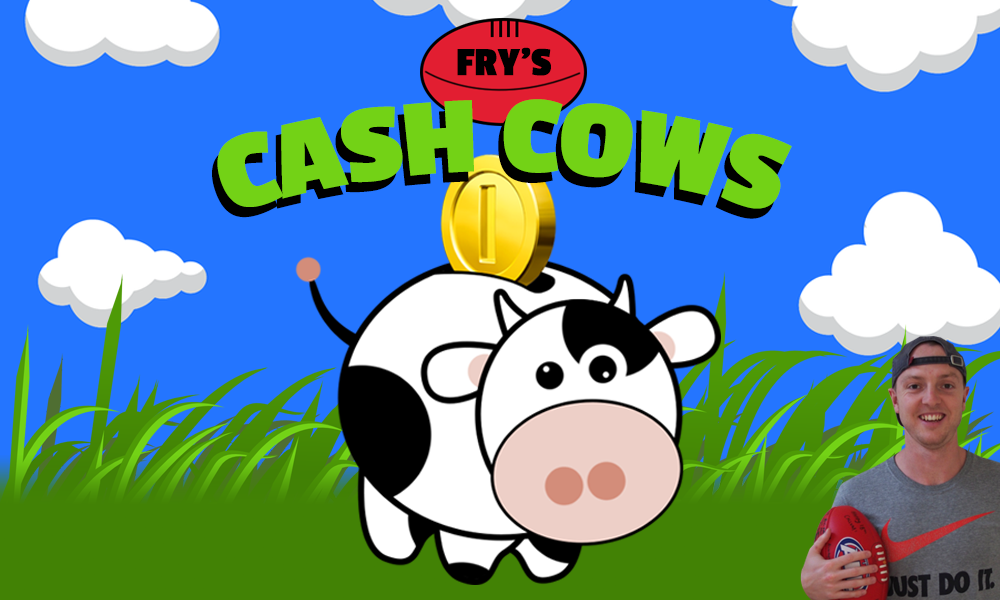 12 down, 11 to go!
If you're reading this, congratulations for making it past the halfway mark of the AFL Fantasy season and still being invested! The first bye round tested the patience of a lot of coaches and the curveball of Richmond/West Coast players resting in Round 14 will surely cause more chaos amongst the fantasy community. As always, we still want to focus on improving our team throughout the bye rounds and with 7 trades now up our sleeve, it's important to keep your eyes on the long-term prize.
Rookie/cash cows are usually defined as players who are priced at $300,000 or lower
If you missed out on the 2021 Rookie Guide I wrote prior to Round 1 check it out here!
---
Mid-Season Draftees
21 mid-season draftees joined the AFL fraternity last week, with some of the new rookies offering elite fantasy upside. Should any of them be called upon to debut in the back half of the season, they're bound to become popular trade targets for coaches. However, not all of them warrant selection, with 6, in particular, my favourite new cash cows to keep your eye on.
1. Jai Newcombe, MID, Hawks (104.8 AVG from 6 VFL games, 122 PB) – The big-bodied Box Hill Hawk has thrived at VFL level this year and Hawthorn wasn't prepared to let him leave their ranks. After averaging 7 tackles and over 23 touches so far, Newcombe and his readymade frame could be on display in the AFL before the season ends.
2. Connor West, MID, Eagles (109.1 AVG from 8 WAFL games, 134 PB) – West Coast may have found a successor for some of their older midfield types with their latest local product dominating at state level. Connor West played his first game in Eagles colours on the weekend, albeit in the WAFL, and looked right at home – amassing 30 disposals for a score of 134. Don't rule out West making an appearance later in the year if the Eagles need another contributor in their engine room.
3. Ned Moyle, RUC, Suns (49.3 AVG from 3 VFL games, 72 PB) – Injuries to most of Gold Coast's relevant ruckmen could create an opportunity for Ned Moyle in 2021. His scoring rate doesn't look too impressive, and Moyle looms as a long-term project for the club. However, the teenager could still help the Suns in the back half of the season if he's called upon.
4. James Peatling, DEF/MID, Giants (100.4 AVG from 5 VFL games, 146 PB) – A now-former academy Giant, James Peatling's versatility could help aid his cause for an early debut. Honing his craft as a pressure forward and rotating through the midfield has seen Peatling score at a rapid rate in the two's and he may be given a chance before the season concludes to test his talents in the AFL.
5. Ash Johnson, FWD, Magpies (66.7 AVG from 6 SANFL games) – Collingwood didn't want to let Ash Johnson slip through their fingers and the high-flying talent could aid their lacklustre forward line. I expect to see Johnson at some point this year for the Magpies and when given a chance, he's certainly one to keep an eye on.
6. Jacob Edwards, RUC/FWD, Kangaroos (75 AVG from 3 NAB League games) – The No. 1 pick might not offer a lot for fantasy coaches in the immediate future, but he could still feature in a few games down the stretch. If he's picked, Edwards has the talent to matter in AFL circles so watch him closely.
Keep your eye on
Patrick Parnell, DEF, Crows – 96.8 AVG from 4 NAB League games
Jackson Callow, FWD, Hawks – 63.6 AVG from 8 SANFL games (131 PB)
Matthew Parker, FWD, Tigers – 86.4 AVG from 7 WAFL games (126 PB)
Kye Declase, DEF/MID, Demons – 96.8 AVG from 5 VFL games (113 PB)
Rest of the pack
Alex Mirkov, RUC, Blues – 47 AVG from 2 VFL games (52 PB)
Max Heath, RUC, Saints – 62.3 AVG from 3 NAB League games
Sam Durham, DEF/MID, Bombers – 54.6 AVG from 5 VFL games (91 PB)
Will Collins, DEF, Eagles – 46 AVG from 3 WAFL games (61 PB)
Lachlan McAndrew, RUC, Sydney – 34 AVG from 3 VFL games (35 PB)
Jed McEntee, MID, Power – 78 AVG from 7 SANFL games (98 PB)
Kalin Lane, RUC, Lions – 78 AVG from 1 WAFL game
Charlie Ham, DEF, Kangaroos – 75.2 AVG from 4 NAB League games
Aiden Begg, RUC, Magpies – 57 AVG from 2 NAB League games
Jordan Boyd, DEF, Blues – 61.4 AVG from 5 VFL games (77 PB)
Cooper Sharman, FWD, Saints – 57.6 AVG from 3 SANFL games (77 PB)
Daniel Turner, DEF, Demons – 74.2 AVG from 4 NAB League games
---
Mooooving On
Part of our weekly trade focus is to remove the rookie-priced players who are no longer making money. When a cash cow sees their average fall in line with their breakeven or they find themselves on the outside looking in for multiple weeks at a time, that's usually a good time to give them the axe.
Fattened cash cows
Tom Powell, Kangaroos ($471K, AVG 69, BE 95)
Jacob Koschitzke, Hawks ($358K, AVG 51, BE 68)
James Rowe, Crows ($384K, AVG 53, BE 59)
Connor Idun, Giants ($425K, AVG 60, BE 63)
James Jordon, Demons ($546K, AVG 76, BE 95)
Tom Powell has been dropping in value for a few weeks now, but coming off his bye might help him survive the axe as coaches make three more trades this week. Both he and Jacob Koschitzke can help throughout the next two rounds, but if you're flush with players for the next few weeks, trading them away makes sense. If you're overloaded with Round 14 bye players, then flicking the likes of Rowe or Jordon is a smart play while upgrading Connor Idun into a premium defender (perhaps his teammate Lachie Whitfield) is also a good investment.
Popular R13 trades

TRADED IN

1️⃣ Joel Amartey
2️⃣ Lachie Whitfield
3️⃣ Ned Reeves
4️⃣ Luke Edwards
5️⃣ Josh Kelly

TRADED OUT

1️⃣ Chad Warner
2️⃣ James Jordon
3️⃣ Harrison Jones
4️⃣ Riley Collier-Dawkins
5️⃣ Sean Darcy #AFLFantasy pic.twitter.com/T8QbgOQZwa

— AFL Fantasy (@AFLFantasy) June 8, 2021
Injured/non-playing rookies
Chad Warner, Swans ($447K, AVG 69, BE 96)
Miles Bergman, Power ($392K, AVG 57, BE 86)
Braeden Campbell, Swans ($379K, AVG 57, BE 61)
Errol Gulden, Swans ($460K, AVG 74, BE 88)
Tyler Brockman, Hawks ($284K, AVG 50, BE 22)
Once again the injured list is dominated by Swans, although this time Chad Warner finds his name on the list after being ruled out for Round 13. There's a chance all three of Warner, Campbell and Gulden are in the selection mix after their bye, but I'd still feel better trading them away ASAP. Miles Bergman could be given a bit longer, especially if he squeezes his way into Port's best-22 this week. However, if he plays at SANFL level/is forced to play the role as medical sub again, act accordingly and send him packing.
Cash Cow King – Round 12
It's always nice to see a fresh face score well in his first match for the year and that's exactly what Joel Amartey (74) did against the Saints. The Sydney tall didn't look out of place pinch-hitting in the ruck or playing as a bigger target up forward and he looms as a great downgrade target, along with Collingwood's Trent Bianco (77), who dropped his second consecutive score in the 70's.
However, Bianco's teammate and fellow popular Pie Caleb Poulter (105) was the star of the show from a rookie perspective – scoring 100+ for the second time in three games! Poulter was unlucky to miss out on the Rising Star nomination with Nik Cox (104) stealing his thunder following a career-best game from the Bombers' talent. Most coaches will toss a coin between Poulter and Cox for this week's vote and I'm siding with the young Magpie for his performance in Round 12.
Loading ...
Round 13 Bye Rookies
With roughly a third of the league taking the week off, it's time to take stock of the cash cows who have the bye this round and discuss their fantasy prospects. Some of the rookies who're resting up will still be relied upon to contribute once they return, but now is a good time to trade away any of the Round 13 cash cows letting you down.
DEFENCE
Nik Cox ($419K, 104, BE 30) – I was ready to cash in on Nik Cox's price rise and trade him out this week, but his heroics against Richmond has me second-guessing that plan! Earning the weekly Rising Star nomination for his troubles, Cox still has some growth left so I wouldn't be flicking him out just yet.
Bomber fans wanted it and now they've got it ⭐

Congratulations to Nik Cox on being award the round twelve nomination for the @NAB AFL Rising Star Award. pic.twitter.com/FLOk9k7DkN

— AFL (@AFL) June 7, 2021
Liam Stocker ($348K, 63, BE 37) – Not too many coaches are riding with Liam Stocker in their sides, but he's still producing at a relatively consistent level. Stocker isn't a trade priority, so if you're a rare owner of the Blues defender it's wise to hold onto him.
Jaxon Prior ($343K, 58, BE 38) – Prior is in a similar position to Liam Stocker, with just 3% of coaches currently benefiting from his fantasy output. Recently, Prior has seen his scoring output yo-yo, but the young Lion should be good for a few more 50's before he can happily be dealt.
Harry Sharp ($201K, DNP, BE 28) – Despite residing in 16% of teams, Sharp hasn't featured in an AFL game since Round 2 and is listed as 10-12 weeks away from a return with an ankle complaint. Trade him ASAP – if not sooner.
MIDFIELD
Anthony Scott ($304K, 47, BE 50) – The money-making days are over for Anthony Scott, but his current owners are still counting on him contributing in Round 14. If you're not in that position and you can afford to offload the Dogs' mature-ager, there's nothing wrong with giving Scott the flick to maintain cash generation.
Lachlan McNeil ($315K, DNP, BE 46) – Unlike his rookie teammate, Lachlan McNeil isn't a certainty to join the Bulldogs' lineup next week. If he does, then plugging him into your lineup is smart, but should McNeil remain on the outs, there's nothing wrong with trading him away now that his price tag is over the $300K threshold.
RUCK
Jordan Sweet ($349K, DNP, BE 40) – A fresh injury to Stefan Martin could change the fantasy fortunes of Jordon Sweet, but I wouldn't be holding my breath. A week off should give Stef enough time to heal and flicking Sweet to a cheaper ruck (Ned Reeves?) this round is a move I approve.
FORWARD
Cody Weightman ($355K, 65, BE 26) – I'll admit it, I was wrong about Cody Weightman. The Dogs forward hasn't heavily relied on goals to keep his points total ticking over so far this season, with three 60+ scores in four games. At this stage, Weightman is still an option for your field once the byes conclude, so I'd suggest holding him for now.
Deven Robertson ($435K, 81, BE 31) – Ditto for Deven Robertson, who has maintained his place in Brisbane's side with some great matches recently. Brisbane boasts some big-name talent in their midfield unit, but that doesn't mean Dev Rob can't hang around and become one of your final on-field rookie upgrades.
Harrison Jones ($309K, 17, BE 64) – Key forward's never usually provide us with great fantasy scores, which means Harry Jones has effectively served his purpose as a cash cow. Four consecutive games scoring under 50 points only strengthens that argument.
Alec Waterman ($319K, 48, BE 34) – More midfield time was meant to come his way, but Waterman's scoring has recently remained the same. Another big-bodied forward who coaches will be trying to cash in on, Waterman can be moved unless you urgently need his 40-50 points in Round 14.
Matthew Owies ($341K, 64, BE 29) – I spent a fair chunk of the West Coast/Carlton time with my eyes on Matt Owies and the Blues forward didn't disappoint. Don't expect him to light the world on fire, but I wouldn't be trading Owies away until after the bye rounds.
Archie Perkins ($390K, 40, BE 67) – Last, but certainly not least Archie Perkins has stalled somewhat as a fantasy scorer, which could see the popular Don exit a lot of fantasy teams. If an upgrade is available there's no reason to keep trusting Perkins, but I have faith he can keep plugging away with scores in the 60's if you've got more pressing trade issues.
Round 13 Rookie Rankings
With the bye rounds upon us, I've narrowed each of the four field positions down to a top-3 (or top-2 in the RUC's) rather than a top-5. If you're still fielding more than 3 rookies in any line on your field A) may God have mercy on your soul and B) make that a priority to fix!
DEFENCE
With Nik Cox resting this week, second-gamer Trent Bianco ($249K, 77, BE -18) has vaulted himself to the top of the defensive pecking order. Two 70's are a good indicator of fantasy success and Bianco should continue to post scores around this mark with Lachie Jones ($316K, DNP, BE 22) another cash cow who could keep rising in value with some decent performances.
An ankle injury interrupted the Port cult hero's season so far, however, I have high hopes that Jones can be a factor for coaches if he remains in their side. Rounding out the top-3 this week is Connor Idun ($425K, DNP, BE 63) fresh off his bye and ready to contribute for 11% of the comp. Upgrading Odun while his price is juicy will be tempting, but he can remain in your D6 slot after the byes until that moves comes to fruition.
Top-3
Trent Bianco (Magpies)

Lachie Jones (Power)

Connor Idun (Giants)
With St Kilda ravaged by injury, Tom Highmore ($295K, 21, BE 49) should stay in their 22 after serving as the medical sub in Round 12. He and Miles Bergman ($392K, DNP, BE 86) are the best two remaining defenders, however, their fantasy prospects depend on if they're donning a vest or not.
Vest or no vest, I don't expect Jy Farrar ($352K, DNP, BE 72) to light the world on fire against the Dockers after his subpar scores in recent times, which could open the door for Eagles duo Harry Edwards ($257K, 78, BE 7) and Luke Foley ($178K, 67, BE 4) as potential trade targets. I'd much prefer to bite the bullet with Edwards over Foley, but I'm not convinced either of them will be playing after the byes.
Best of the Rest
These players may or may not be in the selection mix this week, but be sure to keep them on your 2020 watchlist in case they burst onto the scene. In no particular order:
Matthew Ling (Swans, $219K)
Denver Grainger-Barrass (Hawks, $260K)
Will Gould (Swans, $170K)
Jacob Wehr (Giants, $170K)
Josh Worrell (Crows, $170K)
Joel Jeffery (Suns, $170K)
Bailey Laurie (Demons, $228K)
Isaac Chugg (Magpies, $170K)
MIDFIELD
A three-round average of just 65 has James Jordon ($546K, 60, BE 95) perilously close to losing his No. 1 MID rank and a lot of fantasy coaches are starting to toy with Jordon trade ideas. Less than a month ago, we were considering leaving him to be one of our final cash cow upgrades, but with the Dees midfielder showing his first decline in value this week expect some to jump ship and cash Jordon in while his price is still close to $550K.
From outside the top-3 to 2nd on the leaderboard, Caleb Poulter ($452K, 105, BE 14) has another century to thank for his rise up the ranks. I was one of the coaches who missed the Poulter train, making it a tough watch each week as the Magpie rookie chalks up 10-ish marks on a wing for another impressive score. At this rate, Poulter could be the proud owner of the top midfield rung by the end of the byes, although he'll continue to get competition from players like Ryan Byrnes ($412K, 56, BE 37). A matchup this week against Adelaide presents Byrnes with a chance to rectify his dip in scoring and if he fails to fire the axe may come swinging from coaches.
Top-3
James Jordon (Demons)

Caleb Poulter (Magpies)

Ryan Byrnes (Saints)
We feared that the return of some big-name Tigers would squash the fantasy relevance of Riley Collier-Dawkins ($376K, 29, BE 59) and we were partially right. RCD saw his CBA numbers take a heavy hit while managing just 58% TOG – both of which were factors in his poor score of 29. He's dropped out of the top-3 for now and another showing like this could spell the end of Collier-Dawkins' tenure for coaches. Tom Powell ($471K, DNP, BE 95) is on some thin ice of his own after poor scoring leading in to his bye. Most coaches have jumped ship already and it'll take something impressive from the young Roo for him to maintain his place in a lot of teams.
On the cheaper front, another no-show from Finlay Macrae ($240K, DNP, BE 50) and a failure from Jay Rantall ($175K, 24, BE 23) has coaches giving up on the young Magpies, but West Coast debutant Luke Edwards ($189K, 55, BE 5) doesn't appear set to go down the same path. The son of Adelaide champion Tyson, Luke Edwards had some good moments for the Eagles and he should earn a second straight game, with a matchup against the reigning premiers giving us a good insight into how long he might stay in their side.
Technically you can make money by flicking Ronin O'Connor ($193K, 20, BE 21) to Edwards, with the Crows' youngster almost a certainty to head back to the SANFL this week. I had high hopes for O'Connor, but with the concussed Sam Berry ($319K, DNP, BE 57) now healthy and in the mix to replace him, 11,520 coaches (myself included) need to start thinking about a Plan B.
Best of the Rest
These players may or may not be in the selection mix this week, but be sure to keep them on your 2021 watchlist in case they burst onto the scene. In no particular order:
Jackson Mead (Power, $170K)
Jeremy Sharp (Suns, $221K)
Cooper Stephens (Cats, $170K)
Luke Pedlar (Crows, $250K)
Thompson Dow (Tigers, $192K)
Reef McInnis (Magpies, $226K)
Brody Kemp (Blues, $170K)
Zane Trew (Eagles, $170K)
Lachlan Bramble (Hawks, $170K)
Nathan O'Driscoll (Dockers, $218K)
Luke Valente (Dockers, $170K)
RUCK
Last week we hardly had any ruckmen to talk about, but all of a sudden we're flush with RUC prospects! The fantasy ruck rookie discussion starts and ends with Matt Flynn ($501K, DNP, BE 63) who, last time out, teamed up with Shane Mumford to take on Brisbane. If GWS continues to use the dual ruck setup, Flynn doesn't have as much room to grow, which means a trade should be considered as soon as the byes conclude. Enter Ned Reeves ($245K, DNP, BE -22) who has the lowest breakeven in the game right now and is the 3rd most traded in player this round. If he's named to play vs. Sydney then Reeves is a great trade target with plenty of room still to grow.
Top-2
Matt Flynn (Giants)

Ned Reeves (Hawks)
I came pretty close to slotting Joel Amartey ($200K, 74, BE -8) in as the second-best RUC prospect after the Swans' young gun started his 2021 fantasy campaign with a bang. Amartey's ability to fill up the stat sheet across the board appeals to me and as long as he can hold Callum Sinclair out of the side I'm expecting more 60+ scores. The forgotten Roo Tom Campbell ($414K, DNP, BE 55) continues to edge closer to being traded away, with Riley Thilthorpe ($358K, DNP, BE 68) owners likely keen to follow suit when Adelaide's bye arrives next round.
There are some other downgrade targets in the RUC department with Max Lynch ($191K, 55, BE 6) offering a short term solution for Collingwood in Brodie Grundy's absence. I don't have a ton of faith in Lynch playing regularly to close the year, but he did enough to hold his spot for Round 13. Lloyd Meek ($245K, DNP, BE 21) may play a similar role by replacing the injured Sean Darcy for a week or two after managing 102 points from 34 hitouts with 2 goals in the WAFL.
Best of the Rest
These players may or may not be in the selection mix this week, but be sure to keep them on your 2021 watchlist in case they burst onto the scene. In no particular order:
Sam Hayes (Power, $170K)

FORWARD
With our weekly surefire No. 1 forward Chad Warner ($447K, 37, BE 96) set to miss this weekend's match against Hawthorn, the forward line offers very little on the rookie front this round. Technically speaking coaches can still swing players like Miles Bergman, Caleb Poulter and Tom Powell down to their FWD's in an effort to strengthen that line, but a lot of the usual suspects will have their feet up this weekend.
Chad Warner (AF $447k SC $300k M/F)@sydneyswans coach John Longmire: "Has just had a sore spot for a couple of weeks on his leg, so he may not play this week. He might be one of those younger boys that we're conscious of shielding early."#AFLFantasy #SuperCoach #AFL https://t.co/txQ7nEv0K0

— Honeyball AFL 🍯 (@HoneyballAFL) June 7, 2021
I try to make the candidates in each line relevant to the positions they play on the weekend and for that reason the trio of James Rowe ($358K, DNP, BE 68), Jacob Koschitzke ($358K, DNP, BE 68) and Josh Treacy ($251K, 65, BE 10) claim top-3 honours this week – purely out of necessity. If you've got the ability to swing a Bergman/Poulter/Powell type up forward that's a wise move to help cover the absence of other popular FWD's, however, this does present coaches with a great opportunity to chase an upgrade in the shape of Josh Kelly, Jack Ziebell and/or Aaron Hall.
Top-3
James Rowe (Crows)

Jacob Koschitzke (Hawks)

Josh Treacy (Dockers)
Best of the Rest
These players may or may not be in the selection mix this week, but be sure to keep them on your 2021 watchlist in case they burst onto the scene. In no particular order:
Ely Smith (Lions, $170K)
Nakia Cockatoo (Lions, $243K)
Jamarra Ugle-Hagan (Bulldogs, $270K)
Maurice Rioli (Tigers, $170K)
Elijah Hollands (Suns, $258K)
Sam Philp (Blues, $203K)
Jake Bowey (Demons, $230K)
---
FOLLOW ME ON TWITTER: @SportsbyFry for all things AFL Fantasy (and more)! Feel free to hit me up with any questions you have throughout the season. Good Luck! ✌️