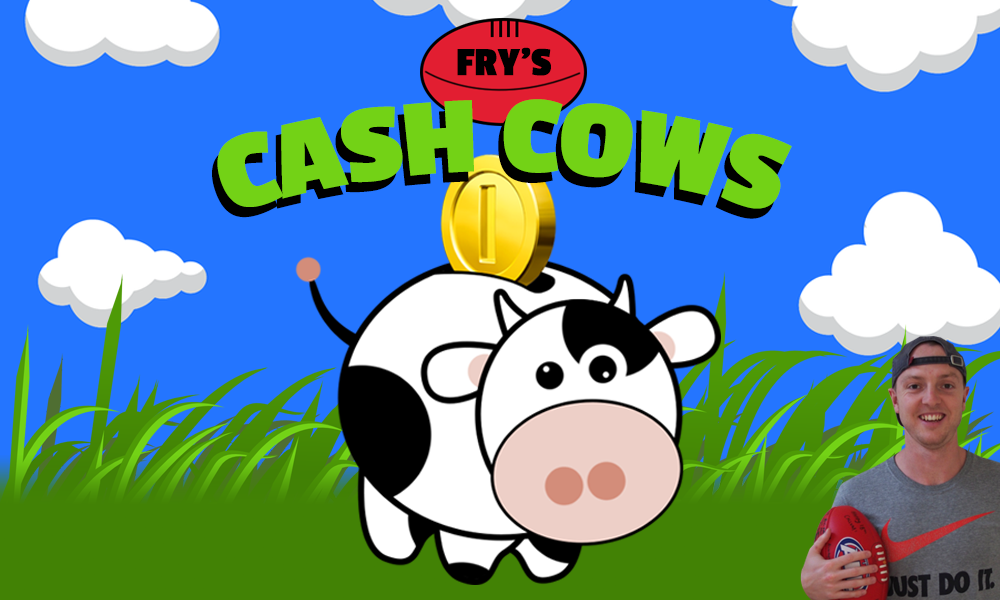 13 down, 10 to go!
Gulp. This round is bound to seriously test fantasy coaches' patience with 8 teams taking the week off during the third and final bye round. An additional trade will help us solve some of our problems, but there is a large portion of the fantasy community who will struggle to field a full lineup this round. It's not worth destroying your team long term to field 16, 17 or 18 players this week, so while it may be a difficult pill to swallow, it's important to still focus on removing rooks and bringing in star players to replace them.
Rookie/cash cows are usually defined as players who are priced at $300,000 or lower
If you missed out on the 2021 Rookie Guide I wrote prior to Round 1 check it out here!
---
Mooooving On
Part of our weekly trade focus is to remove the rookie-priced players who are no longer making money. When a cash cow sees their average fall in line with their breakeven or they find themselves on the outside looking in for multiple weeks at a time, that's usually a good time to give them the axe.
*Breakeven's may be subject to change*
Fattened cash cows
James Jordon, Demons ($539K, AVG 76, BE 91*)
Tom Powell, Kangaroos ($456K, AVG 69, BE 79)
Jacob Koschitzke, Hawks ($346K, AVG 50, BE 63)
James Rowe, Crows ($382K, AVG 53, BE 62*)
Ryan Byrnes, Saints ($424K, AVG 67, BE 55*)
With MID cash cows James Jordon and Ryan Byrnes taking the week off, now is a perfect time to upgrade them and turn them into a noteworthy player. Jordon's higher price tag makes it easier to reach a premium player and chopping Tom Powell for similar reasons is still a move I suggest coaches make. Jacob Kosichitzke and James Rowe shouldn't be on your field post byes, so if you're an owner there's nothing wrong with ditching either of the pair.
Popular R14 trades

TRADED IN

1️⃣ Jai Newcombe
2️⃣ Luke Edwards
3️⃣ Dan Houston
4️⃣ Josh Kelly
5️⃣ Joel Amartey

TRADED OUT

1️⃣ James Jordon
2️⃣ Ryan Byrnes
3️⃣ Isaac Heeney
4️⃣ Riley Collier-Dawkins
5️⃣ James Rowe#AFLFantasy pic.twitter.com/UxaFqMv97N

— AFL Fantasy (@AFLFantasy) June 16, 2021
Injured/non-playing rookies
Chad Warner, Swans ($447K, AVG 69, BE 96)
Riley Collier-Dawkins, Tigers ($376K, AVG 61, BE 59)
Braeden Campbell, Swans ($379K, AVG 57, BE 61)
Errol Gulden, Swans ($460K, AVG 74, BE 88)
Tyler Brockman, Hawks ($284K, AVG 50, BE 23)
There's a chance Chad Warner and maybe Errol Gulden could return in Round 15 after their bye, but Braeden Campbell will still be spending a few weeks on the sidelines. Their absences should have already been addressed by coaches, but if you still own any of the three, I'd look to move them on ASAP. The same can be said for Tyler Brockman who hasn't played since Round 4, while Riley Collier-Dawkins has served his purpose as a cash cow and can be moved out of your lineup.
Cash Cow King – Round 13
A wide range of rookies put up impressive scores over the weekend with mid-season recruit Jai Newcombe (87) starting his fantasy career with a BANG. The newest Hawk managed an AFL record 14 tackles on debut and over 22,000 coaches acted swiftly to make sure they pocketed Newcombe's score on Friday night. Another recent newcomer in Joel Amartey (92) helped coaches during the middle bye weekend after being a popular trade target, but no one expected Tom Highmore (110) to chalk up his first fantasy century!
From 21 points to 110, there weren't too many coaches who would've had faith in St Kilda's defender, but he looms as the favourite for this weeks CCK nomination. Finally, West Coast duo Luke Foley (90) and Luke Edwards (90) deserve a shoutout, but only one of them can be included in this week's ballot. I'm giving Edwards the nod for his stellar showing against the Tigers, but both loom as popular downgrade picks once the bye rounds conclude.
Loading ...
Round 14 Bye Rookies
With 10 teams taking the week off, it's time to take stock of the cash cows who have the bye this round and discuss their fantasy prospects. Some of the rookies who're resting up will still be relied upon to contribute once they return, but now is a good time to trade away any of the Round 14 cash cows letting you down.
*Breakeven's may be subject to change*
DEFENCE
Trent Bianco ($281K, 33, BE 11) – I'm not too put off by Bianco's lacklustre 33 against the Demons. Here's hoping he can bounce back and be trusted on our field for a few weeks post byes.
Brandon Walker ($191K, 55, BE 6) – Of the two Dockers' debutants last week, Walker looked more comfortable at the top level. If he holds his spot, he could become a good downgrade choice next week.
Tom Highmore ($333K, 110, BE 11) – Most Highmore owners would have been keen to move the Saints defender on this week, and some coaches still may. Coming off his huge score though, there's merit in keeping Highmore around for another few weeks.
Josh Worrell ($170K, 16, BE 38) – Worrell's debut is a perfect example of why it pays to wait a week at times on rookies. Hopefully, for those who took the punt, he's still in the side come Round 15, but he seems set to be omitted.
Harry Edwards ($292K, 62, BE 12) – Those who took a chance on Edwards a few weeks ago have been handsomely rewarded. The Eagles youngster could make way for Jeremy McGovern after the bye and if he's dumped act accordingly. If not, there's nothing wrong with holding onto Edwards.
Luke Foley ($230K, 90, BE 0) – Ditto for Foley, who got off to a fast start against Richmond with 46 first-quarter points last round, but may be forced to miss out when Brad Sheppard returns from a concussion. If he holds though, he's still a worthwhile target down back.
MIDFIELD
Caleb Poulter ($486K, 67, BE 43) – There's still room to grow for Poulter and a five-round average north of 80 means he can still be trusted as a reliable source of points. Upgrading him to a premium player is tempting, but I'd hold onto the young Magpie if you can.
Riley Collier-Dawkins ($376K, DNP, BE 59) – With RCD being omitted last week, he will struggle to re-integrate himself into the senior side this season. Having made over $200K, Collier-Dawkins has served his purpose as a cash cow and coaches can feel safe giving him the flick.
James Jordon ($539K, 78, BE 91) – The frontrunner for this year's cash cow MVP award, Jordon also finds himself as the most popular trade out this round. All rookies have to go at some stage, so it's fine to thank Jordon for his contributions and cash him in for a big fish.
Sam Berry ($321K, 58, BE 44) – An average under 50 in 2021 means most coaches have probably cut Berry from their lineup already. If he's still in your squad, Berry's money-making days are done, making him a fine trade out candidate.
Ronin O'Connor ($193K, DNP, BE 21) – O'Connor faces an uphill battle to earn another chance at AFL level this year, but it isn't entirely out of the question. The tackling machine racked up another 9 hugs in the SANFL last week, but a score of just 56 highlights why O'Connor doesn't offer a ton of fantasy upside.
Ryan Byrnes ($424K, 54, BE 55) – Similar to popular MID's like Poulter and Jordon, Ryan Byrnes has been leaned on heavily in the last few months. With his scores starting to plateau and his price starting to decline, feel free to move Byrnes on.
Luke Edwards ($241K, 90, BE 0) – There's a chance that Edwards will be the most traded in player after this weekend, with the Eagles midfielder unlucky to miss out on a Rising Star nom last round. There are a few West Coast players to come back into their side, but if Edwards holds, there's nothing wrong with pouncing on the talented prospect.
Jay Rantall ($172K, 17, BE 29) – Gross. Trading Rantall out isn't really an option for coaches, but let's hope he can continue to feature in the Pies' lineup during the post-Buckley era.
RUCK
Lloyd Meek ($245K, DNP, BE 21) – The Meekster kept up his solid WAFL form with 94 points from 37 hitouts, however, I can't see him earning a spot while Sean Darcy is balling.
Paul Hunter ($273K, 51, BE 13) – Hunter's return was a welcome sight for the 23,000 coaches who still own the Saints big man. Injury woes forced St Kilda to give Hunter some more minutes and there's a chance he can string a few more matches together if Rowan Marshall remains out.
Max Lynch ($229K, 68, BE 0) – Another injury issue forced Collingwood to give Max Lynch a chance and the big man responded with scores of 55 and 68. He'll be out of the side as soon as Grundy returns though, so it's wise to avoid Lynch right now.
Riley Thilthorpe ($359K, 68, BE 40) – Playing more of his minutes as a key forward rather than a ruckman has limited Thilthorpe's fantasy game thus far. We saw on the weekend why Adelaide drafted him 2nd overall last year, however, he's not a legitimate option for coaches.
Now here's a young star on the rise 🤩

Congrats again to Crow Riley Thilthorpe, the round 13 NAB AFL Rising Star nominee, thanks to @NAB 👏 pic.twitter.com/9zKIXAgLLW

— AFL (@AFL) June 15, 2021
FORWARD
James Rowe ($382K, 53, BE 62) – Those who held onto Rowe were primarily relying on him for two scores during the byes. Now that he's completed that mission, you can send the Adelaide forward packing.
Joel Amartey ($261K, 92, BE 40) – I'm buying all the Amartey stock that I can right now – so much so, I'm considering snagging the talented Swan with one of my four trades this week. Either way, Amartey should be in your team after his week off.
Josh Treacy ($295K, 81, BE 5) – The Big Cohuna put forth the best game of his young career against Gold Coast, firing 5 shots on goal and taking 7 marks. Don't expect this every week, but Treacy still has money to make.
Joel Western ($170K, 22, BE 28) – Western's WAFL scores suggested he was capable of more once he earned his chance at AFl level. Unfortunately, that wasn't the case. Avoid.
Finlay Macrae ($240K, DNP, BE 49) – Much like the aforementioned Rantall, a lot of coaches are 'stuck' with Finlay Macrae at the moment, praying that he earns a recall for Collingwood. If you're looking at trading the young Pie though, don't hesitate.
Round 14 Rookie Rankings
With the bye rounds upon us, I've narrowed each of the four field positions down to a top-3 (or top-2 in the RUC's) rather than a top-5. If you're still fielding more than 3 rookies in any line on your field A) may God have mercy on your soul and B) make that a priority to fix!
DEFENCE
As I mentioned last week, a lot of Nik Cox ($419K, DNP, BE 29) owners were ready to give him the flick once his bye arrived, but scoring a fantasy century in Round 12 may have changed our thinking. I don't expect him to drop another triple-figure score against the Hawks, but he should still find his to 60+ points with relative ease. Miles Bergman's ($381K, 64, BE 72) recall means he's earned a spot in the top-3 rankings this week and coaches can happily plug him into their DEF or FWD line depending on where they need more assistance. The now consistent Connor Idun ($432K, 70, BE 57) rounds out the list this round and those who elected to start the year with Idun and stuck with the Giants defender are now happily benefiting from his solid production.
Top-3
Nik Cox (Bombers)

Miles Bergman (Power)

Connor Idun (Giants)
Port cult hero Lachie Jones ($332K, 46, BE 36) was unlucky to miss out on a top-3 berth and for the large majority of coaches who don't own an Idun-type, he's the next best option. Brisbane backman James Madden ($229K, DNP, BE -1) could be in line for a recall after Ryan Lester's latest injury and Kieren Briggs ($182K, DNP, BE 11) amassed 124 points from 22 touches and 28 hitouts in the VFL which could see him re-enter the Giants' lineup. Keep an eye on mid-season draftee James Peatling ($170K, DNP, BE 25) who scored 100 points from his  23 touches (18 kicks!!) and could be handed a late-season debut.
Best of the Rest
These players may or may not be in the selection mix this week, but be sure to keep them on your 2020 watchlist in case they burst onto the scene. In no particular order:
Matthew Ling (Swans, $219K)
Denver Grainger-Barrass (Hawks, $260K)
Kye Declase (Demons, $170K)
Will Gould (Swans, $170K)
Charlie Ham (Kangaroos, $170K)
Jacob Wehr (Giants, $170K)
Will Collins (Eagles, $170K)
Jordan Boyd (Blues, $170K)
Joel Jeffery (Suns, $170K)
Patrick Parnell (Crows, $170K)
Bailey Laurie (Demons, $228K)
James Peatling (Giants, $170K)
Sam Durham (Bombers, $170K)
Isaac Chugg (Magpies, $170K)
Daniel Turner (Demons, $170K)

MIDFIELD
With the most popular MID cash cows on the bye, things are looking dire for coaches this round in the middle of the ground. North's Tom Powell ($456K, 65, BE 79) has earned the top rung this week and with 24% of coaches still rocking with the Roos rookie, he can be plugged into the midfield group to cover the absence of some big names. Jai Newcombe ($208K, 87, BE -15) clocks in at second after an impressive debut that saw most fantasy coaches trade in the Hawthorn youngster.
Some will be turned off by the fact he only chalked up 13 disposals in their win over the Swans, but Newcombe displayed an appetite for the contest and should be able to tackle his way to another respectable score. Lastly, mainly out of necessity, is Bulldogs mature-ager Anthony Scott ($304K, DNP, BE 50) who may have been traded away last week by a lot of his owners. If you're still in dire need of another contributor this round, holding Scott for another week and hoping he can work his way close to a decent score is a fine tactic.
Top-3
Tom Powell (Kangaroos)

Jai Newcombe (Hawks)

Anthony Scott (Bulldogs)
Scott's teammate and fellow Dogs rookie Lachlan McNeil ($315K, DNP, BE 46) is in a similar position with his points total potentially a very helpful one for coaches struggling to field 18 players. A recall for Tanner Bruhn ($223, DNP, BE 36) back into the GWS outfit would be welcomed after Bruhn managed to gather 24 touches for 106 points in the VFL last week, while Roos rooks Will Phillips ($279K, DNP, BE 52) and Charlie Lazzaro ($294K, DNP, BE 28) could also be handy in's for the fantasy community. Don't hold your breath though…
Best of the Rest
These players may or may not be in the selection mix this week, but be sure to keep them on your 2021 watchlist in case they burst onto the scene. In no particular order:
Jackson Mead (Power, $170K)
Jeremy Sharp (Suns, $221K)
Cooper Stephens (Cats, $170K)
Jed McEntee (Power, $170K)
Luke Pedlar (Crows, $250K)
Thompson Dow (Tigers, $192K)
Reef McInnis (Magpies, $226K)
Brody Kemp (Blues, $170K)
Zane Trew (Eagles, $170K)
Lachlan Bramble (Hawks, $170K)
Connor West (Eagles, $170K)
Nathan O'Driscoll (Dockers, $218K)
Luke Valente (Dockers, $170K)
RUCK
We've been treated to a healthy batch of ruck rookies in the last month or so, however, our luck might be starting to dry up. Those coaches who held on to Matthew Flynn ($507K, 69, BE 72) in the hopes he can be a Round 14 contributor are facing some nervous nights ahead of the GWS contest, with Flynn no certainty to feature against Carlton. Hopefully he's done enough to hold his place in the side with similar concerns around the No. 2 ruck this week, Ned Reeves ($245K, DNP, BE -21).
A popular trade target prior to lockout last week, Reeves was a late out against Sydney with some coaches stuck with the big Hawk after they opted to bring him in. His replacement Jon Ceglar excelled last Friday which only casts further doubt over a potential Reeves inclusion. For what it's worth, Chris Burgess ($349K, 64, BE 37) could be a savior for some coaches, but unless you already own him I wouldn't consider making a play for the Suns' tall.
Ned Reeves (AF $245k SC $123k RUCK) – ankle@HawthornFC Physical Performance Manager Luke Boyd: "Ned has been able to recover quite well since then. He was able to join in a skills session today & he's a chance to be right for this weekend's game."#AFLFantasy #SuperCoach #AFL https://t.co/bUJMwkTTEr

— Honeyball AFL 🍯 (@HoneyballAFL) June 15, 2021
Top-2
Matt Flynn (Giants)

Ned Reeves (Hawks)*
* if named
Best of the Rest
These players may or may not be in the selection mix this week, but be sure to keep them on your 2021 watchlist in case they burst onto the scene. In no particular order:
Sam Hayes (Power, $170K)
Jacob Edwards (Kangaroos, $170K)
Alex Mirkov (Blues, $170K)
Ned Moyle (Suns, $170K)
Max Heath (Saints, $170K)
Lachlan McAndrew (Swans, $170K)
Kalin Lane (Lions, $170K)
Aiden Begg (Magpies, $170K)

FORWARD
While things are looking scarce in the midfield group this week, a bunch of popular forwards are returning to the fold! Coaches will happily welcome Deven Robertson ($435K, DNP, BE 31) back into the mix with the Lions cub scoring over 70 in four straight games prior to his bye. Cody Weightman ($355K, DNP, BE 26) has done enough to alleviate some (not all) of my concerns around his scoring ability, although a matchup against Geelong could see the small forward finish with a points total in the 30-40 mark. Archie Perkins ($390K, DNP, BE 67) will be plugged back into action for 7% of the comp and they will be hoping the Dons' x-factor can produce some magic against the Hawks. Inconsistencies make Perkins hard to trust on a weekly basis moving forward, but he's a lot better than some of the FWD alternatives this week.
Top-3
Deven Robertson (Lions)

Cody Weightman (Bulldogs)

Archie Perkins (Bombers)
Speaking of, we saw Jacob Koschitzke ($346K, 44, BE 63) called upon last week by coaches as he came off the bye, but a 44-point outing means some will still be tempted to swing the axe on the big Hawk. Traditionally he and the likes of Harrison Jones ($309K, DNP, BE 64) and Alec Waterman ($319K, DNP, BE 34) would all be offloaded, however, chopping them out will likely lead to coaches unable to field an entire team of 18 this week. It's tough to justify holding onto them, but I'd rather give them for one more week instead of downgrading to someone like Malcolm Rosas ($189K, 27, BE 19) who could cause more long-term issues.
Best of the Rest
These players may or may not be in the selection mix this week, but be sure to keep them on your 2021 watchlist in case they burst onto the scene. In no particular order:
Ely Smith (Lions, $170K)
Jackson Callow (Hawks, $170K)
Nakia Cockatoo (Lions, $243K)
Jamarra Ugle-Hagan (Bulldogs, $270K)
Cooper Sharman (Saints, $170K)
Ash Johnson (Magpies, $170K)
Maurice Rioli (Tigers, $170K)
Elijah Hollands (Suns, $258K)
Sam Philp (Blues, $203K)
Jake Bowey (Demons, $230K)
---
FOLLOW ME ON TWITTER: @SportsbyFry for all things AFL Fantasy (and more)! Feel free to hit me up with any questions you have throughout the season. Good Luck! ✌️