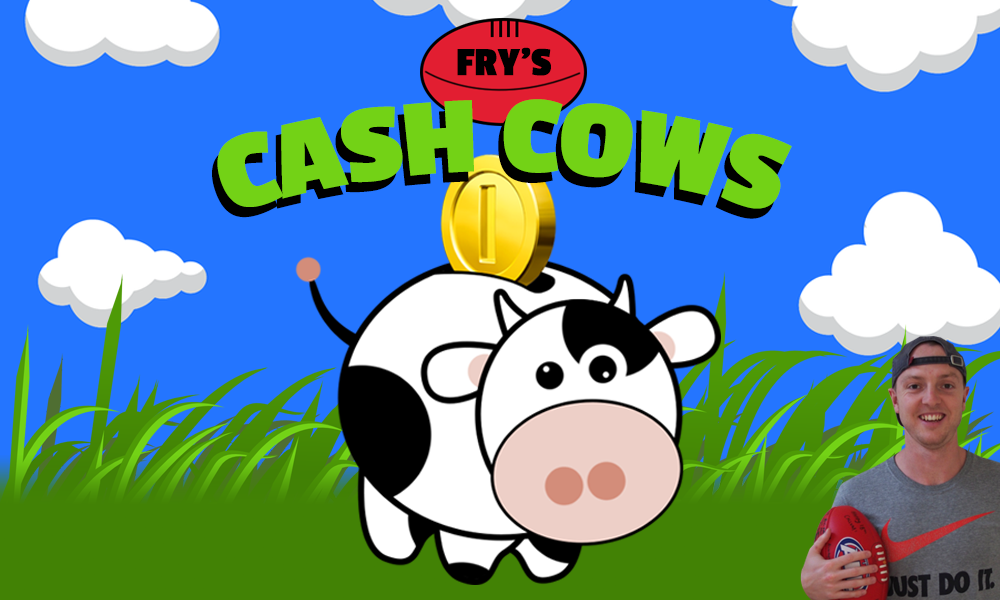 14 down, 9 to go!
Thank god that's over! I know I'm not the only coach that thoroughly enjoyed flicking their premium players back onto their field as we prepare for the sprint to finish line of another fantasy season. Hopefully, throughout the bye rounds you were able to make quality upgrades with your 10 trades and emerge out the other side with a better squad – removing rookies from your field in an effort to chase a completed team. The downgrade targets are drying up, but it's important to not punt on cash generation too early and making the right rookie investments can still see you end the season in a flurry!
Rookie/cash cows are usually defined as players who are priced at $300,000 or lower
If you missed out on the 2021 Rookie Guide I wrote prior to Round 1 check it out here!
---
Mooooving On
Part of our weekly trade focus is to remove the rookie-priced players who are no longer making money. When a cash cow sees their average fall in line with their breakeven or they find themselves on the outside looking in for multiple weeks at a time, that's usually a good time to give them the axe.
Fattened cash cows
Matt Flynn, Giants ($505K, AVG 77, BE 85)
James Jordon, Demins ($496K, AVG 74, BE 89)
Tom Powell, Roos ($450K, AVG 68, BE 69)
Jacob Koschitzke, Crows ($373K, AVG 53, BE 56)
Anthony Scott, Bulldogs ($309K, AVG 44, BE 58)
Now that we're back to fielding 22 players a week, removing the last few rookies from our field is crucial. Upgrading the likes of Matt Flynn or James Jordon to a premium player is a move I'd prioritise for owners and those coaches still backing Tom Powell can throw him into that same group. Hopefully, you can make some dough by downgrading a popular pick like Jacob Koschitzke or Anthony Scott, with the duo serving their purpose as cash cows.
Popular R15 trades

MOST TRADED IN

1️⃣ Joel Amartey
2️⃣ Scott Pendlebury
3️⃣ Luke Edwards
4️⃣ Luke Folwy
5️⃣ Kieren Briggs

MOST TRADED OUT

1️⃣ Matt Flynn
2️⃣ Mitch Duncan
3️⃣ Lachie Jones
4️⃣ Deven Robertson
5️⃣ Jacob Koschitzke#AFLFantasy pic.twitter.com/zHtShmXLA0

— AFL Fantasy (@AFLFantasy) June 22, 2021
Injured/non-playing rookies
Riley Collier-Dawkins, Tigers ($376K, AVG 61, BE 58)
Lachlan McNeil, Bulldogs ($315K, AVG 43, BE 45)
Finlay Macrae, Magpies ($240K, AVG 32, BE 49)
Paul Hunter, Saints ($273K, AVG 50, BE 12)
Tyler Brockman, Hawks ($284K, AVG 50, BE 22)
Assuming most coaches reading this have ditched the three young, injured Swans these 5 players are the next in line to be chopped. Riley Collier-Dawkins could earn a reprieve for the Tigers, but he's done his job as a cash cow and can be moved on ASAP. Some combination of the latter four are likely taking up bench spots for coaches and if a downgrade target emerges, don't hesitate to send them packing (I'm sick of writing Tyler Brockman's name each week! 😂).
Cash Cow King – Round 14
With eight teams on the bye last week there weren't a lot of popular rookies that came to the party with fruitful fantasy scores. Connor Idun (84) continued his mid-season charge with his best score of the year and Rising Star nominee Harrison Jones (81) was a pleasant surprise for nearly 20% of the competition. Liam Stocker (73) did his part for the few coaches that invested in him, with the young Blues defender doing his best to combat Toby Greene and also win his fair share of the pill.
There was one cash cow that stood head and shoulders above the pack though with Miles Bergman (103) handsomely rewarded those coaches that stuck with him. The torment of seeing Bergman utilised as the medical sub led to Port's youngster being traded away by a large portion of the fantasy community, but he was clearly the best rookie on display in Round 14. A 64-point second quarter fuelled by 13 disposals, 7 marks and a pair of tackles makes him the easy pick for this week's CCK nomination.
Loading ...
Round 15 Rookie Rankings
DEFENCE
It's hard to side with anyone other than Miles Bergman ($404K, 103, BE 35) atop the defensive pecking order after the first century of his fantasy career. This could be a flash in the pan performance from Bergman with nearly two-thirds of his points coming in one quarter along. However, the young Port gun deserves credit and while I never recommend trading rookies back into your team if he drops another 80+ score I won't be shocked to see his ownership climb.
Bergman is still a danger to be used as the medical sub so I'd feel much safer playing someone like Connor Idun ($453K, 84, BE 47) who has emerged as a great hold with three scores of 70+ in his last four matches. Rounding out the top-3 is Nik Cox ($429K, 38, BE 54) who I still have faith in his ability to top 60 compared to the other DEF rookies on offer. Cox has been inconsistent at times though and if you're still trusting the Bombers' unique talent, exploring a trade is a smart move.
Top-3
Miles Bergman (Power)

Connor Idun (Giants)

Nik Cox (Bombers)
Both Liam Stocker ($374K, 73, BE 34) and Tom Highmore ($333K, DNP, BE 10) were unlucky to not crack the top tier of defensive rooks, but neither of the duo can be trusted on your field moving forward. Carlton has the tendency to give Stocker some big-name matchups while Highmore's 110 against the Crows looks more like a fluke than a sign of what's to come. Similar could be said for Lachie Jones ($333K, 31, BE 51) who has let down a lot of coaches during the bye rounds with scores of 46 and 31, and as a result, you can look to offload him.
A few players down back may find themselves targetted as downgrades with James Madden ($265K, 55, BE 5) and Keiren Briggs ($215K, 62, BE -3) the likely candidates. Madden has already made most of his cash, but there's still more for Briggs to grow – providing he can stay in GWS' best 22. I have concerns over the job security for cheaper targets like Brandon Walker ($191K, DNP, BE 6) and Josh Worrell ($170K, DNP, BE 37) and even though Luke Foley ($230K, DNP, BE -24) impressed in Round 13, he'll likely make way for Brad Sheppard as early as this week too. Lastly, keep monitoring Giants mid-season draftee James Peatling ($170K, DNP, BE 25) who had another impressive showing with 124 points from 27 touches!
Best of the Rest
These players may or may not be in the selection mix this week, but be sure to keep them on your 2020 watchlist in case they burst onto the scene. In no particular order:
Matthew Ling (Swans, $219K)
Denver Grainger-Barrass (Hawks, $260K)
Kye Declase (Demons, $170K)
Will Gould (Swans, $170K)
Charlie Ham (Kangaroos, $170K)
Jacob Wehr (Giants, $170K)
Will Collins (Eagles, $170K)
Jordan Boyd (Blues, $170K)
Joel Jeffery (Suns, $170K)
Patrick Parnell (Crows, $170K)
Bailey Laurie (Demons, $228K)
James Peatling (Giants, $170K)
Sam Durham (Bombers, $170K)
Isaac Chugg (Magpies, $170K)
Daniel Turner (Demons, $170K)

MIDFIELD
A big group of coaches have cut the frontrunner for this year's rookie MVP in James Jordon ($539K, DNP, BE 89) with the Dees youngster doing his part for fantasy teams across the globe. If you're one of the 32,000+ still playing Jordon there's no need to panic although he has seen his scoring slow down to an average of 68.2 points in the last month. That's hardly a failure in term of production from a rookie, but his price will keep dipping – meaning it's time to explore a trade for Jordon if you haven't already.
Collingwood duo Caleb Poulter ($486K, DNP, BE 41) and Trent Bianco ($281K, DNP, BE 10) held off the rest of their midfield cash cow peers to earn the No. 2 and No. 3 rankings respectively. Poulter fills me with a lot more confidence after his fantasy season to date and with an average nudging 75, plus a breakeven in the 40's, he could be utilised as one of your last on-field rookies. There are some concerns surrounding Trent Bianco thanks to his 33-point outing vs. Melbourne, but a pair of 70's prior to that can't be ignored either. There's risk playing him on your field, but I'm backing the young Magpie to produce a decent score against the Dockers after the week off.
Top-3
James Jordon (Demons)

Caleb Poulter (Magpies)

Trent Bianco (Magpies)
A few cash cows won't be happy to see Bianco beating them out in the top-3 rankings, with the likes of Ryan Byrnes ($424K, DNP, BE 53) and Tom Powell ($450K, 60, BE 69) right in the mix. Powell has shown a higher ceiling over the entire season, but both rookies are on thin ice for the coaches and could be moved on without too much hassle. Cheaper alternatives Jai Newcombe ($236K, 27, BE 7) and Luke Edwards ($241K, DNP, BE -23) have had bright moments in the last fortnight but Newcombe's crappy 27-point game against the Dons and Edwards' shaky job security gives me reason to pause. If Newcombe can fix his scoring woes and Edwards remains in the Eagles' side though, both of them have the potential to be difference-makers down the stretch.
The end of the bye rounds will likely mean the end of Dogs duo Anthony Scott ($313K, 60, BE 39) and Lachlan McNeil ($315K, DNP, BE 45) for coaches and if Hawthorn prospect Lachlan Bramble ($183K, 43, BE 13) can maintain his place in their squad, downgrading to him is a good way to pocket an easy $100K. On the outside looking in, Tiger cub Riley Collier Dawkins ($392K, DNP, BE 59) managed 23 touches and 91 points in the VFL to strengthen his chances of a recall with Jeremy Sharp ($221K, DNP, BE 32) and Will Phillips ($279K, DNP, BE 40) both scoring 108 points for their respective reserve sides. Potential debutant Dylan Williams ($170K, DNP, BE 25) is one to watch in the coming weeks fresh off his six-goal haul for Port's SANFL side.
Best of the Rest
These players may or may not be in the selection mix this week, but be sure to keep them on your 2021 watchlist in case they burst onto the scene. In no particular order:
Jackson Mead (Power, $170K)
Jeremy Sharp (Suns, $221K)
Cooper Stephens (Cats, $170K)
Dylan Williams (Power, $170K)
Jed McEntee (Power, $170K)
Luke Pedlar (Crows, $250K)
Thompson Dow (Tigers, $192K)
Reef McInnis (Magpies, $226K)
Brody Kemp (Blues, $170K)
Zane Trew (Eagles, $170K)
Lachlan Bramble (Hawks, $170K)
Connor West (Eagles, $170K)
Nathan O'Driscoll (Dockers, $218K)
Luke Valente (Dockers, $170K)
RUCK
Despite his price slightly decreasing Matt Flynn ($505K, 60, BE 85) remains the clear No. 1 rookie ruck for fantasy coaches; however, backing him in as your R2 could lead to a lot of sleepless nights. The GWS young gun is still residing in nearly a third of all fantasy teams and with Brodie Grundy's pending return, I'd feel safe cutting Flynn now if he's sitting on your pine. An untimely ankle injury for Ned Reeves ($245K, DNP, BE -21) saw Jon Ceglar take his place in Hawthorn's team, but a reprieve could be on the horizon. Reeves managed 25 hitouts and 11 disposals for 66 points in Box Hill Hawks colours last weekend, which is hardly an eye-popping score, but with a potential Shane Mumford battle on the horizon, he could squeeze his way into their 22 for Round 15.
Top-2
Matthew Flynn (Giants)

Ned Reeves (Hawks)*
* if named
⏫ NED REEVES ⏫ #VFL #BoxHillHawks https://t.co/OEat28gtBO pic.twitter.com/ml0IavYAm2

— Hawk Talk Podcast (@HawkTalkPod) June 20, 2021
My stance on Riley Thilthorpe's ($359K, DNP, BE 39) fantasy game is well documented and the Adelaide prospect doesn't have much more room to grow making him a solid trade out candidate. I threw Thilthorpe into the same basket as Chris Burgess ($365K, 57, BE 38) who I may need to apologise to if he keeps scoring at a half-decent rate. As mentioned before Grundy's return likely spells doom for Max Lynch ($229K, DNP, BE -10) and the same can be said for Paul Hunter ($273K, DNP, BE 12) now that Rowan Marshall is slated to come back into St Kilda's outfit.
Best of the Rest
These players may or may not be in the selection mix this week, but be sure to keep them on your 2021 watchlist in case they burst onto the scene. In no particular order:
Sam Hayes (Power, $170K)
Jacob Edwards (Kangaroos, $170K)
Alex Mirkov (Blues, $170K)
Ned Moyle (Suns, $170K)
Max Heath (Saints, $170K)
Lachlan McAndrew (Swans, $170K)
Kalin Lane (Lions, $170K)
Aiden Begg (Magpies, $170K)
FORWARD
Reliable rookie forwards aren't exactly growing on trees, but a few of the prospects can still be trusted with Lions youngster Deven Robertson ($456K, 57, BE 53) leading the charge. With Brisbane's relatively easy run coming up, there's nothing wrong with playing Robertson on your field and using him as one of your final rookie upgrades. I don't have the same amount of trust in Cody Weightman ($378K, 58, BE 41) although the Dogs' goalsneak continues to produce for coaches who've left him on their field.
One rookie I do still trust is Joel Amartey ($261K, DNP, BE -29) who sneaks into the forward group despite his added RUC status. Having attended just 8/53 CBA's through his 2 games this season, Sydney's versatile prospect isn't relying on hitouts to fuel his fantasy box score – averaging 13 touches, 5 marks and 4.5 tackles in his two outings thus far. If you're not an owner, bringing Amartey into your squad this week is a sound investment.
Top-3
Deven Robertson (Lions)

Joel Amartey (Swans)

Cody Weightman (Bulldogs)
Sticking with the Swans theme, popular trio Braeden Campbell ($379K, DNP, BE 62), Errol Gulden ($460K, DNP, BE 88) and Chad Warner ($447K, DNP, BE 94) are all seemingly a few weeks away from being considered for an AFL recall as they combat soreness related to stress reactions in their legs. While they've got a half-decent excuse for their lack of productivity the patience is starting to wear thin for Archie Perkins ($365K, 18, BE 79) who failed to register a kick in his 7 disposal game vs. Hawthorn last time out.
Axing Perkins for a player like Scott Pendlebury will be a popular potential move this week and fellow FWD rookies Jacob Koschitzke ($352K, 66, BE 48) and James Rowe ($382K, DNP, BE 61) can be moved to chase a similar type of upgrade. If you can't afford a move upwards then I'd still suggest trading any of those three subpar rookies to keep cash generation ticking over. Speaking of, key forwards Josh Treacy ($295K, DNP, BE -3) and Harrison Jones ($323K, 81, BE 35) are still climbing in price after they both managed to top 80 points in their latest match. Their time is coming, but there's nothing wrong with holding the duo for now.
Best of the Rest
These players may or may not be in the selection mix this week, but be sure to keep them on your 2021 watchlist in case they burst onto the scene. In no particular order:
Ely Smith (Lions, $170K)
Jackson Callow (Hawks, $170K)
Nakia Cockatoo (Lions, $243K)
Jamarra Ugle-Hagan (Bulldogs, $270K)
Cooper Sharman (Saints, $170K)
Ash Johnson (Magpies, $170K)
Maurice Rioli (Tigers, $170K)
Elijah Hollands (Suns, $258K)
Sam Philp (Blues, $203K)
Jake Bowey (Demons, $230K)
---
FOLLOW ME ON TWITTER: @SportsbyFry for all things AFL Fantasy (and more)! Feel free to hit me up with any questions you have throughout the season. Good Luck! ✌️