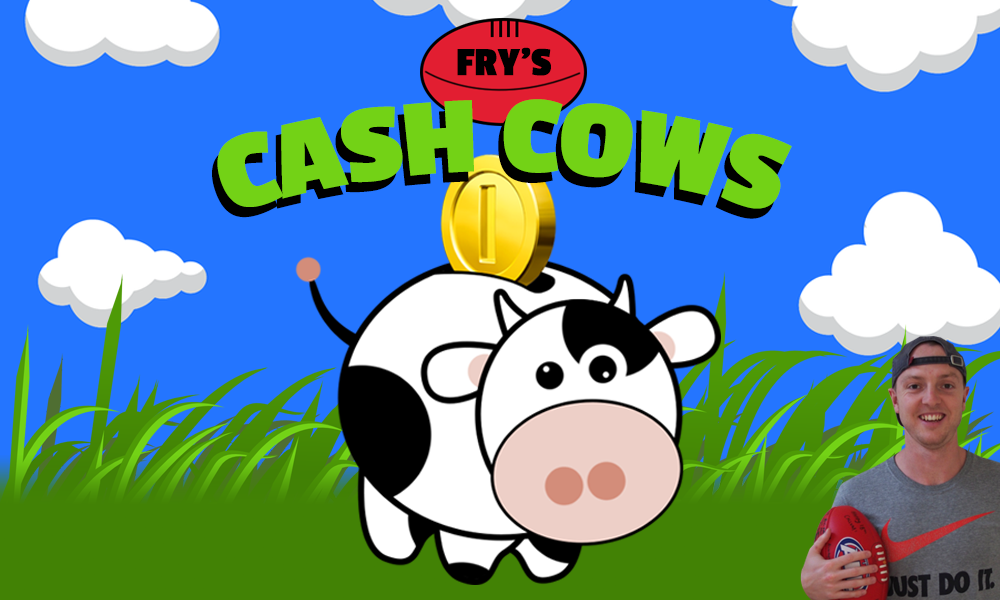 15 down, 8 to go!
Personally, after a fantasy season from hell, I'm ready to move on to the 2022 campaign but for other coaches, there's still plenty still to be played for in the final 8 rounds! With one month until the fantasy finals commence and then another month to chase premiership glory, the run home is all about maximising points on the field with just 16 trades left for coaches. It's too early to start punting on your bench spots with $170K rookies and the right cash cow investments over the coming weeks could help your team end the season with a bang!
Rookie/cash cows are usually defined as players who are priced at $300,000 or lower
If you missed out on the 2021 Rookie Guide I wrote prior to Round 1 check it out here!
---
Mooooving On
Part of our weekly trade focus is to remove the rookie-priced players who are no longer making money. When a cash cow sees their average fall in line with their breakeven or they find themselves on the outside looking in for multiple weeks at a time, that's a good time to give them the axe.
Fattened cash cows
Matt Flynn, Giants ($497K, AVG 75, BE 84)
James Jordon, Demons ($546K, AVG 77, BE 72)
Jacob Koschitzke, Hawks ($347K, AVG 50, BE 55)
James Rowe, Crows ($388K, AVG 54, BE 54)
Anthony Scott, Bulldogs ($307K, AVG 44, BE 51)
Similar to what I said last week, you may want to go for a one up/one down type of trade involving two of these cash cows. Despite his heroics last weekend, James Jordon owners should still explore an upgrade for the talented Dee with both he and Matt Flynn essentially at the peak of their value. To facilitate a trade, I'd suggest offloading the likes of Jacob Koschitzke, James Rowe or Anthony Scott if you still own any of that trio.
Early doors for R16 most traded

TRADED IN

1️⃣ Leo Connolly
2️⃣ Jeremy Sharp
3️⃣ Brodie Grundy
4️⃣ Dylan Williams
5️⃣ Patrick Dangerfield

TRADED OUT

1️⃣ Caleb Poulter
2️⃣ Nick Hind
3️⃣ Jacob Koschitzke
4️⃣ Matt Flynn
5️⃣ Tom Phillips#AFLFantasy pic.twitter.com/PvUdZ53EJG

— AFL Fantasy (@AFLFantasy) June 27, 2021
Injured/non-playing rookies
Tom Powell, Roos ($450K, AVG 68, BE 68)
Riley Collier-Dawkins, Tigers ($376K, AVG 61, BE 58)
Paul Hunter, Saints ($273K, AVG 50, BE 12)
Lachlan McNeil, Bulldogs ($315K, AVG 43, BE 45)
Tyler Brockman, Hawks ($284K, AVG 50, BE 22)
Similar customers grace the non-playing rookies this week with Tom Powell moving himself to the top of the pile. After being managed last week, Powell still has a fair amount of value and turning him into a non-rookie is a wise manoeuvre. The next two on the list in RCD and Hunter could earn a recall thanks to injury/VFL form but if they're left on the outside looking in, given them the flick and don't hesitate!
Cash Cow King – Round 15
With two months to go in the fantasy season, the Cash Cow King award is currently James Jordon's (92) to lose. A late bolter for the Rising Star award, Jordon produced his 5th score this season of 90+ points last weekend which was a pleasant surprise for the 24% of coaches still invested in the Demons rookie. A pair of Suns weren't too far behind Jordon with Sam Flanders (82) continuing his impressive second pro season and Jeremy Sharp (79) carrying over his strong VFL form in his first game of 2020. Carlton's Matt Owies (80) was the other top cash cow scorer from Round 15, but I can imagine the majority of the vote this week will be going to the award frontrunner.
Loading ...
Round 16 Rookie Rankings
DEFENCE
Another strong 70+ score from Miles Bergman ($431K, 74, BE 32) has seen him become a helpful scorer for coaches who stayed faithful to the Port youngster. A three-round average over 80 is an encouraging sign and those who are still relying on Bergman as one of their final rookies can play him without too much sweat for a few weeks. After Bergman though, it's tough to have confidence in Nik Cox ($431K, 51, BE 67) or Tom Highmore ($368K, 62, BE 21) consistently on your field moving forward. Cox has seen his scores fluctuate throughout the season and could be due for a spell within the coming weeks and Highmore sporadic output can't be trusted this late into the season.
Top-3
Miles Bergman (Power)

Nik Cox (Bombers)

Tom Highmore (Saints)
Giants backman Connor Idun ($460K, 52, BE 63) lost his place in the top-3, thanks in part to his lack of popularity compared to the other two rooks above him. If you're an Idun owner, I'd still pursue an upgrade, but if you're strapped for cash, Idun isn't likely your biggest issue. His teammate Kieren Briggs ($255K, 60, BE -3) has performed solidly in the past few weeks, but he may make way for Shane Mumford's return, with James Madden ($284K, 32, BE 28) and Brandon Walker ($212K, 38, BE 8) also on thin ice with regards to their job security.
One rookie that is a certainty to miss next week is Hawthorn's Denver Grainger-Barras ($256K, 28, BE 43) after the No. 6 pick from 2020 suffered a concussion in his debut game. There was much more promising news for Leo Connolly ($186K, 53, BE 7) in his first game at St Kilda; however, he'll likely still have to bide his time as the medi-sub. Connolly did score his 53 points in just 30% of game time, so if he remains in the Saints' 22 there's nothing wrong with chasing him as a downgrade target. Lastly, the unique cash cow in Liam Stocker ($398K, 68, BE 36) produced his third straight 60+ score and his owners can hold onto the second-year Blue who still has room to grow.
Best of the Rest
These players may or may not be in the selection mix this week, but be sure to keep them on your 2020 watchlist in case they burst onto the scene. In no particular order:
Matthew Ling (Swans, $219K)
Kye Declase (Demons, $170K)
Will Gould (Swans, $170K)
Charlie Ham (Kangaroos, $170K)
Jacob Wehr (Giants, $170K)
Will Collins (Eagles, $170K)
Jordan Boyd (Blues, $170K)
Joel Jeffery (Suns, $170K)
Patrick Parnell (Crows, $170K)
Bailey Laurie (Demons, $228K)
James Peatling (Giants, $170K)
Sam Durham (Bombers, $170K)
Isaac Chugg (Magpies, $170K)
Daniel Turner (Demons, $170K)

MIDFIELD
No change atop the rookie MID pecking order with Michael Barlow Medal frontrunner James Jordon ($546K, 92, BE 72) holding down the No. 1 ranking. Some owners will be encouraged by another great score and if there are more pressing issues on your field, they could be addressed before a Jordon trade. With that being said, he has to be traded at some point and upgrading a rookie to an elite fantasy type, especially in your MID's, is always a good use of your trades.
Caleb Poulter ($492K, 44, BE 77) could be a rookie coaches want to move on before Jordon, with the Pies young gun producing his worst score of the season in Round 15 while promising Hawk Jai Newcombe ($273K, 64, BE 5) is on the other end of the scale. There's no certainty he'll remain in Hawthorn's side for the Port Adelaide clash, but Newcombe still looms as the best scoring option under the $300K price tag.
Top-3
James Jordon (Demons)

Caleb Poulter (Magpies)

Jai Newcombe (Hawks)
If Newcombe slips up again or fails to hold his place in the side this week, a lot of coaches will turn their attention to Gold Coast's Jeremy Sharp ($251K, 79, BE 1). The second-year Sun has averaged 97 points in 6 VFL games and he certainly impressed in his first AFL match of the season; however, a tougher clash against Richmond this weekend will give us a real insight into his fantasy potential. I wouldn't be investing my cash in someone like Lachlan Bramble ($205K, 46, BE 7), Riley Garcia ($170K, 38, BE 37) or Luke Edwards ($276K, 32, BE 7) – all of whom could be omitted prior to this weekend's fixtures, but the news isn't as dire for someone like Trent Bianco ($311K, 56, BE 21).
Coaches who have followed my lead and held onto their Will Phillips ($288K, 62, BE 34) stock would've been happy to see his return in Round 15, but his teammate Tom Powell ($450K, DNP, BE 68) should definitely be given the flick after he was managed last week. The same could be said for Ryan Byrnes ($437K, 68, BE 62) if you're still an owner, while VFL mainstay Riley Collier-Dawkins ($376K, DNP, BE 57) may earn a recall for the Tigers for the hamstrung Dion Prestia. Speaking of the VFL, young Pies Finlay Macrae ($240K, DNP, BE 48) and Jay Rantall ($172K, DNP, BE 28) could still play some senior footy to close the year after 81 points from 19 touches and 91 points from 25 touches respectively from the pair in their latest VFL fixture.
Best of the Rest
These players may or may not be in the selection mix this week, but be sure to keep them on your 2021 watchlist in case they burst onto the scene. In no particular order:
Jackson Mead (Power, $170K)
Cooper Stephens (Cats, $170K)
Jed McEntee (Power, $170K)
Luke Pedlar (Crows, $250K)
Thompson Dow (Tigers, $192K)
Reef McInnis (Magpies, $226K)
Brody Kemp (Blues, $170K)
Zane Trew (Eagles, $170K)
Connor West (Eagles, $170K)
Nathan O'Driscoll (Dockers, $218K)
Luke Valente (Dockers, $170K)
RUCK
GWS' ruck prospect Matt Flynn ($497K, 63, BE 84) continues his reign atop the rookie RUC rankings, but it's clearly time to offload him if you're still an owner. Nearly 27% of the comp are still rocking with Flynn in their side, but four straight scores in the 60-point range have seen his price drop to under $500K. Hopefully, the return of Ned Reeves ($245K, DNP, BE -22) will present coaches with an easy way to bank roughly $250K and make another upgrade around the ground. Reeves continued his solid VFL form, this time by scoring 100 points from 35 hitouts, 12 touches and 5 tackles for Box Hill, although Jonathan Ceglar is doing his best to hold Reeves out of the Hawks' senior side after he chalked up a game-high 29 hitouts vs. the Giants.
Top-2
Matthew Flynn (Giants)

Ned Reeves (Hawks)*
* if named
It's worth mentioning that Paul Hunter ($316K, 27, BE 29) keeps doing the right things to audition for an AFL recall with the second-string Saint amassing 42 hitouts and a goal for his 124 points on the weekend. I can't see him taking Rowan Marshall or Paddy Ryder's spot unless one of them succumbs to injury, leaving a pretty bare cupboard of rookie ruck bench options. A few with FWD status could be slotted into R3 (more from them soon), but coaches who invested in Riley Thilthorpe ($368K, 49, BE 45) might want to cash him in before his price slides.
Best of the Rest
These players may or may not be in the selection mix this week, but be sure to keep them on your 2021 watchlist in case they burst onto the scene. In no particular order:
Sam Hayes (Power, $170K)
Jacob Edwards (Kangaroos, $170K)
Alex Mirkov (Blues, $170K)
Ned Moyle (Suns, $170K)
Max Heath (Saints, $170K)
Lachlan McAndrew (Swans, $170K)
Kalin Lane (Lions, $170K)
Aiden Begg (Magpies, $170K)
FORWARD
A lot of intelligent fantasy coaches have pounced on value picks throughout the season thus far to help them remove the rookies off their ground. If you're still playing a cash cow up FWD though, then Deven Robertson ($469K, 67, BE 62) is the clear cut No. 1 choice, with the Brisbane prospect averaging over 70 points in his last five contests. His place in their side appears to be safe, but don't be surprised if he ends up being culled later in the season – meaning coaches will want to think upgrade before too long.
Sam Flanders ($451K, 82, BE 45) and Cody Weightman ($385K, 46, BE 56) don't have too many concerns over their job security, but in a perfect world neither would still be residing on your field. Despite his successes in recent times only 909 teams have Flanders as a member of their 30-man outfit but he's hardly worth chasing this late into the season. Weightman on the other hand boasts a much higher ownership percentage (10.2% to be exact), but his lack of scoring prowess means a lot of coaches will look at axing the Dogs small forward this week now that he's made his money.
Top-3
Deven Robertson (Lions) 

Sam Flanders (Suns)

Cody Weightman (Bulldogs)
Mainstream cash cow Joel Amartey ($304K, 39, BE 3) lost his top-3 ranking and is in serious danger of returning to the two's after a rough game against the Power. Making matters worse, Sydney's VFL ruckman last week Callum Sinclair DOMINATED with 45 hitouts and 151 points making him a prime candidate to take Amartey's place in the 22. Matthew Owies ($389K, 80, BE 32) was close to earning a call-up into the top-3 and there's no rush in trade out the Carlton goalsneak. Don't expect too many fruitful scores like this one, but Owies has done enough to help his price tag push the $400K bracket.
The same can't be said for the following players with (big long inhale) James Rowe ($388K, 65, BE 54), Errol Gulden ($443K, 53, BE 82), Archie Perkins (353K, 53, BE 67), Josh Treacy ($316K, 27, BE 29), Alec Waterman ($334K, 53, BE 36), Jacob Koschitzke ($347K, 35, BE 55) and Harrison Jones ($319K, 23, BE 52) all as good as done from a cash cow perspective. If you're rocking any combination of those players, there's nothing wrong with flicking them out of your side as we approach the pointy end of the season. Coaches may look to downgrade to someone like Dylan Williams ($176K, 32, BE 20) from Port Adelaide, although the youngster didn't exactly 'pop' in game number one. Should he hold his spot he could be a decent downgrade target, otherwise, I'd be trying to manufacture some DPP action to send those aforementioned cows packing.
Best of the Rest
These players may or may not be in the selection mix this week, but be sure to keep them on your 2021 watchlist in case they burst onto the scene. In no particular order:
Ely Smith (Lions, $170K)
Jackson Callow (Hawks, $170K)
Nakia Cockatoo (Lions, $243K)
Jamarra Ugle-Hagan (Bulldogs, $270K)
Cooper Sharman (Saints, $170K)
Ash Johnson (Magpies, $170K)
Maurice Rioli (Tigers, $170K)
Elijah Hollands (Suns, $258K)
Sam Philp (Blues, $203K)
Jake Bowey (Demons, $230K)
---
FOLLOW ME ON TWITTER: @SportsbyFry for all things AFL Fantasy (and more)! Feel free to hit me up with any questions you have throughout the season. Good Luck! ✌️