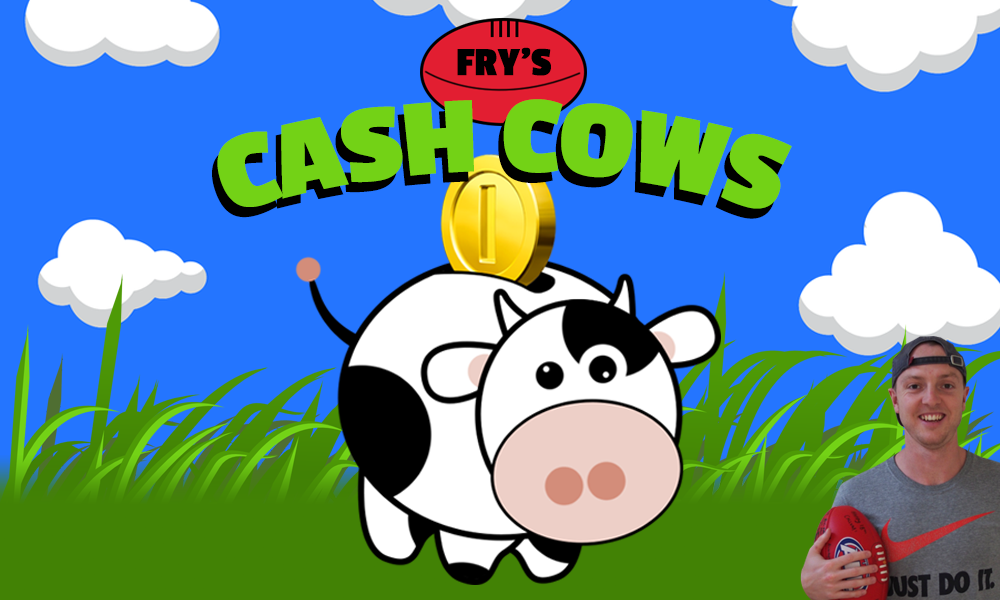 16 down, 7 to go!
Make no mistake, every player mentioned in this article needs to be traded out with points on your field crucial at this stage of the season. The 6 most popular cash cows who played in Round 16  combined to average a woeful 48.3 points, highlighting the importance of removing rookies off your field. Does the mean the 1,400+ coaches who traded Cody Weightman out (including yours truly) did the right thing? Maybe not, but there are a bunch of value options that can easily outscore these rooks to close the season. Cash generation is getting harder to manufacture, so make sure you use your final 14 trades of the season wisely.
Rookie/cash cows are usually defined as players who are priced at $300,000 or lower
If you missed out on the 2021 Rookie Guide I wrote prior to Round 1 check it out here!
---
Mooooving On
Part of our weekly trade focus is to remove the rookie-priced players who are no longer making money. When a cash cow sees their average fall in line with their breakeven or they find themselves on the outside looking in for multiple weeks at a time, that's a good time to give them the axe.
Fattened cash cows
Matt Flynn, Giants ($463K, AVG 70, BE 103)
Nik Cox, Bombers ($418K, AVG 57, BE 77)
James Jordon, Demons ($539K, AVG 76, BE 82)
Caleb Poulter, Magpies ($450K, AVG 68, BE 86)
Anthony Scott, Bulldogs ($294K, AVG 42, BE 54)
Holding Matt Flynn on our benches proved to be a smart decision through the byes, but the Giants RUC can now be given the flick. His high breakeven coupled with poor scores could provide coaches with a valuable influx of cash to chase another upgrade. The likes of Nik Cox, James Jordon and Caleb Poulter can all go if they're still sitting on your field this late in the season and Anthony Scott isn't going to make you any more money, making him another cash cow to consider offloading.
Early doors for R17 most traded

TRADED IN

1️⃣ Patrick Dangerfield
2️⃣ Jordan De Goey
3️⃣ Riley Garcia
4️⃣ Leo Connolly
5️⃣ Jake Stringer

TRADED OUT

1️⃣ Caleb Poulter
2️⃣ Thomas Highmore
3️⃣ Nick Hind
4️⃣ Matt Flynn
5️⃣ Connor Idun#AFLFantasy pic.twitter.com/lmD84Fu787

— AFL Fantasy (@AFLFantasy) July 5, 2021
Injured/non-playing rookies
Tom Powell, Roos ($450K, AVG 68, BE 67)
Braeden Campbell, Swans ($379K, AVG 57, BE 61)
Lachie Jones, Power ($333K, AVG 50, BE 50)
Max Lynch, Magpies ($229K, AVG 61, BE -10)
Tyler Brockman, Hawks ($284K, AVG 50, BE 22)
North Melbourne appear happy to rest their younger midfielders as the season draws to a close and there are still plenty of trade targets you can reach by trading out a player like Tom Powell. He and Braeden Campbell can be sent packing with Lachie Jones doing his job as a cash cow as well. If a cheap debutant emerges coaches may want to offload Max Lynch or Tyler Brockman – both of whom appear destined to play the rest of the season in the two's.
Cash Cow King – Round 16
No one saw Cody Weightman (95) top scoring for all rookies in Round 16 with a career-high four goals fuelling the best score of his fantasy career. There aren't too many coaches who benefitted from the young Bulldogs day out, but he's throwing his hat into the ring for a spot in the Cash Cow Team of the Year. A few Swans will feature in that end of year squad and a late-season surge from Errol Gulden (88) could see him make a late push for Rising Star honours too. Chris Burgess (88) gave 6.5% of the comp a nice boost with his season-best score in the first game of the round while Deven Robertson (78) maintained his string of impressive numbers for his owners. Despite the salt it rubs into my wounds I'm giving my nom to Weightman this week…
Loading ...
Round 17 Rookie Rankings
DEFENCE
I'm still surprised to see that Miles Bergman ($451K, 58, BE 44) hasn't snagged a Rising Star nomination yet throughout his 12 games this season. Port Adelaide's young backman has averaged 17.2 disposals and 74.7 fantasy points in the last month giving coaches a rookie they can at least have some trust in. Liam Stocker ($417K, 62, BE 42) hasn't been far behind Bergman with a consistent block of footy that has helped a small portion of the fantasy community. At times, Stocker has been forced to play on star forwards from other sides for the Blues, but he's still finding his fair share of the footy and scoring well in the process. A larger chunk of coaches will still own Tom Highmore ($384K, 42, BE 42) who is almost at the peak of his price and currently sits as the second most traded-out player. Downgrading him to another bench rookie is a smart way to make a quick $200k, especially with cash generation starting to dry up.
Top-3
Miles Bergman (Power)

Liam Stocker (Blues)

Tom Highmore (Saints)
After playing all 15 games so far in his debut season we could see Nik Cox ($418K, 39, BE 77) given a game off to rest as early as this weekend. If you're on the fence about trading out the talented Don, Cox managed to score just 2 points in the first half against Geelong; severely saving his score with 27 points in the last quarter when the game was already decided. West Aussie bench options Luke Foley ($269K, 36, BE 2) and Brandon Walker ($238K, 47, BE 11) could find themselves on the outs soon, but hopefully they can feature in another or game or two and peak in value with Martin Frederick ($255K, 26, BE 50) in the same boat after his Round 16 struggles.
Last week's most popular rookie trade target Leo Connolly ($210K, 39, BE 7) didn't exactly deliver for coaches and he's in danger of being sent straight out of St Kilda's side. The young backman was sitting on 9 points at half-time and he has been used as the medi-sub before, only casting more doubt over his fantasy potential. If you're looking at defensive downgrades remember to keep an eye on mid-season draftee Sam Durham ($170K, DNP, BE 25) who is firming as a potential debutant in the coming rounds for the Bombers. Durham has averaged 60.5 points in 8 games this year, splitting time with both Richmond and Essendon's VFL teams so far.
Best of the Rest
These players may or may not be in the selection mix this week, but be sure to keep them on your 2020 watchlist in case they burst onto the scene. In no particular order:
Matthew Ling (Swans, $219K)
Kye Declase (Demons, $170K)
Will Gould (Swans, $170K)
Charlie Ham (Kangaroos, $170K)
Jacob Wehr (Giants, $170K)
Will Collins (Eagles, $170K)
Jordan Boyd (Blues, $170K)
Joel Jeffery (Suns, $170K)
Patrick Parnell (Crows, $170K)
Bailey Laurie (Demons, $228K)
James Peatling (Giants, $170K)
Sam Durham (Bombers, $170K)
Isaac Chugg (Magpies, $170K)
Daniel Turner (Demons, $170K)

MIDFIELD
There is still a big portion of fantasy teams still playing James Jordon ($543K, 59, BE 82) on their field and the No. 1 cash cow keeps producing while holding down the top midfield rung. His place atop the rankings isn't set in stone though, with newcomers Jeremy Sharp ($291K, 62, BE 2) and Jai Newcombe ($307K, 57, BE 17) doing their best to chase down the Demons rookie. In an ideal world, you've traded Jordon out and replaced him with an elite midfielder, but if not, looking for an upgrade is still the smart move. Sharp and Newcombe on the other hand can be held for the foreseeable future, with the young Gold Coast midfielder in particular impressing me with his two games so far. With Sharp's price still sitting under $300K, it's not ridiculous to consider snagging the speedy Sun and using him as a potential M8 option as the season closes.
Jeremy Sharp's FIRST goal in AFL footy restores Gold Coast's lead with seven minutes left!

📝 BLOG: https://t.co/ZyCqQeQEa4
🔢 MATCH CENTRE: https://t.co/10CFJLB8Tl
📺 WATCH #AFLSunsTigers on @kayosports: https://t.co/cbhuqWmiXe pic.twitter.com/93681IYagr

— Fox Footy (@FOXFOOTY) July 1, 2021
Top-3
James Jordon (Demons)

Jeremy Sharp (Suns)

Jai Newcombe (Hawks)
The versatility of Trent Bianco ($342K, 68, BE 26) means coaches can keep using the Magpies prospect as cover in their MID/DEF lines. There's still some growth for Bianco, but hopefully you can use him as an emergency rather than a member of your best 22. The story is quite different for Ryan Byrnes ($440K, 60, BE 63) and Caleb Poulter ($480K, 50, BE 86) with the pair of popular MID cash cows ready to be traded away. Newcomers Lachlan Bramble ($242K, 65, BE -2), Luke Pedlar ($260K, 49, BE 27) and Luke Edwards ($296K, 36, BE 29) are all moving in the right direction, but their place in their respective AFL sides is far from set in stone.
Those coaches who are still staring at the likes of Will Phillips ($291K, 35, BE 41), Sam Berry ($311K, 46, BE 48), Riley Collier-Dawkins ($362K, 28, BE 75) and Anthony Scott ($294K, 26, BE 54) on their bench can pull the trigger on a move, with a lot of people targeting Riley Garcia ($179, 49, BE 6) as a cash cow prospect. I wouldn't be shocked if the Bulldogs youngster found himself on the outs soon, or worst, used as the medi-sib like Thompson Dow ($183K, 10, BE 39) last weekend. I haven't mentioned Luke Valente's ($170K, DNP, BE 25) name much this season, but with Fyfe's shoulder still giving him grief keep an eye on the young Docker – who has averaged 88.3 points in his last three WAFL matches.
Best of the Rest
These players may or may not be in the selection mix this week, but be sure to keep them on your 2021 watchlist in case they burst onto the scene. In no particular order:
Jackson Mead (Power, $170K)
Cooper Stephens (Cats, $170K)
Jed McEntee (Power, $170K)
Thompson Dow (Tigers, $192K)
Reef McInnis (Magpies, $226K)
Brody Kemp (Blues, $170K)
Zane Trew (Eagles, $170K)
Connor West (Eagles, $170K)
Nathan O'Driscoll (Dockers, $218K)
Luke Valente (Dockers, $170K)
RUCK
It's been a good ride, but now is the right time to jump off the Matt Flynn ($463K, 20, BE 103) Express. His price has dropped in each of the last three rounds and a triple-figure breakeven means Flynn owners should consider him a trade priority. If he's sitting at R2 then it's not far-fetched to even consider downgrading a premium player to allow an upgrade for the Giants ruckman, who may even miss the next contest against Gold Coast. Speaking of the Suns, my neglect for Chris Burgess ($399K, 88, BE 26) backfired once again as the DEF/RUC gathered 24 hitouts and 13 touches against the Nank-less Tigers. Clashing with Shane Mumford this week presents a much bigger challenge though, and I wouldn't surprised to see him dip back to a score in the 50's.
Top-2
Matthew Flynn (Giants)

Chris Burgess (Suns)
88 points and 38 hitouts in Box Hill Hawks colours will keep Ned Reeves ($245K, DNP, BE -22) in the selection frame at Hawthorn, but Jonathon Ceglar doesn't look like leaving the senior lineup anytime soon. Riley Thilthorpe ($372K, 46, BE 53) continues to plateau in price and trading him away is still a smart move, but there are still a number of bench RUC's who have a high ownership percentage with just seven rounds left this season. If you're still holding onto Jordon Sweet ($349K, DNP, BE 37) or Paul Hunter ($273K, DNP, BE 11), then flicking them out for a $170K replacement should be considered, especially if you're strapped for cash.
 Best of the Rest
These players may or may not be in the selection mix this week, but be sure to keep them on your 2021 watchlist in case they burst onto the scene. In no particular order:
Sam Hayes (Power, $170K)
Jacob Edwards (Kangaroos, $170K)
Alex Mirkov (Blues, $170K)
Ned Moyle (Suns, $170K)
Max Heath (Saints, $170K)
Lachlan McAndrew (Swans, $170K)
Kalin Lane (Lions, $170K)
Aiden Begg (Magpies, $170K)
FORWARD
If you're still playing a rookie (or a few) on your ground, then hopefully they're in the forward line. While there are a number of inconsistent performers, a group of FWD's have been producing stable scores in the past month with Deven Robertson ($483K, 78, BE 61) leading the charge. Brisbane's touted talent has averaged 15.7 disposals and 72 points in his last 7 contests, with nearly a quarter of the fantasy community still relying on Robertson. An even greater number of coaches are owners of Joel Amartey ($347K, 70, BE 14) who eased some of the job security issues with his efforts against West Coast last round – posting his third score of 70 or more in four games this season.
As long as he remains in Sydney's outfit, Amartey should be able to score at a decent rate and he looms as the most popular player to be offloaded as coaches' last rookie. After his recent performance, Cody Weightman ($412K, 95, BE 33) might be the last FWD some coaches upgrade with the Bulldogs small kicking 3 goals and scoring a blistering 45 points in the first quarter alone! I've flagged concerns with Weightman's scoring before, but now that he's become an important part of the Western Bulldogs attack we should see the crafty forward feature heavily to finish the season. His perceived job security gives him the No. 2 FWD slot at the moment, but it's time to start planning your escape plan for when Weightman peaks in value a fortnight from now.
Top-3
Deven Robertson (Lions) 

Cody Weightman (Bulldogs)

Joel Amartey (Swans)
A resurgent 88-point performance from Errol Gulden ($450K, 88, BE 56) nearly saw him slot straight back into the top-3, with over 20,000 coaches still playing Sydney's rising star. He and Sam Flanders ($458K, 49, BE 67) have emerged as solid rookies to use as your last on-field cash cows, but it's hard to trust a lot of the picks after that. Popular key FWD's like Jacob Koschitzke ($346K, 49, BE 49), Harrison Jones ($315K, 41, BE 49), Alec Waterman ($338K, 38, BE 48), Harrison Jones ($319K, 41, BE) and Josh Treacy ($318K, 28, BE 49) aren't going to make you any more money and if they still reside on your field it's time to cut bait ASAP.
Coaches will have a little more faith in Archie Perkins ($338K, 36, BE 66), James Rowe ($391K, 54, BE 52) and Matt Owies ($396K, 38, BE 53) but the same should apply when it comes to chasing an upgrade. Players like Finlay Macrae ($216K, 5, BE 60) who flirt with the role as the medi-sub and don't have much to offer in a trade scenario could be smart to hold onto as potential late-season emergencies. 5 points are better than 0 right? Lastly, I don't think we can expect a debut from No. 1 overall pick Jamarra Ugle-Hagan ($270K, DNP, BE 39) in the near future. The high-flying Bulldog scored just 54 points and kicked one goal in the VFL last weekend, although it is worth pointing out he laid 6 tackles in the Dogs' win.
Best of the Rest
These players may or may not be in the selection mix this week, but be sure to keep them on your 2021 watchlist in case they burst onto the scene. In no particular order:
Ely Smith (Lions, $170K)
Jackson Callow (Hawks, $170K)
Nakia Cockatoo (Lions, $243K)
Jamarra Ugle-Hagan (Bulldogs, $270K)
Cooper Sharman (Saints, $170K)
Ash Johnson (Magpies, $170K)
Maurice Rioli (Tigers, $170K)
Elijah Hollands (Suns, $258K)
Sam Philp (Blues, $203K)
Jake Bowey (Demons, $230K)
---
FOLLOW ME ON TWITTER: @SportsbyFry for all things AFL Fantasy (and more)! Feel free to hit me up with any questions you have throughout the season. Good Luck! ✌️