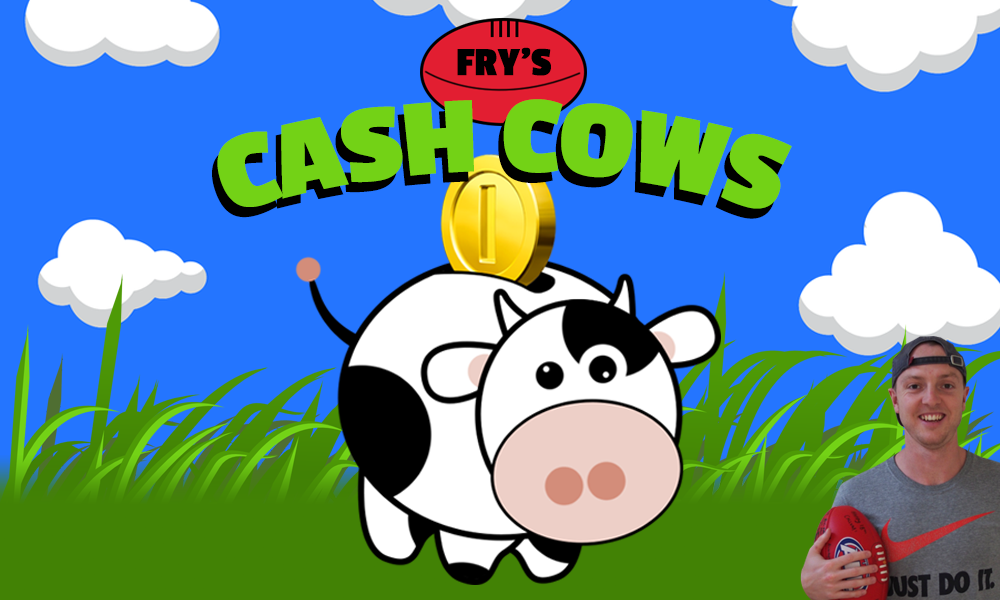 17 down, 6 to go!
The clock is ticking and coaches are in the process of removing their last few rookies as they chase a 'completed team'. Of course, there are always tweaks that can be made to improve our fantasy sides and investing in the right rookies with some of our final trades is still an important part of chasing success in season 2021. There's only a fortnight until the fantasy finals arrive, so depending on your positioning in your leagues/overall rankings you may even want to start thinking about throwing away an D8, M10 or F8 position to ensure you have as much cash as possible for your upgrades at the point end of the year.
Rookie/cash cows are usually defined as players who are priced at $300,000 or lower
If you missed out on the 2021 Rookie Guide I wrote prior to Round 1 check it out here!
---
Mooooving On
Part of our weekly trade focus is to remove the rookie-priced players who are no longer making money. When a cash cow sees their average fall in line with their breakeven or they find themselves on the outside looking in for multiple weeks at a time, that's a good time to give them the axe.
Fattened cash cows
Deven Robertson, Lions ($466K, AVG 63, BE 88)
Nik Cox, Bombers ($418K, AVG 57, BE 77)
James Jordon, Demons ($543K, AVG 76, BE 78)
Jacob Koschitzke, Hawks ($354K, AVG 51, BE 44)
Anthony Scott, Bulldogs ($288K, AVG 42, BE 50)
A lot of coaches will still have Deven Robertson as their final potential rookie on the field and a crappy score last round will see him axed by a large portion of the competition. Cox and Jordon can be upgraded for those who are still playing the duo and bench fodders Koschitzke and Scott should be dumped ASAP to maximise $$$ in the bank.
Injured/non-playing rookies
Matt Flynn, Giants ($463K, AVG 70, BE 102)
Tom Powell, Roos ($450K, AVG 68, BE 67)
Caleb Poulter, Magpies ($480K, AVG 68, BE 86)
Lachie Jones, Power ($333K, AVG 50, BE 50)
Braeden Campbell, Swans ($379K, AVG 57, BE 61)
After missing last week, Matt Flynn shoots himself to the top of the non-playing leaderboard having served his job as a cash cow. Powell and Poulter are in the same boat with the duo sitting on the outside looking in, while most other coaches have probably already traded away the likes of Jones and Campbell.
Cash Cow King – Round 17
Archie Perkins (91) stole the headlines for casual AFL fans with his three-goal, 18-touch performance last Friday night, but fantasy enthusiasts will know Chris Burgess (123) was the real rookie hero last round. 38 hitouts and 17 disposals are nothing to be sneezed at, with the Suns' ruckman posting a career-best score against GWS! Lachlan Bramble (99) and Josh Treacy (86) deserve a shoutout for their efforts, but this week's nom has to go to the lumbering Gold Coast ruckman.
Loading ...
Round 18 Rookie Rankings
DEFENCE
Tom Highmore ($406K, 73, BE 40) has scored 100+ already this season, but his match against the Lions was perhaps the best of his young AFL career. The Saints intercept defender has earned the right to hang around for a few more weeks, but the same can't be said for Nik Cox ($418K, 73, BE 65) – despite a strong score last time out. Putting out scores of 39, 51 and 38 prior to last weekend means it's time to give him the chop and Miles Bergman ($464K, 60, BE 61) is nearing the end of his run too. His DEF/FWD versatility could be a handy asset for teams, but like all rooks the young Port defender has got to go eventually…
Top-3
Miles Bergman (Power)

Tom Highmore (Saints)

Nik Cox (Bombers)
Liam Stocker ($424K, 48, BE 60) missed the cut this week after a sub-50 score with he and Connor Idun ($395K, 17, BE 102) ready to be culled. Idun's two straight scores below 20 have seen his breakeven soar, making him a high trade priority! Martin Frederick ($229K, 5, BE 55) struggled to impact the game after coming on as the sub and coaches should also ignore Denver Grainger-Barras ($259K, 44, BE 35) as a fantasy prospect.
Saints youngster Leo Connolly ($232K, 41, BE 13) keeps trending in the right direction and has room for more growth, but Brandon Walker ($252K, 32, BE 25) found himself axed from Freo's lineup to take on Geelong tomorrow night. James Madden ($300K, 50, BE 33), and Rhyan Mansell ($245K, 55, BE 37) could survive the axe for another week or two and a recall for Kieren Briggs ($255K, DNP, BE -4) would be welcomed by the fantasy community after he managed 29 hitouts and 60 points in the VFL last weekend.
Best of the Rest
These players may or may not be in the selection mix this week, but be sure to keep them on your 2020 watchlist in case they burst onto the scene. In no particular order:
Matthew Ling (Swans, $219K)
Kye Declase (Demons, $170K)
Will Gould (Swans, $170K)
Charlie Ham (Kangaroos, $170K)
Jacob Wehr (Giants, $170K)
Will Collins (Eagles, $170K)
Jordan Boyd (Blues, $170K)
Joel Jeffery (Suns, $170K)
Patrick Parnell (Crows, $170K)
Bailey Laurie (Demons, $228K)
James Peatling (Giants, $170K)
Sam Durham (Bombers, $170K)
Isaac Chugg (Magpies, $170K)
Daniel Turner (Demons, $170K)

MIDFIELD
Another strong effort from ROY favourite James Jordon ($543K, 76, BE 78) saw him hold off all challengers and retain the No. 1 MID mantle. Melbourne's rookie sensation has only posted two scores below 60 all season (including a 59) and there's no reason why he can't keep scoring at a solid clip to close out season 2021. Jeremy Sharp ($329K, 61, BE 11) continues to emerge as a late-season contributor following another decent score and new MID/FWD addition Lachlan Bramble ($305K, 99, BE -18) isn't far behind him. An average of 67.3 in his three games should see Sharp remain on the field for a lot of coaches and Bramble's added flexibility coupled with his breakeven of -18 should see the young Hawk push his price over the $400K barrier within the next few rounds.
Top-3
James Jordon (Demons)

Jeremy Sharp (Suns)

Lachie Bramble (Hawks)
Popular cash cows Ryan Byrnes ($451K, 75, BE 55) and Trent Bianco ($353K, 41, BE 45) have both shown enough to remain in coaches' sides, but reliable rookie midfielders are hard to come by. Riley Collier-Dawkins ($355K, 59, BE 60) is no longer making money and the inconsistencies of oft-used medical sub Thompson Dow ($183K, 37, BE 26), mature-age Bulldog Anthony Scott ($288K, 41, BE 50) and upcoming Roos MID Will Phillips ($292K, 40, BE 42) makes them all viable trade out candidates.
Adelaide's Sam Berry ($295K, 17, BE 60) can also be given the chop with fellow Crow Luke Pedlar ($256K, 17, BE 43) failing to fire in his two AFL games thus far – mustering scores of 49 and 17. Looking out west, the likes of Luke Valente ($170K, DNP, BE 24) and Connor West ($170K, DNP, BE 24) could be in line for a top-flight gig in the near future with West posting 118 points from 33 touches in Round 14 of WAFL action and Valente managed to kick three goals and gather 20 disposals for his score of 104.
Best of the Rest
These players may or may not be in the selection mix this week, but be sure to keep them on your 2021 watchlist in case they burst onto the scene. In no particular order:
Jackson Mead (Power, $170K)
Cooper Stephens (Cats, $170K)
Jed McEntee (Power, $170K)
Thompson Dow (Tigers, $192K)
Reef McInnis (Magpies, $226K)
Brody Kemp (Blues, $170K)
Zane Trew (Eagles, $170K)
Connor West (Eagles, $170K)
Nathan O'Driscoll (Dockers, $218K)
Luke Valente (Dockers, $170K)
RUCK
As I've already mentioned Chris Burgess ($461K, 123, BE 6) was the rookie star of the show last week posting a mammoth 123 points – good for the 12th best score of the round! Those who are still playing the Suns ruck can do so with some confidence, however, I'd much rather trust him in my backline rather than let him reside at R2. Ned Reeves ($245K, DNP, BE -22) still finds himself stuck in the Box Hill Hawks side and 12.9% of coaches are praying he'll find his way back into the senior side before the fantasy campaign draws to a close. Hawthorn's VFL side had the bye last weekend, but Reeves will have another chance to press his claims for a recall against Casey.
Top-2
Chris Burgess (Suns)

Ned Reeves (Hawks)*
* if named
Those who are still clinging on to Riley Thilthorpe ($361K, 31, BE 65) can give the Adelaide prospect the flick with Matt Flynn ($463K, DNP, BE 102) another player to consider trading out. We could see Flynn re-integrated into the Giants' team this weekend after he managed 65 points and 28 hitouts for their reserves side, but he should still be ditched thanks to his colossal breakeven. Saints tall Paul Hunter ($273K, DNP, BE 11) had an impressive 37 hitouts for 121 points in the two's and could be worth holding on to, even though a recall seems unlikely.
 Best of the Rest
These players may or may not be in the selection mix this week, but be sure to keep them on your 2021 watchlist in case they burst onto the scene. In no particular order:
Sam Hayes (Power, $170K)
Jacob Edwards (Kangaroos, $170K)
Alex Mirkov (Blues, $170K)
Ned Moyle (Suns, $170K)
Max Heath (Saints, $170K)
Lachlan McAndrew (Swans, $170K)
Kalin Lane (Lions, $170K)
Aiden Begg (Magpies, $170K)
FORWARD
Failing to record a single stat in the third term and finishing with just seven touches against St Kilda could see Deven Robertson ($466K, 27, BE 88) lose his spot in Brisbane's side – a decision that could drastically alter the trade plans for over 20% of the fantasy community. Robertson and fellow mainstream rookie Joel Amartey ($364K, 38, BE 46) both struggled in Round 17, but the duo have held their top-2 spots in the forward group for now, with Amartey's spot in Sydney's outfit also coming into question. One Swan who won't likely be dropped this week is Errol Gulden ($454K, 58, BE 60) with the cygnet producing another solid game in Sydney's win over the Dogs. There wouldn't be too many Gulden owners reading this piece, but if he's still in your side, it's worth giving the young gun another game or two before offloading him.
Top-3
Deven Robertson (Lions) 

Joel Amartey (Swans)

Errol Gulden (Swans)
Cody Weightman ($416, 35, BE 58) fell out of the rotation thanks to a meagre goalless game last weekend with he and Sam Flanders ($453K, 53, BE 72) two contenders to recapture a top-3 spot. Archie Perkins ($355K, 91, BE 29) also finds himself in the mix after a strong Round 17 performance with key forward's Alex Waterman ($356K, 74, BE 36) and Josh Treacy ($343K, 86, BE 31) amongst the top-scoring rookies last weekend.
Those FWD's can be trusted somewhat, but the same can't be said for a glut of popular cash cows. The likes of Jacob Koschitzke ($354K, 59, BE 44), James Rowe ($388K, 43, BE 59), Harrison Jones ($307K, 33, BE 51) and Dogs debutant Jamarra Ugle-Hagan ($262K, 23, BE 48) should all be axed with Matt Owies ($400K, 55, BE 58) another rook to consider ditching now that he's stalled in value. Special mention to Tyler Brockman ($298K, 41, BE 34) for making his long-awaited return, but the Hawks small didn't do enough to suggest he's worth keeping for future rounds.
Cheaper options like Oliver Henry ($216K, 45, BE 25) and Emerson Jeka ($192K, 47, BE 8) could entice coaches as trade targets, but basement priced Magpie Will Kelly ($170K, 19, BE 30) isn't in the same bracket after sustaining a quad injury that'll rule him out for 2-3 weeks. His absence could open the door for Jack Ginnican ($170K, DNP, BE 24) to debut for Collingwood after four goals on the weekend and 11 majors in his last three VFL outings.
Best of the Rest
These players may or may not be in the selection mix this week, but be sure to keep them on your 2021 watchlist in case they burst onto the scene. In no particular order:
Ely Smith (Lions, $170K)
Jackson Callow (Hawks, $170K)
Nakia Cockatoo (Lions, $243K)
Cooper Sharman (Saints, $170K)
Ash Johnson (Magpies, $170K)
Maurice Rioli (Tigers, $170K)
Elijah Hollands (Suns, $258K)
Sam Philp (Blues, $203K)
Jake Bowey (Demons, $230K)
---
FOLLOW ME ON TWITTER: @SportsbyFry for all things AFL Fantasy (and more)! Feel free to hit me up with any questions you have throughout the season. Good Luck! ✌️