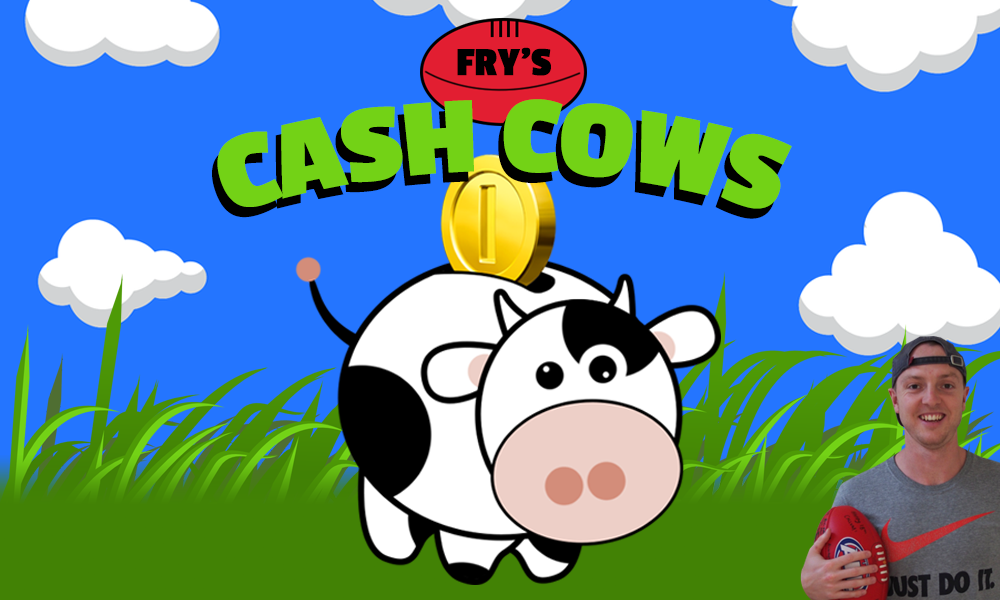 Seven down, 16 to go!
Last round reminded us why it's a priority to remove rookies from our field with mainstream names producing dud scores that led to a lot of teams scoring under the 1,900 mark. Tom Powell and James Jordon tried to fly the flag for the cash cow class of 2021, but as the byes quickly approach it's time to axe the rookies who have served their purpose. Of course, that's easier said than done for some coaches who have other pressing injuries issues, but downgrade options are bound to dry up throughout the season which only makes it more important to have as many green dots in your lineup as possible.
Rookie/cash cows are usually defined as players who are priced at $300,000 or lower
If you missed out on the 2021 Rookie Guide I wrote prior to Round 1 check it out here!
---
Mooooving On
Part of our weekly trade focus is to remove some of the rookie-priced players who are no longer making money. When a cash cow sees their average fall in line with their breakeven or they find themselves on the outside looking in for multiple weeks at a time, that's usually a good time to give them the axe.
Fattened cash cows
Errol Gulden, Swans ($484K, AVG 78, BE 83)
James Rowe, Crows ($330K, AVG 51, BE 54)
Sam Berry, Crows ($327K, AVG 51, BE 44)
Chris Burgess, Suns ($315K, AVG 54, BE 34)
Anthony Scott, Bulldogs ($295K, AVG 45, BE 33)
Some coaches pulled the trigger on Errol Gulden last week and with the Swans youngster dipping in value, expect his ownership percentage to keep trending down. The money-making days for Crows pair James Rowe and Sam Berry appear to virtually be over, while Chris Burgess has served his purpose and can also be moved on. A sore Anthony Scott has also topped out in value and while he's not a pressing trade issue he could be moved on.
Injured/non-playing rookies
Matthew Flynn, Giants ($391K, AVG 79, BE 16)
Braeden Campbell, Swans ($379K, AVG 57, BE 61)
Tyler Brockman, Hawks ($284K, AVG 50, BE 22)
Paul Hunter, Saints ($245K, AVG 50, BE 5)
Tom Highmore, Saints ($240K, AVG 57, BE 2)
With Matt Flynn spending another week at VFL level, coaches are starting to run out of patience. There are no certainties that he'll return for Shane Mumford this week or next, with Braden Campbell in the same position despite a solid showing in the two's. Tyler Brockman and Tom Highmore did their chances of a recall no harm, but they're still on the outside looking in. Saints ruckman Paul Hunter isn't as likely to be included in their best 22 anytime soon, therefore a trade away is the smart plan.
Cash Cow King – Round 7
There was only one cash cow/rookie who topped the triple-figure mark this week, and he did so in dramatic fashion! When Bayley Fritsch's elbow collided with Tom Powell's (104) temple just before half time, coaches feared the worst and thought he wasn't going to get a chance to add to his score of 58. Instead, Powell came back onto the ground and battled his way to a 100+ score that included 32 points in the last quarter.
The Fritschy fend-off did not end well for Tom Powell 🤕

📚 BLOG: https://t.co/ofAfgQGhge
📱 MATCH CENTRE: https://t.co/eDNKiwhSl7
👀 WATCH #AFLNorthDees on @kayosports: https://t.co/vj6kJWFGwK pic.twitter.com/mDH8egCuBG

— Fox Footy (@FOXFOOTY) May 2, 2021
Powell wasn't the only cash cow to impress in Round 7 with fellow MID James Jordon (91) not far behind his point total in the same game. Miles Bergman (83) and Archie Perkins (79) also deserve a mention for their respectable scores over the weekend, but it's hard to see people ignoring Powell with their nomination this week. Through one-third of the season, he's got some competition but the CCK award is seemingly Powell's to lose.
Loading ...
Round 8 Rookie Rankings
DEFENCE
After claiming the top DEF ranking last round, Miles Bergman ($371K, 83, BE 7) continued his rich vein of form despite Port Adelaide copping a beating from the Lions. Bergman scored 36 points in the last quarter – finishing the game as the 3rd highest scorer for the Power to keep Nik Cox ($418K, 52, BE 57) and Martin Frederick ($241K, 65, BE -12) behind him in the pecking order. A large portion of the fantasy community would have traded Frederick in last week and the Port defender will once again be a sought after target following his second score of 60+.
Essendon's swingman Nik Cox didn't have the same fantasy success in Round 7, but he's still cemented himself as a startable rookie each week. However, it's possible that the Bombers will give him a spell after playing every game so far in 2021, so make sure the emergencies in your backline are ready to save the day. Connor Idun ($375K, 74, BE 28) returns to the top-5 this week thanks to two straight scores in the 70's and fantasy coaches who are hunting another downgrade target may want to target Blues backman Liam Stocker ($261K, 58, BE 18). Scores of 40 and 58 aren't super appealing, but the former 19th overall pick did score 160 points from his lone VFL game this year! His price tag makes him an awkward target, but I won't be shocked if he strings a few more games together.
Top-5
Miles Bergman (Power)

Nikolas Cox (Bombers)

Martin Frederick (Power)

Connor Idun (Giants)

Liam Stocker (Blues)
While I'm bullish on Liam Stocker, his Carlton teammate Luke Parks ($226K, 49, BE 13) will have to increase his output if he wants to stay in the side. Similar could be said for Chris Burgess ($315K, 52, BE 34) who appears to be playing on borrowed time, with Gold Coast a certainty to select another ruck prospect in the mid-season draft one month from now. Some of you may be wondering where Heath Chapman  ($369K, 39, BE 7) is and why the young Docker didn't break into the top-5? Unfortunately for Chapman, the Dockers and over 5,000 coaches a shoulder reconstruction will rule the young defender out for roughly the next 3 months.
I underestimated how long Rhyan Mansell ($242K, 46, BE 16) would hang around for in Richmond's team, but he still looms as bench cover at best. Cheaper options like Nick Murray ($197K, 45, BE 8) or Harry Edwards ($194K, 65, BE -2) may become downgrade targets if they hold their spot, but much like Mansell, I don't expect great numbers from them. In the two's Josh Worrell ($170K, DNP, BE 25) produced 79 points from 22 touches and 6 marks while Kieren Briggs ($170K, DNP, BE 25) scored 97 from his 16 hitouts, 14 touches, 5 marks and 6 tackles. Both talls appear to be on the cusp of an AFL debut and hopefully one of them breaks through in the near future. A strong 30-disposal performance from Tom Highmore ($240K, DNP, BE 2) could see him also break back into St Kilda's lineup, but I think he's destined to stay in Sandringham colours.
Best of the Rest
These players may or may not be in the selection mix this week, but be sure to keep them on your 2020 watchlist in case they burst onto the scene. In no particular order:
Matthew Ling (Swans, $219K)
Kieran Briggs (Giants, $170K)
Denver Grainger-Barrass (Hawks, $260K)
Will Gould (Swans, $170K)
Trent Bianco (Magpies, $170K)
Jacob Wehr (Giants, $170K)
Josh Worrell (Crows, $170K)
Joel Jeffery (Suns, $170K)
Bailey Laurie (Demons, $228K)
Isaac Chugg (Magpies, $170K)
MIDFIELD
Through seven rounds of footy, Tom Powell ($517K, 104, BE 26) has established himself as the best fantasy rookie in the game. His versatile MID/FWD status means that coaches will likely hold on to Powell through the byes and into the latter portion of the year, with James Jordon ($439K, 91, BE 42) doing his best to prove he belongs as well. Jordon's 29-point game in just 56% TOG back in Round 4 is the only real blemish on his fantasy resume – with an 80.5 average from six contests if you disregard his poor showing against Geelong.
The temptation to flick Jordon out is real, but I'd advise against it unless you're landing a Tom Mitchell, Zach Merrett, Mitch Duncan type. While trading Powell and/or Jordon isn't on the radar, nearly 8,000 coaches are opting to give Errol Gulden ($484K, 61, BE 83) the flick. Sydney's dynamic talent is averaging 62 points a game in the last month, with his price starting to trend in the opposite direction. Turning him into an elite MID is the route you want to go down rather than downgrading him to a cheaper option like Will Phillips ($289K, 66, BE 22).
Phillips' fantasy struggles have been tough to watch, but the talented North midfielder is gradually finding his feet, registering career-best numbers for disposals (16) and fantasy points (66) against Melbourne. The final member of the top-5 is Saints debutant Ryan Byrnes ($200K, 75, BE -9) who will be one of the most popular trade targets this week following his 75 points against Hawthorn. I won't expect him to haul in 9 marks again every weekend, but Byrnes is still a wise investment for your M9/M10 slot.
Top-5
Tom Powell (Kangaroos)

James Jordon (Demons)

Errol Gulden (Swans)

Will Phillips (Kangaroos)

Ryan Byrnes (Saints)
Another debutant in Riley Collier-Dawkins ($193K, 63, BE -1) was unlucky to not crack the top-5 with his Friday night showing against the Bulldogs turning a lot of heads. RCD was able to finally break into Richmond's senior side and didn't look out of place at all, registering 14 disposals, 5 tackles and 15 CBA's (good for 2nd most in the team). Personally, I'd rather trade Collier-Dawkins in over Ryan Byrnes given the injuries to Richmond's midfield unit, but both are bound to be popular targets this round.
Two cash cows in Riley Collier-Dawkins and Ryan Byrnes are amongst the most popular trade targets for #AFLFantasy coaches this week 💰🐮

Which one would you rather? 🤔

— SportsbyFry (@sportsbyfry) May 5, 2021
There are a few trade targets in the MID group this week, which is helpful because we could see the likes of Finlay Macrae ($253K, 36, BE 33) removed from Collingwood's AFL side after a few quiet performances. His teammate Caleb Poulter ($224K, 51, BE 17) might be safer after making his debut last week and much like Will Phillips, another North young gun in Charlie Lazzaro ($257K, 56, BE 29) appears to be finding his mojo at the top level.
The owners of Sam Berry ($327K, 54, BE 44), Finn Maginness ($250K, 52, BE 41) and Anthony Scott ($295K, 45, BE 33) will be looking to offload those cash cows in the coming weeks, with their residence inside the best 22 far from set in stone. Keep your eye on Docker Joel Western ($170K, DNP, BE 25) as a potential Round 8 debutant as well, however, I'd advise waiting a week to trade him in if he is named.
Best of the Rest
These players may or may not be in the selection mix this week, but be sure to keep them on your 2021 watchlist in case they burst onto the scene. In no particular order:
Jackson Mead (Power, $170K)
Jeremy Sharp (Suns, $221K)
Cooper Stephens (Cats, $170K)
Luke Pedlar (Crows, $250K)
Caleb Poulter (Magpies, $212K)
Thompson Dow (Tigers, $192K)
Reef McInnis (Magpies, $226K)
Brody Kemp (Blues, $170K)
Zane Trew (Eagles, $170K)
Lachlan Bramble (Hawks, $170K)
Nathan O'Driscoll (Dockers, $218K)
Luke Valente (Dockers, $170K)
RUCK
Those who made the investment in Tom Campbell ($306K, 54, BE 17) as a safety blanket in the ruck department have been rewarded with some decent scores. Campbell is only averaging 13 hitouts on the season, but he has carved out a niche as a second fiddle to Todd Goldstein in the Kangaroos' lineup. The frustration around Matt Flynn ($394K, DNP, BE 16) continues with the 10th most popular player quickly seeing his ownership plummet as he keeps ping-ponging in and out of the Giants' lineup.
An average near 80 and a low breakeven has seen some coaches demote him to R3 and he could earn another gig at AFL level after a 60 point outing for GWS' reserves last weekend with 12 touches and 17 hitouts. Either way, Flynn can't be trusted week in, week out on our field so make sure you've got another playable ruck in case the Giants big man is again forced to play VFL. The third RUC this week Riley Thilthorpe ($328K, 46, BE 18) backed up his debut score by halving his scoring output with a 46. These type of numbers in the 40-55 zone are what I expect Thilthorpe to produce moving forward, making it hard to pay up for him now at nearly $350K.
Top-3
Tom Campbell (Kangaroos)

Matthew Flynn (Giants)*

Riley Thilthorpe (Crows)
* if named
Dons debutant Nick Bryan ($195K, 67, BE -4) was unlucky to not crack the top-3 and right now, he looms as the best ruck downgrade for the coaches who have a luxury trade up their sleeve. I can imagine Bryan is only a short-term solution until Sam Draper is back up and running, but there's a chance he'll still miss a month of footy which could see the young Bomber grow another $100K-$150K in price if he continues to stay in their lineup.
The news isn't as promising for the rucks on the outside looking in with Paul Hunter ($245K, DNP, BE 5), Tom Fullarton ($215K, DNP, BE 14) and Jordan Sweet ($200K, DNP, BE -7) all facing an uphill climb to re-integrate themselves into their senior lineup's. Sweet was the best performer out of that group thanks to his 117 points in the VFL, but I can't see any of the trio breaking through in Round 8. Fremantle duo Josh Treacy ($204K, DNP, BE 27) and Lloyd Meek ($245K, DNP, BE 20) did their selection chances no harm scores of 132 and 107 respectively. Treacy bagged 5 goals with both he and Meek sharing the ruck duties – which could lead to either of them rejoining Freo's lineup to clash with Brisbane.
Best of the Rest
These players may or may not be in the selection mix this week, but be sure to keep them on your 2021 watchlist in case they burst onto the scene. In no particular order:
Sam Hayes (Power, $170K)
Bailey Williams (Eagles, $271K)
Joel Amartey (Swans, $170K)
Max Lynch (Magpies, $172K)
FORWARD
There isn't a lot to report atop the FWD rankings with Chad Warner ($517K, 83, BE 38) still producing and comfortably locking himself into the No. 1 rank. After that, it's anybody's guess. A second strong score in three weeks has seen Archie Perkins ($374K, 79, BE 18) vault his way up to second in the forward pecking order and there's no reason to think he'll be removed from the top-5 list if he keeps playing like this. Expect Essendon to give him a rest at some point throughout the year, but right now Perkins is growing with every quarter he plays.
The three forwards that make up the rest of the top-5 were all mainstream trade targets last week with Jy Farrar ($332K, 38, BE 22) the most popular cash cow available. Nearly 6,000 coaches brought him in, only to end up disappointed while watching Farrar record just 3 marks and 38 points in a "fantasy-friendly" matchup with the Magpies. While that has led to plenty of questions over his future ability, I have faith he can hold his place in Gold Coast's side – with the job security of Deven Robertson ($340K, 44, BE 28) and Atu Bosenavulagi ($304K, 55, BE 7) much dicier. Robertson has produced yo-yo fantasy scores so far in 2021, but his scoring ceiling means coaches will give him another chance if he remains in Brisbane's lineup. Similar can be said for Bosenavulagi, who hasn't shown the same scoring prowess, but still looms as a start-worthy player should the Roos keep him in their team to take on Collingwood.
Top-5
Chad Warner (Swans)

Archie Perkins (Bombers)

Jy Farrar (Suns)

Deven Robertson (Lions)

Atu Bosenavulagi (Kangaroos)
Key forwards are not the rookies we desire in fantasy circles, but Jacob Koschitzke ($340K, 53, BE 15), Harrison Jones ($271K, 74, BE 18) and to a certain extent Beau McCreery ($303K, 63, BE 13) have all done enough to keep their price rising with breakevens in the teens heading into Round 8. The ship may have sailed on Sam Flanders ($287K, 67, BE 11) as a trade candidate, despite stringing some decent games together and James Rowe ($330K, 38, BE 54) has served his purpose for coaches – currently listed as the 3rd most traded out player.
At reserve level, an impressive game from Oliver Henry ($228K, DNP, BE 28) saw him chalk up an absurd 140 points, fuelled by 22 touches, 13 marks and 6 shots on goal (3.3). He could come into the side at the expense of Finlay Macrae, with Braeden Campbell ($379K, DNP, BE 61) also in the mix to return for the Swans. A straight swap for Errol Gulden might not make as much sense in Sydney's side, but after 25 touches, 6 marks and 7 tackles led to a score of 117 from Campbell, his VFL stay could be a short one.
Best of the Rest
These players may or may not be in the selection mix this week, but be sure to keep them on your 2021 watchlist in case they burst onto the scene. In no particular order:
Ely Smith (Lions, $170K)
Nakia Cockatoo (Lions, $243K)
Jamarra Ugle-Hagan (Bulldogs, $270K)
Maurice Rioli (Tigers, $170K)
Hugo Ralphsmith (Tigers, $170K)
Elijah Hollands (Suns, $258K)
Sam Philp (Blues, $203K)
Jake Bowey (Demons, $230K)
---
FOLLOW ME ON TWITTER: @SportsbyFry for all things AFL Fantasy (and more)! Feel free to hit me up with any questions you have throughout the season. Good Luck! ✌️