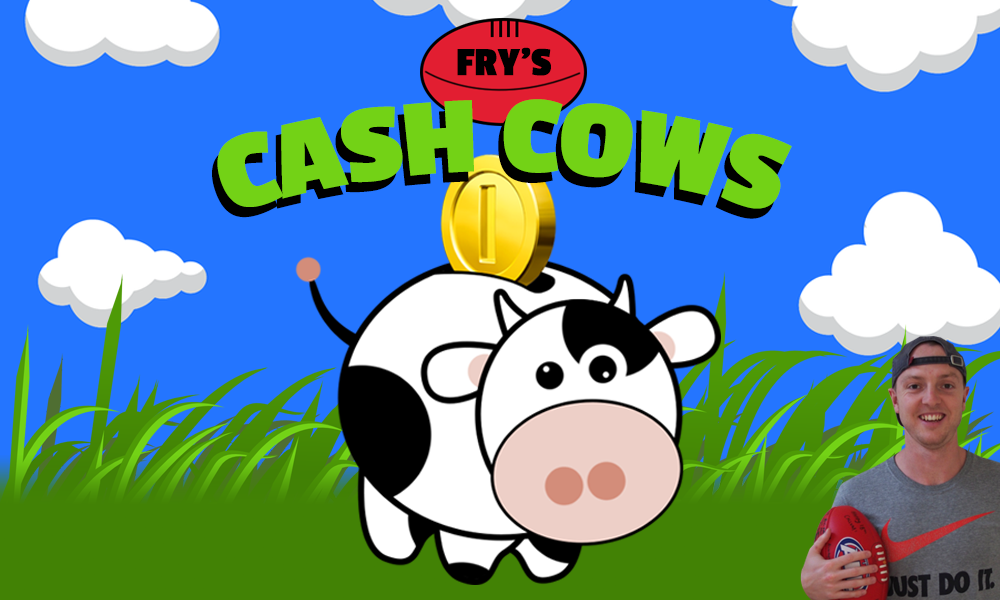 Six down, 17 to go!
Last weekend we saw 13 players score 140 or more, providing us with one of the highest-scoring rounds in recent memory! Not all of those players were top-tier fantasy names, with value plays like Caleb Serong, Seb Ross and Dyson Heppell each finding their way to a mammoth score. Cash cows on the other hand? While there were a few candidates who stuck their hands up as Round 6 contributors, there is a clear gulf between the weekly scores we see from rookie talents compared to those in the non-rookies camp. At the risk of sounding like a broken record, removing those cash cows from your starting 22 is a constant priority and with mainstream picks starting to max out in price, make sure you use your trades wisely.
Rookie/cash cows are usually defined as players who are priced at $300,000 or lower
If you missed out on the 2021 Rookie Guide I wrote before Round 1 check it out here!
---
Mooooving On
Part of our weekly trade focus is to remove some of the rookie-priced players who are no longer making money. When a cash cow sees their average fall in line with their breakeven or they find themselves on the outside looking in for multiple weeks at a time, that's usually a good time to give them the axe.
Fattened cash cows
James Rowe, Crows ($335K, AVG 53, BE 45)
Braeden Campbell, Swans ($379K, AVG 57, BE 60)
Errol Gulden, Swans ($495K, AVG 81, BE 77)
Harrison Jones, Bombers ($249K, AVG 38, BE 37)
Lachlan McNeil, Bulldogs ($259K, AVG 39, BE 22)
A lot of coaches opted to trade Braeden Campbell out last round and thanks to his medical sub affected score, he's still on thin ice. Technically, the skilled Swan lost money last week and he'll once again be a popular player to offload. Coaches are looking to move on from his teammate Errol Gulden too with his price seemingly maxed out after his worst score of the season. The same could be said for James Rowe who may be axed from the Crows lineup and while it always feels dirty, ditching rookies like Harrison Jones and/or Lachlan McNeil to optimise cash generation is a worthwhile move.
Injured/non-playing rookies
Paul Hunter, Saints ($245K, AVG 50, BE 4)
Lloyd Meek, Dockers ($245K, AVG 41, BE 19)
Tom Highmore, Saints ($240K, AVG 57, BE 2)
Tyler Brockman, Hawks ($284K, AVG 50, BE 21)
Sam Berry, Crows ($322K, AVG 50, BE 44)
Ruck duo Paul Hunter and Lloyd Meek remain a top trade out priority, however, the lack of reliable targets means we are stuck with them for the time being. Tom Highmore on the other hand, still offers trade flexibility for coaches and despite Jimmy Webster being under a cloud, Highmore is in line to miss his 5th straight game. Sam Berry could find himself recalled this week after a spell for the Crows, but I'm not as hopeful of Tyler Brockman re-qualifying for Hawthorn's AFL side. Either way, both youngsters can be moved on if you've got a spare trade up your sleeve.
Cash Cow King – Round 6
It's very possible that this week's CCK nomination could go to a player who was on most coaches benches! If you were one of the teams relying on Jacob Koschitzke (101), you would have been pleasantly surprised to watch him kick 3 first-quarter goals, on way to a massive triple-figure score against Adelaide. Another mainstream rookie Tom Powell (102) was also able to hit 100+ for the first time in his fantasy career, with that pair beating out an impressive debut from Riley Thilthorpe (94) and another stereotypically stellar performance from Chad Warner (93). As one of the coaches who left Kosi's score on the bench, I'm siding with Powell for the Round 6 nod.
Loading ...
Round 7 Rookie Rankings
DEFENCE
After his place atop the defensive rankings came under fire last week, Nik Cox ($410K, 69, BE 38) responded to keep his coaches happy with 15 touches and 8 marks on Anzac Day. Essendon's unique talent is far from solidified as the No. 1 defender moving forward with Miles Bergman ($322K, 71, BE 1) equally as impressive in Round 6. Both Cox and Bergman possess rare DEF/FWD status, which would lead me to hold onto both or either of them, with their flexibility bound to help with future trades. Dockers backman Heath Chapman ($369K, 49, BE 37) clocks in at No. 3 and while he doesn't instil me with as much fantasy confidence as the two aforementioned defenders, he's hardly a must-trade right now.
The time to move Chapman on is coming, but coaches will likely have non-playing types rotting on their bench that are a higher trade priority. If you find yourself in that position, you may want to pounce on Martin Frederick ($198K, 70, BE -5) from Port Adelaide after he excelled in his first AFL game. A tougher ask against Brisbane this week should see his scoring output dip, but injuries to the Power have created a chance for 'Fast Freddy' to string some games together. I've been highly critical of Chris Burgess ($299K, 58, BE 24) and his inability to produce decent fantasy scores, but credit where credit is due. With Zac Smith nearing a return, Burgess' days are numbered, but he deserves to crack the top-5 after his score against the Swans.
Top-5
Nikolas Cox (Bombers)

Miles Bergman (Power)

Heath Chapman (Dockers)

Martin Frederick (Power)

Chris Burgess (Suns)
Conor Idun ($345K, 72, BE 24) was unlucky to miss out on the 5th DEF slot, but his inconsistency gives me reason to pause. Another inflated defensive rookie in Connor Menadue ($300K, 81, BE 0) is on the radar for some coaches, but I'd rather spend my $$$ elsewhere instead of picking the new Roo. Liam Stocker ($245K, 40, BE 31) and Rhyan Mansell ($222K, 34, BE 12) didn't put their hands up like Frederick to become defensive downgrade targets, but there is some fresh meat on the horizon that could emerge as soon as this week.
Josh Worrell ($170K, DNP, BE 25) has flirted with senior selection for most of the season at Adelaide and injuries to their backline should see him earn a berth in Round 7. The versatile Crow managed 21 touches and 7 marks for a score of 80 at SANFL level to aid his cause and Kieren Briggs ($170K, DNP, BE 25) did a similar thing for GWS' reserves side to the tune of 110 points from 31 hitouts and 15 touches. Another popular name who we have waited an eternity to see in action is Will Gould ($170K, DNP, BE 25) and the young Sydney defender may be handed an AFL debut in the coming weeks, after playing well at VFL level.
Best of the Rest
These players may or may not be in the selection mix this week, but be sure to keep them on your 2020 watchlist in case they burst onto the scene. In no particular order:
Matthew Ling (Swans, $219K)
Kieran Briggs (Giants, $170K)
Denver Grainger-Barrass (Hawks, $260K)
Will Gould (Swans, $170K)
Trent Bianco (Magpies, $170K)
Jacob Wehr (Giants, $170K)
Josh Worrell (Crows, $170K)
Joel Jeffery (Suns, $170K)
Bailey Laurie (Demons, $228K)
Isaac Chugg (Magpies, $170K)
MIDFIELD
There is no longer any doubt, Tom Powell ($467K, 102, BE 21) is the No. 1 midfield rookie after scoring the first fantasy ton of his career against the Dockers. Fuelled by a career-high 25 disposals, Powell has overtaken Errol Gulden ($495K, 54, BE 77) in the rookie pecking order with some coaches opting to offload him after seeing his scoring ability dry up. Averaging 99.7 from his first three games made Gulden must have property, but a breakeven of 77 and a three-round average of 62.3 has seen 3,500 coaches jump ship and trade away the popular Swan. You could make a case for James Jordon ($419K, 63, BE 58) to move past Gulden as well after he continued the bounce back from his ugly Round 4 showing. Failing to score 70+ in his last three games, Jordon won't spend much longer clogging up a valuable midfield spot for coaches unless he can reverse that trend.
Outside of the usual top-3 suspects, there is a real lack of appealing cash cows in the MID's, which led to me moving Finlay Macrae ($251K, 26, BE 31) out of the forward line and into the midfield. It's a shame that Collingwood seems reluctant to do the same thing, but if they do we've seen how Macrae can score in bunches. I flagged that the Anzac Day match could lead to a low score from the Pies rookie and a date with the Suns gives him a greater opportunity to score at a respectable clip. The same can't be said for Will Phillips ($272K, 37, BE 37) who cracks the top-5 purely out of necessity. I've been high on him all season, but a VFL stint could be coming after he, yet again, failed to score over 40 points. Sigh.
Top-5
Tom Powell (Kangaroos)

Errol Gulden (Swans)

James Jordon (Demons)

Finlay Macrae (Magpies)

Will Phillips (Kangaroos)
💰🐮

Riley Collier-Dawkins (MID, $170k) will make his debut in round seven. #AFLFantasy https://t.co/EZG7F3dU6V

— AFL Fantasy (@AFLFantasy) April 28, 2021
With a thin field of midfield rookies, we received some good news out of Richmond with Damian Hardwick FINALLY set to play Riley Collier-Dawkins ($170K, DNP, BE 25) against the Dogs on Friday night. There are obvious concerns over RCD's job security so tread lightly and don't go plugging him into your starting 22 just yet. He could be joined by another first-gamer this weekend as Caleb Poulter ($212K, DNP, BE 31) put his case forward to be selected by Collingwood. The 30th overall pick from a year ago managed 27 touches for a score of 93 on the weekend in the VFL and he could become a handy trade target if he becomes the Magpies' 5th debutant of the season.
Even if Poulter pushes his way into Collingwood's 22, Jay Rantall ($173K, 29, BE 21) should be safe and hold his spot after playing his first game of pro footy Anzac Day. Of all the cheap MID options right now, I think I'd prefer to own Rantall, providing he gets a long leash with Collingwood to string multiple games together. Usual Bulldogs suspects Anthony Scott ($284K, 49, BE 26) and Lachlan McNeil ($259K, 41, BE 22) remain entrenched in the Bulldogs' side while Tanner Bruhn ($229K, 18, BE 46) didn't solidify his place in GWS' outfit, scoring just 18 points from 63% TOG.
Best of the Rest
These players may or may not be in the selection mix this week, but be sure to keep them on your 2021 watchlist in case they burst onto the scene. In no particular order:
Jackson Mead (Power, $170K)
Jeremy Sharp (Suns, $221K)
Riley Collier-Dawkins (Tigers, $170K)
Cooper Stephens (Cats, $170K)
Luke Pedlar (Crows, $250K)
Caleb Poulter (Magpies, $212K)
Thompson Dow (Tigers, $192K)
Reef McInnis (Magpies, $226K)
Brody Kemp (Blues, $170K)
Zane Trew (Eagles, $170K)
Lachlan Bramble (Hawks, $170K)
Nathan O'Driscoll (Dockers, $218K)
Luke Valente (Dockers, $170K)
RUCK
A dominant first-quarter that featured 8 touches, 4 marks and 38 fantasy points had Matt Flynn ($394K, 68, BE 14) owners jumping for joy on Friday night. Unfortunately, his hot start didn't translate to a huge score with Flynn posting just 30 points of the remaining three quarters. We will have to wait and see if GWS brings in support for Flynn in the shape of Kieren Briggs or Shane Mumford and while there's no need to trade him yet, it's a good idea to start brainstorming your succession plan at R2.
One of the stars of the weekend was young Crow Riley Thilthorpe ($302K, 94, BE 2) who kicked 5 goals in his first AFL action for an impressive score in the 90's. While Thilthorpe looks like he'll be a serious player in the future, the No. 2 overall pick from 2020 won't be pushing out these type of fantasy scores every week. At $300K it's hard to suggest trading him in as insurance for another Matt Flynn fiasco, so unless you previously pulled the trigger on Thilthorpe I'd leave him be. Tom Campbell ($278K, 63, BE 7) is another strong RUC/FWD performer who hasn't made his way into many sides and his tricky price tag means he'll probably stay on the outs. Back-to-back 60's have been impressive from Campbell, but I expect more scores in the 40-50 point range as he plays second fiddle to Todd Goldstein.
Top-3
Matthew Flynn (Giants)

Tom Campbell (Kangaroos)

Riley Thilthorpe (Crows)
A concussion to Tim English could see Jordan Sweet ($200K, DNP, BE -8) earn a reprieve if the Dogs opt for more tall timber to take on the Tigers. Last weekend, Sweet scored 118 points from 13 touches, 37 hitouts and 2 goals in the VFL, but earning a spot in their senior side will come down to whether the Bulldogs' want ruck support for Stefan Martin or not. Popular pair Paul Hunter ($245K, DNP, BE 4) and Lloyd Meek ($245K, DNP, BE 19) are still stuck in the two's with no sign of a recall and Josh Treacy ($204K, 22, BE 27) could find himself demoted after a few quiet games in a row. Trading any of these three to keep cash generation ticking over is a smart investment.
Best of the Rest
These players may or may not be in the selection mix this week, but be sure to keep them on your 2021 watchlist in case they burst onto the scene. In no particular order:
Sam Hayes (Power, $170K)
Nick Bryan (Bombers, $170K)
Bailey Williams (Eagles, $271K)
Joel Amartey (Swans, $170K)
Max Lynch (Magpies, $172K)
FORWARD
The creme of the forward crop remains the same, but a lot of fresh faces are entering the top-5 FWD list this week! Chad Warner ($492K, 93, BE 39) continues to push his case as the best cash cow 2021 has to offer, posting his 3rd 90+ score on the young season against Gold Coast. He was supported in the forward line by usual suspect Archie Perkins ($337K, 59, BE 17) who performed admirably on Anzac Day and should continue to rise in value over the coming rounds. Sandwiched between those two FWD rooks is a trio of cash cows who are emerging as start-worthy players entering the next portion of the season.
Deven Robertson ($313K, 75, BE 0), Jy Farrar ($304K, 74, BE -8) and Atu Bosenavulagi ($266K, 77, BE -7) have a few weeks worth of production on the board and I could be swayed into mixing up the order of this trio. Personally, I think Farrar is the best trade target in this group, with his fantasy-friendly matchup against Collingwood in Round 7 hopefully leading to another score in the 80-90 point range. He lost the No. 2 ranking to Deven Robertson though thanks to the young Lion's scoring pedigree, however, that could change quickly if Dev finds himself out of Brisbane's lineup again.
I'm happy that I can now spell Atu Bosenavulagi's name without double-checking it every time on Google and if he keeps scoring at this rapid rate a lot more coaches will become familiar with North Melbourne's new utility. This may be the last round to acquire Robertson and/or Farrar given the fact that most of their money-making is already done, but for $40K cheaper there's nothing wrong with making a move for Atu. I mean how many times have you been less than $40K off pulling the trigger on your ideal trade scenario?
Top-5
Chad Warner (Swans)

Deven Robertson (Lions)

Jy Farrar (Suns)

Atu Bosenavulagi (Kangaroos)

Archie Perkins (Bombers)
Five goals from Jacob Koschitzke helped Hawthorn stage a stunning come-from-behind victory over Adelaide 👏

The young Hawk has been named as the round six Rising Star nominee thanks to @NAB 🌟 pic.twitter.com/AHDMJxABnl

— AFL (@AFL) April 26, 2021
It might seem unfair to leave Jacob Koschitzke ($304K, 101, BE -6) out of the top-5 following his 101-point game, but it's worth pointing out the Hawks forward only has 177 points from his other four games this season. Sydney youngster Braeden Campbell ($379K, 49, BE 60) also finds himself on the outside of the top-tier FWD cash cows looking in with he and underperformer James Rowe ($335K, 36, BE 45) both destined to be popular trade out candidates this week.
The start of Sam Flanders' ($259K, 64, BE 20) fantasy career hasn't been a very fruitful one, but in game No. 8, the talented Sun started to find his feet by recording a personal-best 17 disposals. His awkward price means he'll still be ignored by the majority of coaches, but a matchup with the Pies in Round 7 could lead to more signs of growth from Flanders. Speaking of Collingwood, young Magpies Beau McCreery ($271K, 47, BE 9) and Will Kelly ($171K, 23, BE 26) had moments during their Anzac Day L to Essendon, with McCreery in particular looking lively in front of goal. Personally, I wouldn't be chasing either forward, but Kelly could offer some upside if Darcy Moore swings back into defence allowing his teammate to get his hands on the footy at a higher rate.
Best of the Rest
These players may or may not be in the selection mix this week, but be sure to keep them on your 2021 watchlist in case they burst onto the scene. In no particular order:
Ely Smith (Lions, $170K)
Nakia Cockatoo (Lions, $243K)
Jamarra Ugle-Hagan (Bulldogs, $270K)
Maurice Rioli (Tigers, $170K)
Hugo Ralphsmith (Tigers, $170K)
Elijah Hollands (Suns, $258K)
Sam Philp (Blues, $203K)
Jake Bowey (Demons, $230K)
---
FOLLOW ME ON TWITTER: @SportsbyFry for all things AFL Fantasy (and more)! Feel free to hit me up with any questions you have throughout the season. Good Luck! ✌️