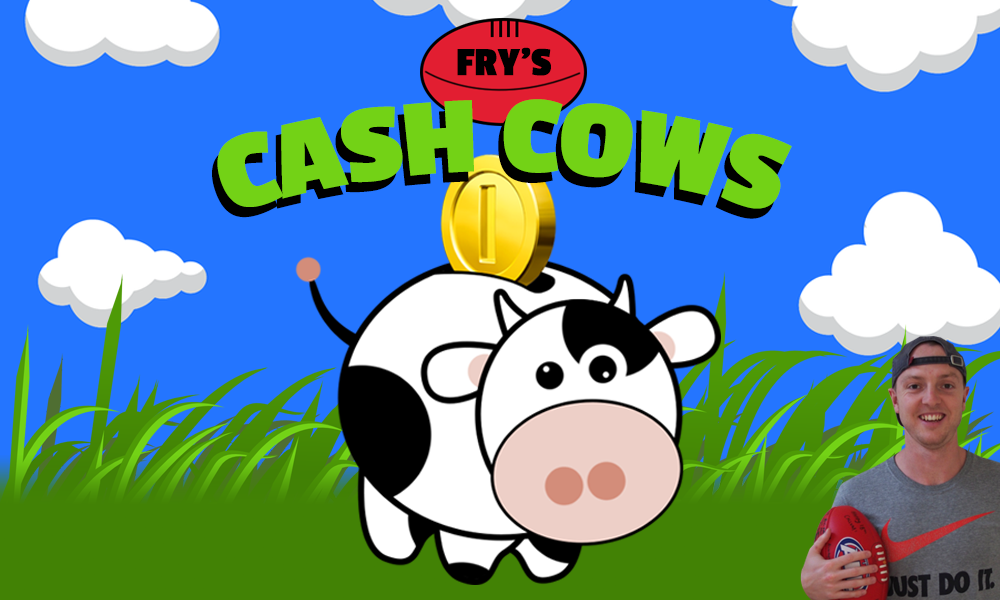 Five down, 18 to go!
The testing times continued for fantasy coaches last weekend, but there is seemingly light at the end of the tunnel. Stability from the top rookie performers has eased the stress levels of some coaches and the addition of new DPP's is bound to aid our trade plans and flexibility around the ground. It's tough to find a balance between upgrading cash cows who have topped out in value and shuffling bench choices to maximise green dot, but remember, we still have a long way to go in season 2021…
Rookie/cash cows are usually defined as players who are priced at $300,000 or lower
If you missed out on the 2021 Rookie Guide I wrote prior to Round 1 check it out here!
---
New DPP's
Fantasy coaches get excited each time a new batch of dual-position players are announced and a record 52 new DPP's meant the Round 6 crop welcomed some very handy trade targets. However, there are usually a healthy batch of rookies who add another string to their bow and 9 cash cows now own multiple positions. This not only helps when pulling off your trades but also provides added flexibility to help avoid the weekly rookie carnage at team selection. Here are the new positions each rookie added with the next batch of DPP's dropping in Round 11:
Miles Bergman (+DEF)
Chris Burgess (+RUC)
Chad Warner (+MID)
Lachlan McNeil (+FWD)
Jacob Koschitzke (+FWD)
Charlie Lazzaro (+FWD)
Will Phillips (+FWD)
Tom Powell (+FWD)
Errol Gulden (+FWD)
Mooooving On
We've reached the point of the season where we can start culling some of the cash cows who we picked in our initial teams. When a cash cow sees their average fall in line with their breakeven or they find themselves on the outside looking in for multiple weeks at a time, that's usually a good time to give them the axe.
Fattened cash cows
Harrison Jones, Bombers ($251K, AVG 39, BE 38)
Jacob Koschitzke, Hawks ($252K, AVG 48, BE 16)
Sam Berry, Crows ($322K, AVG 50, BE 43)
Braeden Campbell, Swans ($380K, AVG 58, BE 49)
Charlie Lazzaro, Kangaroos ($242K, AVG 37, BE 24)
It's time to flick key forward pair Harrison Jones and Jacob Koschitzke now they've hit the $250K mark. There's a chance they'll keep climbing in value, but downgrading them to a cheaper target makes sense. Hopefully, you can throw that coin on top of Sam Berry or Braeden Campbell to chase an upgrade with the duo also ready to be moved. Both of them are a chance to be rested and miss their Round 6 matches, with Charlie Lazzaro in the same boat following a hammy complaint and some quiet performances.
Injured/non-playing rookies
Lloyd Meek, Dockers ($245K, AVG 41, BE 18)
Harry Sharp, Lions ($201K, AVG 31, BE 26)
Tom Highmore, Saints ($240K, AVG 57, BE 1)
Nick Shipley, Giants ($187K, AVG 51, BE 7)
Deven Robertson, Lions ($266K, AVG 68, BE -1)
Fremantle ruckman Lloyd Meek earned his chance to start the year due to injuries and unless a similar issue strikes the Dockers again, it's tough to see him playing much more AFL footy in 2021. Harry Sharp and Tom Highmore performed well at reserves level to boost their chances, but both are still fairly down the pecking order with Nick Shipley seemingly a way back at GWS as well. Coaches are clinging on to hope that Sharp's teammate Deven Robertson will reintegrate himself into the senior side, but don't go holding your breath.
Cash Cow King – Round 5
There wasn't a lot of king-like performances from the 2021 cash cow class last weekend, with some of the usual suspects mixed in with career-high scores from low owned players. Archie Perkins (82) and Jordan Butts (82) led the way for all rookies (sorry, not sorry Jy Farrar) both producing the only 80+ cash cow scores of the round. Perkins especially caught my eye and earns my nomination this week with mainstream picks Tom Powell (73) and Miles Bergman (69) rounding out the list of nominees.
Loading ...
Round 6 Rookie Rankings
DEFENCE
I'm not going to chop and change every players' position following the release of the DPP's, but it's pretty obvious that Miles Bergman ($273K, 69, BE -8) has been playing in the backline for Port Adelaide so far this season. Returning from two weeks out of the senior side, Bergman put forth the best game of his young career and thus has overtaken most of the defensive rookies to rank as the No. 2 backman. If your team is thin in defence you may want to swing Bergman backwards with fellow DEF/FWD Nikolas Cox ($383K, 44, BE 26) one player that could help you make such a move. Cox only managed 10 touches against Brisbane, but it was enough to hold onto the top rung after a few strong weeks. The rest of the field is catching him though.
Young Docker Heath Chapman ($349K, 61, BE 18) was unlucky to not climb into the top-2 after stringing some decent scores together for just 5% of the competition. Starting him on your field moving forward seems like a fine play, but Lachie Jones ($278K, 38, BE 22) is harder to trust in our starting 22. Granted, his 38 points last week were affected by an ankle injury, but Jones still managed to play 78% of the game. Hopefully he can bounce back in Round 6 and reinstil us with confidence. Speaking of, there isn't much confidence in Tom Highmore's ($240K, DNP, BE 6) chance of earning a recall – despite scoring 74 points for Sandringham. He's still an outside chance to replace the injured Jimmy Webster, but as the weeks go by and Highmore continues to stay on the outside it's fine to offload him.
Top-5
Nikolas Cox (Bombers)

Miles Bergman (Power)

Heath Chapman (Dockers)

Lachie Jones (Power)

Tom Highmore (Saints)*
*if named
I'm not crowning Jordan Butts ($264K, 82, BE 3) with a top-5 ranking, despite watching him scoring a rookie round best 82 against Fremantle. This score seems like a flash in the pan with Butts in the same bracket as the likes of Chris Burgess ($277K, 30, BE 22) and Rhyan Mansell ($203K, 52, BE 3) as bench cover only. We were gifted a few backline debutants last weekend with Geelong's Sam De Koning ($173K, 29, BE 21) and Essendon top-10 pick Zach Reid ($261K, 51, BE 25) kickstarting their AFL careers.
De Koning appears set to be a one-game-wonder and Reid's starting price makes it hard to advise trading him in. There is some appeal in the Bombers draftee though, so keep an eye on him if he plays in the Anzac Day classic this weekend. FWIW Kieren Briggs ($170K, DNP, BE 25) registered nearly the same number of hitouts (22-25) and points (65-62) as Flynn which could result in him coming in to support Flynn or Mumford in the coming weeks. Still looking at GWS, it's time to offload Connor Idun ($317K, 36, BE 27) with 50% of his scores in the 30's indicating there isn't a lot of growth left.
Best of the Rest
These players may or may not be in the selection mix this week, but be sure to keep them on your 2020 watchlist in case they burst onto the scene. In no particular order:
Matthew Ling (Swans, $219K)
Kieran Briggs (Giants, $170K)
Denver Grainger-Barrass (Hawks, $260K)
Will Gould (Swans, $170K)
Trent Bianco (Magpies, $170K)
Jacob Wehr (Giants, $170K)
Josh Worrell (Crows, $170K)
Joel Jeffery (Suns, $170K)
Bailey Laurie (Demons, $228K)
Lachlan Jones (Power, $240K)
Isaac Chugg (Magpies, $170K)
MIDFIELD
The usual suspects can be found atop the midfield rankings with Errol Gulden ($495K, 66, BE 54), and Tom Powell ($418K, 73, BE 23) continuing to perform, with valuable FWD status only making them more important for fantasy coaches. There isn't a significant gap between No. 1 and No. 2 though and in their last three matches, Gulden has outscored Powell by just 2 points. If the North rookie tops the point tally between the pair this weekend, I may be forced to promote him above his Swans rookie rival and hand him the top MID rung.
James Jordan ($408K, 68, BE 46) refound his mojo after scoring under 30 in Round 4 – much to the delight of nearly half the competition. He continues to perform on-field for coaches, but using his $400K+ salary to chase an upgrade trade is a wise move to consider over the next few weeks. There's clear daylight between the 3rd and 4th in the MID rankings though, with Will Phillips ($270K, 39, BE 34) and Sam Berry ($322K, 33, BE 43) causing coaches some sleepless nights. Phillips overtakes Berry in this week's piece given his perceived job security and I still want to see what he's capable of if more game time comes his way. Berry, however, could be given a spell by the Crows this week and his breakeven of 43 makes him a trade out candidate.
Top-5
Errol Gulden (Swans)

Tom Powell (Kangaroos)

James Jordan (Demons)

Will Phillips (Kangaroos)

Sam Berry (Crows) 
Once again, there are plenty of MID/FWD's to talk about, but the midfield rookie depth chart is starting to thin out. Bulldogs teammates Lachlan McNeil ($241K, 53, BE 12) and Anthony Scott ($269K, 53, BE 25) have been in the gun for coaches recently, but both managed to score 53 on the weekend to keep their price climbing. There are likely higher trade priorities and until either of them is axed from the 22, it's a wise idea to utilise them as bench cover. Charlie Lazzaro ($244K, 26, BE 34) is in a similar position to the aforementioned Dogs duo and hamstring soreness points to him being left out of the Round 6 team.
One player on the outs who could re-enter the senior side is Tanner Bruhn ($242K, DNP, BE 40) who staked his claim for a recall after 24 touches, 2 goals and 93 points at VFL level. He wasn't the only rookie pushing for selection with Riley-Collier Dawkins ($170K, DNP, BE 25) chalking up 31 touches and 8 tackles for a score of 116. Richmond won't likely make any changes to their squad after an 86-point win, but RCD is doing his best to force the selectors to make a change. Port youngster Jackson Mead ($170K, DNP, BE 25) finds himself in 10% of teams, however, an AFL debut won't be coming his way as soon as we would have liked after he suffered a lacerated spleen at SANFL level.
Best of the Rest
These players may or may not be in the selection mix this week, but be sure to keep them on your 2021 watchlist in case they burst onto the scene. In no particular order:
Jackson Mead (Power, $170K)
Jeremy Sharp (Suns, $221K)
Finn Maginness (Hawks, $279K)
Riley Collier-Dawkins (Tigers, $170K)
Cooper Stephens (Cats, $170K)
Luke Pedlar (Crows, $250K)
Thompson Dow (Tigers, $192K)
Reef McInnis (Magpies, $226K)
Brody Kemp (Blues, $170K)
Zane Trew (Eagles, $170K)
Lachlan Bramble (Hawks, $170K)
Nathan O'Driscoll (Dockers, $218K)
Luke Valente (Dockers, $170K)
RUCK
We thought it was going to one week at best, then it became two, but Leon Cameron has eased our pain by declaring Matt Flynn ($346K, DNP, BE -11) will play AFL footy in Round 6! Coaches will let out a collective sigh of relief when they hear that news, but as one of the coaches who received a doughnut in the ruck department last week, it's wise to start thinking of a succession plan at R2 in case Flynn finds himself sharing ruck duties or playing VFL again in the near future.
Yup, we got that @Jordonsweet2! 👍 pic.twitter.com/ohSEEZZdj1

— Western Bulldogs (@westernbulldogs) April 17, 2021
I wouldn't suggest trading Flynn down to another RUC if a crisis strikes again, but there are cheaper backups that could save the day in the short term. Tom Campbell ($247K, 60, BE 13) managed to improve his points output well last week and Dogs debutant Jordan Sweet ($200K, 73, BE -8) scored at a rapid rate in his first pro game. Like most basement rookies, there are no guarantees they'll string regular games together with Sweet likely to be replaced by Stefan Martin ahead of their clash with the Giants this weekend.
Top-3
Matthew Flynn (Giants)*

Tom Campbell (Kangaroos)

Jordan Sweet (Bulldogs)
*if named
Paul Hunter ($245K, 53, BE 3) was able to re-enter the Saints lineup for Rowan Marshall and also produce a decent score. His stay in their side will once again be a short one, set to join popular rucks Lloyd Meek ($245K, DNP, BE 18) and Tom Fullarton ($215K, DNP, BE 13) who are forced to ply their craft in the reserves. Neither of them performed well enough to demand a change just yet, with an injury their best chance of playing at AFL level again. Finally, Docker forward Josh Treacy ($201K, 21, BE 17) faltered in his second pro game, but he's still a chance to remain in Freo's side and rectify his poor score for his owners.
Best of the Rest
These players may or may not be in the selection mix this week, but be sure to keep them on your 2021 watchlist in case they burst onto the scene. In no particular order:
Riley Thilthorpe (Crows, $268K)
Sam Hayes (Power, $170K)
Nick Bryan (Bombers, $170K)
Bailey Williams (Eagles, $271K)
Joel Amartey (Swans, $170K)
Max Lynch (Magpies, $172K)
FORWARD
The best performance of Archie Perkins' ($306K, 82, BE 8) young fantasy career has seen him vault his way up the FWD rankings – right now sitting in the second slot behind Chad Warner ($452K, 58, BE 29). It's no coincidence that Perkins best score to date came via his highest amount of game time, but how he performs on the Anzac Day stage will be the real test for Essendon's exciting prospect. With his price tag north of $300K, non-owners have probably missed the boat on Perk and instead they may want to focus on another young gun taking part in that Anzac match.
Finlay Macrae ($247K, 54, BE 20) turned heads in his Collingwood debut last Friday night against the Eagles with coaches especially pleased by his fourth-quarter antics. His first fantasy score of 54 saw him integrate himself amongst the top-5 forwards as well and if he's given more opportunity in the Pies' midfield in the coming rounds he'll emerge as a crucial cash cow approaching the bye rounds.
It was a Jack Macrae-like performance in the final term last night from Finlay Macrae:

12 disposals (=most on the ground)
9 uncontested possessions (most on the ground)
1 score assist
32 #AFLFantasy points (ranked =6th on the ground)

Plenty more to come. 👊#AFLEaglesPies

— Fantasy Freako (@FantasyFreako) April 16, 2021
For most of the season so far Braeden Campbell ($380K, 44, BE 49) has been a staple amongst the top forwards, but he found himself slip in ranking after his 3rd score in the 40's from five games. His minutes have decreased in every match since Round 2 and while I still have high hopes for Campbell in the future, I can understand why coaches are swinging the axe to move him on (currently the 4th most traded player). James Rowe ($334K, 58, BE 34) finds himself in a similar position, having virtually topped out in value which will see the Crows forward become a popular trade out. Personally, I like the idea of holding Rowe in your F7/F8 slot as a safety blanket, but he won't push his price tag much higher than $400K making a trade more than acceptable.
Top-5
Chad Warner (Swans)

Archie Perkins (Bombers)

Finlay Macrae (Magpies)

Braeden Campbell (Swans)

James Rowe (Crows)
*if named
Two other FWD's trying to throw their hat into the mix as a top-5 forward following 59 points on the weekend are bound to attract the attention of coaches. Atu Bosenavulagi ($224K, 59, BE 9) and Beau McCreery ($240K, 59, BE -2) are still somewhat cheap and they could become options if they hold their place in the side. I personally prefer McCreery out of the two, but the case could be made for the cheaper Bosenavulagi (every dollar counts).
A lot of coaches are high on the idea of bringing in Jy Farrar ($256K, 86, BE -3) after he excelled in his first game of the season. I don't expect him to haul in 8 marks and score 70/80 each week, so I would lean towards chasing one of the aforementioned pair and saving some money – especially if he's riding the pine. On the outside looking in, Deven Robertson ($266K, DNP, BE -1) gathered 21 touches and scored 81 in the Lions big win at VFL level, however, he'll need to string multiple performances together to enter the selection frame.
While there aren't too many $170K players filtering through at the moment Will Kelly ($172K, DNP, BE 25) is a near basement priced player poised to play as soon as Round 6. Potentially thrown down back and allowing Darcy Moore to move up forward causes some confusion around Kelly's scoring ability, but he was poised to play early in the season before suffering a broken collarbone in the preseason. Offloading a fattened FWD cash cow to Kelly would help you make some serious bank, just don't go expecting breathtaking scores from the young Pie. Lastly, Tyler Brockman ($284K, DNP, BE 20) is in line to return from his rest last week, but his teammate Jacob Koschitzke ($252K, 48, BE 16) could be on the outs once Jack Gunston returns in a week or two. It's time to start to think of a succession plan for Kosi, especially if he's still sitting on your field.
Best of the Rest
These players may or may not be in the selection mix this week, but be sure to keep them on your 2021 watchlist in case they burst onto the scene. In no particular order:
Ely Smith (Lions, $170K)
Nakia Cockatoo (Lions, $243K)
Jamarra Ugle-Hagan (Bulldogs, $270K)
Will Kelly (Magpies, $172K)
Maurice Rioli (Tigers, $170K)
Atu Bosenavulagi (Kangaroos, $206K)
Hugo Ralphsmith (Tigers, $170K)
Elijah Hollands (Suns, $258K)
Sam Philp (Blues, $203K)
Jake Bowey (Demons, $230K)
---
FOLLOW ME ON TWITTER: @SportsbyFry for all things AFL Fantasy (and more)! Feel free to hit me up with any questions you have throughout the season. Good Luck! ✌️