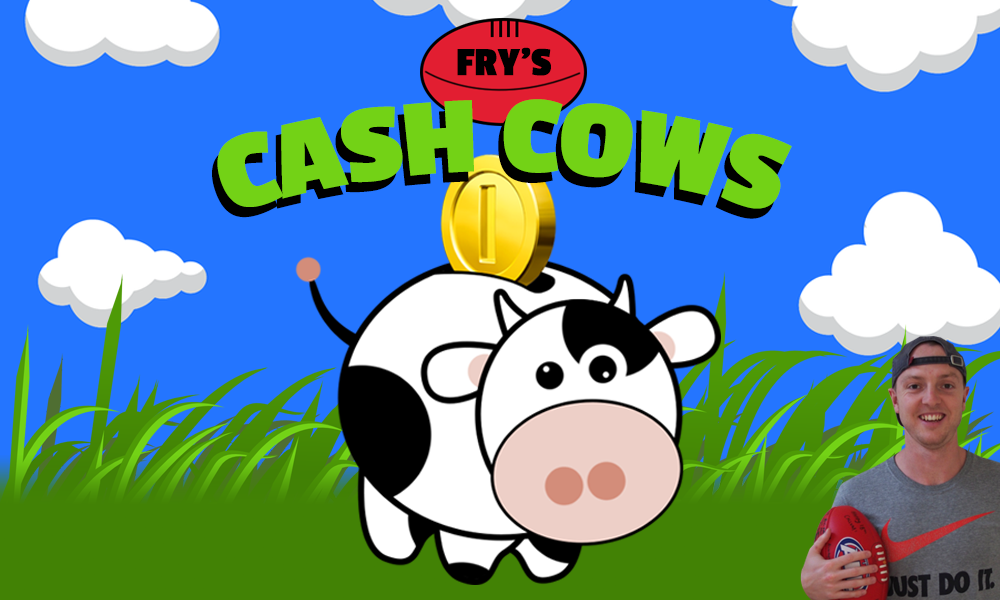 Four down, 19 to go!
If you're reading this, congratulations. Last week was a testing time for fantasy coaches, so to still be somewhat invested in cash cows means your head is in the right place. As a coach who has had 7 forced trades out of 8 so far and fielded just 21 players last week, keeping a glass half full approach is the only way to go.
Cash cows showed their true colours across the board on the weekend, whether that be with a sub-40 score or by being dropped/managed, throwing the rest of our well-made plans into chaos. Bench cover is becoming more important than ever and having the right rookies paired with smart trading can see you climb the leaderboard in as little as a few rounds.
Rookie/cash cows are usually defined as players who are priced at $300,000 or lower
If you missed out on the 2021 Rookie Guide I wrote prior to Round 1 check it out here!
---
Mooooving On
A lot of the rookies we started the year with aren't ready to be culled just yet, however, some are getting close to that point. When a cash cow sees their average fall in line with their breakeven or they find themselves on the outside looking in, that's usually a good time to give them the axe.
Fattened cash cows
Anthony Scott, Bulldogs ($251K, AVG 42, BE 25)
Lloyd Meek, Dockers ($245K, AVG 41, BE 18)
Lachlan McNeil, Bulldogs ($203K, AVG 35, BE 16)
Jordon Butts, Crows ($231K, AVG 34, BE 29)
Charlie Lazzaro, Kangaroos ($242K, AVG 37, BE 24)
A pair of underperforming Bulldogs find themselves towards the top of the fattened cash cows list, with a 21 and 34 in their most recent game. Anthony Scott and Lachlan McNeil have a tough job trying to find a lot of touches in the fantasy factory at the Dogs, making them viable trade out targets along with Dockers tall Lloyd Meek. Scoring just 27 points on the weekend helped coaches missing Matt Flynn at least somewhat, but with Rory Lobb due back any week now, Meek's days appear to be numbered. Not as many coaches would be holding Jordan Butts, but Charlie Lazzaro is also primed to be traded away if necessary.
Injured/non-playing rookies
Paul Hunter, Saints ($212K, AVG 49, BE 1)
Tanner Bruhn, Giants ($242K, AVG 30, BE 39)
Tom Highmore, Saints ($240K, AVG 58, BE 0)
Jacob Koschitzke, Hawks ($231K, AVG 43, BE 14)
Miles Bergman, Power ($227K, AVG 58, BE -6)
Once again a few of these popular names are back in the selection frame to make a return this week, with Tanner Bruhn the odd one out. Despite all the Giants injury issues, Bruhn isn't forcing the selector's hands at the moment and Paul Hunter faces an uphill battle to be named – even if Rowan Marshall misses Round 5. Highmore, Koschitzke and Bergman could all break back into their respective 22's with the latter pair more likely to be recalled.
Cash Cow King – Round 4
In the first fantasy games of his career, Lachie Jones (68) deserves credit for his decent score, but there was only a handful of other rookies worth celebrating in Round 4. Just three cash cows scored over 70 in an ugly weekend overall for coaches with Nik Cox (92) kickstarting the round with the highest score of his young career against Sydney.
He's 202cm. Wut.#AFLSwansDons pic.twitter.com/SRr5NHxHmO

— Essendon FC (@essendonfc) April 8, 2021
The versatile Don didn't post the highest cash cow score of the round though, with Chad Warner (95) snagging that honour, narrowly topping Cox and North Melbourne youngster Tom Powell (91). I'm giving my vote this week to Powell for his 19-touch, 8 tackle game against the Crows, but it's hard not to side with Warner as the Swans' stud continues to shine in his second season.
Loading ...
Round 5 Rookie Rankings
DEFENCE
Coaches found their defensive rookie stocks thrown into chaos during the rolling team announcements, leading to some opting for a Nikolas Cox ($353K, 92, BE -3) trade prior to Thursday nights game. Essendon's first-round draftee rewarded coaches with 92 points fuelled by three shots on goal, four hitouts and 18 disposals in just his 4th career game. I don't expect him to roll out these types of numbers week in, week out and bringing him in now will cost you a pretty penny; however, Cox's versatile DPP status and low breakeven is bound to make him a trade target this week. Just don't be shocked if this was the peak of his scoring powers as a fantasy cash cow.
It might make sense for coaches to bring in cheaper options like Lachie Jones ($261K, 68, BE 12) or Heath Chapman ($316K, 67, BE 8) to maximise the amount of cash at their disposal and both rookies put their best foot forward over the weekend. On debut, Jones became a quick fan favourite for the Power and didn't look out of place at AFL level with Chapman equally as impressive patrolling Freo's backline. Jones' cheaper price tag appeals to me if Port Adelaide feeds him regular games with rookies becoming hard to trust in the back-6.
Tom Highmore ($240K, DNP, BE 1) continues to spend the weekend outside of St Kilda' best-22, making it hard to hold him moving forward. Those clinging on to hope he'll be named Thursday night will likely end up disappointed, but if he does come back into the side I still believe he's capable of scoring in the 60's. The same can't be said for Chris Burgess ($257K, 51, BE -2) with red flags regarding his scoring capacity, despite a reasonable effort against the Blues. As Gold Coast continues to tinker with their ruck rotation, I can't see Burgess establishing himself as their go-to option which only puts a ceiling on his scoring output.
Top-5
Nikolas Cox (Bombers)

Lachie Jones (Power)

Heath Chapman (Dockers)

Tom Highmore (Saints)*

Chris Burgess (Suns)
*if named
Connor Idun ($296K, 65, BE 3) was unlucky not to get a sniff in the top-5, but trading him now doesn't make a ton of sense. He should be good for an average in the high 50's if he stays in GWS' lineup, with Jacob Koschitzke ($231K, DNP, BE 14) in a similar boat at Hawthorn. With Mitch Lewis suspended for a week, Kosi should come straight in as his replacement. What happens after that is anyone's guess…
I rated Luke Parks ($205K, 24, BE 14) fairly high last week, but he let down the near 3,000 coaches who traded him in by amassing just three touches against Gold Coast. He may find himself axed at team selection with Eagles substitute Isiah Winder ($171K, 26, BE 22) and Richmond debutant Rhyan Mansell ($179K, 39, BE 14) also expected to be omitted. Residing in just 6.4% of teams, not many coaches would be thinking about a Jordon Butts ($231K, 26, BE 29) trade, but if you've got a spare move up your sleeve it's wise to offload the Adelaide backman.
Best of the Rest
These players may or may not be in the selection mix this week, but be sure to keep them on your 2020 watchlist in case they burst onto the scene. In no particular order:
Matthew Ling (Swans, $219K)
Kieran Briggs (Giants, $170K)
Denver Grainger-Barrass (Hawks, $260K)
Will Gould (Swans, $170K)
Trent Bianco (Magpies, $170K)
Jacob Wehr (Giants, $170K)
Josh Worrell (Crows, $170K)
Joel Jeffery (Suns, $170K)
Bailey Laurie (Demons, $228K)
Lachlan Jones (Power, $240K)
Sam De Koning (Cats, $170K)
Isaac Chugg (Magpies, $170K)
MIDFIELD
After declaring there was a clear top-3 in the midfield last week, James Jordan ($385K, 29, BE 32) spoiled the party with his pathetic score against Geelong. Season-long readers will know I've had my doubts around Jordan and in fairness seeing just 56% TOG wasn't exactly his fault. However, chalking up just four touches in the minutes he did have wasn't ideal – which could lead to Jordan coming under fire by the match committee this week. Here's hoping he's given another life, with the Demons youngster sitting in nearly 50% of teams right now.
Despite being outscored by Tom Powell ($378K, 91, BE 9) last round Errol Gulden ($467K, 67, BE 21) still holds the No. 1 MID mantle, but the gap is quickly closing. Powell put forth the best fantasy numbers of his career so far and there's no reason to think the young Kangaroo won't continue to flourish as North plays him regularly. Gulden was hardly a disappointment, but his scores in the first three games of the year have led to a high bar of expectations.
The same members that rounded out last week's top-5 held onto their rungs with little competition coming from the other midfield cash cows around them. Sam Berry ($315K, 53, BE 22) continued to propel his score with a high number of tackles (7 to be exact) and low time on ground means Will Phillips ($266K, 43, BE 33) hasn't had the chance to showcase his full talents yet. The reigning No. 3 overall pick spent just 60% of the game on the ground and a matchup against Geelong's midfield doesn't signal a change is coming just yet. Those who don't own Phillips find themselves in the luxurious position of waiting to see scoring potential and if his game time increases, so will his fantasy numbers.
Top-5
Errol Gulden (Swans)

Tom Powell (Kangaroos)

James Jordan (Demons)

Sam Berry (Crows) 

Will Phillips (Kangaroos)
The other pure MID rookies that took to the field all failed to fire, with the expectation that some, if not all of them will be ditched ahead of Round 5. Will Martyn ($171K, 26, BE 22) did manage to gather 12 touches in just 57% of the game, but Richmond will likely replace him before taking on St Kilda. Charlie Lazzaro ($242K, 29, BE 24) and Lachlan McNeil ($218K, 34, BE 16) have had a much longer leash to start the season and they could still survive despite lacklustre fantasy numbers to start the season. Speaking of team changes, Nick Shipley ($187K, DNP, BE 7) and Jackson Mead ($170K, DNP, BE 25) are in the mix for the Giants and Power respectively, but the duo appears set to wait for an opportunity and play in the reserves.
Best of the Rest
These players may or may not be in the selection mix this week, but be sure to keep them on your 2021 watchlist in case they burst onto the scene. In no particular order:
Jackson Mead (Power, $170K)
Jeremy Sharp (Suns, $221K)
Finn Maginness (Hawks, $279K)
Riley Collier-Dawkins (Tigers, $170K)
Cooper Stephens (Cats, $170K)
Luke Pedlar (Crows, $250K)
Thompson Dow (Tigers, $192K)
Reef McInnis (Magpies, $226K)
Brody Kemp (Blues, $170K)
Zane Trew (Eagles, $170K)
Lachlan Bramble (Hawks, $170K)
Nathan O'Driscoll (Dockers, $218K)
Luke Valente (Dockers, $170K)
RUCK
Gross. Do I have to write anything in this section for Round 4? We were meant to be able to trust Matt Flynn ($346K, DNP, BE -11) as the weekly GWS ruckman with little threat to his job security, but once again AFL coaches ruined our plans. With Flynn rested, there are no guarantees that he'll return to play vs. Sydney and fantasy coaches learned the hard way last weekend that Lloyd Meek ($245K, 27, BE 18) isn't a good alternative. Meek was still a factor in Fremantle's ruck division against Hawthorn, but his putrid score and a near clean bill of health for Rory Lobb means he could be replaced as early as this round. Tom Fullarton ($215K, 34, BE 12) tried his hardest to boost the rookie ruck reputation, but the return of Oscar McInerney ruined any chance he had of posting decent fantasy numbers. Sigh, there's always next round.
Top-3
Matthew Flynn (Giants)*

Lloyd Meek (Dockers)

Tom Fullarton (Lions) 
*if named
Best of the Rest
These players may or may not be in the selection mix this week, but be sure to keep them on your 2021 watchlist in case they burst onto the scene. In no particular order:
Jordan Sweet (Bulldogs, $170K)
Riley Thilthorpe (Crows, $268K)
Sam Hayes (Power, $170K)
Nick Bryan (Bombers, $170K)
Bailey Williams (Eagles, $271K)
Joel Amartey (Swans, $170K)
Max Lynch (Magpies, $172K)
FORWARD
Not only is Chad Warner ($408K, 95, BE -11) establishing himself as the best rookie in our forward lines, the Sydney young gun is making his early case as the best cash cow for the 2021 season. There's still a long way to go, but through four rounds only his teammate Errol Gulden (366) has more fantasy points than Warner's 333 – with his rookie round high 95 helping a large portion of the fantasy community. Once again, his Swans teammate Braeden Campbell ($370K, 58, BE 29) holds down the other rung in the top-2, accumulating 19 disposals against Essendon to ensure his price keeps climbing.
A large number of MID/FWD eligible rookies are putting their hands up as safe cash cows, but I'm still high on the prospects of Miles Bergman ($227K, DNP, BE -6) who was forced to play at SANFL level last weekend. Scoring 54 points from 13 touches won't demand a place in Port's senior side, but if he earns a recall, Bergman still has plenty of room to grow. Similar could be said for Deven Robertson ($266K, 43, BE -1) who continues to score at a decent pace but appears to be far from safe in Brisbane's 22. Hopefully, Robertson continues to get a chance with the Lions and keep his price tag rising. James Rowe's ($314K, 51, 27) days of growing in price appear to nearly be over, but Adelaide's small forward could be helpful bench cover over the duration of the season.
Top-5
Chad Warner (Swans)

Braeden Campbell (Swans)

Miles Bergman (Power)*

Deven Robertson (Lions)

James Rowe (Crows)
*if named
I quickly removed Anthony Scott ($251K, 21, 25) from the top-5 after his dismal Round 4 showing, but the Bulldogs may not be quick to axe him from their lineup. His job is certainly under fire though, with Hawks small forward Tyler Brockman ($284K, 49, BE 19) another rookie who could be given a spell. Your weekly update of the Bombers' forward rookies is similar across the board with Archie Perkins ($272K, 42, BE 28), Alec Waterman ($229, 46, BE -2) and Harrison Jones ($249K, 40, BE 19) all scoring in the 40's. Perkins offers the most upside as a fantasy prospect, but he's another cash cow suffering from low time on ground (61% vs. the Swans).
Finlay Macrae will debut on Friday night 🥰 pic.twitter.com/U6RPsOqI01

— Collingwood FC (@CollingwoodFC) April 13, 2021
Another touted prospect is set to debut this week with Collingwood selecting Finlay Macrae ($234K, DNP, BE 34) for his first AFL game. Taking on the Eagles in Perth is a tough way to start your fantasy career, but after averaging 16.9 disposals at the NAB League and impressing in VFL practice matches Macrae will get his chance. Buckley has flagged that Macrae will play a midfield/forward role and with Taylor Adams out for the long-term there's an opportunity for Macrae to establish himself as a solid cash cow moving forward. Lastly, Josh Treacy ($190, 56, BE 4) had a good start to his career last round and his RUC/FWD status could make him a handy swing player. There are worse options out there, but expect his average to hover around 50.
Best of the Rest
These players may or may not be in the selection mix this week, but be sure to keep them on your 2021 watchlist in case they burst onto the scene. In no particular order:
Ely Smith (Lions, $170K)
Nakia Cockatoo (Lions, $243K)
Jamarra Ugle-Hagan (Bulldogs, $270K)
Will Kelly (Magpies, $172K)
Finlay Macrae (Magpies, $234K)
Maurice Rioli (Tigers, $170K)
Atu Bosenavulagi (Kangaroos, $206K)
Hugo Ralphsmith (Tigers, $170K)
Elijah Hollands (Suns, $258K)
Sam Philp (Blues, $203K)
Jake Bowey (Demons, $230K)
---
FOLLOW ME ON TWITTER: @SportsbyFry for all things AFL Fantasy (and more)! Feel free to hit me up with any questions you have throughout the season. Good Luck! ✌️