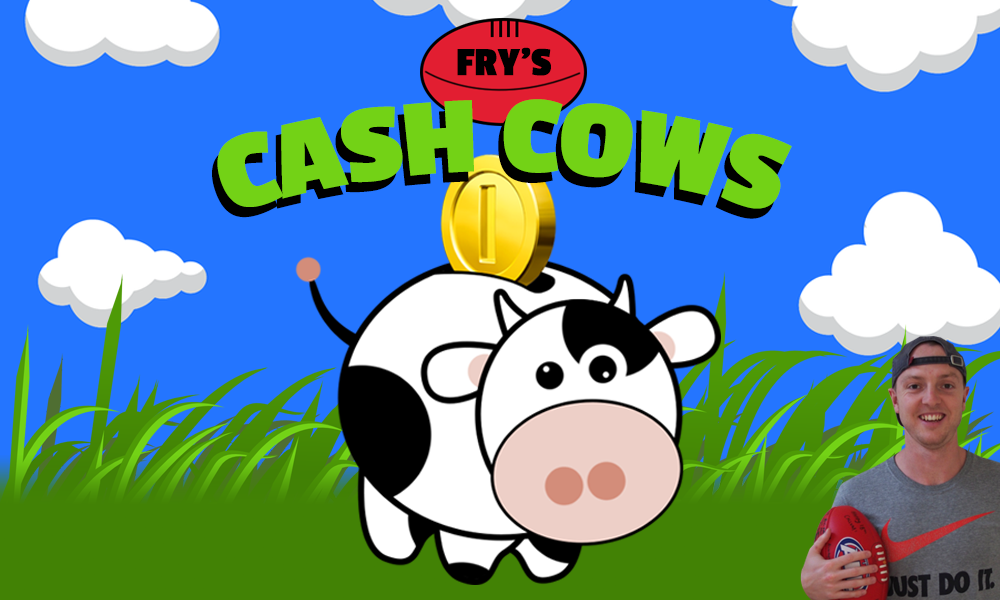 Three down, 20 to go!
The must-have rookies are starting to establish themselves in AFL fantasy circles and the coaches who picked the right cash cows to start the year could find themselves flying in the overall rankings. If you're not in that same position, all hope is not lost as a healthy number of first-year options continue to filter through early into the 2021 season. With a lot of premiums tumbling in value, investing in the right cash cows still remains key – with some popular names a few weeks away from topping out in price and providing us with the valuable cash to land an upgrade.
Rookie/cash cows are usually defined as players who are priced at $300,000 or lower
If you missed out on the 2021 Rookie Guide I published before Round 1 be sure to check it out here!
---
Mooooving On
A lot of the rookies we started the year with aren't ready to be culled just yet, however, some are getting close to that point. When a cash cow sees their average fall in line with their breakeven or they find themselves on the outside looking in, that's usually a good time to give them the axe.
Fattened cash cows
Jack Payne, Lions ($272K, AVG 45, BE 21)
Lachlan McNeil, Bulldogs ($203K, AVG 36, BE 10)
Jordan Butts, Crows ($226K, AVG 36, BE 19)
Jacob Koschitzke, Hawks ($231K, AVG 43, BE 14)
Charlie Lazzaro, Kangaroos ($231K, AVG 40, BE 12)
None of these players have seen their average hit their brekeven yet, but their scoring history/shaky job security means it's time to start thinking of other options. With an average below 40, it's hard to trust McNeil and Butts moving forward and along with Jack Payne they haven't started their fantasy careers with a bang. The last two in Koschitzke and Lazzaro have more promise as fantasy prospects, but one more subpar display could see them excluded from their team's best-22.
Injured/non-playing rookies
Paul Hunter, Saints ($212K, AVG 49, BE 1)
Francis Evans, Cats ($185K, AVG 27, BE 29)
Tanner Bruhn, Giants ($242K, AVG 30, BE 39)
Tom Highmore, Saints ($240K, AVG 58, BE 0)
Miles Bergman, Power ($227K, AVG 58, BE -6)
With Rowan Marshall's return imminent for St Kilda, it's hard to trust Paul Hunter moving forward. There's a chance he forms a ruck-duo with Marshall, but Hunter has an uphill climb ahead of him to rejoin their side. Injuries at GWS may open the door for Tanner Bruhn to return, while Francis Evans is out after suffering a nasty ankle injury against Hawthorn. I'd hesitate at the idea of trading out Highmore or Bergman with the pair proving they can score at a solid clip when given the chance. Here's hoping they can both return in Round 4 and continue fattening in price.
Cash Cow King – Round 3
Both Matthew Flynn (78) and James Jordan (76) deserve honourable mentions this week, but there was a trio of rookies that stood out in Round 3. The Rising Star nominee Chad Warner (100) was the only cash cow to surpass triple figures this week with his two-goal, 20 touch game against Richmond turning a lot of heads. Warner's teammate and another Rising Star contender Errol Gulden (98) was likely the most started player in this group and Lions cub Deven Robertson (93) stood up to give coaches another high-scoring rook. Leaving Warner on my bench (I don't want to talk about it) means Gulden gets another nod from me this round, but you can easily make the case for any of the 90+ scoring youngsters.
Loading ...
Round 4 Rookie Rankings
DEFENCE
The omission of Tom Highmore ($240K, DNP, BE 1) had a lot of coaches panicking last weekend and the fantasy community will have their fingers crossed hoping he can return in Round 4. Despite two decent games, there are no guarantees that Highmore will be back in the Saints' team, but thankfully, there are some other options on hand. Both Nik Cox ($299K, 75, BE 8) and Heath Chapman ($279K, 73, BE 9) are coming off career-best scoring efforts with the young versatile talls in line to feature heavily over the next month. Named in the ruck to play Sydney, Cox has seen his magnet thrown all over the board in the early stages of his Essendon career and he is improving with every quarter he plays. Chapman entered Freo's team after injury struck, but he's doing every bit to stay around – attempting 11 tackles against Carlton which was the 2nd most of any player on the ground.
Cox and Chapman are good potential replacements for the injured Hayden Young, but if you're chasing a cheaper option then you may want to turn your attention to Luke Parks ($191K, 58, BE 1) who worked his way into the game vs. Fremantle to score reasonably well. The Blues selected Parks in the rookie draft after a year of playing SANFL league footy in 2020, so there is every chance Parks can string some games together in Carlton's backline. Not many coaches would be looking to trade for Connor Idun ($257K, 74, BE 3), but he rounds out the top-5 after an impressive score against Melbourne. I have doubts over Idun's ability to top 60 points with regularity, but I'd still trust him over some of the alternatives.
Top-5
Tom Highmore (Saints)*

Nikolas Cox (Bombers)

Heath Chapman (Dockers)

Luke Parks (Blues)

Connor Idun (Giants)
*if named
Speaking of alternatives, a lot of coaches are exploring the idea of playing Chris Burgess ($221K, 77, BE -1) following Gold Coast's injury crisis. I can see the appeal, especially after his 77-point game, but I'm not too high on Burgess' ability to replicate 60+ points. A similarly sketchy scoring output is expected from trio Jacob Koschitzke ($231K, 33, BE 14), Jack Payne ($272K, 51, BE 21) and Jordan Butts ($226K, 48, BE 19) with the first two, in particular, no certainty to survive the axe at team selection. Hopefully you've got the second most popular player in the game on your bench, but have a backup plan for Koschitzke if he's on your field and Hawthorn opts to make a change.
Untried duo Josh Worrell ($170K, DNP, BE 25) and Rhyan Mansell ($170K, DNP, BE 25) are in line to earn a debut this weekend, with Mansell already confirmed as a starter for the Tigers on Friday against Port Adelaide. The former SANFL product became an SSP signing for Richmond in the preseason and he has impressed enough in their practice games to earn a shot at AFL level.
Best of the Rest
These players may or may not be in the selection mix this week, but be sure to keep them on your 2020 watchlist in case they burst onto the scene. In no particular order:
Matthew Ling (Swans, $219K)
Kieran Briggs (Giants, $170K)
Denver Grainger-Barrass (Hawks, $260K)
Will Gould (Swans, $170K)
Trent Bianco (Magpies, $170K)
Jacob Wehr (Giants, $170K)
Josh Worrell (Crows, $170K)
Joel Jeffery (Suns, $170K)
Bailey Laurie (Demons, $228K)
Lachlan Jones (Power, $240K)
Sam De Koning (Cats, $170K)
Isaac Chugg (Magpies, $170K)
MIDFIELD
There's still a clear top three in the MID group with trio Errol Gulden ($414K, 98, BE -18), James Jordan ($355K, 76, BE -12) and Tom Powell ($330K, 65, BE 15) establishing themselves as the best cash cows in the early portion of the season. Gulden continues to perform well beyond his years with his fantasy average hovering close to triple figures after 18 disposals and 9 marks against Richmond. He deserves the throne as the No. 1 midfielder, but Jordan and Powell are breathing down his neck with the young Demon slightly ahead in the rankings.
I have faith in Powell's long-term fantasy prospects with he and teammate Will Phillips ($264K, 34, BE 40) likely to play regularly for North Melbourne moving forward. Phillips made his debut against the Bulldogs last round and while 34 points isn't a great first-time score, he'll grow throughout the year and build on his 71% TOG. It's tough to get your hands on the pill a lot in a 128-point loss, so expect a better showing from the young Roo as soon as next week. He clings onto a spot in the top-5 along with young Crow Sam Berry ($290K, 47, BE 13) who had his moments against the Suns last round. With Matt Crouch still managing a groin issue, Berry should continue to see opportunity in Adelaide's midfield with his average of 7 tackles a game bound to help his average nudge 60+.
Top-5
Errol Gulden (Swans)

James Jordan (Demons)

Tom Powell (Kangaroos)

Sam Berry (Crows) 

Will Phillips (Kangaroos)
Even though they've played regular games to start 2021 both Charlie Lazzaro ($231K, 38, BE 12) and Lachlan McNeil ($203K, 42, BE 10) have tested the patience of fantasy coaches. Playing his debut game as the sub hurt Lazzaro's initial value, but scoring just 17 points in the first three quarters against the Bulldogs isn't an encouraging sign. On the flip side, McNeil gathered just 9 touches in their demolition of North Melbourne, which could see him fall in the pecking order – perhaps even to play the sub role. GWS' injury woes have led to some coaches eyeing Xavier O'Halloran ($295K, 49, BE 35), but Nick Shipley ($187K, 51, BE 6) might be the real value play if he can squeeze into their 22. Don't expect him to light the world on fire, but Shipley looms as decent bench cover if he's given a chance.
When Damian Hardwick announced that Richmond may play a few debutants, fingers were immediately crossed for Riley Collier-Dawkins ($170K, DNP, BE 25). Instead, RCD is set to miss out again with Will Martyn ($170K, DNP, BE 25) earning the callup to play his first game of AFL footy. Much like Collier-Dawkins, Martyn has had to bide his time and play the regular role as an emergency and the former 44th overall pick will now get his chance at the top level. Another name to keep an eye on is Zane Trew ($170K, DNP, BE 25) who dazzled for the Eagles in their first WAFL hitout over the weekend. 24 touches and 10 tackles (102 fantasy points) could see him throw his hat into the selection ring after Luke Shuey's latest setback.
The moment Will Martyn and Rhyan Mansell were told they were to make their AFL debut… 💛

📰 – https://t.co/sTKqF4A9ZE pic.twitter.com/J1NLZ5u8h5

— Richmond FC 🐯🏆 (@Richmond_FC) April 7, 2021
Best of the Rest
These players may or may not be in the selection mix this week, but be sure to keep them on your 2021 watchlist in case they burst onto the scene. In no particular order:
Jackson Mead (Power, $170K)
Jeremy Sharp (Suns, $221K)
Finn Maginness (Hawks, $279K)
Riley Collier-Dawkins (Tigers, $170K)
Cooper Stephens (Cats, $170K)
Luke Pedlar (Crows, $250K)
Thompson Dow (Tigers, $192K)
Nick Shipley (Giants, $170K)
Reef McInnis (Magpies, $226K)
Brody Kemp (Blues, $170K)
Zane Trew (Eagles, $170K)
Lachlan Bramble (Hawks, $170K)
Nathan O'Driscoll (Dockers, $218K)
Luke Valente (Dockers, $170K)
RUCK
A date with Max Gawn is never good for an opposing ruckman's fantasy numbers, but Matt Flynn ($346K, 78, BE -12) held his own in Round 3 – reaffirming his status as a playable R2. Averaging 83 on the season, Flynn managed 24 hitouts against Max and the Dees and a battle against Brodie Grundy this weekend looms as another big challenge for the Giants rookie. Lloyd Meek ($227K, 57, BE -2) continues to produce despite Sean Darcy's presence in the Freo lineup, attending 19 of the 29 centre bounces vs. the Blues for a score of 57. He and Lions youngster Tom Fullarton ($197K, 53, BE 5) are both smart choices for your bench, but it's hard to trust either of them on the field with Fullarton especially risky as Oscar McInerney nears a return.
Top-3
Matthew Flynn (Giants)

Lloyd Meek (Dockers)

Tom Fullarton (Lions) 
The days of Paul Hunter ($212K, DNP, BE 1) as a relevant fantasy player may be numbered with both Rowan Marshall and Paddy Ryder waiting in the wings. Ryder may take a few weeks before he's pushing for AFL selection, but Marshall could return as soon as this round, making Hunter a potential trade out candidate. Adelaide's No. 2 pick from 2020 in Riley Thilthorpe ($268K, DNP, BE 39) could play in the near future, however, scoring just 48 points in SANFL last weekend means we can expect a low scoring output when he does earn a gig.
Best of the Rest
These players may or may not be in the selection mix this week, but be sure to keep them on your 2021 watchlist in case they burst onto the scene. In no particular order:
Jordan Sweet (Bulldogs, $170K)
Riley Thilthorpe (Crows, $268K)
Sam Hayes (Power, $170K)
Nick Bryan (Bombers, $170K)
Bailey Williams (Eagles, $271K)
Joel Amartey (Swans, $170K)
Max Lynch (Magpies, $172K)
FORWARD
After three weeks I've been forced to make a change atop the forward rankings with Chad Warner ($334K, 100, BE -23) now the top FWD rookie. Warner dominated against Richmond, attending 16 of 30 CBA's including the first one of the game, which can only be encouraging for his future scores. He and Swans teammate Braeden Campbell ($344K, 49, BE 16) will start on the field for a lot of coaches in Round 4 and promising scores against Essendon could follow. Both Warner and Campbell appear entrenched in Sydney's regular 22 and they can be trusted until we see otherwise.
Despite being dropped last round, Miles Bergman ($227K, DNP, BE -6) can't be completely forgotten in the top-5 rankings. He went unused as the sub in the Power's loss to West Coast and providing he makes a return to the Port Adelaide lineup, then a lot of coaches will likely slot him into their starting forward lineup. Deven Robertson ($228K, 93, BE -17), currently the most traded in player, will also be a popular play, however, there's no certainty he'll remain in Brisbane's lineup. In just the second game of his career, Robertson racked up 17 touches, 7 tackles and 7 marks in an impressive display and he performed well enough to earn another shot this weekend. Anthony Scott ($238K, 67, BE 1) rounds out the top-5 with the mature-age Bulldog scoring well in his role to start his AFL career. Should we see a popular rookie rested or omitted at late notice, Scott could be good cover for coaches across multiple lines.
Top-5
Chad Warner (Swans)

Braeden Campbell (Swans)

Miles Bergman (Power)*

Deven Robertson (Lions)

Anthony Scott (Bulldogs)
*if named
There are plenty of forward rookies that could work their way into the top-5 with Archie Perkins ($262K, 49, BE 27) the likely favourite after starting his fantasy career with a 49-point game. I won't be surprised if the Bombers excitement machine scores at a higher clip once his game time increases (68% TOG vs. St Kilda) and he becomes accustomed to AFL footy. Essendon's key forward's Harrison Jones ($229K, 58, BE 9) and Alec Waterman ($198K, 68, BE -4) both loom as safe bench picks after scoring well in Essendon's big win, but don't expect them to combine for four goals every week.
Popular cash cows James Rowe ($291K, 51, BE 15) and Tyler Brockman ($260K, 35, BE 11), ($226K, 48, BE 19) may find themselves offloaded in the coming rounds if they top out in value, but there are worse options you could play if crisis strikes at team selection. One certain change this week is Francis Evans ($185K, 3, BE 29) departing Geelong's lineup due to injury while debutant Max Holmes ($247K, 56, BE 18) could hang around after a solid 16 touches against Hawthorn.
Best of the Rest
These players may or may not be in the selection mix this week, but be sure to keep them on your 2021 watchlist in case they burst onto the scene. In no particular order:
Ely Smith (Lions, $170K)
Alec Waterman (Bombers, $170K)
Nakia Cockatoo (Lions, $243K)
Jamarra Ugle-Hagan (Bulldogs, $270K)
Will Kelly (Magpies, $172K)
Finlay Macrae (Magpies, $234K)
Maurice Rioli (Tigers, $170K)
Archie Perkins (Bombers, $254K)
Deven Robertson (Lions, $186K)
Atu Bosenavulagi (Kangaroos, $206K)
Sam Flanders (Suns, $253K)
Hugo Ralphsmith (Tigers, $170K)
Elijah Hollands (Suns, $258K)
Sam Philp (Blues, $203K)
Jake Bowey (Demons, $230K)
---
FOLLOW ME ON TWITTER: @SportsbyFry for all things AFL Fantasy (and more)! Feel free to hit me up with any questions you have throughout the season. Good Luck! ✌️