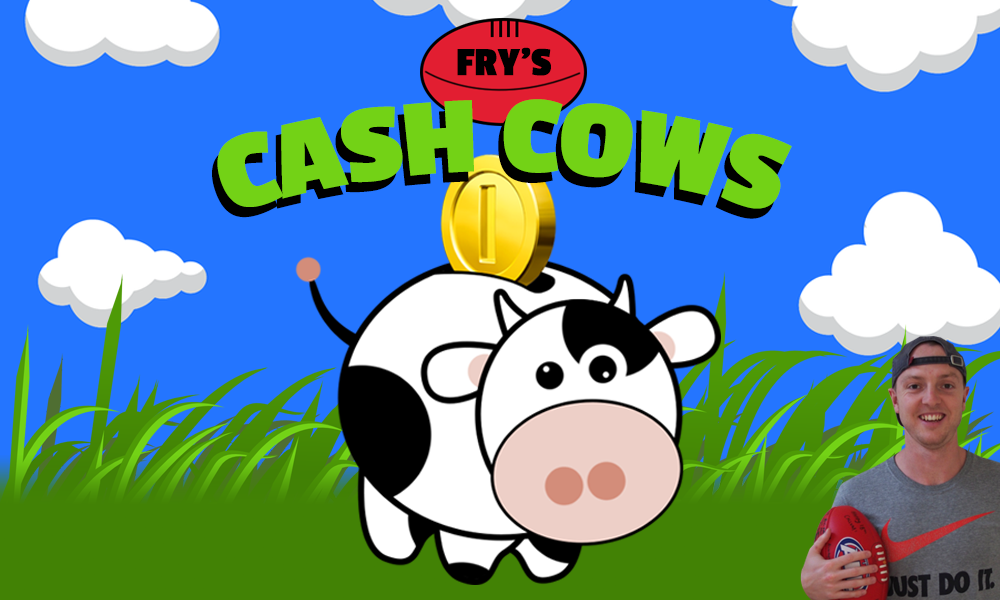 Two down, 21 to go!
Through two weekends of footy, most rookies haven't been scoring in the same disappointing, lacklustre pattern that we've become accustomed to. I'm crossing my fingers and toes in an effort to avoid jinxing the popular cash cows ahead of Round 3, but regardless, we've already seen how important it is to nail your rookie selections at the start of the fantasy year. It's not too late to bring in a mainstream cash cow, even if their price tag is hovering around (or north of) $300K and failing to do so could leave you playing catch up for the rest of the season.
Finally, if you missed out on the 2021 Rookie Guide that I published before Round 1 then be sure to check it out here!
Rookie/cash cows are usually defined as players who are priced at $300,000 or lower
---
Cash Cow King – Round 2
A trio of Swans showcased their fantasy worth over the weekend, each posting an impressive box score. Errol Gulden (93), Braeden Campbell (96) and Chad Warner (81) started on the ground for a lot of coaches with the first two in particular starring during the first half of Sydney's win over the Crows. Along with Warner, all three cygnets are playing their role for a large group of the fantasy community, but this week's top scoring cash cow was likely sitting on the bench for a lot of coaches.
I had my doubts about James Jordan (105) going into the weekend, only to watch him put together a complete fantasy game and the top-score for all rookies! Unfortunately for 11% of the comp, Jordan was residing on the pine with his 20 disposals, 6 marks and 9 tackles going to waste. If you were one of the coaches who had his fantasy ton contribute to your weekly score this might be an easy vote, but I'm picking the Rising Star nominee in Braeden Campbell as my Cash Cow King this round.
Loading ...
The young bloods keep firing as Braeden Campbell is named as Round 2's Rising Star nominee thanks to @nab

Plenty for Sydney to get excited about with Campbell's 25 disposals, 21 kicks and 6 marks 👏 pic.twitter.com/g3urtzyEub

— AFL (@AFL) March 29, 2021
Round 3 Rookie Rankings
DEFENCE
Little changed over the weekend in the defensive rookie hierarchy with Jacob Koschitzkie ($211K, 52, BE 2) and Tom Highmore ($240K, 53, BE 0) solidifying their place as top-2 cash cows down back. Sitting at D6 for a lot of coaches, playing either Highmore or Koschitzkie on your field is a fine solution in the short term, but I wouldn't want to trust either of them on a weekly basis over the entire season. Neither of the tall defenders have let us down so far, but it can't be long before a sub-50 score is on the way – or worse.
If they are given the chance to play a high number of games moving forward, there's every possibility that Nikolas Cox ($266K, 61, BE 23) or Heath Chapman ($250K, 43, BE 28) can challenge for the title as the best DEF rook for season 2021. Essendon's top draft selection from a year ago bounced back from a down debut to produce the highest score from a defender cash cow this round, while Freo's first-gamer in Chapman had moments of success in his 43-point outing.
Given their slightly larger price tag, I'd think twice before trading in Cox or Chapman, with neither a staple in the respective 22 right now. Similar could be said for Crows defender Jordan Butts ($214K, 26, BE 29), who held onto his place in the top-5 this week more out of desperation than anything else. There were other rookies in defence that scored higher than Butts last week and Jake Kelly/Luke Brown's return to the fold could see him booted out of the side.
Top-5
Tom Highmore (Saints)

Jacob Koschitzke (Hawks)

Nikolas Cox (Bombers)

Heath Chapman (Dockers)

Jordan Butts (Crows)
If Butts isn't axed for Adelaide then Nick Murray ($179K, 38, BE 14) is a likely casualty after gathering just 10 disposals in his debut match against the Swans. Murray and fellow tall Josh Worrell ($170K, DNP, BE 24) will likely spend Round 3 on the outside looking in, with a healthy defensive unit for the Crows forcing them out of the AFL side. Brisbane duo Harry Sharp ($201K, 20, BE 25) and Jaxon Prior ($181K, 40, BE 14) are no certainties to take on Collingwood tomorrow either, but a short turnaround and a mounting injury list mean they should hold onto their places for at least another week. Omitted backman Connor Idun ($227K, DNP, BE 27) will hopefully make a return for fantasy coaches with the GWS defender still sitting in over 14% of all teams.
Best of the Rest
These players may or may not be in the selection mix this week, but be sure to keep them on your 2020 watchlist in case they burst onto the scene. In no particular order:
Matthew Ling (Swans, $219K)
Kieran Briggs (Giants, $170K)
Denver Grainger-Barrass (Hawks, $260K)
Will Gould (Swans, $170K)
Trent Bianco (Magpies, $170K)
Jacob Wehr (Giants, $170K)
Josh Worrell (Crows, $170K)
Joel Jeffery (Suns, $170K)
Bailey Laurie (Demons, $228K)
Lachlan Jones (Power, $240K)
Sam De Koning (Cats, $170K)
Isaac Chugg (Magpies, $170K)
MIDFIELD
I've already touched on James Jordan's ($282K, 105, BE -39) individual brilliance at the leadoff, with the talented Dee bound to vie for owners as the most traded in player this round. I voiced my concerns over his scoring ability in last week's article, but starting his fantasy career with an 80 and an 105 has certainly silenced me and any other doubters Melbourne's newest midfielder had. He and Swan jet Errol Gulden ($333K, 93, BE -30) have turned the most heads through a fortnight of footy and it's not too late to trade for either of the pair and slot them into one of your valuable midfield positions.
If Jordan and Gulden are can't miss cash cow prospects, then North's Tom Powell ($297K, 55, BE 13) isn't too far behind them. The trio of young midfielders are dominating the M6-M8 spots in most mainstream teams and after two weekend's worth of games, it seems like we can trust them moving forward. There is depth in the MID rookie group if you missed the boat on the aforementioned players and Powell's Kangaroos teammate Charlie Lazzaro ($211K, 71, BE 7) is firming as one of the best remaining options. After being utilised as the sub in Round 1, Lazzaro produced 71 points vs. Gold Coast in 78% game time last time out, narrowly outscoring another intriguing cash cow – first-year Crow Sam Berry ($262K, 67, BE 2). When it comes to splitting the duo, I'd rather make a play for Lazzaro and the extra $50K over Berry, however, it's fine to trade for either of these cash cows and play them if they maintain their place in the side.
Top-5
Errol Gulden (Swans)

James Jordan (Demons)

Tom Powell (Kangaroos)

Sam Berry (Crows) 

Charlie Lazzaro (Kangaroos)
The underwhelming scoring trend continued for Tanner Bruhn ($242K, 30, BE 39) putting the young Giant in danger at the selection table. Scoring a 29 and 30 to commence his career means that even if Bruhn holds his place in GWS' side, fantasy coaches will still be quick to pull the trigger and send him packing. Bulldogs youngster Lachlan McNeil ($184K, 40, BE 12) is in a similar position with Ben Cavarra and Cody Weightman putting pressure on him to hold his place, while Jack Bytel ($326K, 18, BE 46) settled for being the medical sub a week ago for the Saints. With Brad Crouch re-entering the selection frame this week, it's hard to see Bytel breaking back into the side, let alone score at an acceptable rate. Lastly, coaches are still on Will Phillips ($266K, DNP, BE 38) watch ahead of North's crucial Good Friday contest with the Dogs and his inclusion could give coaches yet another viable midfield starter.
Best of the Rest
These players may or may not be in the selection mix this week, but be sure to keep them on your 2021 watchlist in case they burst onto the scene. In no particular order:
Jackson Mead (Power, $170K)
Jeremy Sharp (Suns, $221K)
Finn Maginness (Hawks, $279K)
Riley Collier-Dawkins (Tigers, $170K)
Cooper Stephens (Cats, $170K)
Luke Pedlar (Crows, $250K)
Thompson Dow (Tigers, $192K)
Nick Shipley (Giants, $170K)
Reef McInnis (Magpies, $226K)
Brody Kemp (Blues, $170K)
Zane Trew (Eagles, $170K)
Lachlan Bramble (Hawks, $170K)
Nathan O'Driscoll (Dockers, $218K)
Luke Valente (Dockers, $170K)
RUCK
Another round of footy saw Matt Flynn ($281K, 72, BE -24) cement his status as the best rookie RUC on offer, scoring an impressive 72 against the Dockers. It's fine to view Flynn as a safe starter while Braydon Pruess remains sidelined and even if the Giants opt to make changes to their lineup in order to support their inexperienced ruckman, Flynn should still manage to score in the 60's on a weekly basis. The same can't exactly be said for Lloyd Meek ($194K, 55, BE 4) and Paul Hunter ($212K, 54, BE 0) with a clear gap between the top rookie ruck and the next two in the pecking order. The presence of Sean Darcy and Rowan Marshall respectively will limit Meek and Hunter – perhaps as early as this weekend, making both of the cash cow ruckmen bench choices at best.
Top-3
Matthew Flynn (Giants)

Lloyd Meek (Dockers)

Paul Hunter (Saints) 
Injury creates opportunity and while Tom Fullarton ($175K, 33, BE 19) has clearly been the 4th best rookie ruck thus far, that could change in the near future. An ankle complaint to Brisbane's R1 Oscar McInerney has ruled him out of action against Collingwood, meaning Fullarton will be given a chance to lead the ruck assault for the Lions. Let's see if the RUC/FWD can seize the opportunity in front of him with both hands. Sam Draper's latest knee setback also paves the way for Nick Bryan ($170K, DNP, BE 24) to potentially earn an AFL debut, although his stay in the Bombers side may only be brief.
Best of the Rest
These players may or may not be in the selection mix this week, but be sure to keep them on your 2021 watchlist in case they burst onto the scene. In no particular order:
Jordan Sweet (Bulldogs, $170K)
Riley Thilthorpe (Crows, $268K)
Sam Hayes (Power, $170K)
Nick Bryan (Bombers, $170K)
Bailey Williams (Eagles, $271K)
Joel Amartey (Swans, $170K)
Max Lynch (Magpies, $172K)
FORWARD
Braeden Campbell ($312K, 96, BE -2) was the star of the show for the rookie forwards last weekend, scoring 70 points in the first half alone! His touted foot skills were on full display against the Crows as Campbell racked up 21 kicks in just the second AFL game. More performances of 70+ will come from Campbell throughout the year, but it would be foolish to expect consistent scores near the triple-figure mark. Campbell's Sydney teammate Chad Warner ($263K, 81, BE -12) enhanced his fantasy reputation in Round 2, forcing a lot more coaches to consider starting him on their field after his 81-point effort. His increased scoring output could come in handy for coaches utilising 2-3 rookie FWD's, with some potential shuffling on the horizon if the selection squeeze at Port Adelaide causes issues for Miles Bergman ($227K, 62, BE -6).
Should Bergman miss for the Power starting both Campbell and Warner will be a popular play for fantasy sides, but hopefully Port's versatile rookie can hold his place. Ahead of the season, most concerns around Bergman were linked to his uncertain job security and now we face the daunting scenario of him being dropped or used as the medical sub. If his place does appear shaky, you could do a lot worse than by trusting Tim Brockman ($232K, 72, BE -9) and/or James Rowe ($263K, 37, BE 6) as an F5-F6 play. Brockman in particular has shone for the Hawks through two contests, with Rowe producing one stellar score and one average score. For that reason, a lot of coaches would rather trust Brockman over Rowe on their field, but with Hawthorn playing on Easter Monday, I can see the perks in starting Rowe (or using him as an emergency) to lock a score in during the early matches this round.
Top-5
Braeden Campbell (Swans)

Miles Bergman (Power)

Chad Warner (Swans)

Tim Brockman (Hawks)

James Rowe (Crows)
First gamer Francis Evans ($187K, 50, BE 7) generated buzz throughout the preseason and he didn't put a foot wrong on debut for the Cats. Snagging a pair of goals and a score of 50 didn't see him break into the top-5 forwards, but Evans is a fine trade target providing he holds his spot in Geelong's team. Logan McDonald ($314K, 65, BE 13) was also close to breaking into the top-5 this week, with his performances hardly reflective of your generic key-position cash cow. In a similar vein to his Sydney teammates, McDonald did the bulk of his work in the first half – chalking up 54 points with 9 touches, 6 marks and 2.1 in front of goal in an impressive display from the future power forward. An 11-point second-half highlights why McDonald can't be trusted for fantasy coaches, but he's still performing beyond expectations so far.
Speaking of expectations Anthony Scott ($204K, 28, BE 14) hasn't really met them during his multiple games as a Bulldog, with every chance he's left out of their side to play on Good Friday. Similar could be said for Harrison Jones ($205K, 12, BE 20) who didn't excel for the Dons last round, opening the door for teammate and top-10 draft pick Archie Perkins ($254K, DNP, BE 37) to earn a Bombers' debut. Couple that with the injuries Essendon are dealing with after their loss to Port and I wouldn't be surprised if Perkins earns a run in Round 3 and holds down a regular gig in the AFL side.
Best of the Rest
These players may or may not be in the selection mix this week, but be sure to keep them on your 2021 watchlist in case they burst onto the scene. In no particular order:
Ely Smith (Lions, $170K)
Alec Waterman (Bombers, $170K)
Nakia Cockatoo (Lions, $243K)
Jamarra Ugle-Hagan (Bulldogs, $270K)
Will Kelly (Magpies, $172K)
Finlay Macrae (Magpies, $234K)
Maurice Rioli (Tigers, $170K)
Archie Perkins (Bombers, $254K)
Deven Robertson (Lions, $186K)
Atu Bosenavulagi (Kangaroos, $206K)
Sam Flanders (Suns, $253K)
Hugo Ralphsmith (Tigers, $170K)
Elijah Hollands (Suns, $258K)
Sam Philp (Blues, $203K)
Jake Bowey (Demons, $230K)
---
FOLLOW ME ON TWITTER: @SportsbyFry for all things AFL Fantasy (and more)! Feel free to hit me up with any questions you have throughout the season. Good Luck! ✌️