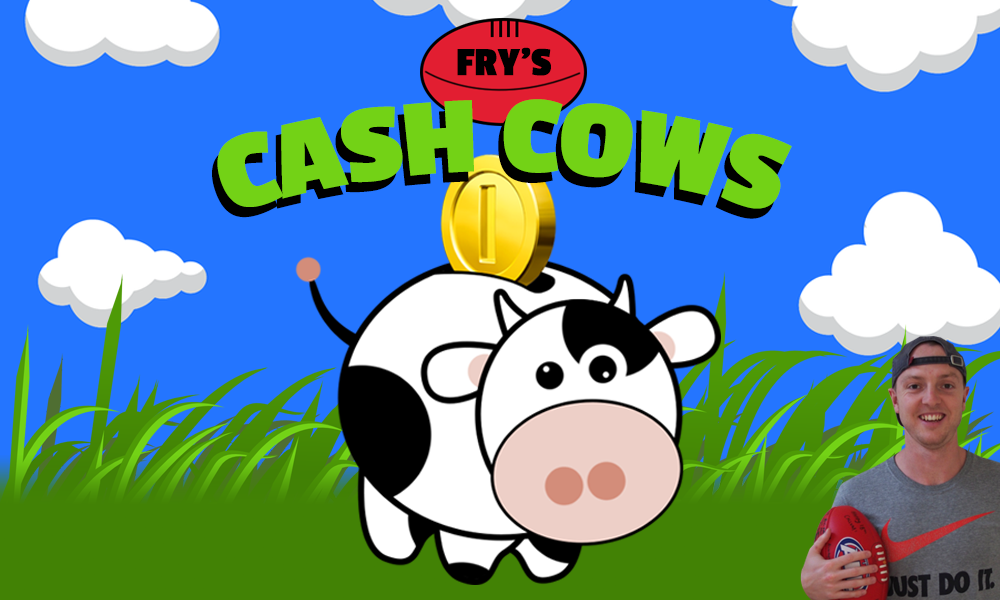 One down, 22 to go!
It's common practice for coaches to want a do-over after the first weekend of the fantasy season, with some scrambling to find the 'delete team' button after a lacklustre beginning. For all the bad we copped in Round 1, there were plenty of encouraging stories from fantasy circles, with a large group of rookies standing up and presenting themselves as game-changers for the upcoming season. Everyone will have pressing needs to address this round, but playing the long term game to nab the relevant cash cows missing from your lineup is always a smart way to use your first 2 trades of the fantasy year.
Finally, if you missed out on the 2021 Rookie Guide that I published before Round 1 then be sure to check it out here!
Rookie/cash cows are usually defined as players who are priced at $300,000 or lower
---
Cash Cow King – Round 1
First-game jitters were nowhere to be found from these four players, with a quartet of cash cows topping 80 in the first game of their AFL fantasy careers! James Jordan (80) and James Rowe (84), just managed to pass the threshold in their team's commanding wins, earning a pair of honourable mentions but the CCK nomination this week came down to a two-horse race.
Errol Gulden (108) was the one who took home the Rising Star nod, but Matthew Flynn (99) was just as impressive. Coaches that rolled with Flynn as their R2 may be slightly more inclined to pick him, but you can't really go wrong between the duo. I'm voting for Gulden this week, but Flynn's performance is making me rethink my ruck structure.
Loading ...
Round 2 Rookie Rankings
DEFENSE
There was a lot of scepticism and doubt around the defensive rookie crop ahead of Round 1, but coaches can breathe a sigh of relief with a few viable options sticking their hands up. The player I rated as the No. 1 DEF rookie in Tom Highmore ($206K, 62, BE 2) played his role for the Saints by gathering 19 touches on debut and slotting nicely into their back-6. Next to him on a lot of backline benches was Hawthorn's Jacob Koschitzke ($184K, 44, BE 11), who (I'm still shocked) is currently the most owned player in all of fantasy! I definitely have more faith in Highmore's fantasy chops moving forward over Koschitzke, but the pair have cemented themselves as the top-2 defender rooks right now.
Brisbane first-gamer Harry Sharp ($197K, 42, BE 15) has put his case forward to become a consistent performer in the Lions' outfit, but the main concern with investing in Sharp comes due to his job security. A strong performance in a VFL practice match from Ely Smith has him poised to take Sharp's place, but if he holds his spot the Lions speedster will need a better showing to become a part of their weekly 22 long term. Rounding out the top-5, Connor Idun ($227K, 38, BE 27) and Jordan Butts ($212K, 35, BE 25) didn't light it up with their first fantasy score of the year and I can't see a lot changing. Both backmen won't be averaging much north of 50, so unless things get dire it's wise to look elsewhere with your trade plans.
Top-5
Tom Highmore (Saints)

Jacob Koschitzke (Hawks)

Harry Sharp (Lions)

Jordan Butts (Crows)

Connor Idun (Giants)
On the outside looking in, a few other defensive cash cows made their first impression for the fantasy season, although none of them forced our hand just yet. Lachie Young ($288K, 55, BE 28) may be able to argue his worth, but his price is pushing the limit as a cash cow, while Nik Cox ($252K, 27, BE 42) didn't score at an incredible rate against the Hawks. It's also worth noting that Port Adelaide man child Lachlan Jones ($240K, DNP, BE 34) suffered a hamstring strain in a SANFL trial game and should be sidelined for the next 2-3 weeks. Look for him to be a popular target once he has a clean bill of health.
With Adelaide's backline taking another hit on the weekend we could see untried dual-positioner Josh Worrell ($170K, DNP, BE 24) get a run against the Swans. Worrell was originally drafted 28th overall last in 2019 and his discounted price tag plus handy DEF/FWD status means Worrell will tempt a lot of coaches if he can earn a gig. Injury has created opportunity for another intriguing fantasy defender with Freo's top selection from last year Heath Chapman ($244K, DNP, BE 35) in the mix to play his first AFL game too. There's a lot to like about the newest Docker draftee, but I'd rather wait and see how Chapman looks at top level before jumping on board.
Best of the Rest
These players may or may not be in the selection mix this week, but be sure to keep them on your 2020 watchlist in case they burst onto the scene. In no particular order:
Matthew Ling (Swans, $219K)
Nick Murray (Crows, $170K)
Kieran Briggs (Giants, $170K)
Denver Grainger-Barrass (Hawks, $260K)
Will Gould (Swans, $170K)
Trent Bianco (Magpies, $170K)
Jacob Wehr (Giants, $170K)
Josh Worrell (Crows, $170K)
Joel Jeffery (Suns, $170K)
Bailey Laurie (Demons, $228K)
Lachlan Jones (Power, $240K)
Sam De Koning (Cats, $170K)
Heath Chapman (Dockers, $244K)
Isaac Chugg (Magpies, $170K)
MIDFIELD
Sitting in nearly 50% of teams, Errol Gulden ($259K, 108, BE -22) was everywhere during Sydney's upset win over the Lions, starring for coaches who started him on their field. Gulden finished with 19 touches, 10 marks and kicked 3.1 in front of goal – justly rewarded with the Rising Star nomination for last weekend. Spare a thought for the coaches that sat Gulden on their pine and if he's not currently in your team, he's the No. 1 rookie to trade-in ahead of next round.
Gulden wasn't the only cash cow to perform in the MID's with Tom Powell ($269K, 68, BE 13) and James Jordan ($207K, 80, BE -12) doing their jobs for coaches and scoring at a decent clip. I expect more consistent numbers like this from Powell, but I'm not as sold on Jordan. The Dees debutant went NUTS with a 46-point 2nd quarter in which he amassed 7 touches, 4 marks, 2 tackles and a goal, but scored just 11 points in the entire second half. With Viney and Melksham pushing for selection, Jordan did enough to likely hold his spot, but his job may be on thin ice.
I'd feel safer investing in someone like Sam Berry ($230K, 50, BE 18), who more than played his role for the Crows over the weekend in the absence of Matt Crouch. In his first official game for Adelaide, Berry laid 7 tackles and attending 14 of their 31 centre bounces – indicating he's more than capable of playing at AFL level. It's tough splitting between Jordan and Berry at the moment, but the edge narrowly goes to the Crows youngster despite costing slightly more. Lastly, Will Phillips ($266K, DNP, BE 38) continued to build his match fitness at VFL level on the weekend and when he's named for the Roos don't leave him out of your teams.
Top-5
Errol Gulden (Swans)

Tom Powell (Kangaroos)

Sam Berry (Crows) 

James Jordan (Demons)

Will Phillips (Kangaroos)*
*if named
If Phillips is going to break into North Melbourne's side, he may be used as the dreaded medical sub, a fate we saw Charlie Lazarro ($190K, 10, BE 40) handed as he managed just 20% of game time against the Power. After missing his entire draft-age season in 2020, coaches have their fingers crossed hoping the Kangaroos are just building his match fitness. Popular Hawthorn prospect Connor Downie ($202K, DNP, BE 29) also found himself in the green vest, however, he didn't actually take to the field. Technically, that game counts as Downie's first AFL game, but it hasn't affected his fantasy price. This rule f%*#ing sucks.
Bulldog rookie Lachlan McNeil ($172K, 26, BE 22) and first-year Giant Tanner Bruhn ($246K, 29, BE 39) were largely under-whelming for fantasy coaches, although I wouldn't go cutting your losses just yet. McNeil may find it tough to remain in the Dogs' side and even though Bruhn deserves another chance, neither are certainties to escape the axe. Don't go doing anything brash just yet, but those coaches still stranded on the Luke Valente ($170K, DNP, BE 24) hype train will happily tell you he's off the injury report and will look to push his case at WAFL level for the Dockers.
Best of the Rest
These players may or may not be in the selection mix this week, but be sure to keep them on your 2021 watchlist in case they burst onto the scene. In no particular order:
Jackson Mead (Power, $170K)
Jeremy Sharp (Suns, $221K)
Finn Maginness (Hawks, $279K)
Riley Collier-Dawkins (Tigers, $170K)
Cooper Stephens (Cats, $170K)
Luke Pedlar (Crows, $250K)
Thompson Dow (Tigers, $192K)
Nick Shipley (Giants, $170K)
Reef McInnis (Magpies, $226K)
Brody Kemp (Blues, $170K)
Zane Trew (Eagles, $170K)
Lachlan Bramble (Hawks, $170K)
Nathan O'Driscoll (Dockers, $218K)
Luke Valente (Dockers, $170K)
RUCK
The rookie rucks were the talk of the fantasy world in the leadup to Round 1 and for coaches who rolled the dice with the trio of $170K bargains, it was a case of the good, the bad and the ugly. Matthew Flynn ($219K, 99, BE -24) not only did his job for coaches brave enough to start him, the GWS big man helped himself to the best score of any ruckman all weekend! 18 disposals to go with 6 marks and 34 hitouts will likely keep him atop the Giants ruck depth chart, but expect support to still come for Flynn.
The news wasn't so good for the coaches who chose to start either Paul Hunter ($184K, 44, BE 11) or even worse Lloyd Meek ($172K, 26, BE 22) over Flynn. Hunter managed 19 hitouts against the Giants, but just 9 touches and giving away 3 free kicks doesn't bode well for his long term prospects – especially with Rowan Marshall waiting in the wings. Lloyd Meek's chances of staying in the 22 have also taken a hit, with Freo's main ruckman Sean Darcy posied for a return this weekend. Given the Dockers' injury crisis right now, Meek could form a partnership with Darcy in the ruck which would at least allow the Fremantle tall a chance to keep his price trending upwards. Fingers crossed.
Top-3
Matthew Flynn (Giants)

Paul Hunter (Saints)

Lloyd Meek (Dockers)
The only other cash cow ruckman (apologies to Nathan Vardy) in action was Tom Fullarton ($170K, 21, BE 27) who actually took a step backwards by failing to meet his breakeven. Even if he survives and remains in Brisbane's team it's hard to stomach the idea of owning Fullarton given what he just dished up.
Best of the Rest
These players may or may not be in the selection mix this week, but be sure to keep them on your 2021 watchlist in case they burst onto the scene. In no particular order:
Jordan Sweet (Bulldogs, $170K)
Riley Thilthorpe (Crows, $268K)
Sam Hayes (Power, $170K)
Nick Bryan (Bombers, $170K)
Bailey Williams (Eagles, $271K)
Joel Amartey (Swans, $170K)
Max Lynch (Magpies, $172K)
FORWARD
The forward line continues to be the most rookie-rich line in fantasy circles with the top-5 hard to knuckle down after one week of games. Power youngster Miles Bergman ($189K, 53, BE 4) didn't star from a points perspective, but he ticked all the boxes necessary for Port Adelaide – making it hard to see him leaving their side. The surprise star of the show in Round 1 was Crows mature-ager James Rowe ($233K, 84, BE -9) who filled up the box score in his debut match. 2 goals didn't come as a huge surprise, but Rowe also managed to chalk up 16 touches, 5 marks and 3 tackles, with his all-around fantasy game equating to a score of 84. I won't expect Rowe to pass that threshold every week, but he could go close to averaging 60-65 from here on out for Adelaide.
WATCH | FIVEaa's call of Jimmy Rowe's first AFL goal for @Adelaide_FC!

And a very proud Stephen Rowe!#AFLCrowsCats #weflyasone pic.twitter.com/GzXTOVgMfv

— FIVEaa (@1395FIVEaa) March 20, 2021
Two of Sydney's three debutants cracked this week's top-5 up FWD with Chad Warner ($216K, 57, BE 9) performing for his coaches and Braeden Campbell ($269K, 46, BE 30) stumbling slightly. Both of the popular cash cows did their bit to cement a regular place in the Swans' outfit and I still have faith in the duo, especially in Campbell as a near season-long cash cow investment. Rounding out the five is Dogs mature-ager Anthony Scott ($189K, 52, BE 6) who looked lively against the Pies on Friday night. Gathering 16 touches improved his chances of playing regularly for the Bulldogs, but Scott will need to keep consistently producing if he's going to stay ahead of the players on the outside looking in.
Top-5
Miles Bergman (Power)

James Rowe (Crows)

Braeden Campbell (Swans)

Chad Warner (Swans)

Anthony Scott (Bulldogs)
More than a few fellow FWD's took to the field for fantasy coaches, with mixed results across the board. Key forwards Logan McDonald ($283K, 65, BE 18) and Harrison Jones ($196K, 63, BE -1) were two of the better performers with the pair topping 60 points each – combing to kick 3.4 on the weekend. Unfortunately for Jones, he was only able to add 0.3 to that tally and yet, I still rate him as the better downgrade target over McDonald based on the severe price difference. The Swans rookie will also have to share a forward 50 with Lance Franklin this week, who is set to demand more than his fair share of targets.
Tyler Brockman ($194K, 45, BE 13) was also encouraging for the Hawks in their close W against the Bombers, with 2 goals on debut and some flashes of promise. Fielding him may be a dice roll, but Brockman should maintain his place in Hawthorn's side for the foreseeable future. I wasn't as up and about after the efforts of Ned Cahill ($195K, 34, BE 22) and Oliver Henry ($228K, 15, BE 45) though, with both cash cows in danger of being cut ahead of Round 2. Even if they survive for another week bringing them into your team might not be the smartest decision right now.
I mentioned his name earlier, but Ely Smith ($170K, DNP, BE 22) seems like a real shot to make his debut for Brisbane after a standout effort in half a scratch match against Aspley. After missing Round 1 selection, Smith may have forced selectors hands with 3 goals and 14 touches in the first half before he left the ground for the Gabba where he was an emergency for the AFL side. Top-20 selections from the 2020 draft in Finlay Macrae ($234K, DNP, BE 34) and Archie Perkins ($254K, DNP, BE 37) did their chances no harm in their respective VFL hitouts and are firming for a callup in the coming weeks.
Best of the Rest
These players may or may not be in the selection mix this week, but be sure to keep them on your 2021 watchlist in case they burst onto the scene. In no particular order:
Ely Smith (Lions, $170K)
Alec Waterman (Bombers, $170K)
Nakia Cockatoo (Lions, $243K)
Jamarra Ugle-Hagan (Bulldogs, $270K)
Will Kelly (Magpies, $172K)
Finlay Macrae (Magpies, $234K)
Francis Evans (Cats, $170K)
Maurice Rioli (Tigers, $170K)
Archie Perkins (Bombers, $254K)
Deven Robertson (Lions, $186K)
Atu Bosenavulagi (Kangaroos, $206K)
Sam Flanders (Suns, $253K)
Hugo Ralphsmith (Tigers, $170K)
Elijah Hollands (Suns, $258K)
Sam Philp (Blues, $203K)
Jake Bowey (Demons, $230K)
---
FOLLOW ME ON TWITTER: @SportsbyFry for all things AFL Fantasy (and more)! Feel free to hit me up with any questions you have throughout the season. Good Luck! ✌️