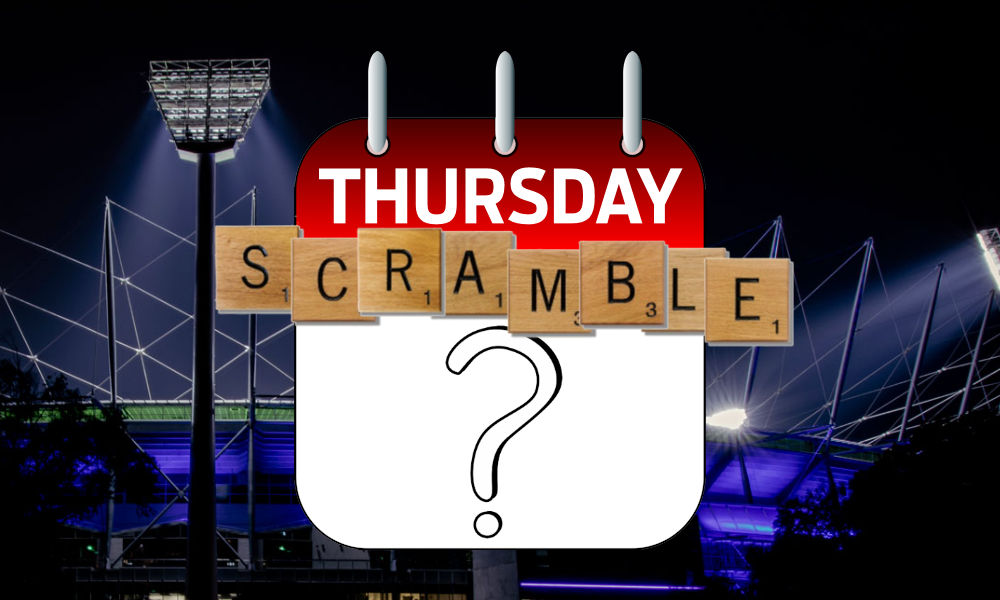 Oh what a monumental day this is, there is rejoicing in the streets, rejoicing in the bars and rejoicing in the dingy basements that Fantasy Footy Nerds hang out in!  Thursday night teams are back! And not before time too. We don't care if you aren't happy Mr Scott, we are! Hopefully all coaches embrace this and don't stuff us around with late outs. 24 hour teams had their place last year but now we are back to normal rounds of footy why not give us back this institution!  Is it going to make my team better? Heck no!  I will still be as awful as always at picking players, and with that said…. let's start scrambling!!!
Break Even or Bye?
This has been the big question that has been on every the mind of every Fantasy, Realdreamteam and Supercoach player this week! We are now have two games before we get to the byes and we are also confronted with some rookies that are ripe for the trading. The tough part here is that we need some of these rookies to get us through the bye period.  So I have had a bit of a think about what we should do in this space. A lot of this will depend on your bye structure but hopefully it will help!
Break Even. This season has been one of the more difficult we have had in terms of being able to generate cash. We have had a few good rookies that have made us some money but not enough of them. This week we are faced with having a couple of our more reliable rookies ready to be traded. The key one here is Powell who was going really well til his low score this week meaning he has a BE of 95 in AF, 124 in RDT and 106 in SC.  He is an outside chance to get there in AF but in the others it will be a real struggle. This is very disappointing because he has been someone that we could rely on and was making cash.
However now we need to really seriously look at trading him and playing the break even game. This is a little more palatable as he has the round 12 bye. With that first bye we can't trade around the byes go use that position bye free so in this case our best option will be to trade him at his top price. This will give us the maximum value for him.
Bye. Another candidate for trade out this week is Chad Warner (or any of the Swans rookies you may still have). The big difference here is that Warner has the R14 bye and that makes him far more attractive to keep. Yes you will lose a little cash on him as he will miss his BE at some stage over the next couple of weeks but what this allows you to do is play him on field and boost your R12 bye position and then trade him out before either round 13 or round 14 to maximise your use of him. This goes for any of your rookies that are playing and aren't R12 rookies.
Those two scenarios are facing many coaches this week as they grapple with who to trade out this week. Clearly there is the risk in holding one of these guys through to the byes and the correct answer is to try and upgrade or downgrade all of your rookies that are nearing their BE's prior to the bye rounds. But if you can't do that upgrade then that is when you should look to my plans above. If you are going to downgrade any of these guys in the next two weeks the absolute key is job security. There is no point bringing in a bloke that is just as likely to get dropped the week after, we have seen this happen time and time again!
Speaking of the Byes…..
Yes they are just around the corner and if, like me, you have had your head in the sand hoping they would go away, you probably need to do something about them now!
Here is the lowdown on the simple things you need to remember when you are preparing for them.
The ideal situation is to have more R14 bye players in your side than R12. This allows them to play in R12 and then be traded out before their bye two weeks later.
When counting your available players for each of the bye weeks don't count the blokes not getting a game! So if you have some dodgy rookies on the bench, it is best to not count them and then if they get a game it is a bonus.
Use your trades each week. The key is to better your team by trading out the upcoming bye players to someone that has already had theirs.
Sideswapping is a last resort. The first priority is to upgrade and better your team before you look at side swapping players just to get the 18 on field. If you have no other options then do it but it is a last resort.
Things to Remember.
Teams that come out tonight are only squads for Sunday and they will be trimmed on Friday night before the bounce.
The Medical sub for those Sunday games will be on that interchange bench somewhere, just beware!
Just because we have Thursday Teams it doesn't mean the rolling lockout is gone, at this stage it is still there in AF for the rest of the year.
That's it from me this week folks, have a great weekend of footy and hopefully you can all make informed trade plans tonight, but remember you don't have to pull the trigger until the games are about to start thanks to that rolling lockout.  See you all again next week ahead of our final full round before the byes!