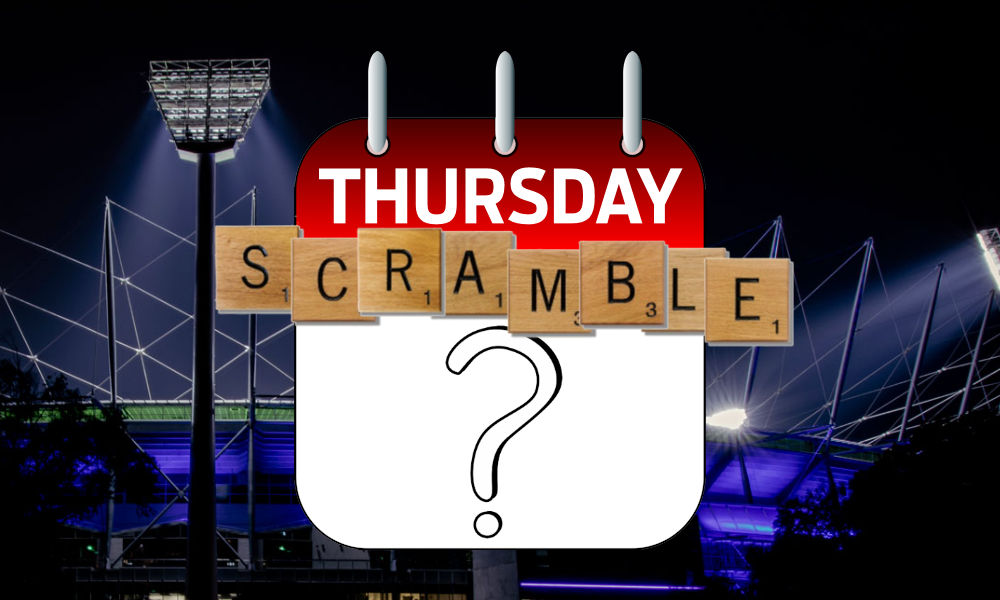 Well, not 30 mins before I sat down to write the Scramble this week all hell broke loose! I had plans on what to write and had to throw some of that out the window.  Unfortunately this week was going to have to be a brief one anyway, now it is brief because at the time or writing this there is still confusion as to what is going to happen.  If there was ever a week to do it…. Let's Scramble!
Hawks and Suns
Let's start with the elephant in the room. Like I said, not 30 mins before I was ready to write this, the game was postponed. At this point in time the statement on AFL.com.au tells me that they are looking for an alternate venue and if they can't find one those teams have their bye this week. Let's look at what this means.
Option 1
They find an alternate venue, they play this week and all is good in the world of Fantasy, RDT and SC. Nothing changes.
Option 2
They bring forward the bye for these sides and they play in R12 and not R11. This is now HUGE for us and changes strategy significantly.  If this is the case you then have all of your Suns and Hawks available for all three weeks of the bye period of R12 through R14. As we used to do when the Suns and Power or Saints and Power played in China, we have two teams that have a stand alone bye and play all the multi bye rounds. This means that if you don't have one of the big guns (not that there are many) from these teams you should look to trade into them after R11. It could help solve a lot of your bye week issues, particularly if you were light on in R12.
Option 3
They have their byes this week but still don't play the game in R12 and play it later in the season. This would mean you are without these guys for two consecutive weeks but they play a mid week game later in the season.
Personally I think this one is the outlier, I can't see it happening, I would be very surprised if the AFL don't find them somewhere to play next week so I won't really worry about this one.
By the time you read this on Thursday Morning it could all be resolved and you know which option we are dealing with. The best option would be Option 1 as that means nothing changes.
But what does a postponed game mean for trades and is it Best 18?
Supercoach and RDT have said that they will now play Best 18 for this round 11 and there are no extra trades. They haven't indicated what will happen about the rescheduled Hawks v Suns game as we don't know when it will be played as yet.
At this stage I don't know what AF or UF are doing with their formats. Keep your eyes peeled and ears open!
Bye Strategy
Regardless of what happens with this game we still need a strategy for the byes and the best one is to keep upgrading your teams as you pick up players that have finished their bye and are able to play the remaining weeks whilst trading out those that are yet to have their byes. This is why you will hear most coaches say they like to be heavier with bye players later in the rounds so they can trade around those that have their byes early.
This is a time to improve your team and often this won't be through sideways swapping it should be through well thought out downgrading and upgrading.  If you can, have your plans in place for your trades right through the byes. Yes they will need to change and adapt as things happen, but at least you have a base to work from rather than making it up as you go.
As I mentioned last week, sometimes you may want to hold a rookie one or two weeks longer than normal just to get your 18 players on the field, there isn't anything wrong with this strategy, but as long as you are prepared for what it will mean in terms of lost cash. It can save you a donut. But if that donut is replaced by a 20, was it worth it?  This is another factor you need to take into account.
#AskDunny
I did ask for some questions and a couple of these were received before the postponement news.
Do I get the likes of Sidebottom/Hunter or bank cash for a double upgrade in R13 or get value in Heeney/Daicos/Newman? Cheers

— Giao Chau (@GiaoChau10) May 26, 2021
I think here that I am looking to continue to improve my team but having a firm eye on my bye structures. If there are two rookies that you want this week and there is nothing in the upgrades that simply has to be done this week due to BE's or it doesn't suit your bye structure then a double down is a good option. In looking at Heeney Daicos and Newman I am concerned a little with injury risk with Heeney and with Daicos and Newman you need to be sure they are in your rolling 22 for the end of the year otherwise you will need to use more trades to get them out. So I would either get the full premium you want to get with a one down and one up or do the double downgrade.
For the players like Flynn, Idun Kozzie who have the round 12 bye sitting on my bench, if they are active and keep playing do I need to get rid of them? They are not priority at the moment for me, I am looking to get rid of players that are on the field with a round 12 bye.

— Adrian Ng (@AdrianN48364518) May 26, 2021
Absolutely not. You can hold them this week and worry about them later on. But what I would be doing is looking at the players on field with the R12 bye. If they are premiums (or at least better than the three guys you mentioned) then you should move them to the bench and get rid of these blokes. It is all about making your team stronger. If you have bench players that are playing regularly they are the ones I keep until last (unless they are about to lose some serious cash). You want to get rid of the blokes that aren't playing.
Obviously with the changes that have happened on Wednesday night we now see Kozzie out this week so you may want to rethink and keep him as he will play all of R12-R14 (assuming no hiccups).
If Hawks and Gold Coast have their bye in rd 11, how on earth do we adjust to navigate the FOUR bye rounds?

— Jono Steven (@JonoSteven1) May 26, 2021
What it means is it actually helps us.  It means that we now only have four teams on a bye in R12 and two teams that will play all of R12 to R14. So once R11 is done you can use Hawks and Suns across the three other weeks so this may assist you in finding a way to navigate the weeks with 18 players. Tom Mitchell would be your first pick!
Things To Remember
Chaos is the new normal! Just roll with the punches and do the best you can.
Make a plan but have options.
Things can still change.
Wow, what a day it has been in Fantasy footy, let's hope this is the only change we have from here on out. Good luck this weekend and hopefully we can safely navigate the byes from here.