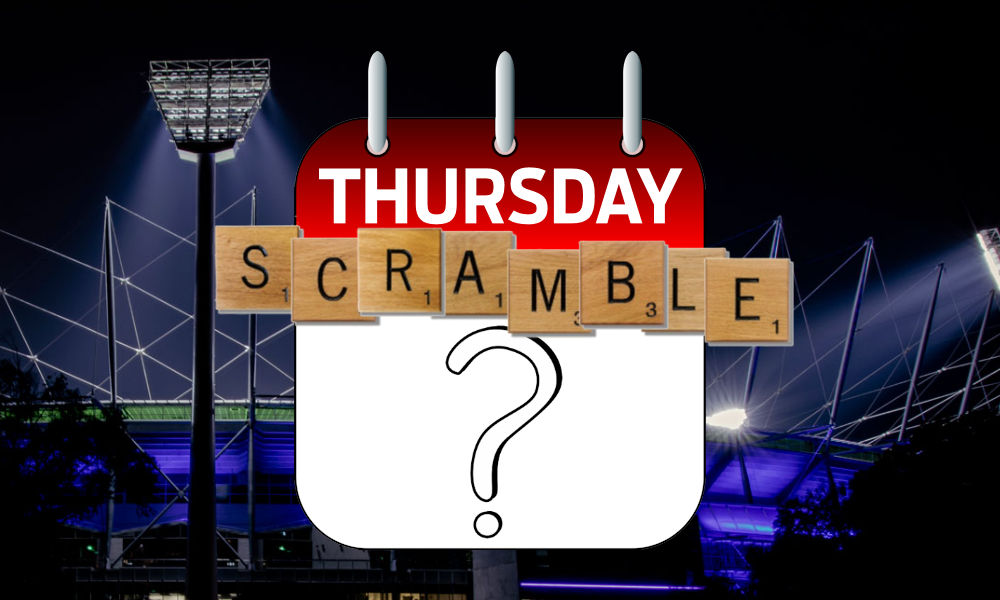 We all knew they were coming, but were we ready for them, well I would hope so given the amount we bang on about the byes on this website!  As usual the byes have posed some challenges for us and things will never go smoothly.  So let's have a bit of a deeper look at the byes and other issues that we have going on this week.
Big Rucking Bye Problems
I reckon that every single year I have played this game I have had my eye on the byes and have my plans done and all ready to go. Yup, my team will be ready, and I have a contingency in case this rookie isn't named. But every single year there is a premium that gets injured right before the bye weeks and it stuffs up all my planning, then I panic and think, what will I do, how do I get around this problem. This year that comes in the form of our very own Ruckpig who is out with some nerve damage to his neck. Bit of an unfortunate and odd injury for him, just very unlucky. But for us, what do we do with him?
There are a couple of schools of thought here and I just want to give my opinion on them and hopefully my thoughts will assist you in your planning.
Hold. This is more than likely the preferred option for most of us that have him (yes I am an owner). The club are saying that he will be out for 2-3 weeks so for us, that means he only misses two games as he has the R14 bye. In an ideal world he comes back in R15. Given the quality of our rookie rucks this year with Flynn and Reeves the ones most likely to score at the moment and the most likely to be on our bench, they can fill in for R13 because both of them have the R12 bye. If this had happened in round 5 or in round 16 and you were told that one of your key premiums would be missing for two games (remember that third is a bye so you would have been missing him anyway), then you would normally hold and just run with what is on your bench. Add to that the fact we are in the best 18 period of the game and you know that even if you don't have bench cover, which is most likely in R12, you are unlikely to have a donut this week. That is the case for holding, and it is what I plan to do.
Trade. If you are going to trade him there is one big caveat that you need to take into account, and we say this when trading out an injured premium at any stage of the season, and that is that just be prepared to not get him back for the rest of the season. We always have the best of intentions when we trade out an injured premium.  "Yes I will just trade him back in when he is fit" is what we hear. But we all know how difficult that can be. If you have used some of the cash you have made by trading him out then to get him back in you will need to not only do another downgrade to get that money you need but you will also have to hope that in the week you plan to get him back that you don't have other issues you need to deal with.
Having said all of that there are certainly upsides to be had by trading him out. You can use the money that you make by trading him to a cheaper ruck to improve your team elsewhere. If you are going down to say a Darcy you will make money ($125k) and only lose about 20ppg and if you can put that saving to use to make more than the 20ppg then you are in front. Dropping further to a Nic Nat ($185k) you will make more money but lose about 28ppg. So there is a trade off, the cheaper you go the more points you need to make with that money by upgrading someone else.
In the limited trade versions of the game, my solid advice is to hold. If you are down to less than 13 trades then if you plan to use 3 each week through the byes you will come out the other side with just 4 trades left for the remaining 9 rounds.
Bye Considerations
Just a few rapid fire things here to think about during the bye period.
Can I trade in a player this week that is going to have a bye later? Yes of course you can, anyone you trade in this week will have a bye at some stage, this week is the perfect time to set yourself up by rebalancing your byes to make sure you have the best chance of fielding 18 each week.
Should I sideswap premiums to get 18 on the field? This has the same caveat as above with Grundy. Make sure you are trading to a player you will be happy to keep for the rest of the season as it can often be very hard to get back to your original player as there is always another problem to deal with. If you are playing the limited trade versions of the game this is a big no. In those games you can't afford to be side swapping for fun as that is one more trade you don't have later in the season.
Is it ok to have only 17 in one week? Certainly is. As we all say, treat the three bye rounds as one big round. You may have one less in a week but then in other weeks you will be stronger so overall you should do better after the end of the three week block. If you force a trade you will probably end up with someone you don't want or you will compromise a premium that you really want for two cheaper players just to get yourself an extra 20-30 points in one week whereas you are going to cost yourself way more than that later on in the year.
Loopholing is much easier over the byes. In all forms of the game, the players that are on a bye will not be locked out until the start of the last game of the round, so you can use them as your Captain each week if you need to.
Only those players on field count. So if you have 7 forwards playing, only those on the field will count. Normal emergency rules apply.
Should I go early on rookies like Bianco this week? This is a more than valid play. With Bianco, assuming he plays for both the next two weeks, he will have his first price rise game in R13 (for SC and RDT) which is one week before he is on a bye, so if he helps your bye structure and is named this week then you should certainly get him in if you need to. This is the one period of the season where going early on a rookie is acceptable because it is usually to help your bye structure.
The aim of the game is to end the byes with a near completed team. What you want to do is make sure that your team is just about complete when we finish the byes, this is the time to make these moves with three trades each week it allows you to do more down and upgrading. Hopefully you can do two down and then one up with a couple up and one down the following week.
Pre R12 a triple downgrade is a valid move. Since everyone will have a bye yet to come, some coaches will use this week to build a huge bank so that they can bring in all the premiums that had a R12 bye next week.
Mid Season Draft
Wednesday night we saw a heap of players get picked up in the mid season draft. These guys won't be the key to getting your season back on track necessarily, but keep an eye on them and if one of them does get a few games they could be a very cheap downgrade for you.
Things to Remember
Everyone is going to have one bad week in the byes. This is quite normal. No matter how much we plan, something will go wrong.
Treat the byes as one long round. You don't have to nail all of the three weeks, but if you nail two of them and do ok in the other one, you are certain to rise up the rankings.
Move the players that are on the bye to your bench early in the week, that way you won't stuff up and end up with them on field.
If you are struggling this week to get through the byes, don't worry, you aren't alone. Have a bit of fun as you will be cheering on some of your lesser players that are normally bench fillers. Have a great weekend and I will see you all again next Thursday before our second week of byes (and the one that I am likely to struggle in the most).