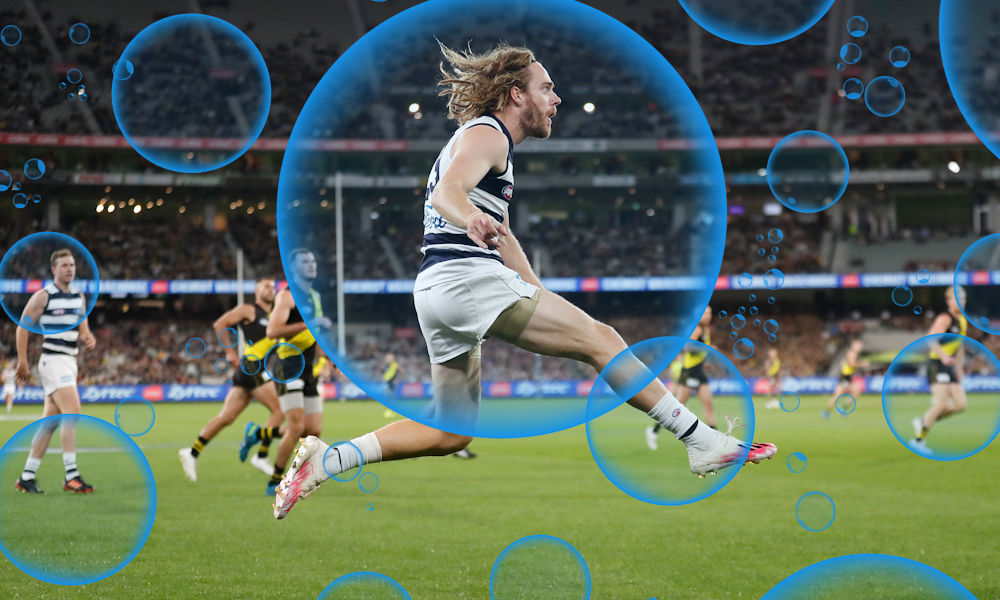 It was another high scoring round and more importantly, another (mostly) injury free round. Or so we thought. Wow. It was Monday carnage like no other, with freak injuries seemingly popping up every 10 minutes. It has left us with a sour taste and Round 9 hasn't even started yet, you might be about to find out what you're made of over the next week or so. Things could get ugly. It's time for the weekend wash-up!
Legends
Guthrie (139) – I'll never do it, and that's on me. What a draft pick.
Duncan (135) – This guy is ridiculous. Picking an outside midfielder for top dollar flies against everything in my fantasy DNA, but Mitch Duncan clearly wasn't at top dollar. He's averaging 121 and his upcoming three fixtures read; St Kilda, Gold Coast, Collingwood. My god he might average 150. The ultimate POD.
J.Cameron (121) – Don't get tempted. Nevertheless I think he averages 80+. Gun.
Smith (108) – Under appreciated. Isaac Smith is having himself a season, the one that got away…
Swallow (130) – Don't do it. A constant tease, who always manages to average around 90. There's another 60 around the corner.
Markov (102) – Oleg was on the chopping block, and what a response! Bought himself another two week grace. Legend!
Steele (136) – I don't need to add much here, he does it all. Jet.
Billings (137) – OK. We need to talk about Jack Billings. Over the first 4 rounds of the season he averaged 100 while still battling plantar fasciitis. In round 5 he tore his plantar fascia in warm-ups but played through the pain, playing a season low 78% TOG and scoring 57. Crucially, he played pure forward and picked up DPP. Billings then did similar against Port Adelaide in Round 6 for 73. His last two weeks? 32 touches on a wing vs Hawthorn and a monstrous 13 marks and 137 against Gold Coast. Two nice matchups, yes. However there is clear value here. A $662k forward who should average 100 and has a nice bye? It ticks a lot of boxes, and he must be over his injury woes… Consider.
Jones (123) – Let's get even wilder. Zak Jones. Have I lost the plot? Probably. I don't have an excuse for his 29 points vs Port Adelaide, I guess just the fact he is Zak Jones after all. His CBA's have increased from 20% to 80% over the last two weeks, and it has resulted in scores of 151 and 123. Wow. The ceiling is there, and at $621k the value is there. It would be gutsy, and potentially stupid. But it could also be a lot of fun.
Taranto (125) – Back to the uber premium territory where he belongs.
Merrett (128) – An improvement, but at his starting price I'm still hanging out for a massive 140+ score! Be greedy.
Parish (117) – Darcy Parish… Look at us. Hey, look at us. Who would've thought? Not me. My favourite player in the AFL.
Hind (100) – Straight up legend!
Kelly (105) – Lock and load. Josh Kelly moved into a pure midfield role in the second half, while my guy Callan Ward was sent packing onto a wing. Tough to watch from my perspective but Kelly is a must have. Whether you get him in now or Round 13 is bye dependant.
Hall (133) – I'm sorry this was the biggest no brainer I've seen in a decade of playing fantasy. You have to forget about the potential risks involved when a player who is averaging over 120 from his uninterrupted games is priced at 75. It's a game of risk v reward, and the reward in this case is obviously massive. He even got the armband for me! It's not too late this week, make Hall a priority. His role is beautiful.
Moore (134) – 19 marks hey? Amazing how well players perform in their best position.
Crisp (126) – Gun. That's how you bounce back!
Harmes (100) – God he was going to be an awesome pick for me. Now I'm going to have to watch him dominate for the thousands of coaches who get him in this week. It's a solid move, just watch out for Viney. Harmsey should still be good.
Lloyd (115) – He's averaging 105 in his last 5 yet Jakey Llllloyd continues to fall in price. The magic number is tumbling. Safe option.
Mills (133) – What a gun. He can do it off half back, and he can back it up in the guts next week. The clear number one defender and a pick that stared us straight in the face. Huge miss for a lot of coaches and a great success for those who had some ticker!
Rozee (105) – Great score but I'm speaking from experience here, don't get sucked in. He had just 1 CBA and unless he has a full time mid role, I will be steering well clear. He's just as capable of a 40. You can do better.
Mitchell (124) – The pig is warming up, and I want that bacon. Round 13 target.
Gaff (137) – What a stat line. 25 kicks, 13 handballs, 12 marks. And donuts. Gaff knows how to fill his boots when the opposition's chips are down and that's all you can ask of your fantasy premiums. Great value.
Sheed (135) – A ton away from home? It was only the Hawks. The ultimate flat track bully (And GF match winner).
Worpel (105) – JOM is the one to watch out for, but Worpel presents value. You can do worse.
Bontempelli (131) – Curnow was a concern, but the Bont put that worry to rest. He's averaging 105 and has a four round average of 118. Come on Charlie.
Docherty (123) – Just like Crisp, Docherty bounced back in perfect fashion from a quiet week. The dude just knows how to fantasy. Safe as houses.
Weitering (117) – I'm too tired to be writing up about Jacob Weitering but fair play, he's on a heater. Don't do it.
Rich (131) – Daniel Rich remains one of the best picks of the year and he continues to fly under the radar. This score takes his average to 101.4, with just one score under 90 for the entire season. He has the seagull role on lock. Beast mode.
McCluggage (110) – Six round average of 116. Update.
Lyons (121) – Jarryd Lyons carries a lowest score of 95 for the season and averages 111. Yet I barely hear him mentioned. I'm starting to realise I'm a fantasy fossil. What a pick.
Losers
Bolton (85) – He scored ok, and he flew OK too! Apparently his right hook needs a little work. What a truly farcical situation. This is a kick in the d!ck. Didn't need to happen.
Martin (67) – Dusty is absolutely plummeting. I'm never a massive Dusty fan in fantasy, but I can almost guarantee you this. There will be a month where he averages 110+, and when he turns it on I will be trading him in. He's too cheap.
Dahlhaus (25) – I guess he… Tackles hard? Used to have cool hair? I'm spitballing here.
Miller (119) – The first ever player to ever average 127 over his last 5 and make it in the losers. Don't panic. He'll be back and you can wear one rookie score.
Anderson (65) – A bit of Lachy Sholl about Noah Anderson. We just need some middle ground. He doesn't have a score between 78 and 118. Make sense of that.
Ellis (73) – He's not a loser for your team if you started him, but you are a massive loser if you traded Brandon Ellis in for over $800k.
Ward (78) – Well this sucks. Callan Ward looks lost on a wing, and his scoring in the second half reflected that. I got him in with the idea he had never averaged under 90 when fully healthy. I think we're about to see that season. His round 12 bye is very bloody annoying. Bad pick but he's here now.
Whitfield (79) – Bleed that cash Lachie… Perfect bye upgrade.
Cumming (70) – Isaac Cumming got lost on the bench during the ultimate GWS junk fest and it cost his score massively. He still sits comfortably in my team but Whitfield off half back and the low TOG% concerns me.
Stringer (30) – The string goes again. Absolute draft killer.
Daicos (73) – Going early on Daicos was a risk and it didn't pay off. He attended 9 centre bounces and was clearly second choice in their midfield rotation. Obviously the resulting score is nothing special. He should be solid without being spectacular.
Sidebottom (70) – The role was there, apparently the ability is not. I assume he was tagged, because if not it's inexcusable. 21 CBA's so he's still on my watchlist.
Simpkin (52) –
Stephenson (84) – Give us a spell. I don't know when he hurt is wrist and I don't care. He was a great pick for those that started with him, making $120k and averaging 85. I can't be upset, but I can say this is a massive pain in my ass. It was nice to at least have two weeks without a forced trade.
Gulden (44) – How many times do I have to say it. Be ruthless! Gulden should be long gone.
Brayshaw (48) – It just makes me laugh every time I see Gus' scores. You push up onto a wing mate. Touch the pill.
O'Brien (73) – What have I done. It's like trying to watch a dog learn to play fetch for the first time. The bloke can barely pick the ball up, and once he does he has no idea what to do with it. Six disposals? You play on ball. He should get dropped at this rate, it's that bad. Embarrassment.
Sholl (72) – Can I just get a 90 Lachy. PLEASE. His innate ability to go totally missing is amazing to watch. At this point he probably survives until his bye, but I may regret that move a lot. He's slipping fast.
Wines (70) – Just as you think Ollie might finally average well over 100, he dishes up this tripe. You played against witches hats, do better.
Houston (69) – Don't get me wrong, I still love Houston. But I wouldn't blame his owners for wanting his head. The same shoulder injury flared up and he's a pass until it heals. Ideally he sits until his bye and is an option in Round 14 as he was dominating until the sub. Watchlist.
Witherden (79) – He has kick-out duties and a solid spot in the side with Hurn out. Witho also has three consecutive 70's. Lift.
Luke Beveridge (-) Forget about Mothers Day, Sunday was all about Luke Beveridge. Scott West may not have been able to see how little his son's 5 disposals offered, but let's talk about Bevo's treatment of their BEST AND FAIREST WINNER. The clubs most valuable player in 2020. Playing off half-back. He is co-incidentally the team's best field kick. Did I mention there are new rules in 2021 that are allowing half backs to thrive and distribute the ball? Now that we're on the same page, can somebody explain to me what ounce of sense it makes to play Daniel as a forward pocket? Imagine you're the defender lining up on little auskicker Caleb. Put your feet up and relax because you're in for the easiest game of your life. You'll be shocked to know that he had 11 disposals in the first 3 terms for no impact, obviously while his team was getting smashed. He then moved to half back in the final term and basically won them the game off his own boot with 11 touches and 5 score involvements in that period alone. It's quite frankly embarrassing and Beveridge's post match presser made it even worse.
"Towards the end of last year with the negative forwards playing on him we changed his role a number of times.. We thought we'd start some things a little bit earlier (today)"
Well done mate, you're a hero. If a club can make you shift your best defender out of the game just by threatening to possibly tag him, I reckon they might have the upper hand in that battle. Unfathomably stupid.
Johannisen (35) – JJ had another gaaaaame. He managed six touches this week! Can't ask for anything more than improvement.
Smith (55) – At this point I can't tell whether it's a Bevo sh*t show or Bailey Smith just had another stinker, but his inconsistency this season is infuriating. As long as it let's Jackson Macrae do what he wants however I am OK with it. I'm very scared even that magnet is about to get tossed about like a cheap…… Lord have mercy.
Cripps (55) – We're stockpiling losers from this contest. Only Patrick will know if he's actually battling injury or if he just sucks now. I fear it's the latter. The AFL is better off with Patrick Cripps dominating, I hope we see it again.
Williams (28) – When a player gets rested for a week with 'the general' during the first month of the season, something is clearly up. Don't send your new recruit out onto the pitch like a lamb to the slaughter if he's not fit. It's terrible management. Zac is about as useful as an inflatable dartboard right now. Just stop the torture.
Serong (75) – This roller coaster is giving me motion sickness and I want off. In fact, calling it a roller coaster is kind. We only reached high into the sky for a brief, fleeting moment. In his last 7 games, Caleb Serong has one score better than 77. ONE. I wouldn't give a f**k if he had scored 200, this guy defines dead average. Poor Caleb can't play out these normal 120 minute games of footy. Just stay on the pine mate you're as good to me there as you are on the park.
Robertson (36) – Last and definitely least is Deven Robertson. Here we are hyping you up mate, pushing Chris Fagan to get you in the team. And for what? That's how you repay us? He had more centre bounces than touches for the game. Embarrassing. Warnie used me as the meat shield to call him a coward, and rightfully so. Just because I'm abusing him from behind a keyboard because he hurt my virtual fantasy team while he plays AFL for a living, doesn't mean I'm not right. I'll rescind this spray in 5 years time when he's dominating.
This Game Sh*ts Me
For the love of god could we please have some rookies put their hand up and show something! The dire state of our back end rookies has left me highly likely to just pick whatever basement price rookie comes through this Thursday. They can't be any worse than our recent options! Brockman, Highmore, Atu and Frederick have to be close, while Lachie Jones could return before Port's bye. It's hard to see guys like Rantall and Macrae getting back in this season. We are hanging on by a thread, and if none of these guys can get back in then Round 12 is going to be a bloodbath. Brace yourselves. This game sh*ts me.
The Other Bits and Pieces
2179. That takes me into the top 3k and makes it our third consecutive week in the top 1000 scores for the round. Upgrade season is coming along nicely.
On a personal note I had absolutely nothing to complain about, that was until the Stephenson bomb dropped yesterday. Chad Warner was out of the midfield rotation in the final term while Florent and Rowebottom took up the slack. Mills was also back in the midfield as predicted, so I think Chad's time is up. That being said, nearly everyone will have bigger issues at hand and my team is no different.
Stephenson -> ?
Macrae -> Bianco???
Last week my trades were two of the easiest I will make all season, potentially ever. With Shai Bolton and Shane Edwards down, RCD ticks every box until his bye so go and chase him.
This week however… I have no bloody idea. Rookie wise, I'm seriously considering going early on Trent Bianco. He absolutely dominated the VFL on debut and his AFL debut must be just around the corner. He would have been a lock for Round 1 if fit so I feel confident in doing this, but it also seems like a disaster waiting to happen.
I don't trust Byrnes job security enough to chase him, even with an ideal Round 14 bye. The other option is… Matthew Owies? Thursday teams will dictate who I bring in.
As far as who I get in for Stephenson, we have our first bye dilemma. Josh Kelly is CLEARLY the best option this week. In the second half he moved from a wing into a full time midfield role. He could easily average 110 from here on and is a no brainer. However he has a round 12 bye, and if I made this trade I would have six Round 12 forwards. The current plan is to close my eyes, pray he doesn't pump out a massive 140 until his bye then upgrade to him in Round 13.
I am considering… Getting Jack Billings Or Zak Jones. Yep, that's where we're at. And that's why my trade is a question mark for now. The Round 14 bye is so ideal, and both present great value and a solid ceiling. But neither of them are Josh Kelly.
Bring on Thursday carnage, I can't wait to have it back. Good luck next week legends…