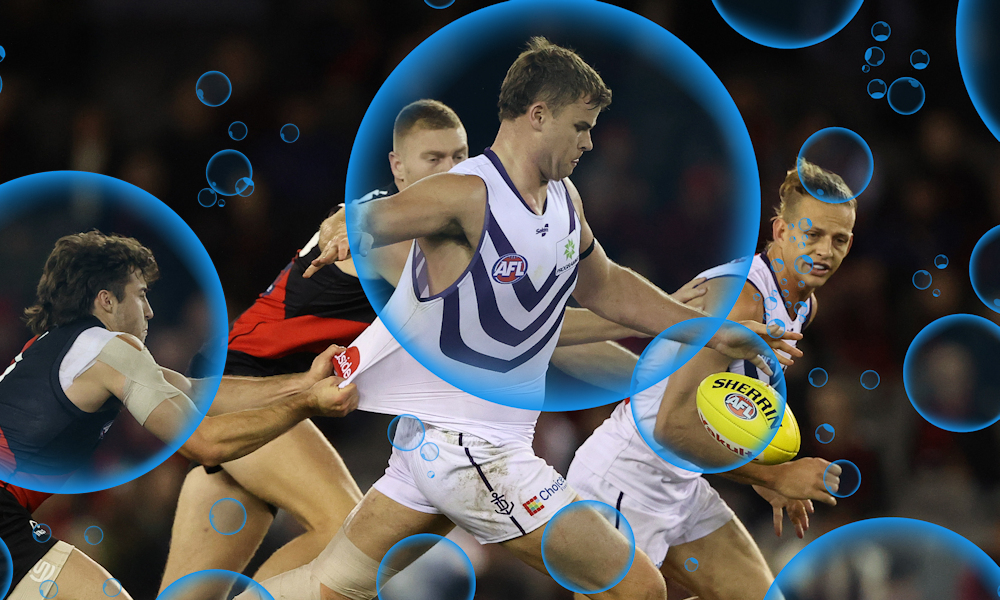 A near broken hand won't stop the wash-up going to air this week, there was just too many spuds to allow anyone off the hook. It wasn't as painful as some of our players efforts last weekend, that I can assure you. It will be short and sweet. It's time for the weekend wash-up!
Legends
Guthrie (138) – Ceiling, tick. Consistency, tick. Name, cross. Fantasy coaches make no sense.
Duncan (134) – 15 marks… This bloke is unbelievable. I do wonder if a tag is coming, his ball use is simply elite. Best fantasy player in the game!
Heeney (107) – OK. I'm not completely sold, but when he's this cheap… If you can't get up to a Dusty, like me, Heeney is an option. Just don't expect much more than an 80-85, but at this discount I'll take that. Pure forward and injury risk is high.
Simpkin (142) – 38 disposals, 23 contested, 13 clearances, 9 tackles… Simpkin had a gaaame son. Inconsistent but value.
Lyons (142) – 37 disposals, 9 clearances, 9 tackles… Not even worth writing home about for Jarryd Lyons. His 5 round average of 119 is no joke, what an absolute jet.
Zorko (124) – Less midfield time but it didn't matter for Zorko. We know he's a gun, nothing new here.
McCluggage (121) – If you didn't realise McCluggage was a fantasy gun by now, I really can't help you. What a pick he has been this season. Awesome.
Baker (118) – Richmond's midfield injury crisis is a Baker's delight… He was good. But I'm not sold long term. And now I'll show myself out.
Martin (105) – Dusty was just being Dusty. 28 touches, 4 goals… For 105 points. Just the one mark and tackle for Martin but that's what he does. At his price you trade him in and ask questions later.
Hopper (126) – Always seems to show flashes but can never put it all together. Should really be better than he is, but he isn't. Tom Browne signing out.
Kelly (115) – Josh Kelly is a must have. If you haven't grabbed him yet, make it your highest priority. This was looking like a 140+ score, but you can't complain with that production. Gun.
Flynn (109) – This is just infuriating. Three weeks ago I was forced to trade Flynn to a $700k rookie. Now he gets his chance and produces this absolute gem. He should have been the pick of the year, but it's the Giants and Leon Cameron. What could have been.
Ward (107) – I thought Ward was getting squeezed out of the midfield mix, but he led the Giants for CBA's. It's going to be a week to week proposition role wise, so I wouldn't trade him in. However I'm sleeping a little easier at night with Callan in my side.
Wines (130) – That's how you bounce back from a 70. This is Wines third big score of 125+ in the last four weeks. The consistency has always been there, and now the ceiling is too. Bye round upgrade target.
Parish (131) – My favourite player in the AFL. It's getting to the point I'm going to need a framed Darcy Parish poster. This guy is amazing. He's legit.
Hind (122) – Nick Hind was already great with a lowest score of 71 for the season. Well in the last two weeks he has tonned up, and now he has found a new ceiling. Averaging 90+ and a hold until late in the season. What a legend!
Brayshaw (137) – 5 round average of 111. I love this guy. He ticks every fantasy box, as long as the tags stay away.
Darcy (133) – Amazing. Here's a number one ruck who is going to dominate the competition for the next 10+ years. He also happens to be available as a forward and has 4 tons in his last 5 games. I think he's still value and is in my trade sights this week. Gun.
Jordon (110) – That's how you lay a tackle fellas. While James Jordon continues to perform, he stays. I'll be showing his tape to Caleb Serong during the week.
Walsh (121) – This guy kills me every week. It's not the only reason I don't watch Carlton, but it's certainly one of them. Gun.
Witherden (127) – If he holds his spot when Hurn is back, the world is Witho's oyster. $650k is cheap.
Laird (125) – Mr Consistent. Put him next to Jake Lloyd and pencil them in to average 105. As reliable as they come.
Losers
Marshall (50) – Forgetting Rowan Marshall. Even when he's good, he's bad. Too many injury headaches to pick with confidence considering the upside isn't massive.
Clark (36) – Jordan Clark. Let's pretend that never happened shall we.
Grundy (84) – Are you really telling me Tom Hickey is this immoveable, invincible force? Not good enough.
De Goey (56) – Drink it in because this is Jordan De Goey's last ever mention in the wash-up. Mark those words. He's dead to me.
Jiath (58) – There seems to be a bit of a myth that Jiath is a reliable 70. He is literally the furthest thing from that. This is his third score of 50 or less in the past five games, not even close to good enough. I think he can go.
Worpel (64) – Worpel can worm his way back into the hole he came from two weeks ago because he isn't worth a lick in a full strength side. The Hawks just can't find the right mix, but I'm not sure Worpel O'Meara and Mitchell is the answer. Mopeds.
Mitchell (84) – Just as the pig starts sniffing bacon, he produces this. Against North Melbourne. And he faces Ed Curnow next week. Yikes.
Phillips (76) – My phillips screw driver reference remains my personal favourite for the year, and that's the only positive I can take from this guy. I'm off to stare at a wall for 120 minutes because that's what it's like to watch this bloke play.
Powell (40) – Harsh – But FAIR. Give us a 60 Tom! Season high in CBA's but perhaps in need of a rest, Powell's time is up. Be ruthless.
Ash (47) – If we're going to pump up your tyres for the good scores, you're not getting away with an effort as weak as this. Gutless.
Rozee (58) – I hate to say I told you so, so I won't. Just set up a few mirrors in your room and really ask yourself some questions. The answers may not be pretty.
Bergman (45) – Thanks for your service Bergmeister, but this week was a prime example of why you need to get the rookies of your field. For every Jordon there are 5 absolute spuds. And potentially a coward.
Merrett (67) – Speaking of cowards, congratulations Zach. Wah wah wah my name is Zach and I can't get a kick if a player actually stands next to me. Rough treatment? Was Ben Rutten taking the piss? One of the most gutless efforts you'll see, a couple of little bumps and poor baby Zach goes crying to his coach. Embarrassing.
Serong (70) – For all that Merrett had going against him, I'll tell you one thing he possesses that Caleb does not. An ounce of ability. I was watching him off the ball on Sunday and my god, he must nearly doze off between every stoppage in play because I don't think I've seen an AFL player work less. He just walks from contest to contest and eventually the ball might actually come near him. Get on your bike.
Sholl (68) –
O'Brien (59) – Last and very, very least. The new born giraffe is still finding its legs. I don't have time to wait around and watch it learn it walk, get out of my sights. He faces Max next week. My god. He might have 2 touches and score 30, and that's if he plays. He's impossibly bad, I won't ever understand it. Never again.
This Game Sh*ts Me
Captain hindsight always finds himself having a field day when it comes to fantasy trades. Three weeks ago I had the perfect chance to grab Sean Darcy, dominating as a number one ruck and huge value as a DPP. I sit here today correcting that error, and it only cost me $140,000 and 105 points. One bad trade can be a game changer, and you won't let yourself live it down. Neither should you. This game sh*ts me.
The Other Bits and Pieces
2092. It was another week of what could have been. The same spuds continue to hold me back and any chance of pushing for the car has gone. What can I say, I'm a realist. That being said our rank has halved week by week for the last few Rounds and we've made it to the top 2000. A hat is definitely there for the taking!
Sholl, Phillips and Serong never fail to disappoint, while trading in ROB basically sunk my season. He has played his last ever game for the Prawn Quackers, I don't care if he averages 120 (he won't). You've got to know when to hold them and when to fold them, and O'Brien is a hard fold.
I'm going to make the move I should have done three weeks ago and bring in Sean Darcy. I'm all aboard the Darcy train, I see no reason he can't push an average of 100 for the remainder of the season. If I told you there's a $630k forward that can push the top 6 while also providing vital cover if Grundy or Gawn go down, it sounds a whole lot more promising. It will allow me to grab Max in a couple of weeks time and hopefully shift Darcy forward. Bingo.
I'm less sold on bringing in Heeney, there's so many risks involved here. Longmire has said he's a week to week proposition depending on how he pulls up, an alarming statement to make. Having said that, my fears came true as Warner is out of the midfield rotation so his time is up for me. I can't see him averaging much more than 60, and surely Heeney can give us 80+ until his bye.
O'Brien -> Darcy
Warner -> Heeney
Dusty and Ridley are in my sights as far as upgrades go, while Whitfield is ripening nicely for Round 13. I'm not convinced Ridley is an automatic 100+ with Heppell in the backline and a few less kick-outs, but he's way too cheap.
Good luck next week legends, fingers crossed for a return to some respectable scoring!