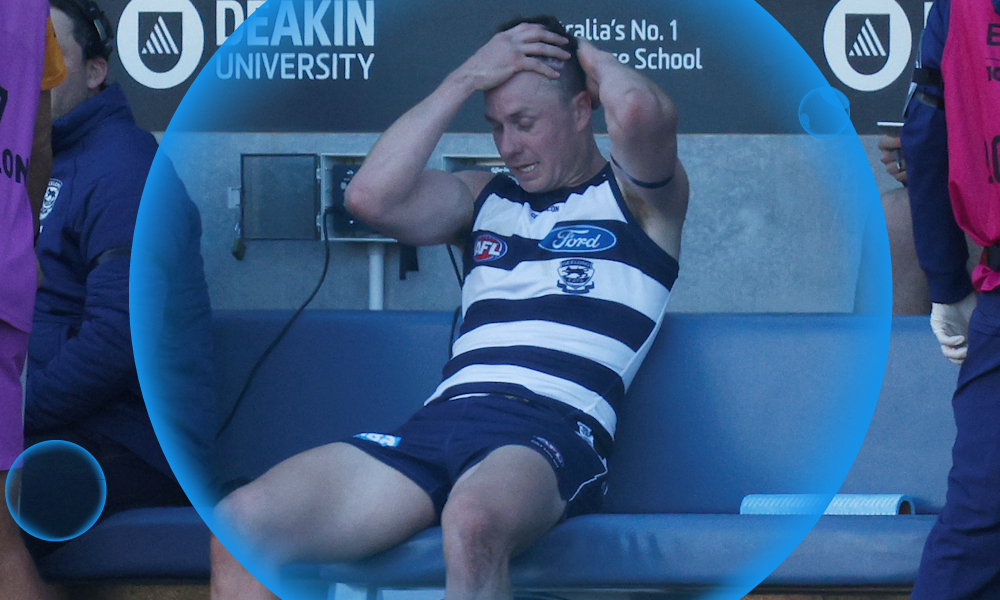 The byes are nearly here, and carnage continues to trickle through. If ever we needed some luck, it's during the next month. I'm having flashbacks to 2018 and I don't like it one bit. Strap in, it's time for the weekend wash-up.
Legends
Lyons (115) – Only 115? Gun.
Docherty (108) – Weekly appreciation for Sam Docherty. He's dominating on a wing and it could be the first ever final hour pick I've made to start a season that has paid off. What a legend!
Walsh (104) – His final score may not have reflected his game, I honestly thought he was going to score 200 after the first quarter. The hard tag placed on him may be a sign of things to come, he is too bloody good. Honestly who is Connor Rozee?
Mitchell (133) – Oink. Right back on track and looks a good bet to average 115+ for the remainder of the season. I want some more bacon in my team.
Selwood (134) – A blast from the past, but nothing more than that.
Blicavs (129) –
Guthrie (105) – If it wasn't for a shoulder injury Guthrie would have posted yet another monster 130+ score. Instead, his owners have to be concerned what's to come. He braved it out but I'd be worried. It was carnage amongst the bloodbath at the cattery.
Seedsman (137) – The Seed is quietly putting together an awesome season. He's getting his fair share of centre bounces when not stationed on a wing and looks awesome. Averaging 96 and flying nicely under the radar.
Keays (126) – This guy is just an absolute jet. He hasn't dropped under 90 all season and now averages 106. That includes 117 in the last 5 thank you very much. 3% of the competition are howling.
Laird (117) – Legeeeeend.
Oliver (155) – I haven't owned Clayton Oliver since he was a rookie. That is a stain on my fantasy resume and I want it fixed ASAP. Now he plays 90% TOG and it shows in his scoring. Beast mode.
Petracca (116) – Getting cheap and my first upgrade target post byes. Just so I can get behind the Tractor.
Gawn (129) – Watching the Demons is hard for me. When I finally get big Max in next week it's going to get just a little bit easier. He may need 10 marks these days to go big, but he's that good he'll do it.
Macrae (153) – If you use the dream-stats app, you'll know the fuzzy feelings you get when your captain's score goes yellow. His 41 disposals, 9 clearances, and 9 tackles while going at 80% may not have been enough to get a SINGLE coaches vote, but don't worry Jack. The whole Fantasy community appreciates you. L.E.G.E.N.D.
Bontempelli (138) – Unstoppable. Six rounds ago you could get him for under $750k, since then he has averaged 119. Not bad.
Smith (108) – Adam Treloar's unfortunate injury has opened the door even further for Bailey Smith, and I think he might barge right through it. We know all about the Doggies gamestyle. They are beating up on teams. And now Bailey Smith is locked in the midfield rotation. He laid a season best 7 tackles in and under, his previous best for the season was 4. I really think he's about to light it up, but his bye round is a pain. He's probably worth it regardless. Lachie Hunter I need to see another week from.
Byrnes (107) – This is the kind of nonsense that changes your fortunes heading into the byes. Ryan Byrnes has gone from fringe best 22 to a lock in the Saints side with one great performance, and he is set up perfectly for the byes. Congratulations are in order if you have him. If you couldn't tell, I don't.
Darcy (99) – Champion data may have robbed him of a ton, but Big Sean is my boy. I love this guy… Chasing differentials is a lot of fun*
*when they score well
Mills (111) – Obligatory "Callum Mills is pretty good in the midfield" summary. Obviously.
Franklin (117) – Never take this mans greatness for granted. All timer.
Whitfield (119) – Primed for an upgrade in round 13 or 14. He's going to be a must have.
Green (114) – Wow. Sometimes a players performance and impact just stands out above the rest, and Tom Green had me walking away from that game needing him in my fantasy ASAP. There's so much Clayton Oliver about him. The inside bull that just needed to be fully unleashed. What's the difference lately? He has become a legitimate threat in the forward line, so much so that he was hit up on the lead from full forward multiple times. That will take him from a 60-65% TOG player to an 80%+. The midfield clock is also there. I'm all aboard, I think he averages 100+ from here on and is a must pick player next season. Toot toot.
Ward (103) – Talk about a captains last quarter. Not every midpricer has come off, but Callan is picking up steam. I may have 4 GWS midfielders heading into the byes and I regret nothing. Fantasy friendly football.
Grundy (142) – Is it Grundy? It's Grundy.
Crisp (117) – Taylor Adams didn't slow him down. Gun.
Poulter (108) – Read above on Byrnes. In fairness Poulter may have been showing glimpses, I honestly didn't know who he was until this week. Take this to the bank and lock him in until his bye. I'm not chasing these scores, but I can understand why you would and it may pay off.
Hall (122) – I would pay $700k for him in a heartbeat. He's averaging 120.5 this season. Worth every penny, even with the risk attached. Fantasy legend and genuine gun.
Cunnington (115) – Fair play to Cunnington, I underestimated how good he would be. Another dose of salt into the wound where I would have started him instead of Serong. We move.
Heppell (105) – Hurting Ridley but helping his owners no end, jumping on after his DPP was the play. Legend.
Parish (144) – Hang on, what's the best player in the competition averaging in his last 5?
Losers
Short (61) – Given the abundance of reliable defenders and the lack of premium forwards, I have huge amounts of drafters regret on Jayden Short. As useful to my team as a chocolate teapot. Dismal.
Martin (66) – That's what you get from Dusty. He laid what must be a career PB 5 tackles and still only scored 66. In fairness to him Richmond's last 5 weeks have been as tough as it gets. Just go and look at his next 5 fixtures and you'll realise he's still a great option. I think he goes big this week.
Jiath (57) – Jiath snapped his run of going hot and cold by producing two absolute stinkers in a row. If you get a chance to drop him and have Powell off your books, I think he goes. He has been great for those that got on early though! Do what's best for both parties, don't let the relationship get toxic.
Phillips (57) – There is no saving this relationship. What a bitch. He's not even worth my time.
McEvoy (62) – I've got my new rule of thumb. Don't let the relationship get toxic. Cheers for your efforts big boy.
Duncan (62) – This game just sucks sometimes. Duncan was a sure thing to post yet another 130+ score. Instead he's going to bleed some cash and miss a week. It sucks, but just lick your wounds and move on. Please do not trade him. It's one week off, an extra week to rest up and then you get the best player in fantasy back for Round 13. If he didn't have the round 12 bye I'd be packing it, I think it will all work out for Duncan owners. Hang in there.
Smith (49) – Guys. It's Zach Smith. He has averaged over 70 once in his entire AFL career and he's coming off an ACL. Head scratcher.
Markov (55) – What a bot. Depending on how things pan out over the next week, I may need Markov until after the byes. That doesn't give me an ounce of confidence. Ideally he goes this week, but let's face it there's too many other problems to deal with. How else has Tom Phillips made it this far.
Anderson (65) – The regret I have for missing Noah Anderson has vanished as quickly as his scoring. That is probably because his scoring has vanished. I just realised I speak total nonsense and I'm not sure why anybody even reads this article. Play on.
O'Brien (63) –
Sholl (73) –
Jordon (64) – Is it incredibly harsh to put a rookie in the losers for a score of 60 on the back of him just going 110? Absolutely it is. That doesn't mean he's not on the block this week! Harmes is eating into his midfield clock, Viney is nearly back and we're now relying on 9 tackles to get him to his 60 in 60% TOG. There are alarms going off everywhere in the cockpit and having seen what's happened to Powell, Warner and Gulden I'm ready to eject. Might be gone next week.
Crouch (73) – This kind of embarrassing performance is why it is so hard to justify owning a St Kilda player. Capable of melting at any given moment, I won't be going near them. The team is almost as important as the player. Billings, Clark and Ross can all fall under the same banner. Steele might be the only exception, but only when cheaper. Frauds.
Treloar (37) – There's nothing I can say here that will ease your pain. He scored 37 points, lost $50,000 and now has to be traded. Basically, you're f**ked. I'd be going to Bailey Smith and using the cash to upgrade a rookie to another value option like Dusty, Heeney or Green. There's no consolation in that though. Gutting.
Warner (57) – The relationship is quickly souring. He should have gone to Heeney last week, I'll be fixing that error this week. Thanks for the memories Chad.
Serong (75) –
Cumming (67) – It's all falling apart for my midpricers, and I can't get rid of them quick enough. It's lucky Isaac Cumming had kick-outs or this score would have been vomit worthy. Lift.
Houston (45) – How cheap does he have to get for me to trust this? That shoulder must be about to detach. Yikes.
Rozee (48) –
Ridley (77) – I still don't think you can go wrong with Ridley at his current price, but he's just not that top 6 100+ guy. Temper and adjust your expectations, if he starts to go big it's a bonus.
Powell (45) – It's a shame the AFL couldn't give this jet a rising star when he deserved one, because Finlay Macrae is just as likely to get a nomination at this stage. He has hit the wall and some, pack your bags son.
This Game Sh*ts Me
There's a lot that Mitch Duncan owners can relate to Nick Holman's suspension. You execute a perfect move, get rewarded for it and it ends up screwing you. Shame he's their enemy number one. This game sh*ts me.
The Other Bits and Pieces
2226. 2018 is repeating itself. The utter disaster I faced until Round 5 left me ranked outside the top 14,000, but the blueprint was there. Five weeks later and I've been ranked inside the top 1,500 each round, taking me inside the top 1,500 on the season. That's what happens when you get kissed on the d**k when it really matters. Dunkley, Neale, Treloar, Bolton, Ridley, Dangerfield, Dusty, Houston, Williams. No worries. Stephenson barely counts as his time was nearly up and Reilly O'Brien was self inflicted.
What really scares me is this Round was when my season nearly unravelled. I had done all the bye planning a man could do, only for hours of work to go to waste. Never has someone taken so many bullets in a single week. Fyfe got himself suspended, Dusty pulled his calf and jetted off to New Zealand. Jack Billings finally got dropped. Coniglio gets hurt and rested before his bye. On top of the injuries a young Ridley gets dropped along with two other rookies and Nick Coffield is nowhere to be seen. Suddenly I was staring at 10 red dots on my field. Not even a best 18 is saving that rabble.
What is the point of all this? DO NOT sit there and think I have three trades next week, I can get myself to 18 and be right. It just won't be that simple. Having said that, sometimes circumstances get taken out of your own hands. The only thing you can do is have an evenly balanced side and hope for the best. Remember, every player you trade in this week will have a week off over the next three weeks.
I made things harder on myself by trading in a permanent red dot in Ronin O'Connor. His value is worthless and the only way I'm sideways trading a basement rookie is if I lay in a body bag and Warnie takes over the reins. The extra 40-80 points it nets me in the worst case scenario I suffer donuts in both weeks still isn't worth chasing.
I'm very light on in Round 14, in fact Rory Laird and my rucks are the only premiums I own in the final bye. As much as I'd love to get Dusty this week, I'm taking Heeney instead. I'd also love to get Bailey Smith in the guts, but the same story holds. I am praying to the Fantasy gods that Highmore comes in for me this week, it would truly be a godsend. If he doesn't, I'll be teetering on the edge of fielding 18 in Round 12 before this weekend even kicks off. Tom Green will have to wait two weeks and Adam Cerra will be my guy. Not ideal, but I like what I saw from Cerra and I just don't see any legitimate Round 14 options under Christian Petracca.
Powell -> Green/Cerra
Warner -> Heeney
I'm just going to do everything I can to not jinx myself this week. It will be a close my eyes and pray job, score aside I just want one more clean bill of health. Is that too much to ask? Probably. Good luck legends, we're going to need it.