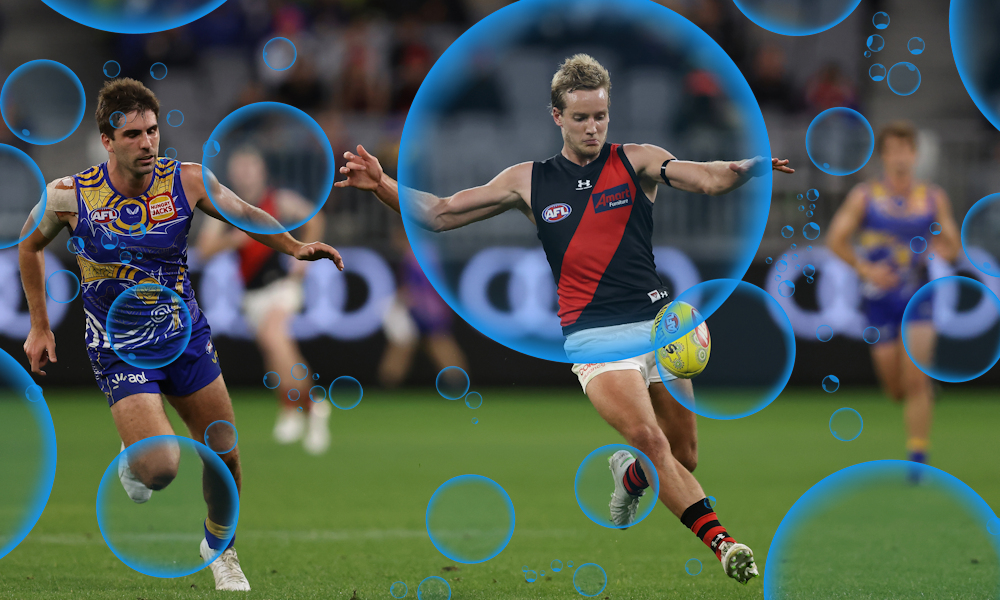 Hold your breath. Grundy got the snowball rolling, and I'm still feeling anxious. It's hard to know what direction this week is going until Thursday teams, but we can still reminisce on last weekend's scoring. Well, some can. It's time for the weekend wash-up!
Legends
Macrae (147) – Where else can this segment start? We always knew Macrae was a genuine ball magnet, but this wannabe pig is getting down and dirty in the mud. That's consecutive weeks with 9 tackles, and when you start combining 40 touches with a heap of hugs it's always going to be massive. Bloody legend.
Bontempelli (120) – The Bont never gets recognised as a fantasy stud, but he is on fire. That's seven weeks of total dominance. Charlie?
Gawn (118) – Max doesn't need to be a sole ruck to dominate, he's nearly averaging more disposals than hit outs lately! It hurts watching Melbourne and not owning Gawn, that changes this week. Safe as houses.
Mayne (123) – Chopper, noodles. Never did I think I would be writing about the legend Chris Mayne without a hint of sarcasm. DPP makes him relevant, and he's just racking up +6's. A roughy in more ways than one.
Higgins (115) – What the hell happened last weekend? Shaun Higgins now? There's going to be some bridges burnt over the next few weeks, but Higgins has looked awesome. But it's Shaun Higgins. But he's been great! But Duncan is back after the bye. But he has forward status! Consider.
Crisp (110) – Consider him as a midfielder in the mould of Rory Laird now. An awesome pick and has an awesome bye. Great trade target.
Zorko (125) – Dayne Zorko has been unreal since Neale went down, averaging 107. Huge numbers, but I'm not convinced they can stay this high. He's awesome regardless.
Taranto (143) – I may as well include the entire GWS list here. In a 10 goal spanking, they STILL managed to rack up huge numbers! Whitfield (122), Ward (119), Hopper (114), Cumming (113), Ash (111) and Kelly (108) were all absolutely epic, in fantasy terms of course. For most teams those numbers would only go alongside a 10 goal win. Quite frankly Tim Taranto butchered it on the weekend, as if we care. I couldn't care less. He's averaging 125 in this last 5. Not only is he a top 8 midfielder, he's probably a top 5 player in fantasy. Legends the lot of them.
Dunstan (140) – Who's this guy?
Hall (124) – Aaron Hall's 5 round average is 125. He was priced at $538k at the start of said run. Easiest. Pick. Ever. This dude is a magnet, it's awesome to watch. Must have.
Miller (160) – What if I told you Touk Miller, Darcy Parish and Aaron Hall were the highest averaging players over the last 5 rounds? 2021 is bizarre.
Lukosius (125) –  No questioning he's a future star, I just don't think I'm ready to say this is real yet.
Ellis (130) – He could be an option after his bye, I just don't know which Brandon Ellis is real. If anyone out there chased him after his 169, would you recommend we jump on?
Parish (122) – My man crush is bordering on getting weird at this rate. Parish looks like a top 10 player, and not just in fantasy. He is a legit star. To make things even better I get to see him again on Saturday night. He's getting the armband so feel free to jump on board and ride with me. Worth every penny.
Merrett (132) – This is more like it, I'm still waiting on a 140 but that's just me being greedy. If there's going to be a tag, it's probably going to my boy Parish. Merrett should be ready to fire for the rest of the season.
Langford (123) – A legend brought Langford's role change to my attention last week, and I got to see it in the flesh on Saturday. Wow. I'm a huge fan, and if he had a round 14 bye I'd be all over it. My issue is that he is the same price, same position and same bye round as Lachie Hunter. And I think I prefer Lachie Hunter. Last week was the time to jump on.
Keays (129) – If I was lucky enough to own him, I'd be as up and about for Ben Keays as I am for Darcy Parish. This guy ticks every fantasy box in existence. Kudos to the genius' that own him in fantasy, and let's face it those lucky bastards lucky enough to have him fall into their lap with a late draft flier.
Heeney (135) – OK, I think that ankle might be fine. It should go without saying that he's still great value this week and arguably the best round 14 option when considering both price and value. He will find a way to average 90 again this season mark those words.
Cripps (120) – I'm happy to put my hand up when I swing and miss, and I missed on Patrick Cripps. Sure I don't think he will kick 3 goals every week, just like I don't think he will average 9 tackles per game like he has over his last 3. That doesn't mean he isn't great value. Should average around 100 making him a very viable pickup, but his round 13 bye is annoying.
Losers
Garcia (5) – I wouldn't actually have blamed someone for going early on rookies last week, many did it with Bianco. If you did, this is a low blow.
Langdon (49) – Draft killer. This was out of the blue and he may be a cheap option coming off his bye… Forget I said that. Moving on swiftly.
Petracca (85) – A lot of coaches brought him in for Friday night's blockbuster. Not even close to good enough. I had him pinned as a big game player, I'll scratch that note out immediately. I'll be taking unders on him next week to make a statement.
Macrae (12) – Were you hoping Finlay Macrae might play himself into next week's team? Forget about Taylor Adams injury, there is a bigger issue at hand. That is, Finlay Macrae isn't AFL standard. Not even CLOSE. How do you come onto the field for over a quarter with fresh legs and the game on the line, and have two touches. TWO?! Red dot.
Daicos (51) – Aaaaand it's gone. It's gone, it's all gone. You had an under priced premium, not anymore you don't. It didn't do too well and it's gone.
Guthrie (35) – How is Zach Guthrie carving himself out an AFL career? Never give up on your dreams kids.
Grundy (69) – You just knew that was going to happen. That's disgusting. Thankfully things didn't spiral from this point of the weekend, but it's devastating to see the ruck pig go down. Must trade for me.
Green (51) – Good call bad call Caro? No DPP, and no scoring ability seemingly. Tom Green was diabolical. Disgraceful. However I also brought in Callan Ward for a 50, so I'm going to give him a chance. Sometimes you just have to back your gut in this game, and I thought Green looked like he had arrived against the Eagles. To be fair, those were witches hats. I've not given up yet, but this is shameful.
Ross (54) – Seb Ross still an option? Anyone?
Jiath (68) – Bye Felicia.
Farrar (24) –
Mitchell (76) – I do my best to avoid watching Hawthorn at all costs, so I can't really explain to you why the pig is getting so down in the mud. It's 120 or 80 for Titch at the moment, and that's not what you're paying for. Is he a target after his bye? The Hawks are that bad it scares me off. Putting the brown in the brown and gold.
Phillips (76) – The most average player in the AFL. Not good. Not bad. Not exciting. No ability.
Ridley (54) – "In chaos theory, the butterfly effect is the sensitive dependence on initial conditions in which a small change in one state of a deterministic nonlinear system can result in large differences in a later state." One head knock can derail a fantasy season. Not fair. Also not an option until he has a clear role change, you can't go peeling off to far when looking after Liam Ryan. No good.
Williams (60) – I won't be considering Zac Williams value until his price tag reflects this score. It's a game of risk vs reward, and the reward here just doesn't cut it when stacked up against the riskiest option since the mass investment into a meme coin. Again, 2021. Bizarre.
Walters (63) – I am not the guy you want to be asking when you're looking for a reason to trade in Michael Walters. In fact now that I think about it, I'm exactly the right guy. To save your season. I took the fall so you guys don't have do.
Sholl (46) – Ok. I bet you've all been patiently waiting for my favourite midprice picks to rear their ugly heads. As you can probably tell by the tone of the losers so far my weekend had been going pretty smoothly until Sunday. But how can I ever get excited about my score when I still have Lachy Sholl to play?
You play on a wing mate. Literally the only reason you are in the team is because you're a great kick. Apparently. You need to actually kick the ball for that to be effective. I don't know how a bloke can be so utterly useless with a role as good as this, it boggles the mind how he manages to be this bad. This took his 5 round average to 64.8. I've been kidding myself this whole time, there's been an extra rookie on my field all along. COWARD. The worst part is I don't have any choice but to hold him until his bye, after which he will probably be worth a bag of peanuts. Collingwood at home this week, if he can't show something in that game there is going to be a massive blow up in the locker room afterwards. Just get me to round 14 honestly.
Serong (46) – Because the first thing I will be doing as lockout lifts is trading Caleb Serong's sorry ass out of my team. He's as useless as a celibate hooker. Can someone who watched footy in 2020 fill me in on how he was ever considered to be good? I didn't see it myself and to say I'm struggling to believe it is an understatement. Here's a statement on how pathetic Serong was on Sunday evening. He started the game playing a lock down role on Boak. I had heard a lot about this. "He played a tagging role last season, that was where he had success." Great news I thought. His TOG% should be back up as well. Don't worry about it. Justin Longmuir had to abandon ship at half time and send him forward. Wrap your head around that. A player was SO bad that the team had to drop the tag not because the opposition player was getting off the hook. But because the player on him offered next to nothing on the football field.
46 points? He had 16 at half time playing purely midfield. His 5 round average is 67. How? You only play on ball? Seriously, every second of the 60 minutes he actually plays is spent in the midfield. I don't want this bloke near my fantasy team ever again, and yet Brodie Grundy's pinched a nerve in his pussy and Serong must stay another two weeks. Lord have mercy on my soul (I'm going to hell anyway). His BE is 113 next week and I don't think he gets within 80 of that. In fact, he may get dropped and honestly that would be doing me a favour at this point, even if it meant eating a donut. One of the worst to ever do it. Wow that felt good.
This Game Sh*ts Me
Byes. How about this. Why doesn't the whole league just take a week off during the season? I know an All-Star weekend isn't realistic, and I know we need to always have footy on. Please do tell me though, why we are happy to take a week's break just before the finals?!?! Instead we have three weeks of craving more footy, and more importantly 3 weeks of stress and anxiety for us 100,000+ fantasy coaches. This league sh*ts me, and for the stress it causes this game sh*ts me too.
The Other Bits and Pieces
2217. I was on track for a genuine monster, that was of course until the two biggest bots in the AFL played on Sunday afternoon. Green, Sholl and Serong had absolute stinkers and it seems I took their boring 70's for granted. 46. Forty-six. Wow. In a perfect world Serong and Sholl would both be seeing the door this week, unfortunately they have the round 14 bye and simply have to stay. Ironically it was Markov and Cumming who stood up and showed some ticker, and they both put their feet up this week.
My trades were going to be straight forward. Brockman and Macrae were going to Bianco and a basement rookie, I would have taken literally anybody named. I probably still will. That was going to net me the $$$ to go Serong to Gawn. Not on the fantasy gods watch. Grundy is out and he goes to Gawn, and this is the exact reason I HATE having cash in the bank. Sh*t happens and you never get to actually use it. Barring a miracle equivalent to jesus rising from the dead and Finlay Macrae getting named, he will go along side Brockman and I'll have a nice kitty to attack with next week. It's the one week I'm happy to do it.
Brockman -> Bianco
Macrae -> ?
Grundy -> Gawn
All the best in round 12 ladies and gents, don't think we've escaped danger yet. Thursday is going to have some twists and turns and I don't think it will turn in the right direction. You don't want more than 20 this week, I'm even happy to just take 18 green dots! All the more scoring to come and you'll sleep better for it. Here we go…