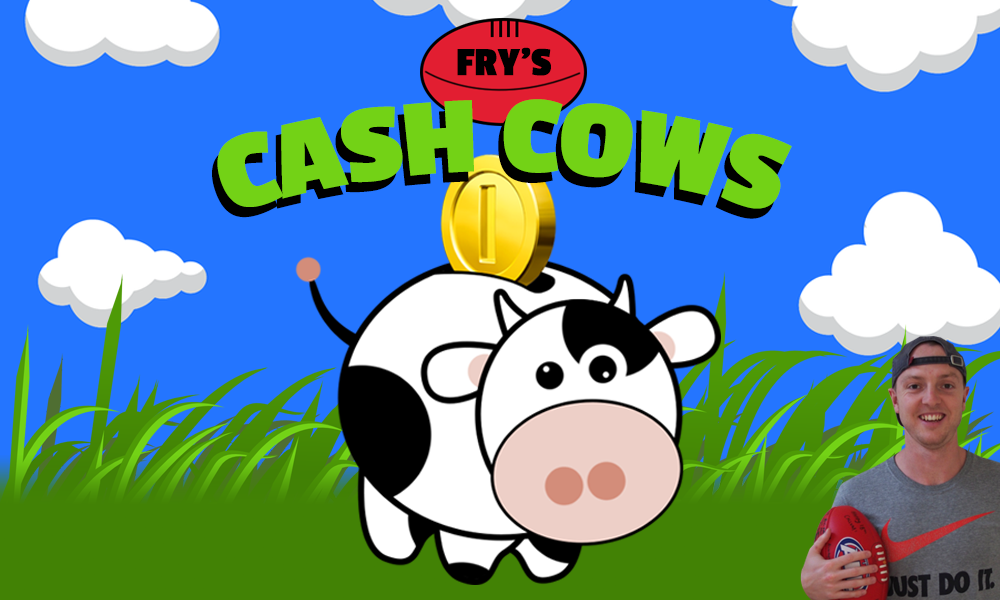 The annual tradition of the AFL preseason adopting a new name continued in 2021, along with the yearly "THERE ARE NO ROOKIES" talk. Just days out from the AAMI Community Series though, more than a handful of cash cow prospects have lined themselves up for an early AFL game and nailing the right rookies always puts your fantasy team in good shape. Last year we saw 87 players debut across the COVID-shortened campaign, which has inflated the cost of some of the tempting cash cows heading into the season. However, there are still enough recent draftees and basement priced rookies to make the cash cow class of 2021 a fantasy-friendly one.
With only one game occurring in this preseason comp over the weekend, this piece will give you an idea of who to keep an eye on in the lead up to Round 1. Before the new season kicks off, I'll drop my comprehensive rookie guide for 2021 that digs through all the relevant cash cow names.
Rookie/cash cows picks are defined as players who are priced at $300,000 or lower
Debutants: 9 in 2020, 21 since 2017
Last year the Crows played a league-high nine debutants, which is a good sign for their cash cow group in the upcoming season. Mature age recruit James Rowe (FWD, $196K, 24.8%) is the one to remember for your fantasy side with the sharpshooter expected to line up for Adelaide in Round 1. An average of 70 last year in the SANFL indicates he can play, but Rowe's scores were aided by some elite accuracy when taking shots on goal (81%).
He may not be the only Adelaide player to debut against Geelong with Riley Thilthorpe (RUC/FWD, 268K, 9.8%) and Luke Pedlar (MID, $250K, 2.5%) also in the mix. The No. 2 and No. 11 selections from last year's draft may miss the cut for the AAMI match, but they've certainly boosted their chances with a strong preseason. Harry Schoenberg (MID/FWD, $334K, 1.7%) is the last one to watch closely, with his price tag scaring most coaches off. Schoenberg didn't score great from his 8 games as a rookie in 2020, however, he's a chance to break into Adelaide's regular 22 should he perform well on the weekend.
Debutants: 6 in 2020, 19 since 2017
All eyes at Brisbane are on Ely Smith (MID, $170K, 11.7%) to see if he gets picked in their team to start the 2021 season. After performing well last weekend on a wing for the Lions, Smith may finally play his first AFL game in Round 1 during his third year in the system. Spots in Brisbane's lineup are tight, but if he does his part again in their preseason hitout with Gold Coast, Smith may be a lock for our benches to start the season.
Coaches are also hopeful 2019 draftee Deven Robertson (MID/FWD, $186K, 20.3%) plays in the opening rounds, although there has been no buzz around him this preseason. Robertson seems poised to start the year in the two's and stringing together good games in the reserves side could see him break through to the top level. Offseason recruit Nakia Cockatoo (MID/FWD, $243K, 23.6%) won't be in the lineup anytime soon after suffering a hamstring setback, although we could see Tom Fullarton (RUC/FWD, $170, 14.3%) play sporadically to support Big O in the ruck.
Debutants: 4 in 2020, 19 since 2017
At $300K+ Paddy Dow (MID/FWD, $323K, 20.0%) doesn't fit the mould of a stereotypical cash cow, but he's still cheap enough to make us a lot of money this season. After a strong showing against the Bombers, Dow has seen his ownership climb significantly and the former No. 3 pick seems set for a breakout year. If he excels against St Kilda then more coaches are bound to jump on the bandwagon.
Loading ...
Aside from Dow, there aren't too many young Blues putting their hands up at the minute, with prospect Brody Kemp (MID, $170K, 4.9%) suffering a foot injury in the preseason that rules him out of contention. Kemp is set to be sidelined for roughly the next three months, but that doesn't mean he couldn't be a factor down the stretch. Similar could be said for Tom De Koning (RUC, $364K, 2.0%) who is a bit too rich for my blood but he showed flashes in his rookie season.
Debutants: 6 in 2020, 18 since 2017
A turbulent offseason has opened up plenty of room for spots in Collingwood's team. Fantasy coaches would love to see popular Magpie Trent Bianco (DEF/MID, $170K, 28.2%) get a game to start the year, and the amount of game-time he plays vs. Richmond should be a good indicator of where he stands. If Bianco doesn't get an early gig then chances are Collingwood's top pick Oliver Henry (FWD, $238K, 3.6%) will be in their lineup instead.
The talented small forward isn't going to win a ton of the footy in each match, but his class around goal could see him score consistently and become an important cash cow in 2021. There could also be room in the side for Henry's draft peer Finlay Macrae (MID/FWD, $234K, 16.4%), although it's worth noting he was a no show in the scratchy against Geelong. Much like Bianco, Macrae may be forced to bide his time and push for senior selection in the VFL to start the year. It would take a surprising and eye-catching performance in the AAMI Series for either of them to enter the Round 1 conversation.
Debutants: 3 in 2020, 13 since 2015
There could be a few Essendon cash cows in everyone's FWD line to begin the season with Harrison Jones (FWD, $170K, 16.8%) strongly pushing his case for selection. Jones has hardly put a foot wrong this preseason with his strong game playing as a high half-forward against the Blues further enhancing his chances of a debut. He managed to kick two goals in that contest, but the real shining light inside-50 was their newest SSP recruit Alec Waterman (FWD, $170K, 4.3%). The former Eagle kicked four goals and after being added to the system last night, expect to see him become a mainstream rookie quickly.
Essendon has signed former West Coast forward Alec Waterman. And he's in considerations for a R1 debut v Hawthorn @AFLcomau https://t.co/y0eaxmc9Zw

— Mitch Cleary (@cleary_mitch) March 2, 2021
It doesn't stop there with the Bombers' trio of top-10 picks all bound to come under consideration for an AFL debut early on. Archie Perkins (MID/FWD, $254K, 9.1%), was shaping up as the more popular name, but he's quickly losing that race to Nikolas Cox (DEF/FWD, $256K, 6.4%). Neither seems to be in the box seat for a callup to play Hawthorn, but it's clear Essendon plans to get games into them at some point this year and another strong performance could force the Dons to seriously consider the pair.
Debutants: 6 in 2020, 25 since 2017
I promise I won't keep talking about players just outside the rookie price realm, but if you need any more convincing to pick Hayden Young (DEF, $337K, 24.8%), I recommend reading this.
Aside from Young, there are a few other cheap Dockers staking their claim for games in the 2021 season. Sean Darcy's inability to stay on the park means Fremantle may seriously consider starting the season with Lloyd Meek (RUC, $170K, 5.4%) as their go-to ruckman. Against West Coast last weekend, Meek held his own against Nathan Vardy, but I expect his stay in Freo's side to be short so proceed with caution.
Another tall in Josh Treacy (RUC/FWD, $170K, 8.4%) also interests me as someone in line to play a lot in the upcoming season. Traditionally it's hard to trust key forwards for decent fantasy production, but we might change our tune if Treacy squeezes into Freo's initial 22. Keep a close eye on him against the Eagles this weekend to gauge his chances of playing in Round 1. If you're after a Luke Valente (MID, $170K, 28.4%) update, he kicked himself in the calf when pushed while kicking last week which only downgrades his chances of making the team to play Melbourne.
Debutants: 2 in 2020, 22 since 2017
With Geelong firmly entrenched in premiership mode, we might not see too many new faces this year for the Cats. If recent outings are anything to go by though, Francis Evans (FWD, $170K, 0.5%) stands a chance to be picked early. He didn't dominate in the game against the Pies, although Evans finished with two goals and looked dangerous inside-50. The second-year Cat was an emergency four times last year, so don't be shocked if/when he gets picked.
Having failed to play last year a pair of top-20 picks from the 2019 draft in Cooper Stephens (MID, $170K, 2.4%) and Sam De Koning (DEF, $170K, 2.8%) enter the year at basement prices. It's hard to picture the duo featuring heavily this year with Stephens seemingly below Jordan Clark and Charlie Constable in the selection frame while De Koning played just one-half in the game vs. Collingwood.
Debutants: 7 in 2020, 23 since 2017
After years of high draft choices, we could be in for a lean year of Sun rookies. With that being said, Sam Flanders (FWD, $253K, 1.7%) may be one to remember as he looks to build on his rookie season. I had high hopes for Flanders in 2020, but the exciting prospect managed just five games and struggled to have an impact in those contests. Should he play well on Monday, Flanders may boost his chances of coming into Gold Coast's side for Round 1 and increase his fantasy ownership at the same time.
Elijah Hollands (MID/FWD, $258K, 6.4%) is the other big name at the Suns to watch intently as he rehabs from a knee injury. Even after tearing his ACL last February, Gold Coast committed to drafting Hollands 7th overall and he's a chance to play in the second half of the season. The club recently revealed there's still 'no timetable' on when he would return to football, so if he's in your squad of 30 you can go ahead and make a switch.
Debutants: 6 in 2020, 23 since 2017
There's always a silver lining when someone goes down with an injury and Braydon Preuss' setback means coaches can lock in Matt Flynn (RUC, $170K, 33.3%). Trusting him on your field is way too risky if you ask me, although Flynn seems set to begin the year No. 1 on GWS' ruck depth chart. The former Giants Academy graduate has had to wait a long time for his opportunity and with the basement priced ruckman set to play heavy minutes, it's hard to start without him on your bench.
Isaac Cumming (DEF, $355K, 14.1%) costs too much to enter this conversation, but two other Giants defenders Jacob Wehr (DEF, $170K, 9.5%) and Connor Idun (DEF, $221K, 1.6%) could be playing against St Kilda. As GWS shakes up their backline we could see a lot of turnover at the position this season which opens the door for Wehr and/or Idun to play a decent chunk of games. For what it's worth, I have my concerns over their fantasy credentials so even if they're picked to play, the duo are hardly walk up starters.
Debutants: 5 in 2020, 17 since 2017
We wondered all preseason who would fill the void left on the wing by Isaac Smith and Tom Scully's departures with Tom Phillips the lead candidate to lock down one of the spots. Enter Connor Downie (MID, $202K, 20.9%), the 35th pick from the draft class of 2020. Downie excelled for the Hawks during their hitout with the Bulldogs, showing composure and skills beyond his years that has seen him quickly vault to fantasy relevance. He could be joined in Hawthorn's Round 1 team by Denver Grainger-Barras (DEF, $260K, 11.8%) although, DGB doesn't offer anywhere near the same scoring upside.
A 40.3 point average from eight WAFL games last year should help coaches bypass Grainger-Barass, even if he's picked to start the year. Another WA prospect in the selection mix is Tyler Brockman (MID/FWD, $180K, 3.2%) after his strong showing against the Dogs last week. He's another player to watch closely in the AAMI Series and if he plays well, Brockman may become another temping bench choice up forward.
Debutants: 4 in 2020, 18 since 2017
Melbourne's cash cow crop isn't as promising as other clubs, but they too have a surprising rookie firming as a Round 1 possibility. James Jordan (MID, $170K, 3.5%) did his chances of a debut no harm by performing well against Richmond and attending 8 of the 30 CBA's for the match. With Clayton Oliver and Christian Petracca set to do the heavy lifting in the middle, Jordan may start the year as an emergency and his effort against the Bulldogs will tell a lot.
Melbourne's back-to-back picks from the most recent draft in Bailey Laurie (DEF/FWD, $228K, 1.4%) and Jake Bowey (MID/FWD, $230K, 1.3%) could enter throughout the year, but they come at a cost. I'd much rather trust some of the more mainstream, proven cash cows, although that doesn't mean the pair should be ignored completely. Lastly former No. 3 pick Luke Jackson (FWD, $321K, 0.7%) could be in for a larger piece of the pie this season, however, I doubt he'll matter in the world of fantasy.
Debutants: 4 in 2020, 23 since 2017
I've already had my two cents this preseason regarding North's new midfield additions with Will Phillips (MID, $266K, 28.5%) and Tom Powell (MID, $246K, 24.2%) shaping up as crucial cash cows this season. Personally, I think both rookies are must-have property when they eventually make their debut and that could be as soon as North's season-opener vs. Port Adelaide. Phillips was held out of the practice game last week, but he and Powell could use another opportunity to stake their claims for a Round 1 berth. Lachie Young (DEF/MID, $276K, 10.0%) finds himself in the same boat, although his chances of a game straight up aren't as high.
Loading ...
Having made the shift from the Bulldogs in the offseason, Young offers handy DPP for coaches should he makes the Roos' side regularly in the new season. Another player who switched clubs last summer and could be a heartbeat on the bench this year is Atu Bosenavulagi (FWD, $206K, 3.6%) with both he and Charlie Lazzaro (MID, $200K, 1.1%) performing well in the match against the Saints. If North Melbourne has a lot of their first-choice players this weekend, then these two may find themselves squeezed out of the squad that takes on the Hawks.
Debutants: 2 in 2020, 17 since 2017
There are some questions over his fantasy game, but Lachie Jones (DEF, $240K, 11.9%) is in line to play for Port Adelaide very early on. The manchild defender averaged just 50.6 points in 2020, however, he did so while playing in a premiership side at SANFL league level. There's a scenario where Jones slots straight into the Power defence and plays consistently this year – just expect him to be a slow burn.
More coaches are optimistic that Miles Bergman (FWD, $170K, 10.8%) and Jackson Mead (MID, $170K, 13.2%) can break into Port's side with Bergman seemingly ahead in the race to debut as it stands right now. Against the Crows last weekend, Bergman showed glimpses of promise as he set up play from the half-back line, while Mead played at reserve level. It's expected that the duo will feature at some point in 2021 for Port Adelaide's senior team, but there are no guarantees they'll be in for a long string of games.
Debutants: 2 in 2020, 17 since 2017
With an equal-league low two debutants last year, there are concerns over if we are ever going to see some of these Tigers kids play. Riley Collier-Dawkins (MID, $170K, 17.2%) is the youngster everyone is focusing on with the 2018 draftee still yet to AFL debut. He'll benefit from the state-league competition running again, with some strong games at VFL level certain to help RCD prove he deserves a chance to play senior footy.
Last year he and the rest of us watched as Thompson Dow (MID, $192K, 3.2%) beat him in the race to debut, only for Dow to last just two games. With another preseason under his belt, Dow could build on his first season and play a few more games, but it may take a run of injuries for him to truly enter the selection frame. One Tiger cub who could be playing early on is Hugo Ralphsmith (MID/FWD, $170K, 3.6%) who lined up across the half-back line in their match vs. the Demons. Chasing his own AFL debut, Ralphsmith could solidify a place in the side with an impressive display in the AAMI Series match against the Pies.
Debutants: 3 in 2020, 18 since 2017
It seems like fantasy coaches won't have the option of picking Dylan Roberton (DEF, $170K, 14.1%) this year with the Saints defender stepping away a few months ago to consider his future in the game. Roberton was set to be a popular pick, however, his teammate Tom Highmore (DEF, $182K, 21.3%) is emerging as the favourite to fill the hole in St Kilda's backline. A year ago Highmore scored 72.5 fantasy points from 11 games in the SANFL and the mature-ager will look to lock down a consistent place in the side from as early as Round 1.
Courageous marking and run out of defence 💫

A taste of what you can expect from Tom Highmore. pic.twitter.com/jpfvdUzrzG

— St Kilda FC (@stkildafc) December 12, 2020
Highmore has been praised so far for his intercept marking ability and long term injuries to Ben Patton and Jarryn Geary mean there are spots to fill in the Saints' defence. The absence of Brad Crouch in the first two games could see St Kilda roll the dice with Jack Bytel (MID, $299K, 1.4%) as well, after he had a solid outing against North Melbourne. Should Bytel get picked for the AAMI Series match this weekend, he'll want to put his best foot forward in an effort to secure some early season midfield minutes.
Debutants: 7 in 2020, 23 since 2017
Not known for their cash cow depth, generation next is coming fast for Sydney with their roster littered with potential rookie studs entering the 2021 season. Currently, Matthew Rowell is the only player in more fantasy teams than Will Gould (DEF, $170K, 40.7%) with the sophomore Swan eager to make his senior debut this year. He didn't increase his chances of playing in Round 1 in the scratch match vs. GWS, so if he gets another attempt this weekend, Gould has to make it count.
Young MID's Chad Warner (MID, $196K, 1.1%) and Errol Gulden (MID, $208K, 8.8%) enjoyed impressive stints in the Swans' engine room against the Giants that could see them push for an early-season berth. Gulden in particular shone in the practice match and should be in Sydney's outfit to clash with Brisbane if he gets through the AAMI match unscathed. Braedan Campbell (MID/FWD, $262K, 21.1%) is the other one I'd be watching closely as a potential debutant to start the year. Rated as an elite kick before he even entered the AFL, the Swans have been using Campbell off the half-back line and while he might have to wait patiently before he breaks through, the top-5 pick is worth every penny when he does.
Debutants: 6 in 2020, 19 since 2017
No Eagles cash cow is in more than 1.7% of teams right now with West Coast scrapping the bottom of the barrel for fantasy rookie relevance. No offence to the Eagles, who seem primed for another flag tilt, but as it stands right now Bailey Williams (RUC/FWD, $271K, 1.4%) is best money maker on offer. Williams managed three games last season and didn't light the fantasy world on fire by any means, however, he could carve out a niche as the supporting ruck alongside Nic Nat.
A quad strain and rolled ankle dampens his chances of starting the year in West Coast colours with Nathan Vardy (RUC, $268K, 1.2%) the other candidate in line to support the Eagles' ruck load. I'm not a huge fan of paying up for Williams or Vardy whenever they make an appearance and unless another one of their $170K players like Luke Foley (DEF, $170K, 1.7%) or Harry Edwards (DEF, $170K, 1.7%) sticks their hand up, there's not a ton of rookie value on offer at West Coast for fantasy coaches.
Debutants: 5 in 2020, 18 since 2017
In the past two seasons, the No. 1 pick has been dominant in AFL Fantasy circles, although that could change in 2021. Generational forward prospect Jamarra Ugle-Hagan (FWD, $270K, 19.4%) has been a popular player all preseason but the question everyone wants to be answered is will he play in Round 1? At the moment, all signs point to no, with Ugle-Hagan featuring in the reserves match against Box Hill in an effort to build his base fitness after his 2020 NAB League season was derailed by COVID-19.
Ugle-Hagan looms as an important fantasy rookie when he does play, but he's certainly lost some of the appeal that surrounded him earlier this preseason. We thought he would play regularly this season, but if JUH's job security is coming into question, it might be wise to spend your money elsewhere, rather than pay up for the top Dog until we see what he's capable of. One other cash cow generating buzz in the lead up to Round 1 is Lachlan McNeil (MID, $170K, 1.1%) with the rookie draftee performing well in their last contest against Hawthorn. McNeil may too be forced to watch the early rounds, but the rookie draftee from 2020 played every senior game possible for SANFL side Woodville last year and he may be in line to prove his worth in the AAMI Series against the Demons.
FOLLOW ME ON TWITTER: @SportsbyFry for all things AFL Fantasy (and more)! Feel free to hit me up with any questions you have throughout the season ✌️