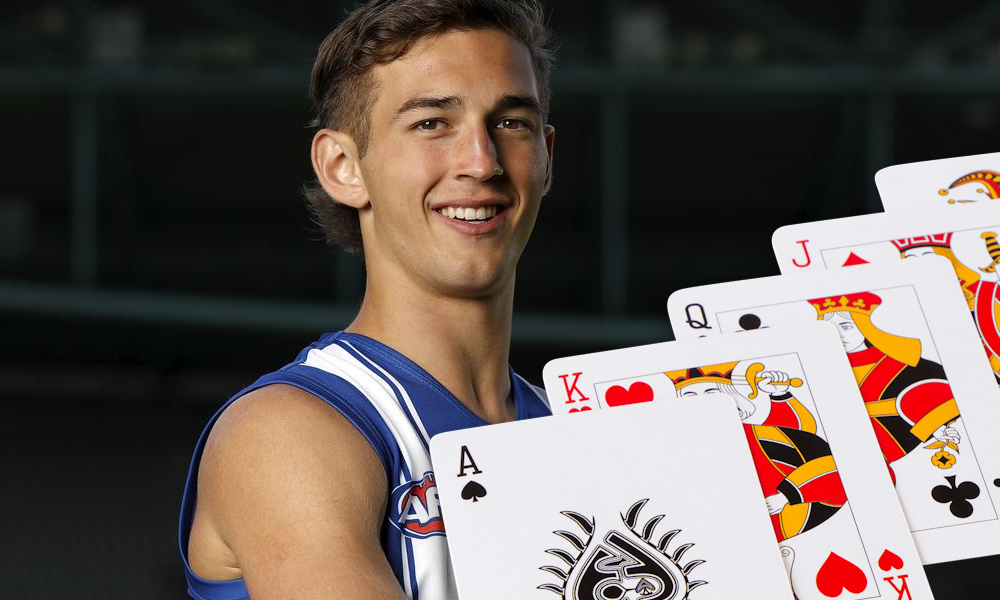 Name: Will Phillips
Team: North Melbourne Kangaroos
Position: MID
Price: $266,000
Bye round: 12
2019 average: 77
2019 games played: 10
2020 games played: N/A
Predicted average: 68
Draft range: Undrafted
Click here for 2021 Fantasy prices.
Why should I pick him?
Legitimate cash cows are hard to come by this fantasy preseason, with most coaches looking for value elsewhere as our starting squads take shape. One rookie who hasn't slipped through the cracks for coaches is North Melbourne's Will Phillips, who currently resides in 33% of all teams as the 6th most popular player. The No. 3 draft pick from the class of 2020 possesses traits that should see him handed an early debut, with the Roos keen to get games under his belt as they usher in a new era at the club.
The former Oakleigh Charger wasn't able to take to the field due to COVID-19 this past year, however, in 2019 he rarely put a foot wrong at the NAB League level, despite playing with some elite level juniors. Fighting for the footy in a midfield that also boasted Matthew Rowell, Finlay Macrae, Trent Bianco and Noah Anderson, Phillips still managed to win his fair share of the pill – averaging 22 disposals from his 10 matches. As a bottom ager, Phillips played an integral role in the Chargers 2019 premiership, kicking two goals in the Grand Final and gathering 16 touches to complement the rest of his classy teammates. In the prelim one week earlier, Phillips had his best of the season, with the gun MID gathering 8 kicks, 19 handballs, 3 marks, 8 clearances and 8 tackles for a fantasy score of 103.
The bigger bodies of Ben Cunnington and Jy Simpkin in North's engine room should help support Phillips and allow him to succeed right away in his first year at AFL level. Standing at 180cm the newest Roo oozes class as a pure midfielder, with very few holes in his game at such a young age. Clean hands, durability and the ability to win the ball either inside or outside should point to a successful campaign for Phillips as a rookie.
As his body fills out, Phillips will only continue to get better with the touted prospect excelling at every level he's played at since U-16's. North Melbourne rate him so highly that on draft Boomer Harvey arrived on his doorstep to hand the famous number 29 over their gun recruit. His handball happy nature will make some coaches pause, but if he's named Round 1 like most of us expect, he'll slot into the M6-M8 position for the majority of fantasy teams.
Why shouldn't I pick him?
While Phillips offers very little risk as a cash cow prospect, there are no guarantees North Melbourne will put up a ton of fantasy points as a team. Last season the Kangaroos averaged the 4th fewest points as a club and there's a possibility they'll be worse again in 2021. Having delisted 11 players and losing veteran Shaun Higgins there are plenty of spots up for grabs in North's lineup, but it's hard to foresee a situation where they gel right away. That could lead to some ugly results early on and with four players currently in at least 10% of teams, I wouldn't want to fill my lineup with too many Kangaroos.
There's a chance they'll galvanise around new head coach David Noble, but a healthy midfield rotation may also eat into Phillips' potential. Ben Cunnington managed just three games last year but appears to be back at full strength now and Jy Simpkin thrived in 2020 having a breakout season in North's engine room. Phillips may still get his chance to run alongside those players, but there's a chance he'll slot into another supporting role – hampering his potential fantasy ceiling.
Another thing that could lead to inferior scores from the Roos rookie is his handball tendency, with Phillips nearly owning a 2:1 handball to kick ratio. Gathering 10-12 handbells per game, as opposed to 10-12 kicks, could see his scoring average dip into the high 50's/low 60's rather than pushing his numbers closer to 70+.
Deck of DT Rating.
KING
All in all, Will Phillips shapes as the pick of the bunch from the 2020 draftees, with an inflated price tag of $266K a fair price to pay for the Roos first-year midfielder. Don't expect him to replicate the feat's of Sam Walsh and Matthew Rowell in year's past, but an average close to 70 is what I expect from Phillips – providing North stays true to their word and gives him the opportunity to play 15-20 games in 2021.
Loading ...
FOLLOW US  ON TWITTER: @SportsbyFry for all thing AFL Fantasy (and more). Got something to say about the deck or AFL Fantasy in general? Join the conversation and use the hashtag… #AFLFantasy.