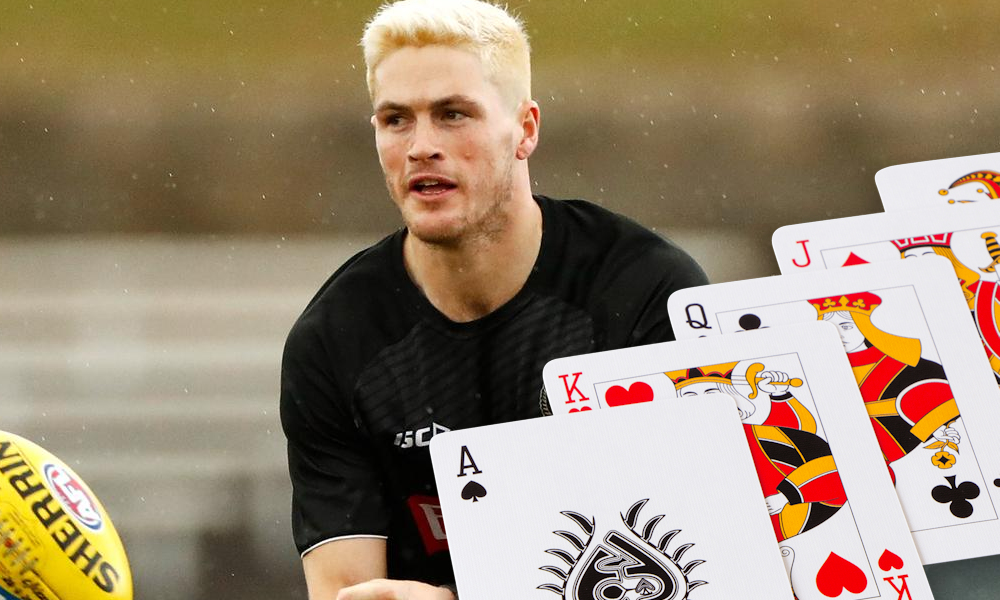 Name: Jack Crisp
Team: Collingwood
Position: DEF
Price: $726,000
Bye round: 14
2020 average: 76.1
2020 adjusted average: 94.7
2020 games played: 17 (assume it's always the full season)
Predicted average: 95-100
Draft range: 3rd/4th
Click here for 2021 Fantasy prices.
Why should I pick him?
Jack Crisp is a picture of consistency. He ticks every box you'd want from a fantasy defender. Durable, role, team, ceiling, unique ect ect. And unless your name begins with the letter 'R' and ends in the sound 'oi', annnnnnd have the twitter handle @RoyDT, then you've probably had some fond memories of this guy over the years.
Durable – Crisp is the most durable player in the competition. He's played 127 home & away games consecutively, thats 100% of games since arriving at Collingwood in 2015… And that's not even including finals and preseason games (he's played 100% of those too). He even stays on the park in pre-season intra-clubs and doesn't miss a training session. He's the best in the comp in terms of being a green dot week-in-week-out, which is a HUGE tick for us as part of our strategy in picking a starting squad. It's not always about picking value, yes, that's extremely important, but, it's also about minimising unnecessary trading. Select players that'll be there at the end of the season too.
Role – Crisp, in my opinion, is going to be one of the players who benefits from Treloar's departure. With Pendlebury ageing, de Goey's injury and Crisp not being a stranger to the midfield (he's been thrown around there plenty of times in the past) we could see a rise in mid minutes. This is also more likely by the return of Howe to the Collingwood back-6. Hopefully not a full-time midfielder though (thinking Blakely of old, who actually scored better on the half-back line with 'the role'), Crisp is amazing on the outside with his +6 game, but a move to a part-time mid role would be perfect as it would bump his tackle and disposal numbers.
Team – It's no secret that Collingwood have a super Fantasy friendly game-style. They ranked #1 in the competition for disposals a game in 2020. They love to play possession football. I mean, look what happened when Longmuir moved to Freo, a lot of players had career best Fantasy seasons. It's hard to miss when you're picking a Collingwood player… Treloar, Adams, Pendlebury, Howe, Maynard, Sidebottom, Grundy, Daicos, Noble and Crisp were all relevant at points last year… Compare that to a team like Port and you couldn't name a single relevant player -Please @CalvinDT for responses to this. Adding to that, Crisp has the two loopholes early and if you're against starting Grundy and need an option, here he is. Speaking of loophole captain options, lets look at why Crisp is a great VC option;
Ceiling – Ending 2020 Crisp was the highest scoring defender in the final 5 rounds (@RoyDT) with a 129! He did this with a 145 in round 14, followed by a 151 in the following round. Then he slowed down with a 110 and 109 to end the year in rounds 17 & 18 respectively. In 2019 he also pumped out a 142, plus 11 other tons that year with half of those being above 110. In 2018, even when he averaged in the 80's he still hit a 147 score. He's just brought that basement score up from what it was in 2018. Round 2, 2021, Carlton vs Collingwood, Thursday night footy. Crisp scored a 145 against them in round 14, 2020, and before that has the following scores in reverse chronological order; 105, 135, 98, 115 for an average over that time of 120. Lock that in as a VC option in round 2 when scoring is a little more unpredictable.
Unique – To put this in perspective, Crisp is owned by the same amount as Brad Crouch who misses the first 2 games of the season. 3% ownership for a player who should be a lock as a top 6 defender and potentially underpriced based on his first half season average of 86 and second half average of 105. Crisp has the potential to set your team apart at the start of 2021, if he starts 2021 the way he finished 2020.
Why shouldn't I pick him?
It took Crisp some time to warm up in 2021. And the owners who started Crisp would remember it passionately. Fantasy coaches do tend to get recency bias and remember the bad times you owned a player so this could still be weighing on you. But in all serious, Crisp's start to 2020 was well below what you want from a top defender. 86 in the first half is not even close.
You've gotta ask was Crisp's slow start because Howe moved into a more prominent loose defender (pre-injury)? Also Maynard accumulated a lot more of the ball than in the past. Crisp's rise correlated strongly with Howe going down, and Maynard playing certain lockdown roles on opponents, and now that Howe is expected to be back, does Crisp regress? One things for certain, Maynard, Howe and Crisp all rely on marks to build a decent Fantasy score, and with all 3 back there, fit, who is the main beneficiary?
Crisp has only gone above a 95 average twice in his career now. He was a consistent high 80's player for 5 years prior to that. There's every chance he reverts back down to that making him a poor starting option.
There seems to be a clear cut tier 1 and tier 2 list in the defender line this year. With the three L's, Lloyd, Lachie, and Laird being in that top category of 105+ and the tier 2 list being around that 95-100 mark. There are a lot of players pushing that 95-100 mark now, if you add a Williams, Stewart, Docherty, Houli, Maynard, Mills, Witherden, McDonald, Ridley, Daniel, Ryan, Howe, Haynes, and any new comers… I could see the bottom 3 of that top 6 rotating (on a very reactionary basis) in 2021.
Deck of DT Rating.
KING
Crisp can roll with the best, he's been a top 6 defender for 2 years running now. Priced at 95 (lower than his 2019 year), there's every chance he's underpriced based on his 129 end to the year. If there's two things certain in Fantasy football for 2021 it's this:
Crisp plays 22 games.
Crisp is a top 6 defender (or at the very least around the top 10 mark)
It's not allllllll about picking value in Fantasy. You also want to minimise trades used, and you won't need to consider moving Crisp all year. I love that about him. I want to look at my team at the end of the year and have a big portion of my initial squad in my final squad.
FOLLOW US  ON TWITTER: @DTTALK for all thing AFL Fantasy (and more). Got something to say about the deck or AFL Fantasy in general? Join the conversation and use the hashtag… #AFLFantasy.