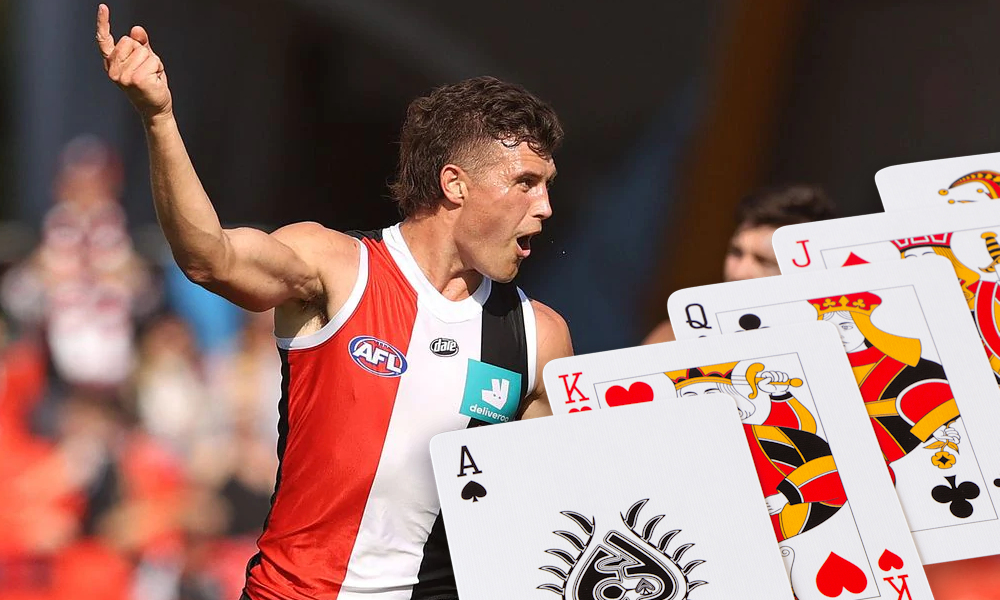 Name: Rowan Marshall
Team: St Kilda
Position: RUCK/FWD
Price: $738,000
Bye round: 14
2020 average: 76.96
2020 adjusted average: 96.2
2020 games played: 17
Predicted average: 95-100
Draft range: ADP of 17-20 on TheDraftDoctors Mock Draft Simulator (round 2-3)
Click here for 2021 Fantasy prices.
Why should I pick him?
There's some events in life that you remember forever. Events that have such a profound impact on your core being that you re-live them over and over in your head. Events like:
Your wedding day
Your childs first steps
That lamb vindaloo at the MCG that didn't sit right
and of course…
THAT DAY IN 2019 WHEN YOU PASSED OVER TAKING ROWAN MARSHALL OFF THE WAIVERS IN YOUR DRAFT LEAGUE THINKING HIS SCORE WAS A FLUKE, BUT THEN HE PROCEEDED TO DOMINATE THE ENTIRE SEASON. AND THEN THE REST OF THE YEAR HOW YOU WERE TOO STUBBORN TO BRING HIM INTO YOUR CLASSIC SIDE FOR SOME REASON.
*deep breaths*
Sorry. It's… I'm seeing someone about outbursts like that.
Rowan Marshall – the pride of portland – completely surprised everyone in 2019 when both opportunity and skill aligned to give him the solo ruck role at the Saints – and pump out a massive season average of 99.1. For those that were less stubborn than me, he made a massive difference to your success, with many who received the coveted AFLFantasy hat attributing getting on the bandwagon early part of their success.
Going into 2020, RowMar had some questions about how he was going to be deployed raised as the Saints recruited the services of elite tap ruckman Paddy Ryder. We're they going to play Ryder as a deep forward as he had at times for Port in a dual ruck setup, or would it be RowMar? And if so, what impact would that have on RowMar's scoring output?
Well – now we know the answer – yes they would play a dual ruck setup, it would be RowMar sitting in the forward line, and the impact was… minimal. RowMar went on to post and adjusted average of 96.2, and going into 2021 that makes him the 5th highest scoring forward in the competition (yep, that's right, he's a forward).  On the surface this looks like the impact was under 3 points per game, and when you dig in a little deeper… it really was just about 3 points per game, seen by comparing games played with Ryder vs games played without Ryder.
Games played with Ryder: 95.41
Games played without Ryder: 98.74
Regardless of where he seems to play – forward with stints in the ruck, or ruck with stints in the forward line, he builds a fantasy friendly score.
With Ryder another year older, and not exactly having the most durable body over the most recent years – there's plenty of upside to picking Rowan Marshall in your starting side as a forward – especially because he gives you the flexibility to pick someone like Brayden Preuss in the ruck. He also becomes an easy trade down to one of the underpriced forward options.
Did I mention he's a forward?
Forward. Forward. Monorail. Monorail.
Why shouldn't I pick him?
He's expensive! With great scoring potential comes a great price tag.
Even though we proved (with science) that the Ryder effect is minimal, there's still that lingering concern that maybe he wont be as effective in the forward line as he was last year. The team looks like they're doubling down on Ryder in the ruck, with new recruit Brad Crouch saying how excited he is to work with Ryder – so if you dont believe the narrative (science) that Marshall can build fantasy friendly scores as a forward – then he probably isn't going to make your starting line up.
The factor I didn't raise earlier when comparing the averages with or without Paddy Ryder, was scoring consistency. He had far more variance in scoring when playing forward, simply because he isn't around the ball as much. He's not the type of key forward that goes out and kicks bags of goals to offset the lack of disposals you get by sitting there – he averaged under a goal per game in the 2020 season. As a result, if the ball isn't sitting predominantly in the Saints forward half, he may see some lower scores – their round 17 loss to the eagles is a good example of this, an 11 disposal 2 tackle effort for and adjusted 65 (icky).
Deck of DT Rating.
Queen
Given the cheaper options available in the forward line, and it being one of the (seemingly) easier lines to generate some cash this year, paying $738k for Marshall at the start of the season feels like a missed opportunity. He's definitely an upgrade target, and figuring out when to pull the trigger will be important – if you aren't able to hop on the monorail when Ryder inevitibly rests/gets injured, you might miss out.
From a draft perspective, the forwards are thin this year. He's probably sitting at the bottom of the top tier in your draft rankings, and with the dual position status, it means you lock a fantastic forward away, and can completely punt rucks and focus elsewhere – then if there's a Preuss or Big O available late, snatch them super late. I think where he is being drafted on the mock site (mock.thedraftdoctors.com.au) at the moment feels a little high, but if you can snatch him in the third round you're on to a winner. Check out all our draft rankings, player analysis and more in the 2021 Draft Kit!
MMM MMM DRAFT KIT! #AFLFantasy #SuperCoach #FREEORINI 👉https://t.co/zsaXWKCWAf pic.twitter.com/Q7KrOKDZ3o

— Haydn 'Dos' Kenny (@HKdos) February 5, 2021
270 banter heavy player profiles
Team profiles
Comprehensive draft rankings and target ranges
Projected averages
+ a whole lot more over 151 pages, and 50k words!
Also follow us on the socials @thedraftdoctors