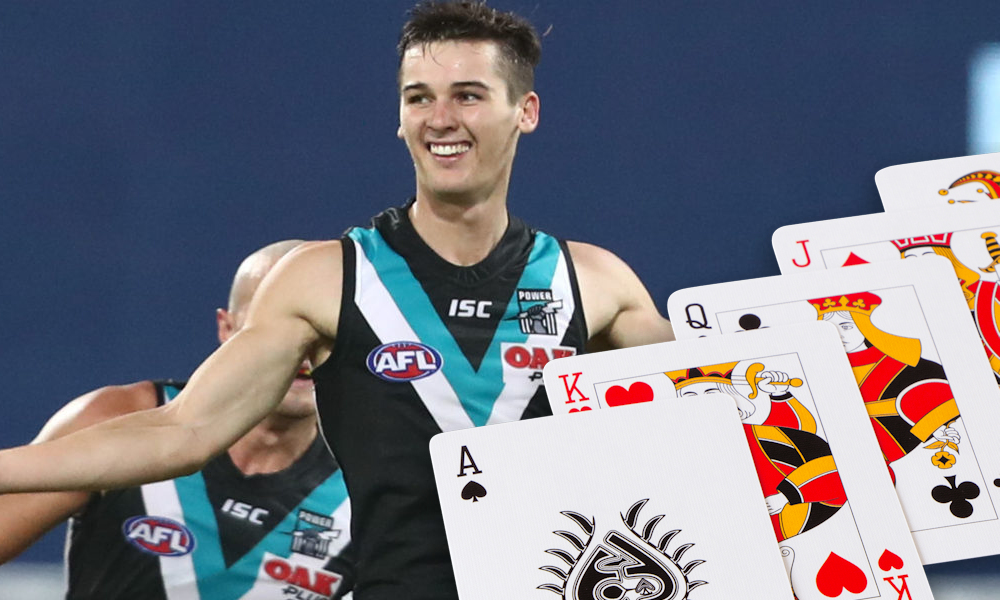 Name: Connor Rozee
Team: Port Adelaide
Position: FWD
Price: $518,000
Bye round: 12
2020 average: 54.2
2020 adjusted average: 67.5
2020 games played: 14
Predicted average: 85+
Draft range: ADP of 75-80 on TheDraftDoctors Mock Draft Simulator (round 8)
Click here for 2021 Fantasy prices.
Why should I pick him?
It's January 14, 2021, slightly warm outside. You've cracked a beer, and you browse over to your favourite card related fantasy content, the Deck of DT, and a bloke named Dunny has written an article, shilling Zac Butters as a great option in AFL Fantasy. I'm here to do you one better today and completely undercut Dunny, if that is his real name, and peddle my like-for-like but cheaper wares.
Connor Rozee started last year with an absolute bang after playing 22 games in his first year – he managed an average of 100 (BCV adjusted) over the first two weeks in 2020. Granted this wasn't against premium opposition (Suns and Crows), but it was a sign of things to come. In these two games he averaged over 10 contested possessions, a decent amount of uncontested, a goal, and a very healthy kick-to-handball ratio – all traits that we align to fantasy footy premiums.
Like Butters, he's approaching his third year, the year most commonly associated with players taking giant leaps to relevance in AFL Fantasy. Also like Butters, he is expected to feature more prominently in the midfield.
The talk coming out of Port Adelaide, is that they are preparing people to play multiple roles throughout each game due to the reduced interchanges, and the jump back to full game time. The coaching staff have all said that Butters and Rozee will see increased midfield minutes, which should result in increased fantasy scoring, as they rotate with the existing midfield staples – Rockliff, Wines and Boak – all of whom may see a slight regression as a result.
Port Adelaide: "We'd expect him (Connor Rozee) to get more of that time, same with (Zak) Butters"

Power assistant coach Michael Voss on midfield usage this season#AFL | #AFLPreseason pic.twitter.com/LG6HVu89vI

— aflratings.com.au (@aflratings) February 1, 2021
So far so good right? Basically the same opportunity as Butters. Where the narrative separates however,  is the price. He comes in a whopping $77k cheaper, and in a year where the rookie cabinet is bare, every extra dollar is going to make a difference to disperse across the rest of the team. 
When it comes to draft – Rozee is also going twice as late as Butters. Butters at the time of writing, has an ADP (average draft position) of 39 on the Mock Simulator (www.mock.thedraftdoctors.com.au), whereas Rozee is sitting at 75. Absolute value town for a player that absolutely should be as-good-as, or better than Butters.
Finally, and if you weren't already convinced, it seems that in the off season, his training program has solely been focused on building his biceps, and growing leg hair. A strange program to be sure, but one that definitely helps him improve his fantasy scoring… somehow.
See?! What's the deal with that leg hair?
Why shouldn't I pick him?
Remember how I mentioned the first two games last year? Well he played 14, and the remainder weren't exactly crash hot. From round 3 onwards, Rozee averaged 62 (BCV adjusted), which isn't going to help your team in either format of the game – it's waiver wire territory in draft, and close to where he is priced in Classic. 
Digging a little deeper, and it becomes quite obvious that he was hampered by a niggling foot injury throughout the year – and foot injuries are no joke! They take forever to heal (heel?… sorry) and can really hamper a players fantasy output when they return. Connor essentially sat the rest of the season in the forward line as a result.
Deck of DT Rating.
KING
Connor Rozee was the first player picked in my classic side when the game opened, and I don't see him leaving from now until the season starts unless there's an injury. He's an absolute gun, and in a year where finding the right mid-pricers could make or break your season – he's as close to a sure thing as you'll find from a scoring output and cash generation perspective. I honestly wanted to give him an Ace rating to see what Warnie would do, but I got scared. He gets really jumpy when he releases the new version of the AFLFantasy app that he builds and supports, and I didn't want to poke the bear.
From a draft perspective, the forwards are thin this year. He's sitting close to the top of the pack after the premiums in most of our rankings over at TheDraftDoctors – of which you can find in our 2021 Draft Kit!
270 banter heavy player profiles
Team profiles
Comprehensive draft rankings and target ranges
Projected averages
+ a whole lot more over 151 pages, and 50k words!
Also follow us on the socials @thedraftdoctors
FOLLOW US  ON TWITTER: @DTTALK for all thing AFL Fantasy (and more). Got something to say about the deck or AFL Fantasy in general? Join the conversation and use the hashtag… #AFLFantasy.