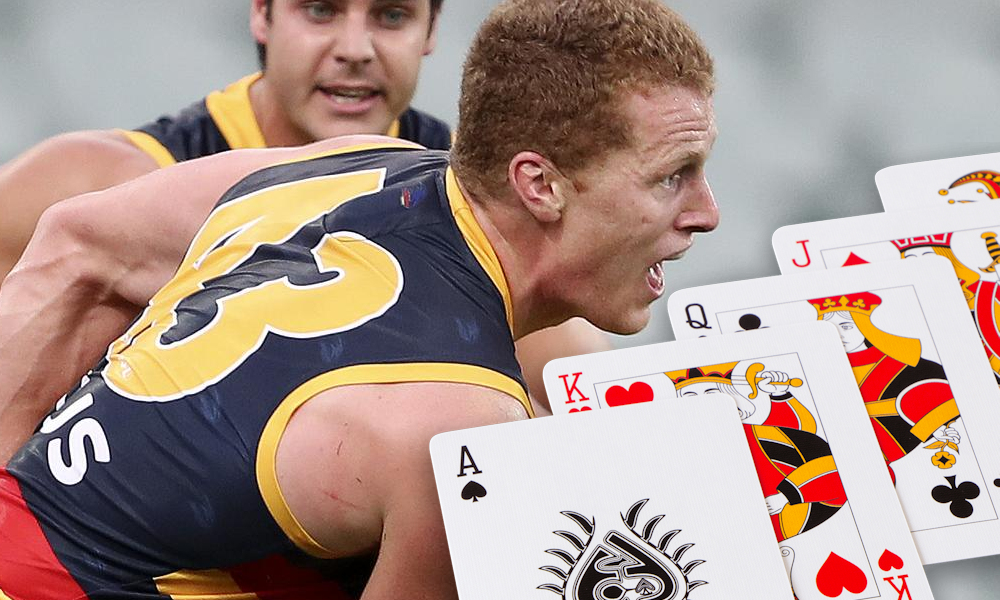 Name: Reilly O'Brien
Team: Adelaide Crows
Position: RUC
Price: $828,000
Bye round: 14 (final bye)
2020 average: 86.7
2020 adjusted average: 108.1
2020 games played: 17
Predicted average: 115
Draft range: Could go first round after the Gawn & Grundy run or in the 2nd. You'd be kissed to get him in the 3rd.
Click here for 2021 Fantasy prices.
Why should I pick him?
Reilly O'Brien (ROB) has finally given us something to think about when selecting a set-and-forget ruckman. This is going to be a long "why should I pick him?" section, because frankly, there are a lot of reasons to pick him.
For years now it's been a braindead combination of Grundy and Gawn, and now, at last, we have a ruckman who's not only worthy of being in the same conversation, but challenging the two 'G' big men for the mantle of number 1 ruck. So why should I pick ROB instead of Gawn &/or Grundy?
Gawn has had some durability issues, not just last year, but throughout his career, only playing 2 full seasons out of 9. And Grundy is now in a lineup that features not just Cox (who never really effected Grundy), but Darcy Cameron (and I believe Cameron will feature heavily in 2021) who'll share ruck duties. ROB has neither of these issues. No issues with durability, having only missed the only the 1 game (was dropped for Sauce who was dominating the SANFL) since he took over from Sauce Jacobs in round 3 2019. No issues with ruck sharing. Sure – they might have someone chop out, but they won't have a second dedicated ruckman in the lineup like Collingwood are doing with D.Cameron (and Thilthorpe doesn't count if he gets games as he's so raw).
Then there's the price difference, $116k cheaper than Gawn (which allows you to turn a Sloane into a Taranto or a 170k rookie into someone who will actually play), and $39k cheaper than Grundy (which isn't as significant but still might be the change you need to bump a player up).
ROB also had a huge end to the year… These are his adjusted scores from round 12 (2020): 141, 96, 128, 126, 99, 140. Not bad? How about 'the best'? In the final 6 rounds of the year ROB was the #1 ruckman in the competition. An average of 121 in his last 3, and 117 in the last 5 (which misses that 141, making his last 6 game average of the year 121.5. Fluke? In 2019 (let me remind you this year was only his SECOND AFL season), between rounds 12-20 (2019) ROB went BANG with; 101, 146, 128, 107, 96, 134, 114, 90 for an average of 114.5 over that time.
His basement score is quite high too with a lowest seasonal score in 2020 of 76. Higher than Grundy on 66. And a high ceiling scoring above 125 on six(!!!!) occasions, and going above 140 twice. With a career highest score of 146 back in 2019.
He attains these scores by covering the crucial mark and tackle stat lines as well as having games where he monsters hit outs. In 2020 he had 6 games with over 5 tackles (in shortened quarters), 5 games with over 5 marks (again, shortened quarters), and 11 games with over 25 hit outs… The guy is a Fantasy point generating machine.
He goes into the 2021 campaign as a unique point of difference too. With 10% ownership (at time of writing this article) it's significantly less than Grundy's 33% and Gawn's 14%.
ROB is also only 25 years old. Ruckman generally don't peak until their late 20's so you think ROB's current average at 108 is the cheapest he is going to be this year. ROB's only played 2 proper AFL seasons now which is remarkable when you think about what he's already accomplished. Did someone say 3rd year break out (the games he played in 2016 don't count)!?! There is still so much growth and improvement in a player like this who will want to lead his young teammates from the front. In the 3 years he's played AFL games his season average has gone; 74, 95.5, 108.1. I think the way the finished the year in 2020 so be a truer reflection of what his potential will be and he has all the attributes to push a 115+ average.
Plus this (Tweet below). Translation; "I'm young, fit and won't sit on the bench. I'll kick a snag instead"
Adelaide: "With the reduced interchange cap this year, I'll probably potentially spend a bit more time forward"

Reilly O'Brien via @1116sen #AFL | #AFLPreSeason pic.twitter.com/Gs8SsIfi08

— aflratings.com.au (@aflratings) January 21, 2021
Why shouldn't I pick him?
Let's say Gawn remains around his average, and Grundy goes back to his 120 days. Even if ROB were to climb to a 115, when our end goal is to end the year with the best in every line, then in this case 3rd is the 1st last. Or let's say ROB stays around the 108 mark, then he's probably still burning you on what Gawn and Grundy are capable of.
Gawn has gone 110+ 3 times and coming off a career high 120+ average and is showing no signs of slowing down. Grundy has gone 120+ on two occasions and comes in 7 points under his previous 2 averages. Both these options are safe as houses to be around the mark of top 2. There's a lot more uncertainty with ROB, as always, it's a lot more nerve racking picking a player who's never done it before. Especially when it's the ruck we're dealing with. Other positions are a lot more forgiving if things go pear-shaped.
He share's that bye round with Gawn, Grundy and popular pick Marshall which takes away the potential of doing the old-fashioned set-and-forget tactic.
Look, I'm scraping the barrel here. There's not a lot of downside to selecting ROB this year.
Deck of DT Rating.
ACE
I sat on KING for a while, but thought about it, and there is a lot of potential for ROB to be the #1 or at least the #2 ruck in 2021. And in what world is that player not an ACE??? If either Grundy or Gawn had some mid-season hiccup there would be no doubt at all that ROB is now our man and even then, with ROB's improvement trajectory there's no reason he couldn't still push that.
To reiterate, ROB averaged 108 in his 2nd full season (3rd if you count the two games in 2016). It took Grundy 6 seasons to pass 108, and it took Gawn 7.
Big fan of what this guy is capable of and he is solely responsible for me owning a 2019 top 100 Fantasy cap. If only Pruess didn't provide so much value that he selects himself. If I were doing a set-and-forget ruck structure, ROB would be a no-brainer at R2. Now the decision becomes a little more difficult, but I'm happily entertaining the idea.
I don't think anyone wanting to start with ROB will be disappointed. Set and forget.
FOLLOW US  ON TWITTER: @DTTALK for all thing AFL Fantasy (and more). Got something to say about the deck or AFL Fantasy in general? Join the conversation and use the hashtag… #AFLFantasy.