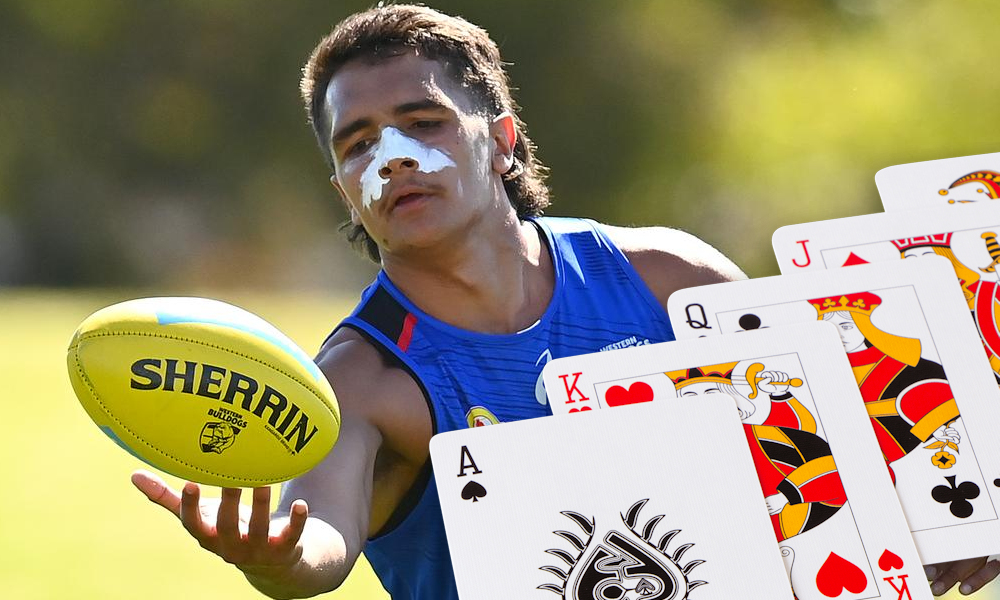 Name: Jamarra Ugle-Hagan
Team: Western Bulldogs
Position: FWD
Price: $270,000
Bye round: 13
2020 average: 65
2020 games played: 9
Predicted average: 63
Draft range: Undrafted/late-round flier
Keeper league draft range: 2nd/3rd round
Click here for 2021 Fantasy prices.
Why should I pick him?
For the past two years, fantasy coaches haven't even batted an eye when it comes to paying up for the top draft pick. At $270K Sam Walsh put forth one of the best fantasy seasons we'd ever seen from a rookie in 2019 and Matt Rowell continued the trend with a breathtaking start in his first season of pro footy – averaging an adjusted 88 points through 5 games (an average of 110 if you subtract his injury affected 0). Paying up for this year's creme of the crop in Jamarra Ugle-Hagan isn't as clear cut as year's past, with the 2020 No. 1 choice far from a guaranteed fantasy success.
Don't get me wrong, Ugle-Hagan is a special talent, with the now Bulldogs forward drawing comparisons during his junior days to Swans superstar Lance Franklin. His speed and agility saw his stocks skyrocket as Ugle-Hagan burst onto the draft scene, possessing an extraordinary goal sense that made him a lethal threat inside-50. He, like many of Victoria's top draft prospects, didn't take to the field in 2020, although during his 2019 NAB League season JUH shone as an under-ager, kicking 24 goals from 9 contests with an average fantasy score of 65. The impressive part of that season was Ugle-Hagan's final seven games for the Oakleigh Chargers, where he averaged 11.3 disposals, 6.1 marks and 3.3 goals – including a memorable four-goal haul against Sandringham in the preliminary final.
While a member of that Chargers team, Ugle-Hagan played with some premier young guns including Noah Anderson, Finlay Macrae, Will Phillips, Matt Rowell and Trent Bianco. Luckily for him, in 2021 he'll once again be provided with silver service out of the midfield, with the arrival of Stefan Martin and Adam Treloar only strengthening the Bulldogs midfield group. Throw in the mix of Josh Dunkley, Lachie Hunter and Jack Macrae supplying avenues to attack and it's hard to see a scenario where Ugle-Hagan doesn't succeed as a tall target alongside Aaron Naughton.
Regardless of how the dazzling forward actually fairs on the field, it's widely expected that the club will be eager to get games into their top recruit. Having spent time in the Western Bulldogs academy it's was clear they weren't going to let this generational talent slip through their grasp on draft night. As one of the most active clubs in the trade period, the Bulldogs armed themselves with picks 29, 33, 41, 42, 52 & 54 – eventually giving all those selections up for the right to select Ugle-Hagan. Having already built bonds and relationships with not only the players but the coaching staff in his days as an academy Dog, I'd be stunned if Ugle-Hagan wasn't unveiled in Round 1 against the Collingwood.
Why shouldn't I pick him?
There's always a but.
Jamarra Ugle-Hagan offers plenty of pluses, but is it wiser to spend your dollars elsewhere? While he's bound to get games early, big fantasy scores aren't what we usually expect from key forwards. Tom Hawkins, the bloke that won the Coleman Medal last year, was the only recognised key forward to finish in the top 15 FWD's for total fantasy points in 2020, with Jack Gunston (18th) and Charlie Dixon (24th) the only other players of note.
JUH doesn't have to set the world on fire for us, but it would be nice to be able to plug him on our field with little doubt. There are a lot of mouths to feed (pun intended) at the Bulldogs this year and as we've seen in the past, someone has to suffer from a fantasy perspective. Jack Macrae and Josh Dunkley have both shown how their numbers can fluctuate depending on their role and if Dunkley and some of the other versatile MID's are forced to play inside-50 more, it could limit Ugle-Hagan's influence.
In the past scores in the 50/60 range have been acceptable from a rookie and the Bulldogs prodigy should be able to hit those numbers without too many issues. However, if you were to choose, for example, his draft peer in Archie Perkins (MID/FWD, $254K) instead, there's every chance Perkins can produce bigger scores if he's closer to the ball at Essendon's midfield. Now, there's no certainty of Perk even getting that midfield clock, but if he can put up similar numbers to Ugle-Hagan you can't tell me that extra $16K couldn't come in hand somewhere else.
Deck of DT Rating.
KING
Simply put, Jamarra Ugle-Hagan is going to matter as a fantasy cash cow this year and there are too many positives to avoid picking him. The Dogs will likely pour games into their rookie and even if he only rises $150-$200K in price he could serve a similar role to what Max King did in 2020 – a decent trade chip by the time the byes roll around, or someone to hold on to as a playable cash cow late in the season. While he's not a midfield piglet like Walsh and Rowell were, Ugle-Hagan still deserves to be picked in your starting side.
Loading ...
FOLLOW US  ON TWITTER: @DTTALK for all thing AFL Fantasy (and more). Got something to say about the deck or AFL Fantasy in general? Join the conversation and use the hashtag… #AFLFantasy.