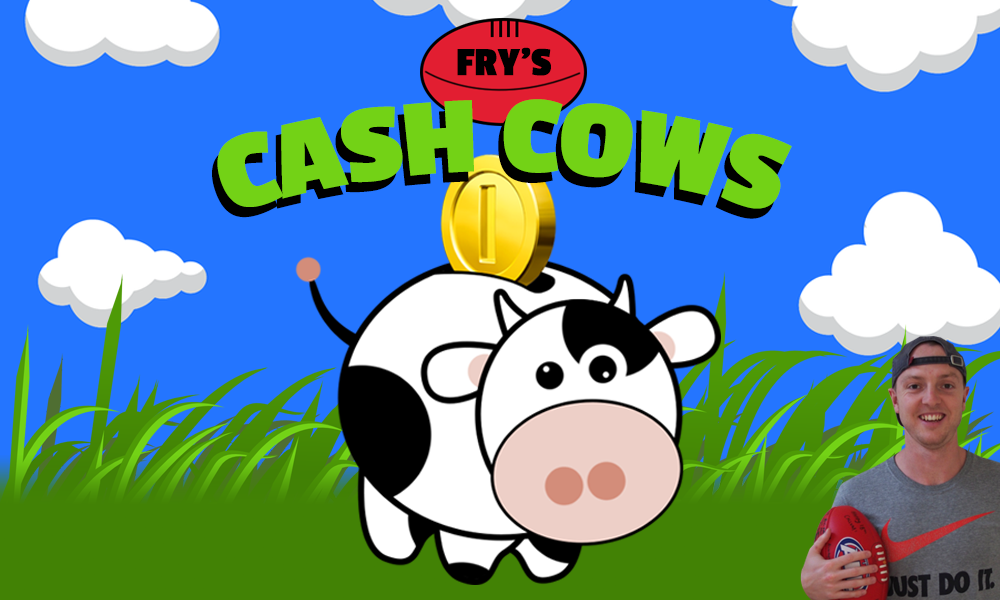 We are almost there!
Less than a week is all that separates us from 23 stressful weekends as coaches around the globe gear up for another AFL Fantasy season. To drive away in a shiny Toyota a lot of things have to go right throughout the year – one of which is nailing your cash cow selections.
This season is as testing as any in the past with rookie picks fluctuating in and out of our starting sides all preseason. Picking the right guys to have in your initial team is always a tough ask and after weeks and months of uncertainty, I've done some number crunching to rank the top 22 cash cows options across the ground to start 2020.
Below are the players I think are the smartest starting investment based on their scoring potential, preseason form, job security and in a nutshell – their potential to score the most points possible over the entire season. A few of the expensive options are emerging as the better choices for coaches to start the year with so I've stretched the rookie pricing scale to $300K to highlight a few additional players. Hopefully, as the year progresses more basement priced cash cows emerge, but for your starting squad of 30, it appears wise to cough up for the more traditionally expensive rookies.
If you missed out on my pre Marsh Series cash cow watchlist be sure to check it out here.
Rookie/cash cows picks are defined as players who are priced at $300,000 or lower
---
DEFENDERS
1. Hayden Young, Fremantle Dockers
AFL Fantasy Price: $258,000
Marsh 1 Score: DNP
Marsh 2 Score: DNP
2019 average (NAB League): 85
Projected average: 73
Missing both Marsh Series games doesn't bode well for Young's chances of a Round 1 appearance, even though the young Docker looks like one of the best cash cows on offer in 2020. The top-10 pick won't be rushed back into the team and might force an anxious wait before making his AFL debut. I still think there's a clear separation between Young and the rest of his defensive cash cow peers and it's a shame we might not be able to have him in our starting teams. As soon as Young is named, he should be traded into your outfit especially if you own an underperforming defender.
2. Lachlan Ash, GWS Giants
AFL Fantasy Price: $264,000
Marsh 1 Score: 63 from 72% TOG
Marsh 2 Score: 54 from 69% TOG
2019 average (NAB League): 96
Projected average: 65
Ash's place among the top defensive cash cows purely hinges on how many games he plays this season. There's no denying he's got the skill to perform at the top level, averaging 96 through 10 NAB League games and 83 points in his four games at the U/18 championships. Heath Shaw and Zac Williams are looming as Ash's biggest threats with Isaac Cumming's Marsh Series form creating some doubt in the mind of coaches. Usually, GWS lets their rookies bide their time in the two's before eventually earning a gig, however, my gut tells me Ash will earn a place in the Giants' team to take on Geelong. In turn, he'll become an attractive target and without a doubt, his ownership will be in for a big spike.
3. Will Gould, Sydney Swans
AFL Fantasy Price: $220,00
Marsh 1 Score: 47 from 68% TOG
Marsh 2 Score: DNP
2019 average (SANFL): 73
Projected average: 60
It would have been great to see Will Gould suit up for the Swans in their second Marsh game, but I think fantasy coaches can sleep easy. I'd be surprised if the big-bodied rookie was left out of their starting side having impressed in his first preseason hitout against GWS. Gould spent his last year as a junior playing in the SANFL for Glenelg, proving more than capable of slotting straight into Sydney's back six and becoming a staple in fantasy sides throughout the year. Hopefully Horse agrees.
4. Jarrod Brander, West Coast Eagles
AFL Fantasy Price: $217,000
Marsh 1 Score: 45 from 72% TOG
Marsh 2 Score: 57 from 77% TOG
2018 average (WAFL): 72
Projected average: 64
Will he make the cut? That's the question fantasy coaches need West Coast to answer with Jarrod Brander's status for Round 1 still up in the air. Adam Simpson said earlier that Brander's fate hinges somewhat on his performance during their match simulation session over the weekend with the versatile DEF/FWD currently sitting in close to 20% of teams. For the Eagles, it's a premiership or bust this season and I wonder if Brander can perform well enough to hold his spot for the long-term in a title-hungry West Coast side.
5. Fischer Mcasey, Adelaide Crows
AFL Fantasy Price: $260,000
Marsh 1 Score: DNP
Marsh 2 Score: 55 from 87% TOG
2019 average (NEAFL): 59
Projected average: 57
Key position players scare me in fantasy – especially defenders who are often left to shut down opponents rather than rack up the footy for their own use. Adelaide's newest recruit Fischer Mcasey is no exception with the young Crow poised to play a ton this season as they rebuild the foundation of their defense. Given the lack of reliable rooks, Mcasey may find his way into a lot of teams and feature on the field to start the season, b don't go expecting too many 80+ scores from the rookie. Mcasey could quite possibly work his way to a point total in the 60's and justify his spot in your team. Just don't hold your breath.
6. Jack Madgen, Collingwood Magpies
AFL Fantasy Price: $288,000
Marsh 1 Score: 96 from 84% TOG
Marsh 2 Score: 66 from 85% TOG
2019 average (AFL/VFL): 44/63
Projected average: 62
I'm not a huge fan on the thought of paying up for Madgen, but desperate times call for desperate measures. Having played four AFL games a year ago, the Pies rookie-listed defender is priced a hair under $300K – posting scores of 25, 61, 48 and 42 last year that hardly set the world on fire. He topped those scores in both his Marsh games, playing over 80% of those matches too – a good sign for his potential place in the Pies' starting team. There is some cash generation up for grabs with Madgen and if the aforementioned rookies aren't named in Round 1 our hand might be forced to start the season. I'd explore other options over Madgen, but if he's picked to play a lot of coaches will be swayed.
Best of the rest – Defenders
I found it hard leaving Bradon Starcevich (Lions, $189K) out of the top-6, but there are no guarantees he'll suit up regularly for Brisbane. With only five games to his name so far he might be given a chance, but a career average of 33.4 is a good reason to pass on Starcevich. Similar could be said for Jez McLennan (Suns, $170K) who could be in line to play a lot for the rebuilding Suns. However, with a lockdown role in his sights, McLennan might mirror Chris Burgess' output from a year ago – which if you remember was nothing to be proud of.
I do like Bailey Williams (Eagles, $170K) and Tobe Watson (Dockers, $170K) if they crack their respective 22's in a week's time. They won't be the driving force behind a rise the ranks, but both WA products are capable of stringing some good games together and generating some dough in the process. Lastly, Damon Greaves (Hawks, $170K) was the talk of the town after Marsh 1 (62 points from 92% TOG) and a lot of coaches acted quickly to add him in. He came back to Earth last weekend, hardly seeing the field (8 points from 12% TOG) for the Hawks. No thanks.
Deeeeep Dive
For better or worse these players aren't in the mix for a Round 1 debut. However, that doesn't mean their names aren't worth remembering…
In no particular order:
Hugh Goddard (Blues, $170K)
Trent Bianco (Magpies, $182K)
Trent Rivers (Demons, $208K)
Matthew Ling (Swans, $170K)
Josh Worrell (Crows, $216K)
MIDFIELDERS
1. Matt Rowell, Gold Coast Suns
AFL Fantasy Price: $270,000
Marsh 1 Score: 81 from 67% TOG
Marsh 2 Score: 50 from 41% TOG
2019 average (NAB League): 123
Projected average: 86
Last I had the pleasure of writing about Sam Walsh in the preseason 'Deck of DT' and this year I had the same honour writing about Matthew Rowell. I went on to talk about how the two are very different players, but that doesn't mean Rowell won't be just as dominant in his rookie year. He hardly put a foot wrong against Geelong with 20 touches and seven tackles and then went on to excel in just half a game vs. the Crows – amassing four clearances and 50 points from 14 disposals. For the second year in a row, the No. 1 pick looks every bit like a fantasy must have, currently starting for more than half of the competition. He might be a tad handball happy, but I'm backing Rowell in for a big year.
2. Marlion Pickett, Richmond Tigers
AFL Fantasy Price: $170,000
Marsh 1 Score: 44 from 79% TOG
Marsh 2 Score: 88 from 90% TOG
2019 average (VFL): 70
Projected average: 72
For $100K less you can find a gift from the fantasy gods with Marlion Pickett currently the most selected player in the game. We've all heard of his now-infamous path to becoming a premiership Tiger on debut, chalking up 22 disposals and evolving into an instant AFL cult hero in the process. Folklore aside, Richmond has no intentions of putting him back in the two's with Pickett a large part of their midfield makeup this year. Don't start without him.
Matt Rowell and Marlion Pickett are the two most selected players in the #AFLFantasy world right now.

If you could only start with one of them, who are you choosing? ?‍♂️

— SportsbyFry (@sportsbyfry) March 12, 2020
3. Tom Green, GWS Giants
AFL Fantasy Price: $252,000
Marsh 1 Score: 76 from 73% TOG
Marsh 2 Score: 68 from 74% TOG
2019 average (TAC Cup): 105
Projected average: 71
Tim Taranto's injury opened the door for someone to step up and that someone might be Tom Green. The former academy Giant had a strong pair of games in the Marsh Series gathering 21 touches in both matches and spending chunks of time running through GWS' engine room. He and Lachie Ash could be exceptions to the usual way of business for the Giants – traditionally letting their draftees work on their craft at the NEAFL level before the pros. Don't be surprised if Green thrives while Taranto is hurt and if he can hold down a spot, he might be worth starting all the way to the bye rounds.
4. Noah Anderson, Gold Coast Suns
AFL Fantasy Price: $268,000
Marsh 1 Score: 55 from 77% TOG
Marsh 2 Score: 30 from 42% TOG
2019 average (NAB League): 108
Projected average: 67
There have been some teams I've seen sporting four rookies in their midfield with the above trio and Noah Anderson holding down residence. While I think it's an extremely risky strategy and not one I'd suggest, there is merit in picking all of these youngsters, with Anderson poised to average 60+ in Gold Coast's new-look outfit. The Suns could roll out as many as half a dozen fresh faces to begin the year and Anderson is set to feature close to the ball much like best mate and former schoolmate Matt Rowell. A lack of huge scores this preseason has contributed to his 4th placed rank, but Anderson did average 108 from seven NAB League games a year ago. Keep him in your thinking as Round 1 teams edge closer.
5. Deven Robertson, Brisbane Lions
AFL Fantasy Price: $228,000
Marsh 1 Score: DNP
Marsh 2 Score: 52 from 63% TOG
2019 average (WAFL Colts): 120
Projected average: 59
There was a lot to like about Robertson in Brisbane's second Marsh game, but did he do enough to get picked? Chris Fagan has a selection dilemma on his hands with their newest recruit no certainty to be in Brisbane first team of the year. At just 18 years old, he might be given time to develop at reserve level, but there's no doubt Robertson should play senior footy at some point this year. His numbers as a junior are ridiculous with his efficiency the big knock on him come draft night. Fantasy coaches don't care where the ball goes if he gathers a ton of touches – here's hoping the young Lion gets the chance to prove himself.
6. Caleb Serong, Fremantle Dockers
AFL Fantasy Price: $256,000
Marsh 1 Score: 46 from 56% TOG
Marsh 2 Score: 17 from 20% TOG
2019 average (NAB League): 100
Projected average: 63
Let's not forget Caleb Serong scored the most points at the U/18 championships last season with the young Docker one to watch if he's picked to make his debut Round 1. That's a big 'if' with Serong doing all the right things so far, but Freo seems settled in the middle to start the season. We might see the former Vic Country stud spend some time up forward (DPP alert?), but if things don't work or injury strikes, Serong could be in for a rise in midfield time. He should be a good scorer when he plays, but I wonder if that'll be frequent enough for Serong to be a difference-maker.
7. Jeremy Sharp, Gold Coast Suns
AFL Fantasy Price: $218,000
Marsh 1 Score: 43 from 40% TOG
Marsh 2 Score: 60 from 66% TOG
2019 average (WAFL): 68
Projected average: 59
With spots up for grabs at the Gold Coast, Jeremy Sharp could be a bolter for a spot in their first 22. The WA-born draftee ticked boxes in the preseason, but given his age appears set to begin the year in the NEAFL side. That doesn't mean Sharp should be forgotten, with his solid scoring clip at WAFL level and penetrating long kick helping to add another twist to the Suns' ever-developing core. He's a tad dearer than your basement priced rookies, but if he's selected later in the year I'll find it hard to pass on Sharp.
8. Dylan Stephens, Sydney Swans
AFL Fantasy Price: $262,000
Marsh 1 Score: 41 from 73% TOG
Marsh 2 Score: 48 from 64% TOG
2019 average (SANFL): 78
Projected average: 54
Don't be fooled by his Marsh scores, Dylan Stephens can play and he'll get plenty of opportunities to do just that this year at the Swans. At SANFL level a year ago Stephens wasn't intimidated laying over four tackles a game – again showing that same relentlessness while repping South Australia at the U/18 level. Failing to get at least 15 touches in both of his preseason games doesn't do wonders for an early berth, but that doesn't mean Stephens is totally out of the mix. Watch him intently and if he makes the cut, don't be surprised when Stephens starts the year with a bang against Adelaide.
Best of the rest – Midfielders
We weren't able to get the basement priced midfielders we wanted with Ned McHenry (Crows, $170K), Justin McInerney (Swans, $170K) and Riley Collier-Dawkins (Tigers, $170K) all bouncing in and out of most preseason squads. McHenry is my favourite of the trio to bob up for an early game if he can stay fit with both McInerney and Collier-Dawkins potential debutants in 2020 if they can work their way up the depth chart.
Finn Maginness (Hawks, $214K) was another hot name this summer that coaches were keen on, but he doesn't appear in the mix to make the cut initially. Having missed both of Hawthorn's Marsh matches, Maginess could emerge as a downgrade target throughout the year, especially if he hits his stride in the VFL. No mention of Sam Flanders (Suns, $250K) yet probably means he'll be playing at reserve level as well, but it may not be for the entire year.
Deeeeep Dive
For better or worse these players aren't in the mix for a Round 1 debut. However, that doesn't mean their names aren't worth remembering…
In no particular order:
Tyler Brown (Magpies, $170K)
Luke Valente (Dockers, $170K)
Jack Bytel (Saints, $170K)
Harley Bennell (Demons $224K)
Mitchell Hibberd (Bombers, $197K)
Jackson Mead (Power, $222K)
Tom North (Dockers, $170K)
Cooper Stephens (Cats, $240K)
RUCKS
1. Sam Naismith, Sydney Swans
AFL Fantasy Price: $284,000
Marsh 1 Score: 67 from 55% TOG
Marsh 2 Score: 68 from 72% TOG
2019 average: N/A
Projected average: 71
Having not played since 2017, Sam Naismith will finally make a return to senior footy this year and he comes awfully cheap. $284K is a lot to cough up someone on your bench, but those brave enough are exploring playing Naismith as their second starting ruck in an effort to free up a boatload of cash. I have faith that the big Swan can play a bunch this year, but it would be a near miracle for him to assume solo ruck responsibilities for Sydney's entire campaign. Two good preseason outings might be enough for Horse to entrust Naismith and give him the keys to the ruck role – forcing me to eat my words in the process. I've got faith he won't be a star, but that doesn't mean he's worth ignoring.
2. Tristan Xerri, North Melbourne
AFL Fantasy Price: $170,000
Marsh 1 Score: 99 from 79% TOG
Marsh 2 Score: 26 from 68% TOG
2019 average (VFL): 68
Projected average: 49
You can almost take your pick with the second ruck spot here and I've given the honour to Tristan Xerri with the young Roo appearing in both Marsh games for North. His first effort was a sight to behold, falling just short of a fantasy ton thanks to 24 hitouts, five tackles and a pair of goals. Things weren't so great in Marsh 2 as he scored under 30 points adding just three touches. There's every chance Ben Brown misses the opening round which could see a long-awaited debut handed to Xerri. For that reason alone he could be placed at R3 as a good nest egg but there's no way in hell he should start on your field.
Best of the rest – Rucks
You probably came here for advice on R3 over R2, with Darcy Cameron (Magpies, $170K) once again a popular pick – current sitting in 40% of teams as the 10th mist selected player right now. God forbid, if anything happened to Brodie Grundy I don't think Mason Cox would shoulder the load making Cameron a good handcuff pick should the emergency glass need breaking. The same can't be said right now for Luke Jackson (Demons, $266K) with his inflated price tag not worth coughing up for. If Gawn does succumb to something, then we might need to reconsider Jackson, but he seems set to develop slowly and fill out his body at the Dees before he's thrown to the wolves.
If Tim English hadn't starred in the second Marsh game, then Jordon Sweet (Bulldogs, $170K) might be knocking on the door for Round 1. Instead, his 69-point game (nice) against North means he'll flirt with a senior game, but inevitably spend all year in the VFL.
Deeeeep Dive
For better or worse these players aren't in the mix for a Round 1 debut. However, that doesn't mean their names aren't worth remembering…
In no particular order:
Tom De Koning (Blues, $190K)
Michael Knoll (Swans, $170K)
Archie Smith (Lions, $259K)
Sam Draper (Bombers, $170K)
FORWARDS
1. Connor Budarick, Gold Coast Suns
AFL Fantasy Price: $170,000
Marsh 1 Score: 65 from 85% TOG
Marsh 2 Score: 27 from 45% TOG
2019 average (NEAFL): 76
Projected average: 68
Clearly I'm higher on Connor Budarick than most, hence his place atop the list of FWD rookies to start the year. Not a lot of people knew about Budarick before he was rookie drafted this past offseason, but the teenager is a member of their academy team and has a track record of excellence. It may be jumping the gun, but after putting up solid numbers across his eight NEAFL matches (19.0 disposals and 4.9 tackles per game) I'm buying all the Budarick stock I can right now and there's no reason why he shouldn't be in your team if he's picked to take on Port Adelaide.
2. Curtis Taylor, North Melbourne Kangaroos
AFL Fantasy Price: $170,000
Marsh 1 Score: 45 from 42% TOG
Marsh 2 Score: 94 from 86% TOG
2019 average (VFL): 65
Projected average: 61
I'll admit, I'm one of the coaches that jumped on Curtis Taylor, contributing to a spike in his ownership all the way up to 19%. Taylor was the standout Roo on the weekend in my eyes, running amok for his 21 touches and two goals which, hopefully for the fantasy community, will lock him into a berth to start 2020. It would be selfish to expect Taylor to top 90 for us again, with 80's maybe even being greedy. Either way, he is a serviceable starter that can hopefully hang around until the first batch of DPP's arrive in Round 6.
3. Jacob Townsend, Essendon Bombers
AFL Fantasy Price: $266,000
Marsh 1 Score: 42 from 66% TOG
Marsh 2 Score: 53 from 67% TOG
2019 average (VFL): 90
Projected average: 58
The promise of "more midfield time" can often trap fantasy coaches and that term lured Jacob Townsend to Essendon in the offseason. Since arriving though, Townsend doesn't appear set for too many minutes in the centre, instead, he's preparing for a year as a lockdown forward type, capable of bobbing up for a few goals here and there. Yuk. The former Tiger will be keen to work himself into a more prominent role and when injuries eventually do strike he could benefit greatly. Until then, costing nearly $100K more than a basement priced player, Townsend appears to be out of a lot of coaches planning. However, if you were thinking of starting the year with him I think he will play weekly, even if the new Don can't put up eye-popping numbers.
4. Max King, St Kilda Saints
AFL Fantasy Price: $170,000
Marsh 1 Score: 44 from 82% TOG
Marsh 2 Score: 46 from 70% TOG
2019 average (VFL): 43
Projected average: 52
Slow-burn is a term being attached to Max King, but St Kilda fans have no problems waiting. King might take 4-5 years before he starts tearing the competition apart, however, there have been plenty of flashes of brilliance from the lanky Saint throughout the Marsh Series. The former top-5 pick only managed 90 points in both matches combined, which only further confirms he should be on your bench and not starting on your field. An increase in $150K-$200K is up for grabs for King this season and St Kilda plans to give him every chance to play. Good enough for me.
5. Izak Rankine, Gold Coast Suns
AFL Fantasy Price: $170,000
Marsh 1 Score: DNP
Marsh 2 Score: DNP
2019 average (NEAFL): 61
Projected average: 59
One of the biggest mysteries in fantasy is what to expect from Izak Rankine, with the game-changing Sun apparently right to go for their first match. After sitting out both preseason bouts, coaches were left wondering if Rankine was poised to start the year on ice or in the NEAFL side, but Stuart Dew assured us he's firmly in the selection frame. I'm a fan of what Rankine can dish up, but his body doesn't appear ready for the 22 game grind of an AFL season. If he's on your field early make it a priority to get him out of there before things go pear-shaped.
6. Mitch Georgiades, Port Adelaide Power
AFL Fantasy Price: $236,000
Marsh 1 Score: 37 from 49% TOG
Marsh 2 Score: 34 from 73% TOG
2019 average: N/A
Projected average: 50
Both Charlie Dixon and Scott Lycett failed to finish last weekend's Marsh game against the Bulldogs with the club stating they're still expected to play the first proper match of the season. If either of them misses, the door could be opened for Mitch Georgiades, who missed all of last season with a quad injury but now healthy, is blowing the doors off preseason training at Port. Westhoff moving further up the ground or more injury troubles to their tall-timber could see Georgiades become fantasy relevant – even if it is only for a small period of time.
Best of the rest – Forwards
A pair of 40's have put Ben Davis (Crows, $170K) in the mix for a game to begin the year, even if his fantasy numbers aren't a lot to look at. He doesn't appear set for a high scoring role, but there are worse choices. Coaches were itching to get another look at his teammate Myles Poholke (Crows, $288K) and fellow inflated forward Tom Sparrow (Demons, $293K) in the second Marsh fixture, but their absence from their respective teams means they face an uphill battle to make the Round 1 cut.
Top draftees Cody Weightman (Bulldogs, $242K) and Miles Bergman (Power, $244K) both missed the preseason slate as well, but they have the talents to lock down a recurring role in the Dogs/Power side. I don't have as much faith in Sam Sturt (Dockers, $170K) at the Dockers, but he could prove me wrong after a solid preseason for Fremantle. Finally, Kosi Pickett (Demons, $248K) looks cool on your team sheet and the x-factor he brings to each game might see him play a lot for the Demons this year. Don't go expecting much more than an average in the mid 50's, even with a few impressive tackles each game.
Deeeeep Dive
For better or worse these players aren't in the mix for a Round 1 debut. However, that doesn't mean their names aren't worth remembering…
In no particular order:
Irving Mosquito (Bombers, $170K)
Shane McAdam (Crows, $170K)
Ben Cavarra (Bulldogs, $170K)
Nakai Cockatoo (Cats, $255K)
Liam Henry (Dockers, $254K)
Ned Cahill (Bombers, $170)
Dylan Williams (Power, $226K)
Jack Mahoney (Kangaroos, $170K)
---
Before I sign off here are some quick parting thoughts with the season almost within grasp. When it comes to selecting your cash cows to start the year it's important to take the whole preseason into account. Someone may emerge as a Round 1 bolter and start the year in the team only to be sent packing a week or two later. It's tough to find the perfect mix of fantasy production and job security, but it's important to take the time and make wise investments with all your final bench picks.
I will be back with weekly updates on the rookie/cash cows, digging through the reserve levels to find hidden gems throughout the season. Enjoy these final peaceful nights without the stress of fluctuating fantasy scores, because for the next six months we are all competing against each other to win it all and beat Selby to the top of the leaderboard.
Good Luck!
FOLLOW ME ON TWITTER: @SportsbyFry for all things AFL Fantasy (and more)! Feel free to hit me up with any questions you have throughout the season ✌️