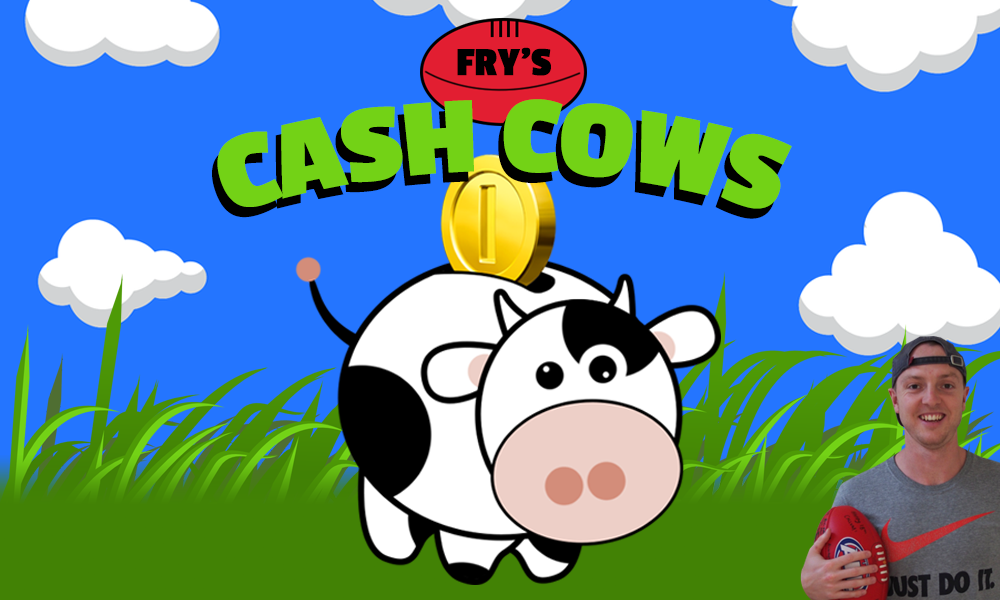 It's nearly been three full months, but footy is almost back – and with it, the rest of the 2020 fantasy season! Thanks to the lengthy hiatus, almost every AFL player is healthy or close to 100% capabilities for the season restart – not exactly great news for rookies/cash cows eager to break through to the senior side.
Unprecedented changes in footy mean finding value at the bottom of the barrel is tougher than ever, with no reserve level competition's to monitor future trade targets and shortened quarters leading to wayyyy too many scores in the 30's and 40's. In the past, a score of 60 is par for rookies on our field, with most of us begrudgingly happy with something in the 50's. Here's a quick insight into how rookies scores have been and will continue to be affected by the COVID-19 pandemic:
| | |
| --- | --- |
| Previous seasons (BCV) | Equivalent 2020/Coronaball score |
| 70 | 56 |
| 65 | 52 |
| 60 | 48 |
| 55 | 44 |
| 50 | 40 |
| 45 | 36 |
| 40 | 32 |
Multiplying a score by 0.8 is an easy enough exercise for future reference and with ALOT more sub-50 scores on their way this season, anything close enough to half a ton is now an acceptable pass mark. The added flexibility we have with three trades each round over the next month should help us shuffle these cash cows accordingly, but as we prepare for another 16 rounds of footy, remember the season is still a marathon, not a sprint. Finally, if you missed out on the 2020 Rookie Guide that I published before Round 1 then be sure to check it out here!
Rookie/cash cows are usually defined as players who are priced at $300,000 or lower
---
Round 1 Recap
79 days have passed since the first nine games of 2020 unfolded, with the season restart feeling more like a brand new campaign rather than Round 2. All eyes were glued on Marlion Pickett (60) in the first match of the year with his score a solid one for nearly 75% of all teams. The next most popular player in the entire game in Matthew Rowell (64) managed to outscore Pickett and excel with 19 touches for the Suns in his pro debut. Freo's Sam Sturt (61) was the one who captured the Rising Star nomination from their match against the Bombers though – finishing with three goals from just 10 touches. I'm a fan of Sturt, but trusting any of the basement priced FWD rookies (especially on your field) is a tough ask.
Jarrod Brander (61) and Mitchell Georgiades (60) performed admirably for their coaches as well, with Brander in particular one to be excited about should he continue his fantasy-friendly role for West Coast. Recycled Bomber Jacob Townsend (60) also helped his coaches out with a three-goal cameo, however, there was one cash cow that beat all of these scores and is quickly emerging as one of the must-have players this season. Sam Naismith's (78) showing against Adelaide instilled coaches with confidence that Naismith can be played on our fields for the bulk of the season, easily winning the head-to-head battle with last year's rookie ruck darling; Reilly O'Brien.
It wasn't all good news for rookies in Round 1, with a lot of popular names failing to come to the party. Two of the most picked forward cash cows in Max King (32) and Connor Budarick (32) disappointed in their AFL debuts with Brandon Starcevich (34) failing to fire in defense for over half the comp – including the 20%+ that opted to field the young Lion. Myself included. Other mainstream names managed to deliver with Curtis Taylor (47) bucking the disappointing trend (somewhat) along with midfield duo Tyler Brown (46) and Justin McInerney (48). Given their basement price tag, we'll take more similar scores from these types – as long as we're not forced to play too many of them on our field.
Cash Cow King – Round 1
I'm going to miss seeing a lot of big scores in this category, but with another season comes the opportunity for one Cash Cow to end the year as the King amongst his peers. In 2019, Sam Walsh and Reilly O'Brien were locked in a battle throughout the entire season and we might have another epic rivalry on our hands between a revered ruckman and a midfield maestro. While Naismith did technically have the highest score of the round, there were a lot more coaches rocking with the likes of Pickett and Rowell, making for a tough vote right out of the gates. Personally, I'm siding with the reigning No. 1 overall pick, mainly because Naismith resides on my bench.
Round 2 Rookie Rankings
DEFENSE
How many guesses do you think it would take you to guess the most popular Fantasy defender right now? Sam Docherty would be my default answer, but given the lack of reliable rookies up for grabs, Jarrod Brander has surprisingly vaulted himself to the top of the totem pole – currently sitting in 54.9% of teams with over half of them opting to start him on the field in their back-6. There are some warranted concerns surrounding both role and job security for Brander, but there's a lot to like about the versatile West Coast tall. I have high hopes that even if they reign him in slightly and bury him in either attacking or defensive-50, Brander has a good enough pair of hands to accumulate a few +6's and keep his scores ticking over. His cross-town rival and first-year Docker in Hayden Young is another cash cow that I'm high on, however, it still seems like he has work to do before cracking into Freo's best-22.
In their recent match simulation, Young impressed for the Dockers, but he has to battle Nathan Wilson and Luke Ryan for a place in the team as a rebounding, long-kicking backman. Should he surprise and make the cut in Round 2, I'd have Young as the best possible cash cow, but I can't see that happening. Similar could be said for Swans backman Will Gould who tempted coaches in the preseason but was unable to break through for a gig in Round 1. His slightly inflated price tag makes him a tricky player to bring into your side, but if he's named against the Bombers I'll be watching him intently.
Brisbane young gun Brandon Starcevich finds himself as one of the last reliable defensive rookies in a shallow pool of talent. His score of 34 against Hawthorn could see him replaced come Thursday night, but I have faith he holds his spot. I can't say the same for Fisher Mcasey who despite his ability to play at both ends of the ground seems destined to make way for Tom Doedee's return. Mcasey only managed 16 points from five disposals and a mark, so even if he manages to survive the axe, I can't blame you for cutting him from your side.
Top-5
Hayden Young (Dockers)*

Jarrod Brander (Eagles)

Will Gould (Swans)*

Brandon Starcevich (Lions)

Fischer Mcasey (Crows)
*if named
I've left popular Giant Lachie Ash out of the top-5 purely based on his long-shot chances of playing in Round 2. As injuries mount at GWS, Ash may be given a chance and his MID/DEF flexibility makes him one to monitor for sure. Another expensive cash cow defender in Jack Madgen was a Round 1 let down, with nearly 6% of the competition uncertain what to do with the lockdown Pie. My advice? Make the most of your three trades over the next few weeks and swap him out for a more reliable scorer.
Best of the Rest
These players may or may not be in the selection mix this week, but be sure to keep them on your 2020 watchlist in case they burst onto the scene. In no particular order:
Hugh Goddard (Blues, $170K)
Jez McLennan (Suns, $170K)
Trent Bianco (Magpies, $182K)
Trent Rivers (Demons, $208K)
Matthew Ling (Swans, $170K)
Josh Worrell (Crows, $216K)
Damon Greaves (Hawks, $170K)

MIDFIELD
Let's not spend too much time with the midfield group. Almost every coach reading the article will be rocking with Marlion Pickett and Matt Rowell in some order on their field, potentially as their only two rookies. If you're rocking with three rookies in your midfield unit, then there's a high chance you'll be considering a Harley Bennell trade, with Demons coach Simon Goodwin declaring playing the former Sun/Docker is both "tempting" and "exciting". Bennell's calf issues are a huge concern obviously and there are no guarantees he'll see hefty midfield minutes if he does make Melbourne's final 22.
Outside of that trio, I've backed in a pair of basement players to round out the top-5, with both Justin McInerney and Tyler Brown poised to be difference makers in 2020. Both will have to first solidify their regular place in the side, but it appears McInerney may have an easier path to holding onto his spot at Sydney side. Brown, on the other hand, faces a tough task to play regular games in a Collingwood side with premiership aspirations – especially when Adam Treloar returns from injury. Even though we expect a lot of change in some outfits, I think McInerney and Brown showed enough in Round 1 to hold their places for the upcoming weekend of fixtures.
Top-5
Marlion Pickett (Tigers)

Matt Rowell (Suns)

Harley Bennell (Demons)*

Justin McInerney (Swans)

Tyler Brown (Magpies)
*if named
I came oh so close to putting Crows young gun Ned McHenry in Tyler Brown's slot at #5 with the Adelaide youngster in line to make his debut in Showdown 48 vs. Port Adelaide. McHenry shone during the Crows' match simulation sessions, both hunting the footy for patches and then applying a ton of defensive pressure inside his attacking 50. I'll be tempted to pull the trigger on McHenry if he can lock down a place in Adelaide's outfit.
I discussed the tactic of using three midfield rookies earlier, and if you're one such coach in that boat there's a high likelihood that the third player is Tom Green. The pending return of Callan Ward leaves Green's place in the Giants' 22 sketchy at best, however, don't be alarmed by his score against Geelong back in March. Through his final junior season, Green averaged over 95 across all formats, so I view his 27-point effort as nothing more than a blip on the radar. If Green isn't your man at M6-M8, then No. 2 overall pick Noah Anderson may be more to your liking. Much like the newest Giant, even though Anderson didn't have the greatest statistical debut (33 points from 12 touches), I don't think it is a long-term issue.
Another pair of 2019 draftees are the last striking MID's worth mentioning – one who played in Round 1 and one who didn't. It came due to Grant Birchall's late withdrawal from the side, but Deven Robertson wasn't complaining about the late call-up to play his first AFL game. He did attend two of a possible 26 centre-bounces for the Lions, en route to an underwhelming score of 26. Robertson will be better for the run and if you're an owner there's no reason to panic. If you don't own the Lion cub though, then it may be wise to wait before trading him in with a similar tactic a wise one for fellow draft peer Caleb Serong. Like every other cash cow eager to earn a spot in the team, Serong performed well in a recent match simulation, splitting his time between the forward line and the midfield. It's a no from me at the moment, but if Freo starts to crumble they may double down on 'playing the kids', making their youngsters tempting targets.
Best of the Rest
These players may or may not be in the selection mix this week, but be sure to keep them on your 2020 watchlist in case they burst onto the scene. In no particular order:
Jeremy Sharp (Suns, $218K)
Luke Valente (Dockers, $170K)
Jack Bytel (Saints, $170K)
Finn Maginness (Hawks, $214K)
Dylan Stephens (Swans, $262K)
Riley Collier-Dawkins (Tigers, $170K)
Jackson Mead (Power, $222K)
Tom North (Dockers, $170K)
Cooper Stephens (Cats, $240K)
RUCK
There's Sam Naismith, then Darcy Cameron as a distant second, daylight third and then maybe Bailey Williams slowly bringing up 4th place. With Fantasy coaches annually chasing a more reliable, veteran ruckman it's very rare that a rookie priced player will see the field at either R1 or R2. Last year, Reilly O'Brien's emergence forced us to rethink our tactics and as a result, both Naismith and Cameron are in over a third of all teams.
Naismith's long absence from football left us somewhat unsure what to expect from Sydney's ruckman, but he's taken a strong grip on the opportunity in front of him. He all but, cemented himself as the Swans' solo ruck while Callum Sinclair was on the mend and there's no reason why Horse Longmire would upset the apple cart and lobby for change in Round 2. Should Naismith struggle against Essendon then it might be worth going back to the drawing board. Don't expect Cameron or Williams to go on a similar tear as the towering Swan, with both set to play nothing more than a supporting role to Brodie Grundy and Nic Naitanui respectively.
Top-3
Sam Naismith (Swans)

Darcy Cameron (Magpies)*

Bailey Williams (Eagles)*
*if named
Pre-season darling and Kangaroos tall Tristian Xerri has lost a lot of the momentum he generated from the first Marsh Series match when he scored 99 points from 24 hitouts and a pair of goals. Given the shortening of games that is taking place, teams seem destined to use a pinch-hitter as ruck support, rather than utilise two recognised ruckman. That may draw a line through both Xerri and Bulldogs ruck Jordan Sweet who has dominated the VFL level competition for years now but is yet to break through to AFL level. Tim English hardly filled Footscray fans with confidence against Grundy in Round 1 and more lacklustre performances might see Sweet earn a call-up.
Best of the Rest
These players may or may not be in the selection mix this week, but be sure to keep them on your 2020 watchlist in case they burst onto the scene. In no particular order:
Tom De Koning (Blues, $190K)
Luke Jackson (Demons, $266K)
Michael Knoll (Swans, $170K)
Archie Smith (Lions, $259K)
Sam Draper (Bombers, $170K)
FORWARD
If Sam Flanders is named in Round 2, I'll be trading him straight into my forward line. Don't ask me why I'm so high on the former Gippsland Power talent, maybe it's a man-crush, maybe it's his game-changing explosiveness, or maybe he's going to be a dud. With a nagging hamstring issue behind him Flanders took part in Gold Coast's match simulation over the weekend with Suns GM Jon Haines declaring Flanders is certainly in the selection frame.
With a lack of reliable starting calibre cash cows up forward, chasing value in the basement priced players is an approach I recommend. Two players that fit the bill and performed well back in the first series of games where Curtis Taylor and Sam Sturt. The young Roo seems all but certain to stay in the 22, thanks in large part to North Melbourne's lengthy injury list. Sturt should play for the Dockers against Brisbane as well, providing he recovers well over the week from a lower back injury that he suffered in isolation.
The 'more midfield time' that was supposedly promised to Jacob Townsend upon his arrival at Tullamarine was nowhere to be seen in Round 1, with the former premiership Tiger failing to attend a single centre bounce. Instead, he spent his time up forward and while he managed to kick three goals for his score of 60, I don't have confidence he can improve on his career average of 51.5. Rounding out the top-5 was a tough task, eventually landing on Max King based on job security and his ability to hit the scoreboard. He managed to kick a pair of goals against North and will be one of the Saints' primary targets inside-50, giving me cautious optimism, despite the stereotypical fantasy struggle key position players usually have.
Top-5
Sam Flanders (Suns)*

Curtis Taylor (Roos)

Sam Sturt (Dockers)

Jacob Townsend (Bombers)

Max King (Saints)
*if named
Throwing their hats into contention for the final spot with Max King were a bunch of cheap FWD's in the form of Ben Davis, Connor Budarick, Izak Rankine, Ben Cavarra and Mitchell Georgiades. Firstly, in injury news, Rankine has already been ruled out of this weekend's games, with Georgiades also unlikely. Port Adelaide's power forward missed the entire 2019 season with a quad injury and Rankine managed to play just three NEAFL games a year ago. Given their history of ailment's I wouldn't be surprised if each respective club took a cautious approach with their youngsters.
The remaining trio combined to score just 92 points back in March and there's a chance all three of them experience the axe come Thursday. I have faith that Budarick can keep his place after his recent work on the track, but if he keeps playing a lockdown defensive role his fantasy value is all but diminished. Stuart Dew plans to lock down Gold Coast's 22 in the next few weeks of fixtures, so be sure to keep a close eye on the young Sun in case we need to abandon ship.
Best of the Rest
These players may or may not be in the selection mix this week, but be sure to keep them on your 2020 watchlist in case they burst onto the scene. In no particular order:
Irving Mosquito (Bombers, $170K)
Shane McAdam (Crows, $170K)
Nakai Cockatoo (Cats, $255K)
Liam Henry (Dockers, $254)
Ned Cahill (Bombers, $170)
Dylan Williams (Power, $226K)
Jack Mahoney (Kangaroos, $170K)
---