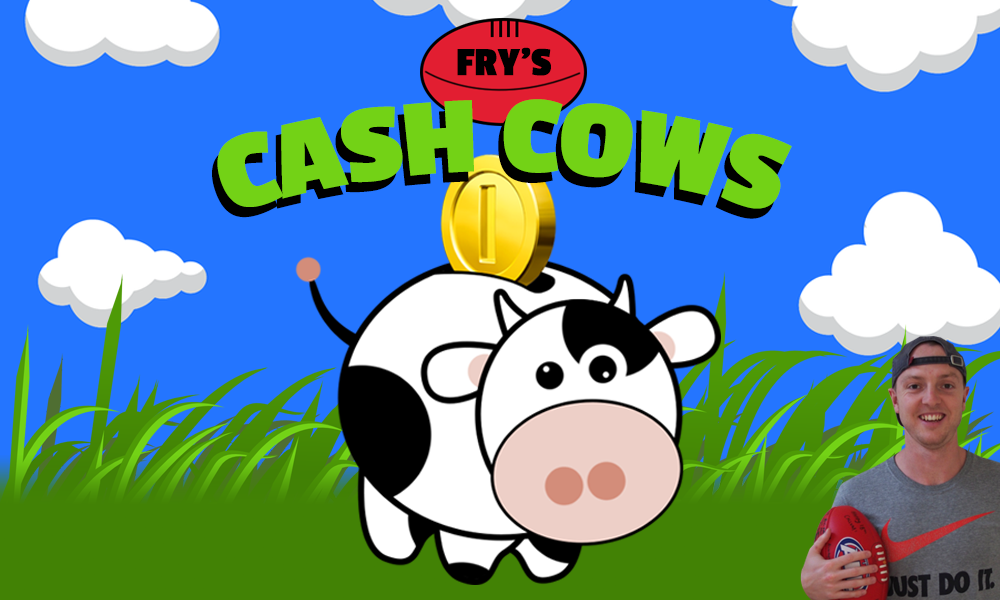 I'm not here for anyone whinging about the current state of the AFL. I, like most footy fans out there am glad to be back in action and after an interesting weekend, three trades are going to be worth their weight in gold! Round 2 took it's time to get here, but once the ball was bounced a sense of normalcy washed over the fantasy community as we settled in for our favourite pastime of abusing then praising players left, right and centre. As the dust settles from an exciting nine games, a few members of the 2020 rookie/cash cow class are quickly establishing themselves as must-have.
If you missed out on the 2020 Rookie Guide that I published before Round 1 then be sure to check it out here!
Rookie/cash cows are usually defined as players who are priced at $350,000 or lower
---
Round 2 Recap
In the biggest upset of the round (sorry West Coast), the young Suns flexed their guns and two popular rooks led the charge from the middle of the ground. While Noah Anderson (73) gave over a third of the comp a nice boost it was his best mate Matt Rowell (108) who stole the headlines and the unanimous Rising Star nomination to boot. During the Gold Coast win a popular Eagle in Jarrod Brander (46) did enough on most grounds with Brandon Starcevich (79) emerging as a surprise down back. Nearly 58% of fantasy coaches own the Lions cub but 25% of them left him sitting on their pine, allowing his BCV score of 99 to go to waste.
At the opposite end of the ground, coaches were hoping a combination of Connor Budarick (63), Curtis Taylor (69) and Max King (50) got them over the line – and the young trio didn't disappoint. While Budarick was stuck playing a small defensive role, he still helped himself to a healthy score while Taylor played his role in the Roos' triumph with 14 touches and a goal. King looked every bit like the No. 4 overall pick from 2018 and should be a heartbeat on the bench for the foreseeable future along with fellow tall Darcy Cameron (58).
A large portion of the fantasy community left the backup Magpie on their bench, with some braver, more adventurous coaches slotting him in at R2 for the weekend. Cameron delivered a decent score and while it'll take balls to trust him on the field moving forward, he's definitely a worthwhile trade target for non-owners. If you didn't roll the dice with Cameron at R2 then Marc Pittonet (74) may have found his way into your lineup. While it feels weird to plug a sub-$350K ruckman into the spot usually owned by Max Gawn, Pittonet will serve as Carlton's lone ruck for at least the next 6-8 weeks and his upcoming fixture makes him an appealing option too.
While Rowell was busy dominating, the game's most popular player Marlion Pickett (37) wasn't having the same success. He managed just 57% TOG on Thursday against Collingwood and was a literal non-factor in the second half – chalking up just one disposal for a -1 over two-quarters of footy! The news was slightly better for Harley Bennell (47), who made a successful return to action in his first AFL match in over 1,000 days, but the rest of the basement midfielders such as Ned McHenry (37), Justin McInerney (40) and Tyler Brown (22) failed to fire.
We were treated to a healthy dose of debutants, most of whom did enough to hold their place in the team. Trent Rivers (45) was a popular trade target heading into the round and he did his part for the Dees with Luke Jackson (29) not as appealing from a fantasy perspective. Hayden Young (39) was given a late berth to cover the loss of Nathan Wilson and did some impressive things during his first taste of senior footy. In the midfield, a lot were forced to jump on the Ned McHenry (37) train, with the young Crow doing fine on debut. With Slone in doubt for this week, McHenry might hold his place and be given a dose more time around the pill. Not as many took the punt on Laitham Vandermeer (47) but the young Dog showed plenty off the flair that helped him get a game. He should be a solid downgrade option if he can keep his spot, with Lions youngster Thomas Berry (38) in the same position.
Cash Cow King – Round 1
I'm all about efficiency in these weekly Cash Cow articles so let's not waste any time here. If you didn't have the pleasure of watching Matt Rowell go about his business and gather 26 touches, along with 7 tackles, 5 clearances and a pair of goals for 108 fantasy points, do yourself a favour and set aside 107 minutes later in the week. Genuine f*#$ing gun.
Special shoutout to Brandon Starcevich for the near Corona Ball ton!
Round 2 Rookie Rankings
DEFENSE
Some attractive scores over the weekend led to a lot of confusion down back, especially for the coaches who opted to flick out Dylan Roberton. Luckily for those in dire need, there are a few viable starters up for grabs in your defense, with Freo's Hayden Young still at the top of the pile in my opinion. Young wasn't able to play his usual rebound defending role against Brisbane, but he still pushed up the ground and helped himself to 11 touches. Add a few more +6's and we'll see scores in the 60's from him in no time. Of course, if Wilson pushes him out of the team that's a different story. The DPP that Jarrod Brander offers means he holds firm at No. 2 in the pecking order, but he may be thrown back inside defensive 50 in the crucial match against Brisbane with Jeremy McGovern almost certain to miss through suspension.
In his first game, Trent Rivers showed enough to just edge out Brandon Starcevich and his career-high 79 for 3rd in the rankings. Rivers came out of the gates hard and fast collecting 38 points up to half-time as the Dees kicked the first seven goals of the game against Carlton. Despite slowing as the game progressed, I have high hopes Rivers can retain his spot, with Starcevich in the same boat. His 17 disposals and eight marks against Fremantle were a nice points boost, but it would be unfair to expect this type of output each time around. I'll be very curious to see how Starcevich performs against a much more intimidating Eagles forward line. Finally, after a solid showing against Richmond Jack Madgen enters the top-5, but I wouldn't go acquiring him with Jeremy Howe and Jack Crisp the ones in Collingwood's backline with a license to roam.
Top-5
Hayden Young (Dockers)

Jarrod Brander (Eagles)

Trent Rivers (Demons)

Brandon Starcevich (Lions)

Jack Madgen (Magpies)
Outside of the top-tier cash cows, there are a few other DEF rookies running around for coaches. There's a high chance that you're reading this as an owner of either Fischer Mcasey and/or Isaac Cumming both of whom have struggled to have an impact fantasy-wise through two round. The defensive duo both failed to pass 40 points in their first pair of fixtures and downgrading them to one of the aforementioned cash cows isn't a terrible idea. Finally, players in the mould of Dylan Roberton, Will Gould and Lachie Ash are all intriguing targets and should any of them be named (stay glued to my socials) in Round 3, they're worth a look in.
Best of the Rest
These players may or may not be in the selection mix this week, but be sure to keep them on your 2020 watchlist in case they burst onto the scene. In no particular order:
Hugh Goddard (Blues, $170K)
Jez McLennan (Suns, $170K)
Trent Bianco (Magpies, $182K)
Tobe Watson (Dockers, $170K)
Matthew Ling (Swans, $170K)
Josh Worrell (Crows, $216K)
Damon Greaves (Hawks, $170K)

MIDFIELD
I've blown enough smoke up Matt Rowell's ass for one week, but let's focus on his best mate, draft peer and Gold Coast teammate in Noah Anderson. The No. 2 overall pick gathered 19 disposals in his second career game, putting a lacklustre debut behind him and emerging as a startable rookie on our fields for the immediate future. Anderson did average 108.1 points from 7 NAB League games in his final junior season, so his 73 point outburst against the Eagles was no fluke, however, scores in the 50's and 60's seem more realistic.
If you can't afford the likes of Rowell or Anderson, then Harley Bennell may be in your trade plans, with the newest Demon performing admirably in Round 2. There are justifiable concerns over Bennell's amount of game time (50% on the weekend) and job security, but his extra flair gives Melbourne another dimension in the midfield group and hopefully he can add to his game time and put numbers on the board. Popular Adelaide youngster Ned McHenry looms as a good target if he can stay in their side and alongside Marlion Pickett, the pair are safe cash cows to stash on the bench.
Top-5
Matt Rowell (Suns)

Noah Anderson (Suns)

Harley Bennell (Demons)

Ned McHenry (Crows)

Marlion Pickett (Tigers)
Round 2 Rising Star nomination for @GoldCoastSUNS midfielder Matt Rowell. Also, grass is green, the sky is blue and beer is better cold.

— Ryan Daniels (@FootyRhino) June 15, 2020
After solid scores in Round 1 both Justin McInerney and more importantly, Tyler Brown failed to back it up. Brown's 22 points were especially painful for the 11% of coaches who left him in one of their valuable midfield spots. If Adam Treloar comes back into the side this week, it might be curtains for Brown. McInerney's 40 wasn't as awful, but he's walking a similar tightrope to the Collingwood young gun. More efforts like the 10 touch one on the weekend could see him shown the door. Granted, if he's on your bench, then there are probably more pressing issues to address then the Swans pupil. Lastly, I want to give young Roo Bailey Scott a shoutout for his return to action with 35 points on the weekend. At $332K he isn't really worth taking a chance on, but his 97 points from Round 1 a year ago won't be forgotten anytime soon.
Best of the Rest
These players may or may not be in the selection mix this week, but be sure to keep them on your 2020 watchlist in case they burst onto the scene. In no particular order:
Jeremy Sharp (Suns, $218K)
Caleb Serong (Dockers, $256K)
Tom Green (Giants, $252K)
Luke Valente (Dockers, $170K)
Deven Robertson (Lions, $229K)
Mitch Hibberd (Bombers, $197K)
Jack Bytel (Saints, $170K)
Finn Maginness (Hawks, $214K)
Dylan Stephens (Swans, $262K)
Riley Collier-Dawkins (Tigers, $170K)
Jackson Mead (Power, $222K)
Tom North (Dockers, $170K)
Cooper Stephens (Cats, $240K)
RUCK
With Sam Naismith no longer a viable option thanks to his dodgy hamstring AND Callum Sinclair's performance against the Dons, coaches are scrambling for another ruck trade target. Surely, Darcy Cameron did enough in his Magpies debut to hold down another game at least, but as mentioned above trusting him on your field is dicey at best. If however, you're eyeing Marc Pittonet as a viable starter, I'm all for it. With value all the rage in the ruck department this year, starting with the former Hawk might feel dirty but it makes a lot of mathematical sense. Lastly, Luke Jackson showed flashes of greatness in his first foot game, but I wouldn't advise trading him in at this rate.
Top-3
Darcy Cameron (Magpies)

Marc Pittonet (Blues)

Luke Jackson (Demons)
Following the performance from Todd Goldstein on the weekend I don't think we'll be seeing Tristian Xerri getting a gig anytime soon. That being said, if Goldy does succumb to injury given his mammoth workload, the door could be ajar for Xerri to get a callup. Bailey Williams from the Eagles is in a similar position with Nathan Vardy, Tom Hickey and Nic Naitanui all ahead of him in the pecking order right now.
Best of the Rest
These players may or may not be in the selection mix this week, but be sure to keep them on your 2020 watchlist in case they burst onto the scene. In no particular order:
Tom De Koning (Blues, $190K)
Jordan Sweet (Bulldogs, $170K)
Michael Knoll (Swans, $170K)
Archie Smith (Lions, $259K)
Sam Draper (Bombers, $170K)
FORWARD
If North Melbourne defeating GWS wasn't a big enough surprise for you, then maybe Curtis Taylor's score caught you off guard. There's nothing wrong with playing Taylor on your ground if necessary, with his future scores more likely to be in the 50's. Call me a homer, but I'm still extremely high on Sam Flanders and the potential impact he could have in 2020. The explosive Sun is no guarantee to join a winning side, but when he does come in give him serious consideration. Following those two, another Gold Coast kid in Connor Budarick can be trusted to give us points, with his role hardly hampering his scoring capacity (so far).
Should Round 1 Rising Star nominee Sam Strut be recalled by the Dockers, then he will be looked at hard by coaches. On the ground is a risk for Sturt, but there's no reason why he can't be a relevant cash cow when he's fit and firing. It was tough not to give St Kilda's budding big man a spot in the top-5, but the 5th rung went to Laitham Vandermeer for now… Should he be the casualty of the axe on Thursday night I've got no problem with people considering King instead for their bench.
Top-5
Curtis Taylor (Roos)

Sam Flanders (Suns)*

Connor Budarick (Suns)

Sam Sturt (Dockers)

Laitham Vandermeer (Saints)
*if named
Aside from Max King there aren't too many forward rookies I trust at the moment. No offense to Brisbane's Thomas Berry but I can't see him making a huge amount of cash before he makes way for a different Lion. Essendon's Jacob Townsend dished up a miserable display against Sydney, ending the day with just five touches to his name and zero scoreboard impact. While bringing him into your side isn't an option those stuck with Townsend could make you a handy chunk of change by resisting the urge and trading him 3-4 weeks from now. A handful of people pointed out that I had forgotten about Ryan Garnder in last week's article. It's hard to forget the 18 points he scored against West Coast a year ago, but his 20 points on the weekend was a reminder of what he brings to the table most weeks. Hard pass.
Best of the Rest
These players may or may not be in the selection mix this week, but be sure to keep them on your 2020 watchlist in case they burst onto the scene. In no particular order:
Irving Mosquito (Bombers, $170K)
Izak Rankine (Suns, $170K)
Shane McAdam (Crows, $170K)
Nakai Cockatoo (Cats, $255K)
Liam Henry (Dockers, $254)
Ned Cahill (Bombers, $170)
Dylan Williams (Power, $226K)
Jack Mahoney (Kangaroos, $170K)
---