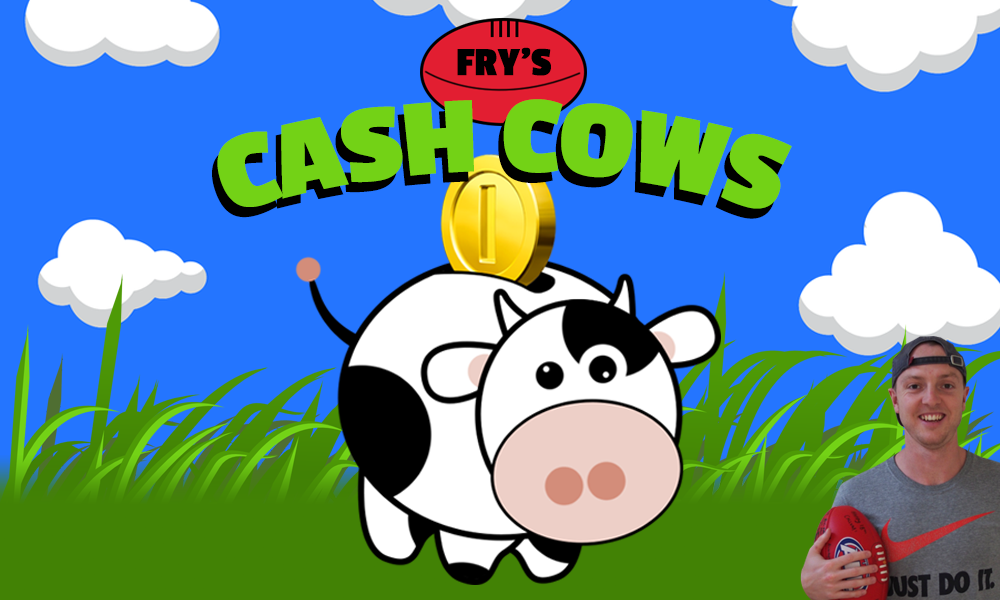 I was on top of the world by the time full lockout had rolled around on Friday. A handy Macrae/Cogs boost had me sitting 93 overall, a spot I didn't expect to maintain, but a nice spot to reside for a night at least. Then, the weekend happened. Over the next seven* games, fantasy scores fluctuated and Sunday's news forced us all to hold our breath and come to terms with the uncertainty around how things would play out. Thanks to some much smarter people than me, order was restored, points were awarded and now, sitting 5,150th overall, I can work on repairing my reputation and we can focus on nine more games of footy.
*In case you haven't heard about the fantasy implications from the postponed Dees/Dons game.
Rookie/cash cows are usually defined as players who are priced at $300,000 or lower
---
Round 3 Recap
Once again, proceedings begin by paying tribute to the potential Brownlow favourite in Matt Rowell (104). Through his first three career games, Rowell is averaging 21.7 disposals, 7.0 tackles and 92.0 fantasy points, quickly rising above $440K and showing no signs of slowing down. Rowell wasn't the only Sun to come to the party with Round 3 Rising Star nominee Connor Budarick (69) shining on the ground for nearly a third of the competition. I'm a huge fan of the former Gold Coast academy player and he is quickly establishing himself as an integral part of their best 22.
Close behind the young Sun were Jarrod Brander (68) and Brandon Starcevich (60), both of whom are quickly becoming trustworthy players on our ground. Given the lack of reliable rooks in defense, having a pair of cash cows to trust down back is going to help a lot of coaches in the coming weeks. Tyler Brown (57) did his best for his owners and those who started Max King (49) won't be too disheartened by what the big Saint dished up either. That's where the positives stop though, with other mainstream rookies including Curtis Taylor (30), Marlion Pickett (38) and Noah Anderson (39) trending in the wrong direction.
Fantasy scoring isn't as fruitful in 2020 due to a number of factors, but the coaches that trusted the aforementioned trio would've been tearing their hair out by rounds end. They weren't the only disappointing group with some owners putting their faith in the likes of Hayden Young (32), Darcy Cameron (32), Ned McHenry (14) and Thomas Berry (18) only to be severely let down. It's going to be hard to confidently field any of them in the upcoming rounds with the injured Sam Sturt (14) and key defender Fischer McAsey (33) also on thin ice.
Conor McKenna's positive test to COVID-19 threw us our first major curveball of the restarted season, leading to a lot of confusion surrounding the Bombers and Demons game. Eventually, players were awarded their average score for the round with notable rookies such as Harley Bennell (47), Kysaih Pickett (44), Jacob Townsend (44) and Trent Rivers (45) included in that group. I have hopes that Bennell and Rivers can surpass 40's moving forward, but there's no certainty Pickett and Townsend will do the same. There were only two debutants that emerged in Round 3 with defensive duo Will Hamill (34) and Lachie Ash (28) underperforming from a fantasy perspective. Both of them could hold their place in their team, but they need to show more scoring potential before they establish themselves as trade targets.
Cash Cow King – Round 3
This bloke is off the charts, honestly, let's just move on.
Round 3 Rookie Rankings
DEFENSE
Despite technically not playing this weekend, Trent Rivers has worked his way to the top of the totem pole after some lacklustre performances from his defensive peers. Rivers' is better than his simulated score of 45 – fingers crossed he'll get a chance to prove me right in Round 4. Popular on ground choices Brandon Starcevich and Jarrod Brander continued their impressive form with a pair of scores in the 60's and they've done enough to hold their places for now. I have some scepticism over Brander's ability to top 50/60 regularly, but Starcevich appears to be a much more stable source of points, enhancing his fantasy reputation in the early going.
One of the toughest rookies to peg at the moment is Hayden Young who hasn't shown the same promise I expected in his first two games as a Docker. The former Dandenong Stingray product averaged 85 from his 16 NAB League and U-18 games a year ago, but he has struggled to find his mojo with scores of 39 and 32 thus far. I expect Young to hold his place in the side as he tries to carve out his niche in Freo's side, but there are no guarantees his point totals will be as fruitful. Finally, in a similar position the No. 4 pick from the same draft class in Lachie Ash struggled mightily during his debut match, but he showed plenty of promise. 15 of his 28 points on Friday night came in a five-minute burst during the first quarter, with Ash burnt a number of times by his teammates. If he can hang around, hopefully he'll get to show off his full skillset and produce a decent score.
Top-5
Trent Rivers (Demons)

Brandon Starcevich (Lions)

Hayden Young (Dockers)

Jarrod Brander (Eagles)

Lachie Ash (Giants)
Once again, there are really only five clear cash cows worth targeting at the moment, with Adelaide duo Fischer Mcasey and Will Hamill hardly emerging as fantasy scorers considering their sub-35 point outings against the Suns. If the Crows can turn their fortunes around somewhat then they might come closer to the 50-point mark, but I can't see them surpassing it. Swans draftee Will Gould still remains on the outside looking in while over 20% of coaches are still holding out faith that Dylan Roberton will return ASAP.
**UPDATE**
Just as I was about to schedule this piece, the Dogs announced that youngster Louis Butler will be playing this weekend as their third debutant of the season! Butler, drafted with the 53rd pick in the 2019 Draft averaged 76.9 points from his NAB League days a year ago and the high-possession half-back will now look to carve out a role in the Dogs' back-6.
Best of the Rest
These players may or may not be in the selection mix this week, but be sure to keep them on your 2020 watchlist in case they burst onto the scene. In no particular order:
Hugh Goddard (Blues, $170K)
Jez McLennan (Suns, $170K)
Trent Bianco (Magpies, $182K)
Tobe Watson (Dockers, $170K)
Matthew Ling (Swans, $170K)
Josh Worrell (Crows, $216K)
Damon Greaves (Hawks, $170K)

MIDFIELD
Just over 78,000 (or 68.13% to be exact) of fantasy teams own Matt Rowell right now and much like Walsh a year ago, it's getting to the point where I don't even need to mention him. The spot for No. 2 is a heated battle between Noah Anderson and Harley Bennell at the moment, both of whom are safe to start in your M8 slot. Bennell didn't get a chance to play his second game for the Dees in Round 3 and he'll look to lock himself into the second spot in the rankings against Geelong. Anderson is somewhat of a fantasy enigma, with three scores of 33, 73 and 39 so far this year. An average in the low 50's seems attainable and if his rollercoaster is any gauge, a handy score will be on it's way this weekend.
The pending return of Adam Treloar, Brayden Sier and Josh Thomas could see Pies youngster Tyler Brown forced out of the mix at Collingwood, with over 40% of the competition hoping I'm wrong. Against St Kilda last weekend, Brown produced a career-high 57 points and looked at home amongst the dominant Magpies outfit. The same unfortunately can't be said for Marlion Pickett who continues to perplex coaches and flirt with the axe at Tigerland. Pickett strangely spent time in the ruck and failed to add a hitout to his 10 touches from the night. As long as Dimma gives him a chance this week to play, I'm backing Marlion to reward the fantasy faithful in Round 4.
Top-5
Matt Rowell (Suns)

Harley Bennell (Demons)

Noah Anderson (Suns)

Tyler Brown (Magpies)

Marlion Pickett (Tigers)
With Justin McInerney a late omission the only other midfield rookie coaches were able to rely on was Ned McHenry. Unfortunately, no one passed on the message. The Crows teenager wasn't the only Adelaide player who was a let down on Sunday, but for him to finish with just 14 points and fail to register a single disposal in three-quarters of footy, I'd be surprised if he suits up against Brisbane.
Best of the Rest
These players may or may not be in the selection mix this week, but be sure to keep them on your 2020 watchlist in case they burst onto the scene. In no particular order:
Jeremy Sharp (Suns, $218K)
Caleb Serong (Dockers, $256K)
Tom Green (Giants, $252K)
Luke Valente (Dockers, $170K)
Deven Robertson (Lions, $229K)
Mitch Hibberd (Bombers, $197K)
Jack Bytel (Saints, $170K)
Finn Maginness (Hawks, $214K)
Dylan Stephens (Swans, $262K)
Sam Philp (Blues, $232K)
Riley Collier-Dawkins (Tigers, $170K)
Jackson Mead (Power, $222K)
Tom North (Dockers, $170K)
Cooper Stephens (Cats, $240K)
RUCK
I won't be placing Marc Pittonet in this category after Round 4, but the bargain-priced Blue will see his ownership spike after an impressive effort down at the Cattery. His 79 points were a handy boost for the 12% of coaches who started Mr Worldwide at R2, but I expect more scores in the high 50's and low 60's moving forward. Another portion of the comp are clinging on to the hope of Sam Naismith being named this week, and early reports indicate the big Swan could be back in action. Callum Sinclair has done well in Naismith's absence, but there's no reason why Sydney won't use them both, with Sinclair playing as more of a forward until Lance Franklin returns.
Of course, things could backfire and Naismith might be the one stuck inside-50 with his scores suffering. Still, as long as the Swan is on the park, he's going to making a decent chunk of change. Behind Naimsith the future of Darcy Cameron remains cloudy after just two touches and three hitouts against St Kilda. Mason Cox pressed his claim for a recall by hauling in 13 marks during the Pies' scratch match and he'll look to squeeze Cameron out with another solid week on the track. My gut tells me Cameron gets the chop, but I hope Bucks gives him one last chance.
Top-3
Marc Pittonet (Blues)

Sam Naismith (Swans)*

Darcy Cameron (Magpies)
*if named
Archie Smith made his return for Brisbane thanks to a Stef Martin setback, but there wasn't a lot to talk about. Smith was handily beaten by Nic Nat in the ruck, chalking up 14 of his 26 points through hitouts and having little impact on the game. The only other relevant name in the rucks is Luke Jackson but as previously stated, he can't really be trusted even if he re-enters Melbourne's 22.
Best of the Rest
These players may or may not be in the selection mix this week, but be sure to keep them on your 2020 watchlist in case they burst onto the scene. In no particular order:
Tom De Koning (Blues, $190K)
Jordan Sweet (Bulldogs, $170K)
Bailey Williams (Eagles, $170K)
Lloyd Meek (Dockers, $170K)
Tristian Xerri (Kangaroos, $170K)
Sam Draper (Bombers, $170K)
FORWARD
After duking it out for the top rung for a few weeks now, Connor Budarick ahs thrown his hat back into the mix, surpassing Curtis Taylor in this week's rankings. Against the Crows, Budarick kicked his first career goal to go along with 16 touches and 6 marks – more than doubling Taylor's score in the process. North's promising talent didn't have his greatest outing, struggling to impact the contest and ending the day a mere 10 touches. More efforts like this could see Taylor's job security come under question, but he'd be unlucky to get dumped after one bad outing.
There's clear daylight between the top-2 and the rest of the forward bunch at the moment. No offense to the rest of the FWD cash cows, but scoring isn't exactly free-flowing from our youngsters in front of the big sticks. Young Bulldog Laitham Vandermeer could be ready to burst against the Swans having shown off his ability to fill up the scoresheet already in two short games. Max King seems set for a tough afternoon at the office against Richmond, but the big-clunking key forward has looked lively since the season restart. I've given up hope on Sam Flanders entering a winning Suns side at the present, but he'll be a factor throughout the year no doubt.
Top-5
Connor Budarick (Suns)

Curtis Taylor (Roos)

Laitham Vandermeer (Bulldogs)

Max King (Saints)

Sam Flanders (Suns)*
*if named
Aside from Flanders, the only cash cows who took to the field in ROund 3 were Thomas Berry and Sam Sturt, both of whom aren't likely to be around this weekend but for very different reasons. Sturt struggled to get his hands on the footy against Port early and things only worsened when he rolled his ankle in the third. The Docker's youngster battled on and strapped his ankle and returned to the field, only to leave shortly after and get iced up with 14 points to his name. Berry wasn't much better thanks to his four touches on the weekend, but a few tackles boosted what could have been an ugly outing. Nearly 6% of coaches will be hoping he can hold his place in a winning Brisbane side.
Best of the Rest
These players may or may not be in the selection mix this week, but be sure to keep them on your 2020 watchlist in case they burst onto the scene. In no particular order:
Irving Mosquito (Bombers, $170K)
Izak Rankine (Suns, $170K)
Shane McAdam (Crows, $170K)
Nakai Cockatoo (Cats, $255K)
Liam Henry (Dockers, $254)
Ned Cahill (Bombers, $170)
Dylan Williams (Power, $226K)
Jack Mahoney (Kangaroos, $170K)
---