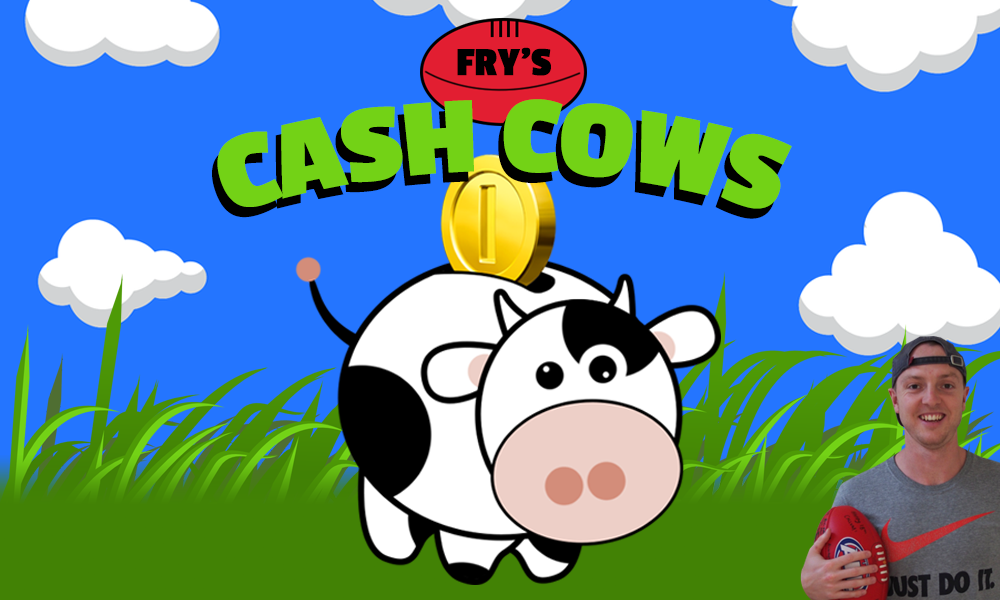 I'm all at sea. My spiral downward continued in Round 4 and I'm now clinging for life inside the top 10,000 with just one more batch of the three trades up the sleeve. It's not all doom and gloom, with roughly half a dozen new cash cows making their appearance last weekend, including four impressive members of the 2019 draft class. Couple that with most of the regular customers doing their job from a rookie perspective and a lot of coaches will be riding the wave of momentum to quickly ascend in the rankings. Hope is not lost for the rest of us on the outside looking in and it starts by getting the right cash cows into your side.
Rookie/cash cows are usually defined as players who are priced at $300,000 or lower
---
Cash Cow King – Round 4
There were no corona hundred's on the rookie front, but we did have a handful of deserving nominees in Round 4. For the first time since the restart, Matt Rowell wasn't the walk-away winner, thanks to Sam Naismith's Thursday night showing and Caleb Serong performing well on debut. Another Docker finally lived up to the fantasy hype in Hayden Young, who helped himself to 18 disposals, 6 marks and 4 tackles over the weekend. Young gets the nomination for me this week and hopefully he can continue his form against the Crows.
Round 4 Rookie Rankings
DEFENSE
Finally, after a pair of fantasy flops Hayden Young (77) showed why the Dockers spent the 7th pick on him in last year's draft, helping himself to near corona century against the Suns. Still only residing in 10.6% of teams, if you're considering grabbing the Freo youngster, now might be your last chance. Satisfactory scorers Brandon Starcevich (46), Trent Rivers (44) and Jarrod Brander (46) continued to do their thing for the majority of the fantasy community, scoring near half-centuries and rising another $30K-$40K in price. With all three boasting valuable DPP flexibility, there's nothing wrong with keeping them around for the foreseeable future. Debutant Louis Butler (43) rounds out this week's top-5 with a BCV score of 54 in the first match of Round 4. Matt Suckling will be breathing down his neck at the selection table, but I think the Bulldogs pup did enough to warrant a second game.
Top-5
Brandon Starcevich (Lions)

Hayden Young (Dockers)

Trent Rivers (Demons)

Jarrod Brander (Eagles)

Louis Butler (Bulldogs)
We saw Young double his output in his 3rd game, could Lachie Ash (18) follow suit this week against the Hawks? Multiplying the score from the touted GWS talent still only gives us 36 points and much like Young, until we see otherwise, Ash can't be trusted. Will Hamill (16) suffered a concussion against the Lions and will have to pass a fitness test to play this weekend, while Fischer Mcasey (19) was making 21% (ouch) of fantasy coaches feel dizzy after his second score in the teens this season. Vomit.
 Best of the Rest
These players may or may not be in the selection mix this week, but be sure to keep them on your 2020 watchlist in case they burst onto the scene. In no particular order:
Hugh Goddard (Blues, $170K)
Jez McLennan (Suns, $170K)
Trent Bianco (Magpies, $182K)
Tobe Watson (Dockers, $170K)
Matthew Ling (Swans, $170K)
Josh Worrell (Crows, $216K)
Damon Greaves (Hawks, $170K)

MIDFIELD
The No. 1 spot won't be changing anytime soon, even with Matt Rowell (78) dipping below his average and underperforming by his standards. Rowell still gathered 20 disposals and laid 5 tackles, placing one hand on the Rookie of the Year trophy in the process. Noah Anderson (58) has had his chances to stake his claim as the sole resident of the No. 2 spot, and while a score of 58 is hardly disappointing, he's a victim of his draft peers getting an opportunity to shine.
Both Caleb Serong (60) and Tom Green (51) had moments of brilliance last weekend, with Serong posting a BCV score of 75 and Green earning the Rising Star nomination for his 18 disposals against the Pies. Here's hoping their promotion in the rankings can be a permanent one. A promising score in a winless team helped Ned McHenry (45) crack the final spot in the top-5 and potential FWD status in the near future would benefit close to 23% of the fantasy population greatly.
Top-5
Matt Rowell (Suns)

Caleb Serong (Dockers)

Tom Green (Giants)

Noah Anderson (Suns)

Ned McHenry (Crows)
Some of the first gamers were able to stake their claims for another game, but Blues draftee Sam Philp (20) wasn't one of them. The Blues rookie was able to test victory in Round 4, which is more than Justin McInerney (50) and Tyler Brown (30) can say, but none of the three youngsters are a certainty to survive selection come Thursday night. McInerney should scrape through, but I don't have the same sense of optimism for Philp and Brown – especially if Adam Treloar is right to go this week.
Best of the Rest
These players may or may not be in the selection mix this week, but be sure to keep them on your 2020 watchlist in case they burst onto the scene. In no particular order:
Jeremy Sharp (Suns, $218K)
Luke Valente (Dockers, $170K)
Deven Robertson (Lions, $229K)
Mitch Hibberd (Bombers, $197K)
Jack Bytel (Saints, $170K)
Finn Maginness (Hawks, $214K)
Dylan Stephens (Swans, $262K)
Riley Collier-Dawkins (Tigers, $170K)
Jackson Mead (Power, $222K)
Tom North (Dockers, $170K)
Cooper Stephens (Cats, $240K)
RUCK
Mr Worldwide can't really be classed as a cash cow anymore, so the inclusion of Sam Naismith (76) into Sydney's side was a welcome sign – especially for those coaches who held on to the Swans ruck. Tragically, we all know how last Thursday unfolded and Naismith now faces another lengthy stint on the sidelines. That left Tristian Xerri (32) to fly the flag for rookie rucks everywhere and he wasn't a scrub on debut either! Kicking his first career goal boosted his score massively, but if Xerri can hold down a gig as a supporting act for Goldy there's plenty to like about his fantasy growth. Speaking of growth Archie Smith (35) doesn't exactly have a ton of it and he isn't someone I'd look to get into your team quickly.
If for some reason you're still stuck with a rookie in the ruck, or you've been floored by Naismith's injury, now is the time to get a decent replacement. In a perfect world, get your hands on Brodie Grundy or Max Gawn, even if it means dumping another solid scorer for one of the top-tier rookies. Use the last week of three trades wisely…
Top-3
Tristian Xerri (Kangaroos)

Darcy Cameron (Magpies)*

Bailey Williams (Eagles)*
*if named
Best of the Rest
These players may or may not be in the selection mix this week, but be sure to keep them on your 2020 watchlist in case they burst onto the scene. In no particular order:
Tom De Koning (Blues, $190K)
Jordan Sweet (Bulldogs, $170K)
Bailey Williams (Eagles, $170K)
Lloyd Meek (Dockers, $170K)
Sam Draper (Bombers, $170K)
FORWARD
Naturally, as soon as I placed Connor Budarick (30) at the top of the FWD rankings, he dropped an egg. Curtis Taylor (58) on the other hand, was on song for the Roos in their narrow loss to Hawthorn and his score reflected that. I still have these two ahead of the pack and if you're stuck fielding two rookies in your front six, try to make Budarick and Taylor the picks. Laitham Vandermeer (43) might be offended to learn I don't rank him in this group, however, with Lachie Hunter waiting in the wings, I wonder how long Vandermeer can hang around for. Max King (35) can't really be considered for the top of the food chain and if he can't hit the scoreboard then his scoring is limited. Out of pure desperation, Shane McAdam (25) claimed the fifth spot even though he managed just 5 touches against the Lions. McAdam is a better player than he showed on the weekend and after averaging a hair under 60 in the SANFL last year, I'm holding faith he can (hold his place and) perform better against Fremantle.
Top-5
Connor Budarick (Suns)

Curtis Taylor (Roos)

Laitham Vandermeer (Bulldogs)

Max King (Saints)

Shane McAdam (Crows)
There were some bright moments from Jack Mahoney (21) from a football perspective, but the North Melbourne young gun won't come into fantasy consideration just yet. If he can reserve a place in the best 22, then Mahoney could be worth jumping on given his scoring pedigree as a junior (81.1 average). Jamaine Jones (45) and his price tag don't appeal to me as much (despite his decent outing for West Coast) especially if another highly anticipated cash cow is on the verge of a potential debut. Izak Rankine played in his second practice match against Freo's reserves and was close to full game-time, kicking 3.2 and crumbling at an elite level to pepper the scoreboard. Could this weekend be the one we finally see Rankine appear in Suns colours?
Best of the Rest
These players may or may not be in the selection mix this week, but be sure to keep them on your 2020 watchlist in case they burst onto the scene. In no particular order:
Irving Mosquito (Bombers, $170K)
Izak Rankine (Suns, $170K)
Nakai Cockatoo (Cats, $255K)
Liam Henry (Dockers, $254)
Ned Cahill (Bombers, $170)
Dylan Williams (Power, $226K)

---