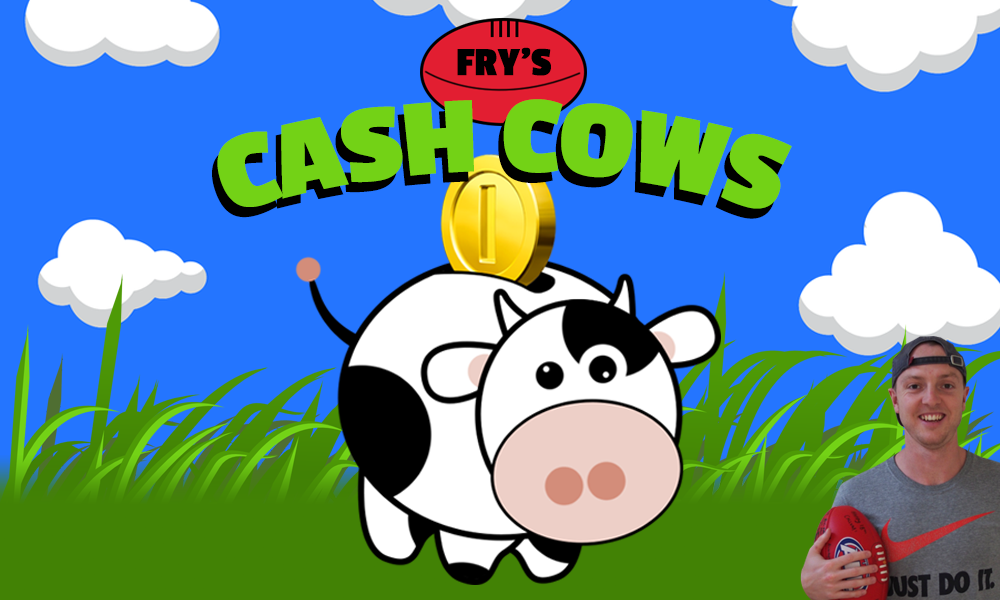 Thank f%#$ that weekend is over. I'm sure I speak on behalf of most fantasy coaches when I happily farewell Round 5, however, with just two trades a week from here on out things are about to get a lot more difficult. With Matt Rowell going down, all of a sudden the depth of the rookie class is coming into question, and as a result, a lot of coaches will be sweating over the potential for carnage come Thursday night. Most of us have been able to dodge a donut on the field thus far, but to keep that streak alive owning the right cash cows is a necessity!
Rookie/cash cows are usually defined as players who are priced at $300,000 or lower
---
Cash Cow King – Round 5
High scoring rookies were few and far between in Round 5, with only three cash cows surpassing the 60-point threshold. It wasn't a huge surprise to see Noah Anderson as a member of the trio, with Rising Star nominee Curtis Taylor performing admirably for North over the weekend too. Laitham Vandermeer was the surprise of the bunch with a season-best 76 – nearly doubling his previous best score and providing coaches with a very timely points boost. I'm siding with Taylor this week and hopefully the high point totals return in Round 6!
Round 5 Rookie Rankings
DEFENSE
A number of popular defensive rookies were dumped when the Round 6 teams surfaced, leaving fantasy coaches crying out for an influx of reliable cash cows down back. While there are justifiable concerns for the future, we can take some positives out what was a dark weekend for fantasy coaches. 2019 draftees Hayden Young (58) and Lachie Ash (56) started to find their mojo in the pro's with Young doing enough to leapfrog his peers and reside as No. 1 in the DEF rankings.
Ash has a bit more work ahead of him before he can take down the likes of Brandon Starcevich (37) and Trent Rivers (31), even though he posted the best score of his young, three-game career. The Giants halfback could hold down a regular post with Williams' hamstring still keeping him on ice and I'll have my fingers crossed his points totals keep growing as a result. Speaking of point totals, Starcevich and Rivers' scores on the weekend weren't exactly up to par with the young Dee in particular cause for concern.
Starcevich did manage to post a 33-point second-half (glass half full right?), but Rivers struggled mightily with just 8 touches against Richmond. He could find himself a victim of the axe on Thurs, especially with Hibberd back in the side and thriving. Out of necessity Will Hamill (51) cracks the top-5 this week, with some encouraging signs in his game against Freo. Let's see if he can back it up against West Coast before we get too excited though.
Top-5
Hayden Young (Dockers)

Brandon Starcevich (Lions)

Trent Rivers (Demons)

Lachie Ash (Giants)

Will Hamill (Crows)
No other rookie priced player was able to take to the field in defense this week, but we could see a trio of popular inclusions for Round 6. Jarrod Brander will need to get through the Eagles' main training session this week in order to play, but if he does, his presence will be a HUGE boost for 38% of the comp. Omitted pair Fischer Mcasey and Louis Butler face a tougher climb back into the side, but if they make a return any score they can contribute would help given the lack of options down back.
 Best of the Rest
These players may or may not be in the selection mix this week, but be sure to keep them on your 2020 watchlist in case they burst onto the scene. In no particular order:
Hugh Goddard (Blues, $170K)
Jez McLennan (Suns, $170K)
Trent Bianco (Magpies, $182K)
Tobe Watson (Dockers, $170K)
Matthew Ling (Swans, $170K)
Josh Worrell (Crows, $216K)
Damon Greaves (Hawks, $170K)

MIDFIELD
A moment of silence for the $1.01 Rising Star favourite in Matt Rowell (0) who is set for roughly three months on the sidelines – all but ruling out a return in 2020 😢
With Rowell gone, another spanner has been thrown into the mix, with the top rung in midfield rankings now up for grabs. Rowell's teammate in the sunshine state lifted his output once injury struck, with Noah Anderson (64) showing plenty of promise against the Cats. Two 20+ point and two single-digit point quarters further highlighted Anderson's inconsistencies, but if he can get his way to 60-ish every week, I won't complain about how he does it!
Contending with Anderson for the top of the MID food chain were fellow top-10 picks Caleb Serong (44) and Tom Green (59), both of whom could carve out a niche near the top of the order if they can keep scoring fruitfully. A lack of game time is a major concern for both with Serong spending just 58% of the match on the ground vs. Adelaide and Green managed just a fraction more at 61% TOG. If we want to trust them in an M7-M8 slot in the next few weeks we need to see an uptick in their minutes – especially with the pending return of Nat Fyfe and Tim Taranto for Freo and GWS respectively.
There are no certainties we see No. 4 and No. 5 in the rankings take to the field in Round 6 either with Justin McInerney (38) and Ned McHenry (37) hardly strengthening their cases with their efforts last weekend. Sydney is set to unveil two debutants (more on them in a minute) against the Tigers which could see McInerney play the role of emergency, while Tyson Stengle's return from suspension could push McHenry out of Adelaide's 22.
Top-5
Noah Anderson (Suns)

Tom Green (Giants)

Caleb Serong (Dockers)

Justin McInerney (Swans)

Ned McHenry (Crows)
A whole lot of sub-40 scores could be found this week and new pair Harry Jones (36) and Mitchell Hibberd (28) weren't able to buck the trend in their first AFL action. There are no guarantees we'll see them in Round 6, let alone again in 2020, however, both have showcased enough at the lower levels to warrant a second chance. Tyler Brown (19) on the other hand? Don't let the door hit you on the way out…
If we can't target them, then perhaps Marlion Pickett and/or Harley Bennell will be back in the fantasy fold. Pickett managed to lay eight tackles and was clean by foot in a 13-a-side match between the Tigers/Demons reserves, while Bennell gathered close to 35 disposals in the same contest and was arguably the best player on the deck.
Failing a recall for those two another duo are certain starters for this weekend with young Swans Dylan Stephens and Chad Warner getting their first taste of professional-level footy. Stephens was pick No. 5 in the 2019 draft and averaged a fraction over 80 fantasy points in his 13 SANFL games and 4 U-18 appearances combined. Warner on the other hand, who was selected 39th overall, boasts an average of 107 fantasy points in 9 WAFL games, however, all of them came the colts level. He did post an encouraging average of 78 at the U-18 champs, but over two-thirds of Warner's total disposals were handballs. Personally, I think given Horse Longmire's tendency to make swift changes to the team, plus Stephens inflated price tag/Warner's handball-happy style it's wise to wait a week, but we may be left with no other choice.
"You're so happy for him? Well you'd want to be happy for yourself because you're playing too mate!"

Watch the moment that coach John Longmire told Dylan Stephens and Chad Warner they would be making their debuts on Sunday! #Bloods2020 pic.twitter.com/QXgNmVFgrX

— Sydney Swans (@sydneyswans) July 7, 2020
Best of the Rest
These players may or may not be in the selection mix this week, but be sure to keep them on your 2020 watchlist in case they burst onto the scene. In no particular order:
Jeremy Sharp (Suns, $218K)
Luke Valente (Dockers, $170K)
Jack Bytel (Saints, $170K)
Finn Maginness (Hawks, $214K)
Riley Collier-Dawkins (Tigers, $170K)
Jackson Mead (Power, $222K)
Tom North (Dockers, $170K)
Cooper Stephens (Cats, $240K)
RUCK
Another bit-sized ruck update with Tristian Xerri (25) the only tall timber priced under $300K to put up points over the weekend. Only two of his points came via hitouts and if Xerri can keep contributing across the board, he'll likely hang around in North Melbourne's side. Mason Cox might not have the same luck as the Roos big man, with Cox having a forgetful night last Friday. His 13 point, 4 hitout, 2 disposal effort leaves the doos ajar for a Darcy Cameron recall – albeit an unlikely one.
Top-3
Tristian Xerri (Kangaroos)

Darcy Cameron (Magpies)*

Bailey Williams (Eagles)*
*if named
Best of the Rest
These players may or may not be in the selection mix this week, but be sure to keep them on your 2020 watchlist in case they burst onto the scene. In no particular order:
Tom De Koning (Blues, $190K)
Jordan Sweet (Bulldogs, $170K)
Bailey Williams (Eagles, $170K)
Lloyd Meek (Dockers, $170K)
Sam Draper (Bombers, $170K)
FORWARD
After umming and ahhing over Taylor vs. Budarick for most of the season so far, it's fair to say we now have a clear No. 1. In Round 4 following Curtis Taylor (74) scoring 58, I made the decision to leave him as No. 2 on the forward rankings, giving Connor Budarick (21) a chance to atone for his 30-point effort from the same weekend. Of course, we all know what unfolded during the most recent round of fixtures and with  50+ point difference between the two young guns, Taylor deserves his spot at the top of the forward rookie pecking order.
We were spoilt for choice in the FWD line this week outside of the top-2, with multiple rookie priced players lifting their output in Round 5. The highest cash cow scorer this week in Laitham Vandermeer (76) caught the fantasy community by surprise, but the 12% of teams he does reside in happily banking his season-best score. What shocked coaches the most was Vandermeer's score coming from just 62% TOG (take note Serong and Green) with 6 tackles and a goal to his name helping boost his points total. The most popular forward in Max King (36) remains relevant as a bench player, slowing rising in value with Tigers cub Jake Aarts (59) rounding out the top-5. Richmond's latest debutant didn't look out of place on Sunday and if he can survive the axe on Thursday he'll be one of the most-popular trade targets.
Top-5
Curtis Taylor (Roos)

Laitham Vandermeer (Bulldogs)

Connor Budarick (Suns)

Jake Aarts (Tigers)

Max King (Saints)
Crows mature-ager Shane McAdam (51) was unlucky to not crack the list this week, but another strong showing against West Coast could fill coaches with more confidence and he, much like Jake Aarts, will be a popular target this round. The same might not be said for Thomas Berry (50) who notched a half-century for the first time in his career thanks to 11 touches and 5 tackles. Berry's stat-line hardly makes him a must-have and if you're a non-owner I'd suggest you stay that way. I have a little bit more confidence in Sam Sturt (42) but being goal reliant makes him a risky play week in, week out too. Finally, we haven't seen the promise I thought from Jack Mahoney (33) to start his career and if he's not careful, Rhyce Shaw will remove him from the best-22.
Best of the Rest
These players may or may not be in the selection mix this week, but be sure to keep them on your 2020 watchlist in case they burst onto the scene. In no particular order:
Irving Mosquito (Bombers, $170K)
Izak Rankine (Suns, $170K)
Nakai Cockatoo (Cats, $255K)
Liam Henry (Dockers, $254)
Ned Cahill (Bombers, $170)
Dylan Williams (Power, $226K)

---